New Research Provides Comprehensive Reconstruction of End-Permian Mass Extinction | Paleontology – Sci-News.com
The end-Permian mass extinction, also known as the Permian-Triassic extinction event and the Great Dying, is the largest mass extinction event in Earth's history that peaked about 252.3 million years ago. The catastrophe killed off nearly 96% of all marine species and 70% of terrestrial vertebrate species on the planet over the course of thousands of years. Massive eruptions in a volcanic system called the Siberian Traps are thought to have played an important role, but the causational trigger and its feedbacks are yet to be fully understood. Now, a research team led by Dr. Hana Jurikova from the GEOMAR Helmholtz-Zentrum für Ozeanforschung Kiel and the Helmholtz Zentrum Potsdam has assembled a consistent biogeochemical reconstruction of the mechanisms that resulted in the end-Permian extinction.
Dr. Jurikova and her colleagues studied isotopes of the element boron in the calcareous shells of fossil brachiopods and determined the rate of ocean acidification over the Permian-Triassic boundary.
"These are clam-like organisms that have existed on Earth for more than 500 million years," Dr. Jurikova said.
"We were able to use well-preserved brachiopod fossils from the Southern Alps for our analyses."
"These shells were deposited at the bottom of the shallow shelf seas of the Tethys Ocean 252 million years ago and recorded the environmental conditions shortly before and at the beginning of extinction."
Because the ocean pH and atmospheric carbon dioxide are closely coupled, the researchers were able to reconstruct changes in atmospheric carbon dioxide at the onset of the extinction from boron and carbon isotopes.
They then used an innovative geochemical model to study the impact of the carbon dioxide injection on the environment.
"With this technique, we can not only reconstruct the evolution of the atmospheric carbon dioxide concentrations, but also clearly trace it back to volcanic activity," said co-author Dr. Marcus Gutjahr, a researcher at the GEOMAR Helmholtz-Zentrum für Ozeanforschung Kiel.
"The dissolution of methane hydrates, which had been suggested as a potential further cause, is highly unlikely based on our data."
"Without these new techniques it would be difficult to reconstruct environmental processes more than 250 million years ago in the same level of detail as we have done now," said co-author Professor Anton Eisenhauer, also from the GEOMAR Helmholtz-Zentrum für Ozeanforschung Kiel.
The team's findings showed that volcanic eruptions in Siberian Traps released immense amounts of carbon dioxide into the atmosphere.
This release lasted several millennia and led to a strong greenhouse effect on the late Permian world, causing extreme warming and acidification of the ocean.
Dramatic changes in chemical weathering on land altered productivity and nutrient cycling in the ocean, and ultimately led to vast de-oxygenation of the ocean.
The resulting multiple environmental stressors combined to wipe out a wide variety of animal and plant groups.
"We are dealing with a cascading catastrophe in which the rise of carbon dioxide in the atmosphere set off a chain of events that successively extinguished almost all life in the seas," Dr. Jurikova said.
"Ancient volcanic eruptions of this kind are not directly comparable to anthropogenic carbon emissions, and in fact all modern fossil fuel reserves are far too insufficient to release as much carbon dioxide over hundreds of years, let alone thousands of years as was released 252 million years ago."
"But it is astonishing that humanity's carbon dioxide emission rate is currently 14 times higher than the annual emission rate at the time that marked the greatest biological catastrophe in Earth's history."
The study was published in the journal Nature Geoscience.
_____
H. Jurikova et al. Permian-Triassic mass extinction pulses driven by major marine carbon cycle perturbations. Nat. Geosci, published online October 19, 2020; doi: 10.1038/s41561-020-00646-4
European Space Agency inks deal to deploy massive space pincers to clean up orbit – ZDNet
The European Space Agency (ESA) has inked a deal with ClearSpace SA to clean up orbit with craft equipped with pincers designed to grab space junk.
As space agencies and private companies go beyond research and start exploring the potential of commercial space and tourism, the space 'junk' we are accumulating will only grow.
This is a severe issue, considering the smallest satellite or piece of defunct technology zooming around at thousands of meters per second, if it collides with craft or other objects, can cause massive damage that also sends additional debris into space.
To tackle the problem, the ESA has signed an €86 million contract with startup ClearSpace to fund and launch debris-removal missions.
Due to launch in 2025, the first active debris removal mission, dubbed ClearSpace-1, will propel a craft into space equipped with pincers able to capture satellites. In this test, the ESA says that ClearSpace craft will "rendezvous, capture and bring down for reentry a Vespa payload adapter."
The adapter, a leftover from a 2013 mission, has a mass of 112kg and is roughly the size of a small satellite.
"Cleaning space is no longer optional," ClearSpace says in its mission statement. "Removing human-made space debris has become necessary and is our responsibility to ensure that tomorrow's generations can continue benefiting from space infrastructures and exploration."
ClearSpace was selected out of 12 candidates in 2019 by the ESA to develop a commercial debris removal solution for space.
The ESA is only partially funding the mission and the agency intends to raise the rest of the mission cost from commercial investors interested in the technology.
See also: Intel sends AI to space in launch of a satellite the size of a cereal box
According to the ESA's latest Space Environment report, there are over 25,000 objects in space — including satellites and various hunks of debris — and rocket bodies, upper stages leftover from launches, and malfunctioning satellites that can't be deorbited are forms of space junk causing the most concern.
The majority of objects on the list were launched before 2000 and modern space junk mitigation guidelines were adopted by space agencies.
In October, IBM revealed a separate project designed to tackle the emerging problem of space junk. A new open source venture between the tech giant and Dr. Moriba Jah at the University of Texas at Austin is focused on predicting where space objects are in orbit, and where they are likely to go.
By accurately predicting future orbit positions through the creation of machine learning (ML)-based algorithms, this could help companies such as ClearSpace track junk and clean up orbit more effectively.
Previous and related coverage
---
Have a tip? Get in touch securely via WhatsApp | Signal at +447713 025 499, or over at Keybase: charlie0
---
Elon Musk's satellites now streaming to some rural N.B. homes – CBC.ca
Billionaire Elon Musk's satellite internet service is now streaming to some homes in New Brunswick.
Starlink has enlisted some households in rural areas of Canada and the northern US to test the service before a full launch, possibly in mid 2021.
Greg Rekounas of the Kingston Peninsula is one of those who signed on to help test the high-speed internet service.
The database administrator, who works from home for an IT company, said he has to be connected at all times.
After barely a week with the new service, he's bowled over by the difference over his previous DLS link, which sometimes forced him to stop using his camera while participating in work related video-conferencing.
"It changes everything," said Rekounas. "For me, it was almost to the point where I was considering moving. And now that thought is out of my head."
Providing service to people around the world
Musk has been using SpaceX, his rocket company, to blast clusters of 60 low earth orbit satellites into space since May, 2019. The twice-monthly launches have so far planted 955 satellites in low earth orbit, about 550 kilometres above the earth.
The satellites can provide service improvements to people all over the world who are without access to high-speed internet.
Rekounas said it will certainly be welcome in homes in rural parts of New Brunswick.
"They're able to video conference, they're able to download, they're able to stream. They're able to stay connected almost a hundred per cent of the time," he said.
Service comes with a price
Upfront costs could be a barrier to some. Rekounas paid $820 for the required Starlink hardware, a satellite receiving dish, modem, power supply and 100 feet of cable.
The subscription fee is then $130 a month.
The goal is to have 12,000 in orbit by 2024.
SpaceX did not respond Thursday to a CBC interview request.
Musk is expected to face tough competition from Amazon owner Jeff Bezos, who has his own rocket company, Blue Origin, and is planning an alternate satellite internet service with 3,200 spacecraft in low earth orbit.
Another company, Telesat, which originates in Canada, also has plans to enter the low earth orbit internet market with 298 satellites.
The thousands of new satellites, and others likely to follow, are raising questions about the potential impact on the night skies and on the science of astronomy.
Thailand: Rare whale skeleton discovered – BBC News


.css-94m6rd-HeadingWrapperborder-bottom:solid 1px #BABABA;padding-bottom:1.5rem;.css-94m6rd-HeadingWrapper > *:not([hidden]):not(style) ~ *:not([hidden]):not(style)margin-top:1rem;.css-vk3nhx-ComponentWrappermargin:1.5rem 0;
.css-1759m9z-StyledFigurefont-family:ReithSans,Helvetica,Arial,freesans,sans-serif;font-weight:400;font-size:0.875rem;line-height:1.125rem;
.css-uf6wea-RichTextComponentWrappermargin:1rem 0;max-width:36.25rem;
.css-83cqas-RichTextContainercolor:#3F3F42;.css-83cqas-RichTextContainer > *:not([hidden]):not(style) ~ *:not([hidden]):not(style)margin-top:1rem;
.css-14iz86j-BoldTextfont-weight:bold;An almost perfectly preserved whale skeleton thought to be between 3,000 and 5,000 years old has been discovered in Thailand.
The bones were found in early November some 12km (7.5 miles) off the coast just to the west of Bangkok.
The 12m (39ft) long skeleton is thought to be that of a Bryde's whale.
Experts hope the find might provide "a window into the past," especially for research on sea levels and biodiversity.
The partially fossilised bones are "a rare find," mammal researcher Marcus Chua of the National University of Singapore told the BBC.
"There are few whale subfossils in Asia," he said, and even fewer ones are "in such good condition".
Pictures shared by Thailand's environment minister Varawut Silpa-archa show the bones apparently almost entirely intact.
.css-18mjolk-ComponentWrappermargin:1.5rem 0;max-width:50rem;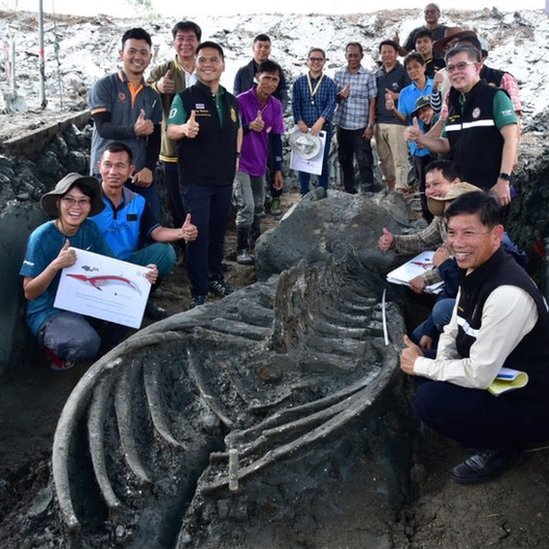 According to the politician, more than 80% of the skeleton has so far been recovered, including vertebrae, ribs, fins and one shoulder blade.
The skeleton's head alone is estimated to be about 3m in length.
Mr Chua says the discovery will allow researchers to find out more about the particular species in the past, whether there were any differences compared to today's Bryde's whales.
The skeleton will also provide information about the "paleobiological and geological conditions at that time, including sea level estimation, types of sediments, and the contemporary biological communities at that time".
.css-1pzprxn-BulletListContainermargin-left:1.5rem;.css-1pzprxn-BulletListContainer *:not([hidden]):not(style) ~ *:not([hidden]):not(style)margin-top:1rem;.css-1pzprxn-BulletListContainer ullist-style-type:disc;.css-1pzprxn-BulletListContainer ollist-style-type:decimal;
.css-yidnqd-InlineLink:linkcolor:#3F3F42;.css-yidnqd-InlineLink:visitedcolor:#696969;.css-yidnqd-InlineLink:link,.css-yidnqd-InlineLink:visitedfont-weight:bolder;border-bottom:1px solid #BABABA;-webkit-text-decoration:none;text-decoration:none;.css-yidnqd-InlineLink:link:hover,.css-yidnqd-InlineLink:visited:hover,.css-yidnqd-InlineLink:link:focus,.css-yidnqd-InlineLink:visited:focusborder-bottom-color:currentcolor;border-bottom-width:2px;color:#B80000;@supports (text-underline-offset:0.25em).css-yidnqd-InlineLink:link,.css-yidnqd-InlineLink:visitedborder-bottom:none;-webkit-text-decoration:underline #BABABA;text-decoration:underline #BABABA;-webkit-text-decoration-thickness:1px;text-decoration-thickness:1px;-webkit-text-decoration-skip-ink:none;text-decoration-skip-ink:none;text-underline-offset:0.25em;.css-yidnqd-InlineLink:link:hover,.css-yidnqd-InlineLink:visited:hover,.css-yidnqd-InlineLink:link:focus,.css-yidnqd-InlineLink:visited:focus-webkit-text-decoration-color:currentcolor;text-decoration-color:currentcolor;-webkit-text-decoration-thickness:2px;text-decoration-thickness:2px;color:#B80000;Ancient four-legged whale fossil found
"So this find provides a window into the past once the skeleton has been dated," Mr Chua says.
The bones are yet to be carbon-dated to determine their exact age, with the results expected in December.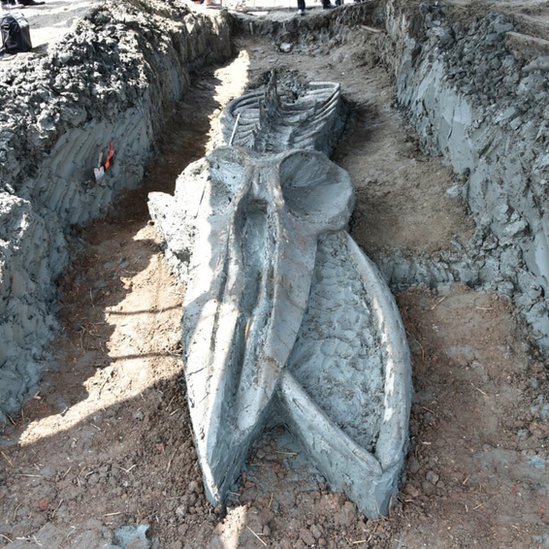 The gulf of Thailand has an interesting history in the last 10,000 years, the biologist points out, with sea levels possibly up to 4m higher than today and active tectonic activity.
The skeleton was found off the current coastline in Samut Sakhon.
Bryde's whales, which live worldwide in warm temperate and tropical waters, are still found in the waters around Thailand today.
You may be interested in watching:
.css-144ki52-SectionWrappermargin:1.5rem 0;padding-top:1.5rem;