New Zealand May Open Rate-Hike Door Amid Signs Economy Is Overheating – Bloomberg
New Zealand's central bank may signal it's willing to begin tightening monetary policy later this year as a slew of strong data suggest the economy is overheating.
The Reserve Bank will leave the official cash rate at 0.25% at its review Wednesday in Wellington, according to all 24 analysts surveyed by Bloomberg. But economists at the country's four largest banks now predict the RBNZ will start raising rates in November, and they expect it to tacitly acknowledge that possibility in its statement.
"The RBNZ can tick all its boxes — inflation risks have flipped firmly towards it being too high for too long, and we think the labor market is at least at, possibly past full employment," said Sharon Zollner, chief economist at ANZ Bank New Zealand in Auckland. "We don't need any more demand in this economy right now. I think it is overheating."
Investors ramped up rate-hike bets last week after a survey of business opinion showed increasingly confident firms are passing on higher costs by raising prices. At the same time, considerable risks remain. New Zealand's border is still largely closed to the outside world and a slow vaccination roll-out has left it vulnerable should Covid-19 breach its defenses.

The RBNZ's Monetary Policy Committee, led by Governor Adrian Orr, will publish its decision at 2 p.m. in Wellington tomorrow. It is an interim review, not a quarterly Monetary Policy Statement, so no new forecasts will be published and Orr will not hold a press conference. In May, the central bank projected it would start raising rates in the second half of 2022.
Stimulus Withdrawal
New Zealand's success in eliminating the coronavirus from the community has given its economic recovery a head-start, putting the RBNZ at the forefront of stimulus withdrawal in the wake of the pandemic.
It has already dialed down its quantitative easing bond buying to a current rate of just NZ$200 million ($140 million) a week, and several economists say purchases could end within months.
While some other central banks are also signaling an end to ultra-loose policies by tapering bond purchases, in Asia only the Bank of Korea has said that rate normalization is in the pipeline this year. By contrast, the Reserve Bank of Australia last week said it doesn't expect to increase borrowing costs until 2024.
The economy is running hot amid a shortage of goods and labor and surging demand. Gross domestic product jumped 1.6% in the first quarter from the fourth, three times the pace forecast by economists, while the housing market continues to boom despite government efforts to curb property investment.
The unemployment rate fell to 4.7% in the first quarter, and economists expect data due July 16 to show the inflation rate almost doubled to 2.7% in the second quarter, nearing the top of the RBNZ's 1-3% target range.
The central bank will want to be sure that faster inflation is becoming entrenched, and may be wary of putting upward pressure on New Zealand's exchange rate by tightening policy much sooner than its peers, said John Carran, an economist at Jarden Group in Auckland.
"They need to take a bit more time to see how long these labor market pressures and other cost pressures develop and whether they are going to flow through into significantly higher wages," said Carran. "I don't think there is enough evidence to say the spike in inflation will persist, and to justify the RBNZ raising rates."
But Craig Ebert, senior economist at the Bank of New Zealand in Wellington, said inflation will continue to track higher over the course of the year and the jobless rate will fall further. BNZ forecasts inflation reaching 3.3% in the fourth quarter and the unemployment rate dropping to 3.8% by mid-2022.
"It's the outlook for inflation, and the labor market, that will end up forcing the bank's hand on the OCR," said Ebert. "While risks of economic disappointment lurk," there are now "palpable threats imposed by an overheating local economy," he said.
— With assistance by Garfield Clinton Reynolds
Economy sending mixed signals: Maybe a recession isn't coming – Axios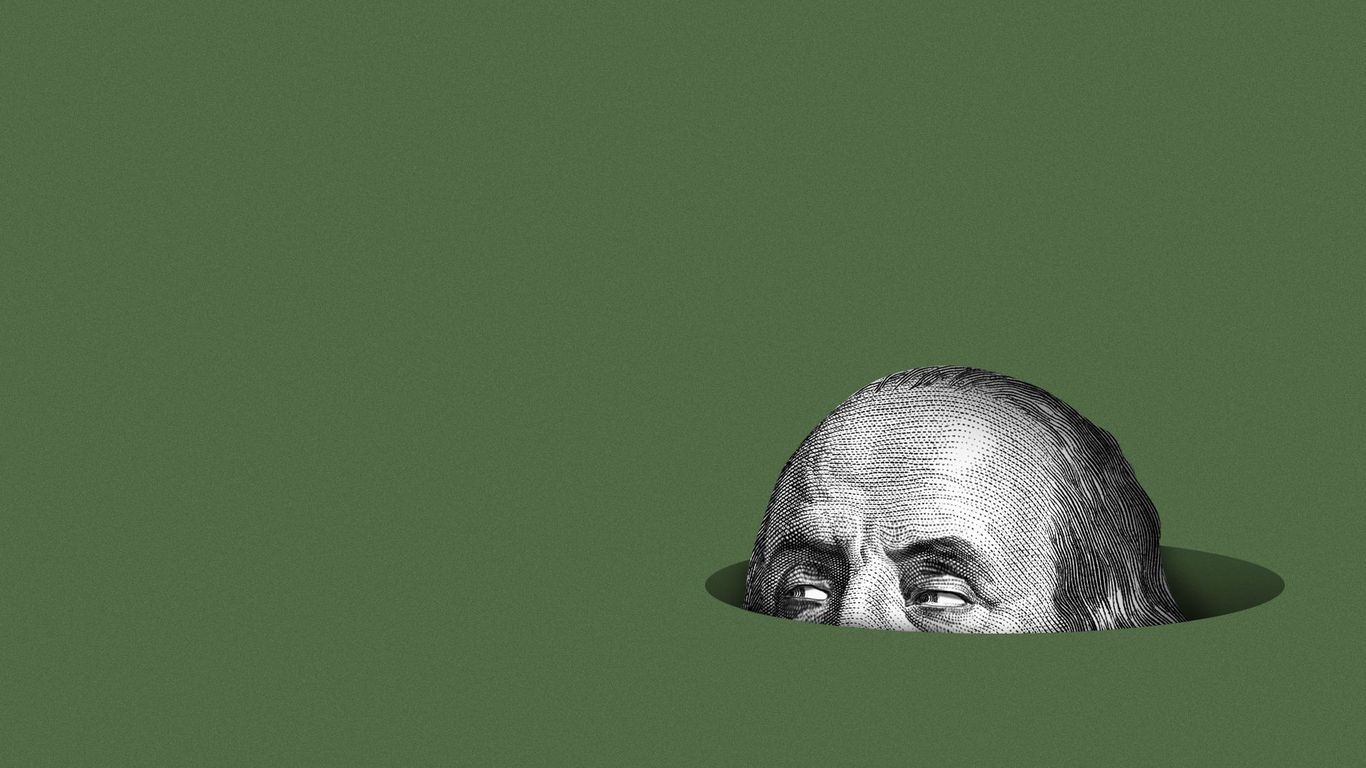 The job market is strong. Layoffs are happening. Businesses are pessimistic. Consumers are still spending.
If you're having a hard time figuring out this economy, you're not alone — it's sending all sorts of mixed signals.
Why it matters: The inflation crisis — namely record gas prices — has plunged consumer sentiment to an all-time low.
Meanwhile, the Fed's bid to wrest control of price spikes by imposing interest-rate hikes is having far-reaching effects.
The big picture: Depending on where you focus your attention, the economy can look nowhere near as bad as some people say — or that we're heading for a total face-plant:
The unemployment rate is only about a point away from an all-time low, but companies like Redfin, Netflix and Coinbase are cutting workers.
Business optimism hit the lowest point in the 12 years of JPMorgan Chase's Business Leaders Outlook Pulse survey, released today. But durable goods orders rose 0.7% in May, according to figures released today, signaling that companies were still spending.
Mortgage rates are pricing many buyers out of the housing market — but median home price growth held steady for a third straight week last week.
Reality check: The pandemic triggered a period of profound economic disruption, leaving some of the economic tea leaves harder to read than in past cycles.
Much of what seems today like conflicting or inconsistent data could simply be the result of an economy on the brink of change.
What they're saying: "As people learned to live with COVID-19 and prove resilient so far to higher prices at the checkout stand, economic momentum will likely protect the U.S economy this year," S&P Global Ratings U.S. chief economist Beth Ann Bovino said Monday in a statement. "What's around the bend in 2023 is the bigger worry."
The bottom line: Uncertainty is toxic for investor and consumer sentiment.
Analysis | What Is the 'Special Debt' China Uses to Spur Its Economy? – The Washington Post
China's government is cash-strapped with Covid-19, tax breaks and a property downturn pulling down income while spending keeps rising to pay for economic stimulus and containing virus outbreaks. One option Beijing has to fill the gap is to sell special sovereign bonds, a rarely used financing tool it last dusted off in 2020 to help lift the economy without inflating the budget deficit. Before that, they were employed during the Asian financial crisis in the 1990s and to help seed China's sovereign wealth fund in 2007.
1. What are special sovereign bonds?
Unlike regular government debt, special bonds raise cash for a certain policy or to help solve a particular problem. They are not part of China's official budget and thus not included in deficit calculations. The State Council, China's cabinet, can propose the sale of such bonds, which then requires approval only by a standing committee of the National People's Congress, which generally meets every two months, rather than the full legislative body, which meets only once a year. That means they can be issued in a more flexible way than regular bonds, which have to be planned for in the budget and approved by the annual session of the NPC.
2. Why use this tool now?
China has a target for gross domestic product growth of around 5.5% for this year, but with Covid lockdowns and a property slump, economists say the government is nowhere close to achieving that. One way President Xi Jinping is hoping to fuel a faster recovery is by spending trillions of yuan on infrastructure projects. Funding that kind of stimulus through the budget will be challenging though, given the plunge in tax revenues this year. Part of the financing will come from China's state-owned development banks, like China Development Bank and Agricultural Development Bank of China, which have been given an additional 800 billion yuan ($120 billion) credit line to provide loans for infrastructure investment. Special sovereign bonds could be an additional source, given some were used for that purpose in 2020. Wang Yiming, an adviser to the central bank's monetary policy committee, highlighted special national bonds as an option. More likely, the notes may be used to bridge the fiscal gap and finance the stimulus measures the government announced in May, according to Australia & New Zealand Banking Group Ltd. analysts Betty Wang and Xing Zhaopeng.
3. How were these bonds used before?
Some 1 trillion yuan of notes were sold in 2020, early in the pandemic. Exceptionally that time, the Communist Party's all-powerful Politburo decided to sell the bonds and the NPC gave the official go-ahead at its full session in May. Some 700 billion yuan from that sale was transferred to local governments to support their Covid control efforts and infrastructure investment, according to a report by the Ministry of Finance. The rest was brought into the central government's general public budget for subsidizing local spending on the outbreak, it shows. Before that:
• In 2007, 1.55 trillion yuan of special government bonds were issued to capitalize China Investment Corp., the sovereign wealth fund. The bond proceeds were used to buy currency reserves from the People's Bank of China, and those funds then went to CIC. Some of the bonds worth around 950 billion yuan will come due in the second half of this year, Bloomberg-compiled data show.
• During the Asian financial crisis, China sold 270 billion yuan of special government bonds — at the time the country's largest bond issue — to raise capital for its big state banks and help offset losses from nonperforming assets.
4. How might the bonds affect financial markets?
A surge of bond supply would drive down prices of the securities and push up yields. The issuance in mid-2020 helped to boost the yield on China's 10-year government bond by more than 20 basis points in about three weeks, to a near six-month high. At the time, liquidity conditions were tight because of a deluge of local government bond supply before the special debt hit the market and the central bank's cautious approach to monetary easing, in part to avoid fueling asset bubbles. The situation is different now. Interest rate cuts and other central bank easing measures mean the nation's banks are flush with cash that they can use to soak up any extra bond supply. Also, local governments — which issue their own special bonds used mainly for infrastructure investment — have been ordered to sell almost all of this year's quota of 3.65 trillion yuan of debt by the end of June. That should leave room for the market to absorb new debt issuances in the second half of 2022.
5. How much are we talking?
Jia Kang, a former head of a finance ministry research institute, said the 1 trillion yuan sold in 2020 could serve as a "reference" for policy makers when deciding on how much to issue this year. Others think it might be more. Larry Hu, head of China economics at Macquarie Group Ltd., estimated that the Covid outbreaks this year in China likely caused a budget shortfall of 1 trillion to 2 trillion yuan. A sale that size could contribute 1-2 percentage points to gross domestic product growth given the extra financial boost it will give local governments to spend, he estimated, adding the impact on the financial market is expected to be "limited."
More stories like this are available on bloomberg.com
©2022 Bloomberg L.P.
Britain's Battered Economy Is Sliding Toward a Breaking Point – BNN
(Bloomberg) — Britain under Prime Minister Boris Johnson is running into the biggest headwinds it's faced since the 1970s, heaping pain on an economy still reeling from Brexit and the pandemic.
After suffering from unprecedented shocks in recent years, the nation is succumbing to more intractable problems marked by plodding growth, surging inflation and a series of damaging strikes.
The result is a plunge in consumer confidence that analysts warn may lead to a recession. Railway workers walked off the job in anger that their living standards are slipping, and teachers, doctors and barristers may be next.
The malaise is a far cry from the boom and "cool Britannia" reputation that Tony Blair's government enjoyed through the early part of this century.
The headline figures make grim reading. The economy is on track to shrink in the second quarter, raising the possibility that the UK is already in a recession. Even when the outlook appeared brighter, officials estimated that growth would settle at a below-par 1.8% a year, with no end in sight to the feeble productivity that has blighted the country for over a decade.
While growth is on track to lag most major economies next year, inflation is also on the rise. Consumer prices surged by 9.1% in the year through May, the most for 40 years.
The Bank of England expects inflation to accelerate again when energy bills are allowed to rise in the autumn, reaching more than 11%.
It's a blow for the UK, which led the world in growth after the pandemic, and recalls the dark days of the 1960s and 1970s when commentators and politicians identified Britain as the "sick man of Europe" because of its performance.
Those figures overshadow deeper structural problems hobbling the UK. Chief among them is productivity growth, which slowed to a crawl after the financial crisis in 2008 and 2009. Only Italy put in a worse performance.
How much a worker can produce is important because it drives the long-term potential of the economy. Low productivity limits the pace at which output can grow and depresses wage packets. Real wages took years to recover to their 2007 levels after the financial crash.
An hour of work in the UK generates around $60, according to the OECD. The figure is over $70 in the US and about $67 in France and Germany. Economists and policy makers debate the causes of the malaise but say that fixing it is crucial if Britain is to get out of the slow lane.
The gaps in performance within the UK are equally stark, with London consistently outpeforming other regions, in part due to the concentration of financial services in the capital city. Johnson came to to power in 2019 on a pledge to "level up" poorer parts of the country, but there are few signs that the policy is working.
One explanation for the productivity gap is a lack of investment. British companies spend less on things like plant, machinery and technology than those in most other major economies.
Chancellor of the Exchequer Rishi Sunak says the tax system is one of the problems and is working on a way to improve allowances companies can claim for making investments.
Brexit uncertainty also seems to have unsettled executives, with investment flat-lining since the 2016 public vote to leave the European Union. Had they continued to spend as they did before the referendum, investment would be around 60% higher today.
Life outside the EU has also had an impact on trade as importers and exporters contend with higher trade barriers. Despite a sharp fall in the pound since the vote, there is little evidence to suggest the external sector has benefited from increased competitiveness.
Analysis by Bloomberg Economics shows the UK lagged behind the trade performance of other big nations before the pandemic, and has failed to fully share in the global trade rebound since then.
What Bloomberg Economics Says:
"It's been six years since the UK voted to leave the European Union and more than one since it established a new relationship with its main trading partner. From a 16% devaluation of the pound to an eye-watering slide in trade and investment, Brexit's impact is plain to see. The data have only reinforced our view that life outside of the EU would leave the UK worse off."
–Ana Luis Andrade, Bloomberg Economics. Click for the INSIGHT.
The housing market is another constraint. Prices have risen almost without break since 1995, straining affordabilty for first-time buyers. Properties are in short supply in places like London that's long been the engine driving the national economy.
The expense and difficulty of moving limit labor mobility, depriving companies and public services of key workers, and leave consumers channeling more wealth into the property market than their peers abroad.
Housing is the most visible drain on consumers, but wages are lagging too. Real wages adjusted for inflation are now falling at the fastest pace in 20 years. In 2019, wages in the UK trailed far behind those in the US and Canada.
Workers are rebelling, with rail unions embroiled in the biggest work stoppage since 1989 and teachers, doctors and barristers are threatening to walk off the job.
The strife recalls the 1970s, when Harold Wilson's Labour government put industry on a three-day week because of an energy crisis and strikes by coal miners.
©2022 Bloomberg L.P.