NHL Rumors: Maple Leafs, Red Wings, KHL Contracts, More – The Hockey Writers
In today's NHL rumor rundown, there are updates on the status of KHL stars Ilya Sorokin and Kirill Kaprizov, there is buzz about which nine players will make up the Toronto Maple Leafs' taxi squad, and the Detroit Red Wings talks offseason plans.
Sorokin and Kaprizov Won't be Staying in the KHL

With reports that the NHL was going to deny the right for NHL clubs to let signed players from the KHL play in this year's postseason, there was speculation names like Ilya Sorokin and Kirill Kaprizov might choose to stay in the KHL versus signing a deal with the NHL teams that were rumored to have landed them. That's not accurate.

According to Aivis Kalnins of Full Press NHL and a KHL insider, both Sorokin (New York Islanders) and Kaprizov (Minnesota Wild) intend to sign their entry-level contracts.
Maple Leafs' Taxi Squad
NHL teams will be allowed to carry an extra seven skaters — to bring the total to 28 — and an unlimited number of goalies when the season resumes. Because the AHL has officially shut down and with potential injuries or call-ups, all 24 teams needed some kind of assurances.
For the Maple Leafs, speculation is that their additional skaters will include Nick Robertson, Egor Korshkov, and Kenny Agostino at left wing, Nic Petan and Adam Brooks, at centre, Timothy Liljegren, Martin Marincin on defence, and Kasimir Kaskisuo and Joseph Woll, in goal. Missing the cut will be Pontus Aberg, Kevin Gravel, Kristians Rubins, and Jeremy Bracco.
James Mirtle and Joshua Kloke of The Athletic write:
The only NHL regular missing is Andreas Johnsson, who continues to rehab from knee surgery and likely isn't available until deep into the summer. These players will all be part of the Leafs play-in roster when games resume against the Blue Jackets.

source – 'Who will make the Maple Leafs taxi squad and 32-player postseason roster?' James Mirtle / Joshua Kloke – The Athletic – 05/29/2020
This will give the Maple Leafs a final roster of 32.
Related: Hockey 101: A Beginner's Guide to Ice Hockey
Trades Not Expected Yet
Luke Fox of Sportsnet writes, "Just because the seven eliminated teams are free to make trades with each other, I'd be stunned to see any transaction of significance."
The seven eliminated teams can make trades start immediately, and while that might seem like an advantage, most insiders don't really think it will be. Fox asks why any team would want to pitch to just 20 percent of the market? He adds:
"that most deals involve movement of draft picks, and we don't even know the draft order let alone the draft date, and I wouldn't be refreshing your Twitter feed searching for that Rasmus Ristolainen blockbuster just yet.
He refers to Ristolainen, likely because the Sabres defenseman mentioned he thought he'd be one of the first players moved out of the organization.
Related: Top 10 Offensive Seasons in Maple Leafs History
Red Wings Won't Sign Big Free Agents
There's been talk about how GM Steve Yzerman will reshape the Detroit Red Wings this offseason and whether he opts for a slow rebuild or uses free agency in a summer where he might have more money than some clubs to add good players.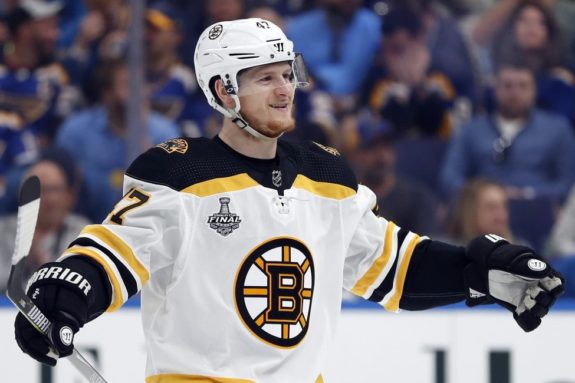 Yzerman told Bob Wojnowski of the Detroit News that he will use free agency but stressed he won't go into the free-agent market to make a splash. He'll instead focus on "sensible signings". Yzerman explained:
"We're prepared to do anything we can in free-agency, but it's not get a player at all cost, that's not the plan. We're not trying to do everything overnight because that can really handcuff you. The reality is, I think it's very difficult to do that with free-agency, to get those elite players. You've got to spend a lot of money for a long time, and I don't know if we're a market for those type of players at this time. That's the reality."

source -'Wojo: Amid Wings' pain and pandemic, Steve Yzerman has lots to consider' – Bob Wojnowski – Detroit News – 05/27/2020
He also said of Tyler Bertuzzi and Anthony Mantha, he expects to re-sign both players. "We're not gonna let them go anywhere, we'll get deals done."
Catch up on all the latest NHL Rumors
Dykstra's libel suit dismissed: Reputation 'so tarnished that it cannot be further injured' – theScore
Lenny Dykstra's defamation and libel lawsuit against former New York Mets teammate Ron Darling was dismissed Friday by New York Supreme Court Judge Robert D. Kalish, according to ESPN.
Dykstra's "reputation for unsportsmanlike conduct and bigotry is already so tarnished that it cannot be further injured," the ruling stated.
The lawsuit stemmed from Darling's 2019 memoir, "108 Stitches: Loose Threads, Ripping Yarns, and the Darndest Characters from My Time in the Game." In the book, Darling wrote that Dykstra directed racist taunts toward Boston Red Sox pitcher Dennis "Oil Can" Boyd during the 1986 World Series.
Darling petitioned to have the lawsuit dismissed by citing Dykstra's past legal problems as well as comments made in Dykstra's autobiography, "House of Nails: A Memoir of Life on the Edge." Judge Kalish cited these documents as a contributing factor to the dismissal.
"Based on the papers submitted on this motion, prior to the publication of the book, Dykstra was infamous for being, among other things, racist, misogynist, and anti-gay, as well as a sexual predator, a drug abuser, a thief, and an embezzler. Further, Dykstra had a reputation – largely due to his autobiography – of being willing to do anything to benefit himself and his team, including using steroids and blackmailing umpires," Kalish wrote.
The 57-year-old Dykstra played 12 major-league seasons between the Mets and Philadelphia Phillies. He's made headlines in his post-playing career for various legal issues, including a 2018 arrest for drug possession and uttering terroristic threats. He served six-and-a-half months in prison after pleading guilty to bankruptcy fraud, concealment of assets, and money laundering in 2012.
Dana White: Jon Jones Has Made Enough Money from Fighting to Retire – Sherdog.com
Sign up for ESPN+ right here, and you can then stream the UFC live on
your smart TV, computer, phone, tablet or streaming device via the
ESPN app.
If Jon Jones
wants to relinquish the light heavyweight title and walk away from
the sport, that's his decision, according to Dana White.
The UFC president issued a brief statement to the
Canadian Press on Monday after Jones tweeted that he planned on
vacating the 205-pound belt. Jones' threat was the latest salvo in
a
public dispute regarding negotiations for a potential
superfight with heavyweight Francis
Ngannou.
"Jon
Jones is one of the greatest to ever do it," White said. "The
decision he wants to make regarding his career is up to him. The
reality is that he's made enough money from fighting that he's now
in the position to retire and never work again in his life."
White's statement bears some resemblance to
remarks he made about Conor
McGregor after the Irish star earned in the neighborhood of
$100 million to box Floyd
Mayweather in August 2017.
Money appears to be at the root of the issues between Jones and
White. The UFC boss claimed that "Bones" demanded a Deontay
Wilder payday — around $25 to $30 million — to fight Ngannou.
Jones responded that he never provided a specific number, only that
he wanted a new deal for the added risk of moving up in weight.
Things have only escalated since then, as Jones wasn't pleased with
White's remarks at the UFC on ESPN 9 post-fight press conference
Saturday.
Jones' attention has been elsewhere more recently. He took to the
streets to
stop vandalism in Albuquerque, New Mexico, early Monday morning
during the George Floyd protests in the city and then assisted
local businesses with clean-up and repairs during the day.
Report: Players agree to MLB's radical realignment proposal – theScore
Major League Baseball's owners and players are locked in combative negotiations, but it appears they're on the same page regarding temporary realignment.
As part of its counteroffer to the league, the players' union agreed to MLB's proposal to abandon the traditional American and National Leagues this year in favor of a regionalized three-division format, sources told Michael Silverman of The Boston Globe.
Under the plan, the AL East and NL East would merge into one 10-team division, with each league's Central and West divisions doing the same, Silverman reports. Clubs would only play against their nine divisional opponents during the regular season in order to cut down on travel.
| East | Central | West |
| --- | --- | --- |
| Yankees | Indians | Athletics |
| Orioles | Royals | Mariners |
| Rays | Twins | Angels |
| Red Sox | White Sox | Astros |
| Blue Jays | Tigers | Rangers |
| Braves | Brewers | Dodgers |
| Nationals | Reds | Giants |
| Marlins | Cardinals | Rockies |
| Mets | Cubs | D-Backs |
| Phillies | Pirates | Padres |
All games would be played in each team's regular home ballpark without fans in attendance. It's unclear what the Toronto Blue Jays would do if Canada's COVID-19 border restrictions are still intact when the season starts.
It's also unclear what a playoff format in the realigned league could look like.
The length of the 2020 season remains in question as MLB and the union continue to negotiate. The players' latest proposal called for prorated salaries over a 114-game season starting June 30 and ending Oct. 31 while including room for doubleheaders, Silverman reports. Owners, who had initially proposed an 82-game campaign, reportedly plan to counter with a shorter schedule of around 50 games along with prorated salaries.