NHL's Decision To Fire Tim Peel Could Affect Future McDavid Calls – The Hockey Writers
You won't find too many Edmonton Oilers fans who believe the officiating — at least when it comes to NHL superstar Connor McDavid — is anywhere close to consistent. If even half of the penalties were called that the dynamic and speedy center should have drawn, the opposition would be in the penalty box most of the game. Like it or not, the calls (or lack thereof) are a form of managing the game.
And, the question of officials managing a game is now the hot debate in the NHL since news broke that long-time league official Tim Peel was fired for admitting to a make-up call on a hot mic during a Nashville Predators vs. Detroit Red Wings game on Tuesday. Peel was heard on the FOX broadcast saying, "It wasn't much, but I wanted to get a f-ckin' penalty against Nashville early in the …" and then his mic cut out.
The NHL probably felt like they had no alternative but to relieve Peel of his duties. And, as embarrassing as being caught on a hot mic was, make no mistake, this is hardly the biggest issue the league will need to address.
Officials Managing the Game Is a Reality
I completely understand the argument that NHL officials should simply call what they see. If it's a penalty, call it. If it's not, don't. But that's not a realistic world to live in when it comes to the ebbs and flow of a professional hockey game with so much speed and skill involved.
Officials and players are human. They make mistakes, try to course correct, or get an edge. In some cases, a referee doesn't like being made to look like a fool when a player dives. It's logical to assume that player won't get a future call, even if he's earned one. It's also natural if the penalties in a game are leaning four in favor of one team and none for the other, that officials will look more closely to give at least one power play to the other team. It's not the way it should be, but it is.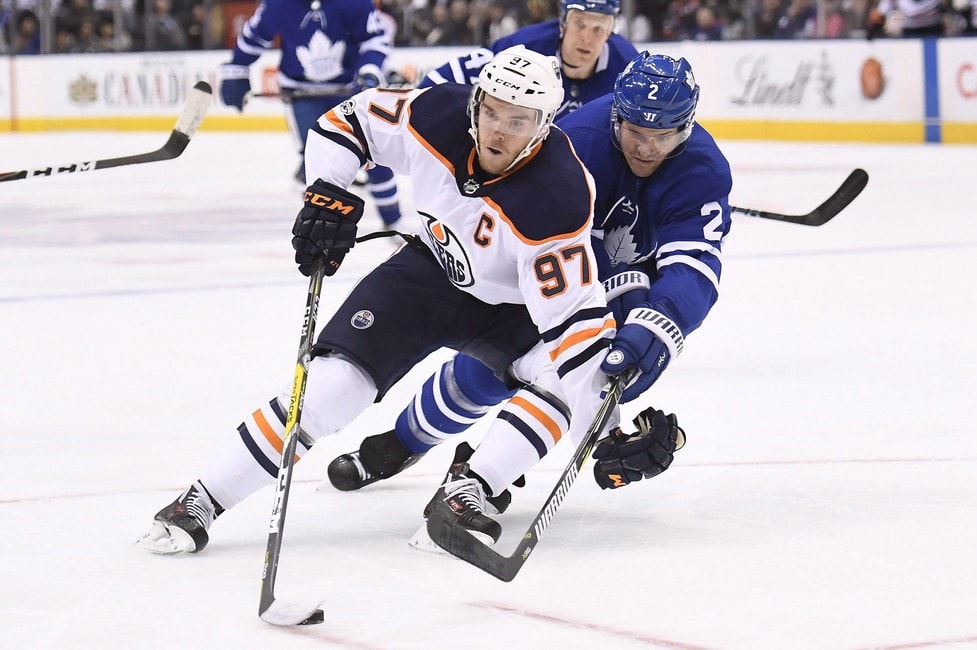 In many cases, players are looking to get away with as much as they can and not get caught. NHL officials know it. Former Oilers' defenseman Jason Strudwick admitted on TSN 1260 today: "I knew where a referee would be looking. With only two people who make the calls on 10 players moving all over the ice there will be missed calls. Things look different depending on the angle. To get all calls right then have all four officials call penalties."
Sometimes it's not even about hiding what you're doing. As is the case for McDavid, he's simply too fast and an argument can be made that most of the defensive plays against him are a penalty, in some way, shape or form. Someone is either holding him, hooking him, or slashing him in an effort to slow him down. When they don't, he tends to get a point.
I'm the first to get upset when obvious infractions aren't called. I also fully believe the Oilers earn more power plays on any given night than they are often given. But, the same can be said for a number of teams with skilled players. As such, there's a line that has to be drawn and the NHL has essentially tried to eliminate it with the firing of Peel on Tuesday.
Related: NHL Rumors: Predators, Flyers, Maple Leafs, Islanders, More
What Now for McDavid?

It will be very interesting to see how the game changes and how officials view plays against McDavid moving forward. He's 45th in the league for penalties drawn/60 minutes and second in the NHL for penalties drawn this season with 21. That's bound to change. If the remaining referees are on high alert that everything they call needs to be black or white, one of two things is bound to happen: either McDavid draws a lot more penalties or the officials simply say the plays against him aren't illegal.

If it's the former, how many penalties could McDavid theoretically draw in a game? If it's the latter, how long before everyone is crying foul that penalties aren't called?

No doubt, in any given Oilers game, the officials are keenly aware of how many times McDavid is hauled down, hung onto or impeded as he does what he does. It should come as a shock to no one if referees had quick discussions saying, 'This has gotten out of hand' or 'Boys, we can't call everything'. The only difference is, they didn't have those discussions over a live mic for the world to hear.

Don't fool yourself if you're thinking the NHL's big issue was that they now, all of a sudden, learned that NHL officials are trying to keep control of a game in the best way they know how. No, the NHL is just mad that a referee got caught saying it out loud. As a result, the games will change and the Oilers, specifically McDavid, could be positively or negatively affected by it.
More people watched Seattle NHL expansion draft on ESPN2 than Cubs-Cards on ESPN – Awful Announcing
In the grand scheme of things, 637,000 viewers nationally is not a huge number for a cable channel with any level of significant distribution. Most things on broadcast TV not only beat that, but beat it by quite a bit, and that kind of number isn't usually even amongst the top cable broadcasts. However, the news that ESPN2 pulled that number in for its (NHL-produced, but featuring ESPN figures) coverage of the NHL expansion draft for the Seattle Kraken Wednesday night was certainly interesting, especially as so much of the actual news around that draft was reported in advance, and also given that their main-network coverage of the MLB game between the Chicago Cubs and St. Louis Cardinals drew fewer viewers. Here's a comparison of Wednesday night sporting events from John Ourand of Sports Business Journal:
Sports TV of note from Weds:
AEW Dynamite on TNT: 1.148 million viewers
Primetime Oly programming on NBCSN: 773,000
PTI on ESPN: 648,000 viewers
NHL Expansion Draft on ESPN2: 637,000 viewers
Cubs-Cardinals on ESPN: 509,000 viewers

— John Ourand (@Ourand_SBJ) July 22, 2021
On the negative side, that draft didn't even draw the numbers of studio show Pardon The Interruption (however, that airs on ESPN rather than ESPN2; they're similar in distribution, but many people turn on main ESPN first). It also didn't draw the numbers of early Olympic programming from NBCSN. On the positive side, it outdrew a national MLB game. And it drew more than the Vegas Golden Knights' expansion draft five years ago (595,000 on NBCSN for a combined broadcast of that draft and the NHL Awards). And it's a good sign for ESPN, as this is their first big NHL event they aired under their new deal.
And yes, as Ourand noted in a follow-up tweet, that Cubs-Cards game didn't have regional sports network blackouts, so Cubs and Cardinals fans could still watch it on their local RSNs. And most probably did, so it likely primarily pulled the national audience that didn't have those RSNs. But it's still interesting to see an ESPN2 event outdraw an ESPN event, especially when the ESPN event is a live game and the ESPN2 event is a one-team expansion draft (and one where most of the information was previously available to the public).
If ESPN versus ESPN2 programming decisions were made strictly from a standpoint of what they thought would draw more viewers, this result would go against that. That's not entirely the case here, as the MLB on ESPN package comes with some restrictions on where games can air. But it's still interesting to see the NHL expansion draft on ESPN2 outdraw a live MLB game between two prominent teams.
That is also perhaps further evidence that draft "spoilers" don't always damage the ratings that much. That's long been a debate, from the NFL's heavy pushes against pick-tipping to the NBA's more moderate approach (which sees pick-tipping still happen with some different language, and which hasn't really led to obvious ratings losses).
In the case of this draft, figures who don't work for expansion draft rightsholders Sportsnet (Canada) and ESPN (U.S.) reported many of the picks early, with Frank Seravalli (formerly of TSN, now of Daily Faceoff) and Pierre LeBrun (TSN/The Athletic) getting many of those, other national figures getting some more, and local reporters getting some others. So a mostly-full picture was available before the broadcast for those who wanted to find it. But that didn't stop a significant amount of people from watching this, and that maybe shows that the league pushes against pick-tipping aren't always that impactful.
[John Ourand on Twitter]
Cleveland changes MLB team nickname to Guardians after months of discussion – CBC.ca
Known as the Indians since 1915, Cleveland's Major League Baseball team will be called Guardians.
The ball club announced the name change Friday with a video on Twitter narrated by actor Tom Hanks, ending months of internal discussions triggered by a national reckoning by institutions and teams to permanently drop logos and names that are considered racist.
Together, we are all… <a href="https://t.co/R5FnT4kv1I">pic.twitter.com/R5FnT4kv1I</a>

&mdash;@Indians
The choice of Guardians will undoubtedly be criticized by many of the club's die-hard fans.
The organization spent most of the past year whittling down a list of potential names that was at nearly 1,200 just over a month ago. But the process quickly accelerated and the club landed on Guardians.
Social unrest spurred name change
Team owner Paul Dolan said last summer's social unrest, touched off by the killing of George Floyd in Minneapolis, spurred his intention to change the name.
Dolan is expected to provide more details on the choice and background on the change at a news conference at Progressive Field before Cleveland hosts the Tampa Bay Rays.
Dolan said the new name mirrors the city and its people.
"Cleveland has and always will be the most important part of our identity," he said in a statement. "Therefore, we wanted a name that strongly represents the pride, resiliency and loyalty of Clevelanders. 'Guardians' reflects those attributes that define us."
In 2018, the team stopped wearing the contentious Chief Wahoo logo on their jerseys and caps. However, the team continues to sell merchandise bearing the smiling, red-faced caricature that was protested for decades by Native American groups.
The name change has sparked lively debate among the city's passionate sports fans. Other names, including the Spiders, which is what the team was once called, were pushed by supporters on social media platforms.
But Guardians does seem to fit the team's objective to find a name that embodies Cleveland's ethos while preserving the team's history and uniting the community.
Not far from the downtown ballpark, there are two large landmark stone edifices — referred to as guardians — on the Hope Memorial Bridge over the Cuyahoga River.
The team's colours will remain the same, and the new Guardians' new logos will incorporate some of the architectural features of the bridge.
The change comes as the Washington Football Team continues to work toward a similar makeover. The franchise dropped its name before the 2020 season and said it will reveal a new name and logo in 2022.
LIVE BLOG: Opening ceremony kicks off 2020 Olympics in Tokyo – Global News
After being postponed for a year due to the COVID-19 pandemic, the 2020 Tokyo Olympics has officially kicked off.
The Olympic Games opening ceremony is typically a chance for competing countries and athletes to show off their pride and culture, but this year will be a little different.
Normally held in a stadium full of ecstatic fans, this year's ceremony will have international athletes parade around a near-empty venue after it was announced fans would not be allowed to attend because of rising COVID-19 cases in Japan.
Athletes from around the world, including Canada, are taking part in the ceremony for the Summer Games, which will run until Aug. 8.
Canada has sent 370 athletes to the Olympics, the nation's largest delegation since 1984.

2:30


Team Canada names flag-bearers for Tokyo Olympic Games



But only 30 to 40 athletes are marching into the Olympic Stadium, the Canadian Olympic Committee has previously said, saying athletes aren't allowed into the Olympic Village until five days before they compete.
Many of them will be too close to the start of their competition to join flagbearers Miranda Ayim of the women's basketball team and men's rugby sevens co-captain Nathan Hirayama.
The ceremony's theme is "United by Emotion," as officials are aspiring to reaffirm the role of sport and the value of the Olympic Games, express gratitude and admiration for the efforts made over the past year, and also bring a sense of hope for the future, the Olympics website says.
Despite all the difficulties the International Olympic Committee has faced to stage the Games amid a global pandemic, president Thomas Bach previously said he believes the ceremonies will be a moment of "joy and relief."
The event runs from 7 a.m. ET to 11 a.m. ET
You can follow along here.
© 2021 Global News, a division of Corus Entertainment Inc.