No Oscars or sensitive art spark Hong Kong censorship fears – Coast Reporter
HONG KONG — Decisions in Hong Kong not to display a politically sensitive photograph in a museum exhibition and not broadcast the annual Academy Awards for the first time in decades have prompted concerns that Beijing's crackdown on dissent in the city is extending to arts and entertainment.
Hong Kong authorities have taken a tougher stance on opposition following Beijing's imposition of a national security law on the city, arresting prominent pro-democracy activists and participants in anti-government protests in 2019.
The twin announcements on the Oscars and the photograph came as China's top legislature began deliberating a revamp to Hong Kong's election laws that would put more power in the hands of a committee dominated by Beijing loyalists.
Henry Tang, head of the city's West Kowloon Cultural District Authority, said at a news conference Monday that there are no plans to exhibit a photo at the opening of the city's new M+ museum by dissident Chinese artist Ai Weiwei showing him holding up his middle finger at Tiananmen Square in Beijing.
The decision prompted concern that the security law will not just be used to silence dissent but also to intervene in freedom of art and expression.
Tang dismissed suspicion that the museum was under pressure to remove the photo, saying there never were plans to include it.
"We have never planned for that photograph to be included in the opening exhibition, so there is no question that we have retracted it, or we have succumbed to pressure and have changed it," Tang said.
"If any of our works or any of our actions contravenes any such law, I'm sure the law enforcement agencies will get in touch with us and we will co-operate fully with them," he said.
Ai, the artist, was not immediately available for comment.
Earlier this month, Hong Kong leader Carrie Lam said authorities were on "full alert" to ensure that exhibitions in the city do not violate the national security law. Pro-Beijing lawmakers have said that some of M+'s artwork is politically sensitive and could be in breach of the legislation.
Separately, public broadcaster TVB confirmed Monday that it will not air this year's Academy Awards ceremony for the first time in decades.
A report by local newspaper The Standard suggested that earlier critical comments about mainland China by Chloe Zhao, the Beijing-born director of nominated film "Nomadland," as well as the nomination of a short documentary about the 2019 protests in Hong Kong could be linked to the decision not to broadcast the ceremony this year.
"TVB does not have the broadcasting rights for The Oscars 2021. It was purely a commercial decision that we decided not to pursue the Oscars this year," TVB said in a statement.
Old comments by Zhao in which she was perceived to be criticizing mainland China sparked outrage in the country. Searches for "Nomadland" were blocked on the Chinese internet, which is heavily censored and filtered to scrub content deemed politically sensitive by the government.
The Academy of Motion Picture Arts and Sciences Awards, which presents the awards, could not immediately be reached for comment.
In Beijing, proposed changes to Hong Kong's electoral system were submitted to the Standing Committee of the National People's Congress at the opening of its session on Monday, the official Xinhua News Agency said.
Under the proposals, the make-up of a committee that chooses the leader would be changed, and the committee would be given the power to pick a large share of the legislature. The changes are expected to reduce the proportion of lawmakers elected by direct vote, though details have not been released yet. ___
Associated Press journalist Juwon Park in Seoul, South Korea, contributed to this report.
Zen Soo, The Associated Press
White House on defensive over Hunter Biden art sales – FRANCE 24
Issued on: 24/07/2021 – 01:08
Washington (AFP)
The White House assured Friday that necessary ethical precautions would be taken around any exhibitions and sale of artwork by President Joe Biden's son, whose personal life and professional career have been peppered with controversy.
Asked by reporters about upcoming exhibitions of Hunter Biden's artwork in New York's Georges Berges Gallery, White House Press Secretary Jen Psaki said the president's son would be "attending gallery events."
The discussions about sales "will be happening with the gallerist" and not Hunter Biden, she said.
"That is different than meeting with prospective buyers."
Psaki had announced July 9 that a system had been established allowing Hunter Biden to practice his profession "within appropriate safeguards," including the confidentiality of any transactions and no contact with buyers.
At exhibits of Hunter's work, "the selling of his art will all happen through the gallerist and the names and individuals will be kept confidential," she said.
When pressed that a buyer could simply tell the artist that he or she is purchasing his work, Psaki stressed that a strict rules structure will be in place.
"He will not know, we will not know who purchases his art," she said.
Contacted by AFP, the gallery did not immediately provide any comment or details.
The Biden administration, which seeks to present itself as ethically unblemished, has been repeatedly questioned about the artistic career of the 51-year-old lawyer and businessman-turned-painter.
US media point out the obvious risks of businessmen or others purchasing the artwork with the sole aim of winning access to or influence with the White House.
Press reports have said the paintings by Biden, who has had no formal training, could sell for up to half a million dollars.
Hunter Biden is one of former president Donald Trump's favorite targets.
During the 2020 presidential campaign Trump and his supporters regularly criticized Hunter Biden for his economic interests in Ukraine and China when his father was vice president under Barack Obama.
Hunter is also the target of a federal investigation into possible tax crimes.
In a memoir published earlier this year, the president's youngest son recounted his struggle with addiction to cocaine and alcohol.
© 2021 AFP
Art exhibits return to Callander's Alex Dufresne gallery – BayToday.ca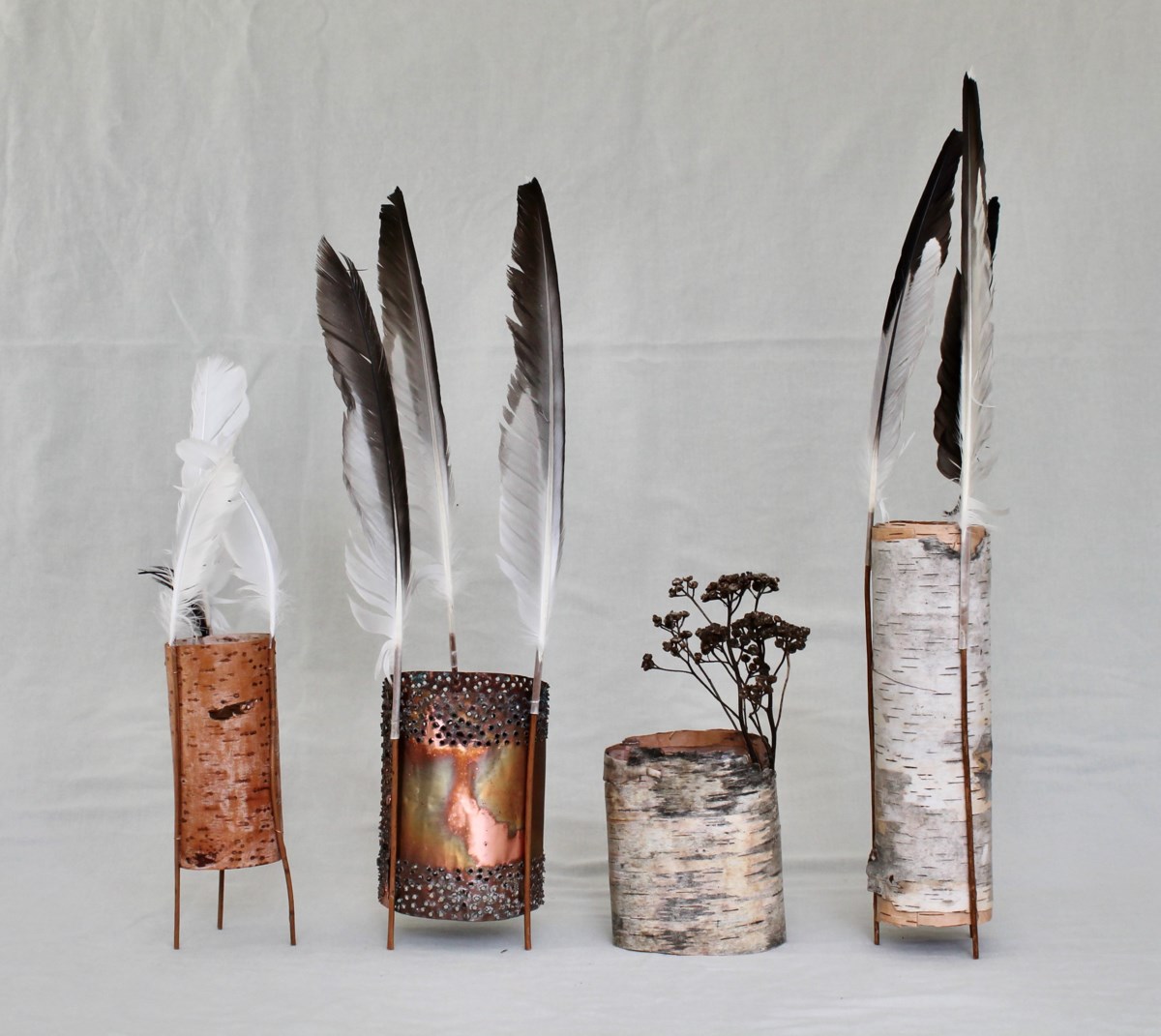 After a long hiatus, art shows are returning to the Alex Dufresne Gallery at the Callander Bay Heritage Museum this Saturday.
The works of Carole Davidson and Sara Carlin-Ball are highlighted in an exhibit entitled "Journeys to a Conversation with Nature."
In a release promoting the show, Davidson and Carlin-Ball explain the "works display a felt presence of our natural environment in unexpected materials and surprising subjects."
Their goal in selecting the pieces for the exhibit is to capture "the luscious spectacular that is Nature, Muse, Essence," and emphasize how these "inspire the audience to revision their place – their gratitude and responsibility – on this Earth."
See: Callander museum reopens from COVID with new art show
"It feels absolutely wonderful to have art back on the walls," said Natasha Wiatr, the gallery's curator.
The last show was this past April but did not last long before Covid regulations closed the event. Since then, "the walls have been empty."
"We haven't consistently had shows in what feels like so long," she said, and is pleased to launch what will hopefully be a long stretch of exhibits.
Currently, the gallery is booked until 2023, "and we've added two more shows per year," Wiatr explained.
"We see ourselves as a community-based gallery," she said, and as such, strive to present as many local artists as possible.
See: White Water Gallery has a new executive director
The Museum and Art Gallery are open Tuesday to Saturday from 10:00 – 5:00 p.m.
The gallery can hold 14 people at once, and walk-ins are welcome. Appointments can also be booked ahead of time at www.mycallander.ca/gallery.
Staff remind to you please wear a mask when you visit and maintain social distance.
Admission to the museum is $5 for seniors and students, $4.50 for kids 6-12, free for children under 6 and adults pay $5.50. Family rate for 4 is $15. Entrance to the gallery is by donation.
See: Mattawa museum celebrates reopening with Community exhibit
Callander museum reopens with art show – The North Bay Nugget
Article content
The art show Journeys to a Conversation with Nature will reopen the Callander Museum and Alex Dufresne Gallery Saturday.
Article content
The works of Carole Davidson and Sarah Carlin-Ball will remain on display to Aug. 20.
"There is an essential longing for life that erupts in a luscious spectacular that we call Nature," the artists said in a statement.
"The human animal is a part of this longing for life that some might call a Muse – a Muse for artists of every passion and discipline. Artists are at the mercy of their muse and transcribe whatever is whispered to them about life, people, and the compelling natural environment they belong to.
"One may be a studied artist haphazardly trained while another may be an experimental soul, interpreting the ever-changing environment around her."
Influenced by the gifts of their lives and the natural offerings around them, each artist interprets what touches her soul. Each piece of art tells a portion of her journey, calling to the viewer to look more closely at what life has to teach us.
Carlin-Ball's muse slumbered as she was raising her children and working. As soon as she could make time, there was an explosion of experimentation driven by her mantra 'What would happen if…?'
Mistakes happily romped with successes. Now, her careful, unique presentations interpret life and nature, and challenge one's imagination.
As she learned of the melting of the muskeg and the possibility that Canada will soon lose that habitat and vibrant spring bloom, Carlin-Bell felt the compulsion to replicate that vital image with unexpected media: patinated and fired copper was punched and threaded through with fibre knotted to create the blooms and surface stems.
Article content
Eventually, the vibrant muskeg spring emerged.
For Davidson, nature was a refuge she quietly celebrated with natural and cultivated talent for art and writing. A busy and brief career in graphic design took over until disabling MS symptoms forced (or allowed) her to slow down.
She began a meditation practice to cope with symptoms and immediately began painting again.
Her creative work parallels her spiritual path and the subjects of her study get smaller and smaller as she has the opportunity to stop and notice. She finds joy in a yellow spider on a sunflower or a nest full of baby robins.
Together, their works display a felt presence of our natural environment in unexpected materials and surprising subjects.
The Museum and Art Gallery are open Tuesday to Saturday from 10 a.m. to 5 p.m. Appointments can be booked ahead of time at www.mycallander.ca/gallery and the museum and gallery also welcome same-day walk-ins.
Those visiting are asked to wear a mask and social distance.
The museum and art gallery are located at 107 Lansdowne St. E., Callander.