Nvidia announces new RTX 3090, 3080, and 3070 graphics cards – GSMArena.com news – GSMArena.com
Nvidia today announced its next generation RTX 30 series of graphics cards. Based on the new Ampere architecture, the three new cards being announced today — the RTX 3090, RTX 3080, and the RTX 3080 — claim big improvements in rasterized and ray traced 3D rendering.
The RTX 3090 is the new flagship graphics card in this lineup, which will be taking over the mantle from the Titan RTX. The RTX 3090 boasts 50% improved performance over the Titan RTX and even claims to do 8K at 60fps "across many top games".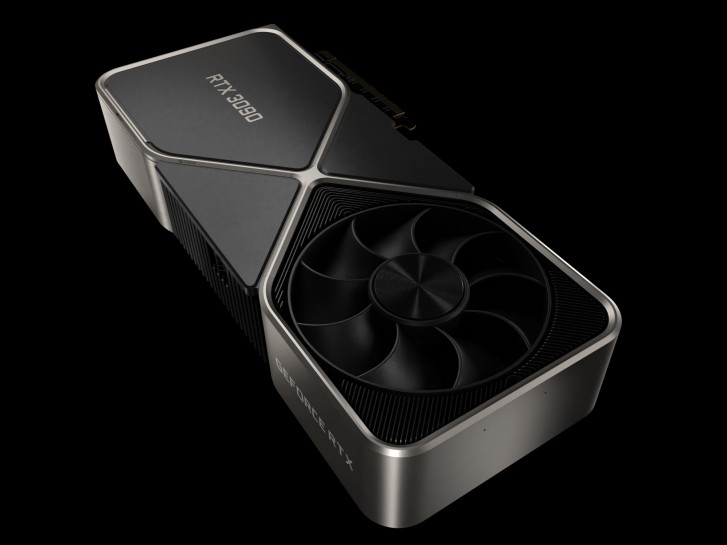 The RTX 3090 has 24GB of GDDR6X memory, same capacity as the Titan RTX but faster. It also has a new triple slot design with dual axial fans that claims to be 10x quieter and runs 30 degrees cooler than the Titan RTX.
The RTX 3090 is priced at an eye-watering $1499, which is more expensive than the launch price of the $1299 RTX 2080 Ti. However, it is cheaper than the $2499 launch price of the Titan RTX. It will be available starting September 24.
Next is the RTX 3080 a.k.a the practical flagship for most people. With this card, Nvidia is promising up to 2x performance improvement over the RTX 2080 (the regular one, not the Super). It features 10GB of the new and improved GDDR6X memory running at 19Gbps and Nvidia claims this card can do 4K 60fps consistently.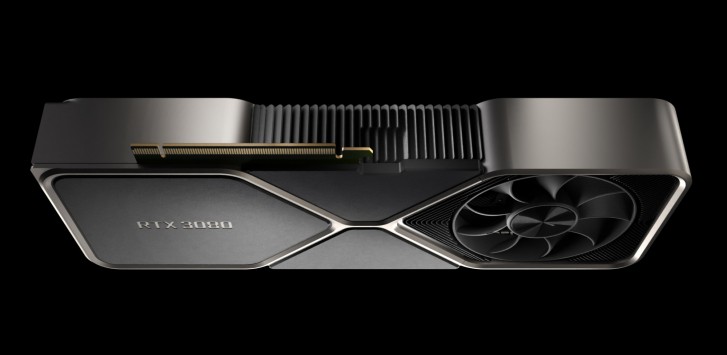 The RTX 3080 is priced $699, which is the same as the RTX 2080 Super launch price. The RTX 3080 will be available starting September 17.
Finally, there is the RTX 3070. This one is the most interesting; Nvidia claims that the RTX 3070 is faster than the RTX 2080 Ti, which if true is a pretty bold claim. The RTX 3070 is also on average 60% faster than the original RTX 2070. It comes with 8GB of GDDR6 memory and Nvidia says this card is suitable for 4K and 1440p gaming, which from what we know of the 2080 Ti, is a reasonable claim to make.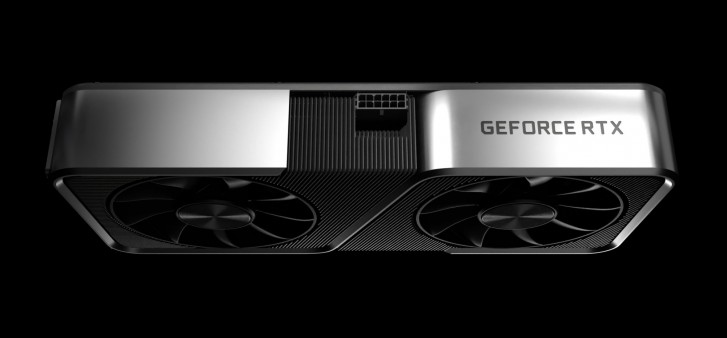 The RTX 3070 is priced at $499, same as the launch price for the RTX 2070 Super, and will be available in October.
Regarding the new RTX 30 series and the Ampere architecture, Nvidia is making several improvements and also introducing few new key features. The CUDA cores, which form the bulk of the processing hardware on these new GPU, claim to deliver 2x the FP32 throughout over Turing and 30 shader-TFLOPS of processing power. The new, second generation RT Cores deliver 2x the throughput over Turing, plus concurrent ray tracing, shading, and compute, with 58 RT-TFLOPs of power. Finally, the third generation Tensor Cores also have 2x the throughout of Turing, with 238 Tensor-TFLOPs of processing power.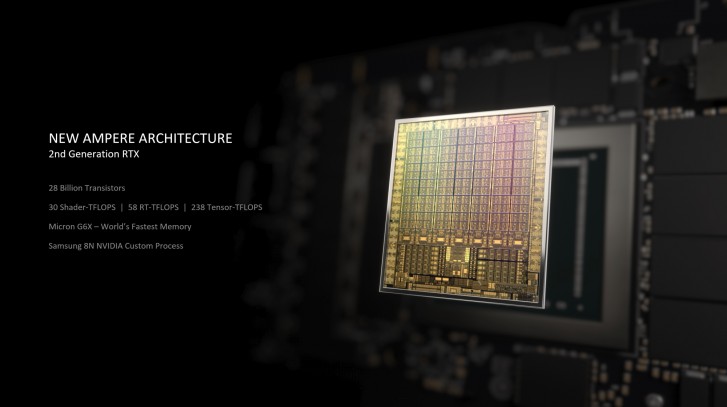 As mentioned before, two of the three new cards are using faster GDDR6X memory, which Nvidia worked with Micron to create. The new Ampere cards also use a new 8N Nvidia custom process manufactured by Samsung.
The new cards will also feature RTX IO. This enables rapid GPU-based loading and game asset decompression, accelerating I/O performance by up to 100x compared with hard drives and traditional storage APIs. RTX IO also works alongside Microsoft DirectStorage for Windows API to offload CPU tasks over to the GPU.
The cards from Nvidia will feature a unibody design with dual-axial fan design that claims to offer 2x the cooling performance. The cards will also feature the new 12-pin power connector that Nvidia recently revealed and is compatible with existing 8-pin connectors on power supplies using adapters.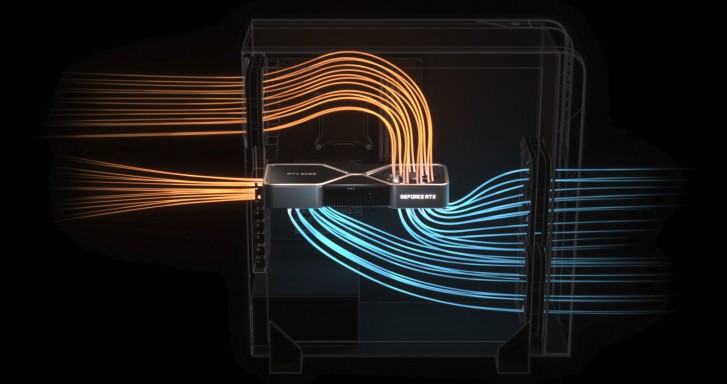 For 8K 60p and 4K 120p TV owners, the new RTX 30 series cards will also have the much requested HDMI 2.1 connector, which will allow passing through 8K 60Hz or 4K 144Hz signals through a single HDMI cable. Finally, the new Ampere cards will also become the first discrete GPUs to have full support for the AV1 codec. AV1 is the open source alternative to HEVC/VVC and is backed by multiple companies but so far there was no dedicated hardware to hardware accelerate it, which slowed down adoption.
Nvidia also announced three new software features: Reflex, Broadcast, and Omniverse Machinima.
Nvidia Reflex is a suite of features designed to optimize and measure latency. Among these are Nvidia Reflex Low-Latency Mode (included in Apex Legends, Call of Duty: Warzone, Fortnite, and Valorant) that reduces latency by up to 50 percent, and Nvidia Reflex Latency Analyzer, which detects input coming from the mouse and then measures the time it takes for the resulting pixels to change on screen. Reflex Latency Analyzer will be included in all the upcoming 360Hz G-Sync monitors from Acer, Alienware, ASUS, and MSI.
Nvidia Broadcast is a plugin that enhances the quality of microphones and webcams using RTX-accelerated AI effects, such as audio noise removal, virtual background effects, and webcam auto frame. We have already seen this feature partially in action in beta.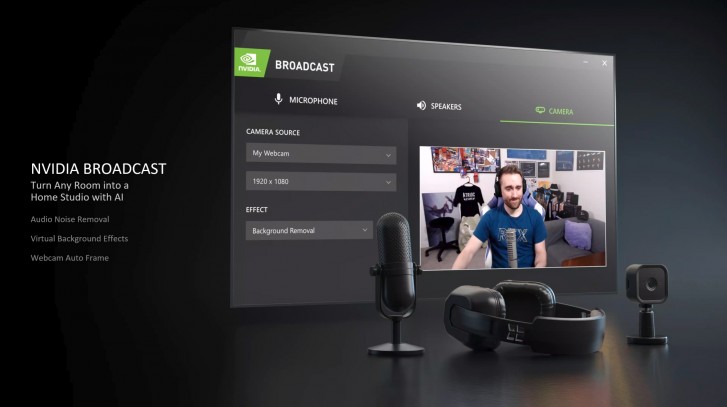 Nvidia Omniverse Machinima lets users create their own cinematic videos using game assets. Users will be able to take assets from supported games and using their webcam and AI create characters, add high-fidelity physics and face and voice animation, and publish film-quality cinematics. Omniverse Machinima features a path-traced viewer tool and engine designed for physical accuracy, simulating light, physics, materials and AI.
Nvidia also provided an update on new titles that will be supporting RTX features. New titles to support ray tracing include Fortnite and Call of Duty: Black Ops Cold War. Fortnite will feature ray traced reflections, shadows, global illumination, and ambient occlusion. Among titles getting DLSS are Boundary, Bright Memory Infinite, Call of Duty: Black Ops Cold War, Cyberpunk 2077, Fortnite, Ready or Not, Scavengers, and Watch Dogs: Legion.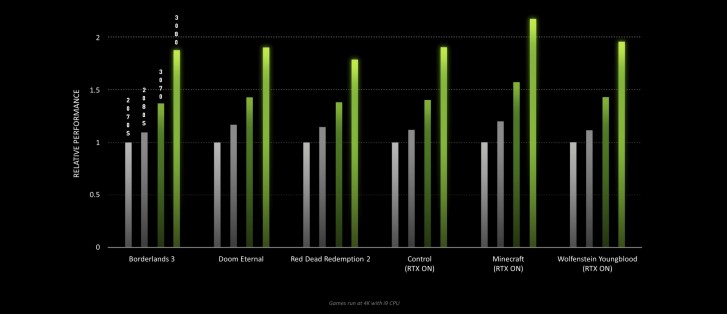 RTX 30 series cards will be available in stock and factory-overclocked variants from OEMs such as ASUS, Colorful, EVGA, Gainward, Galaxy, Gigabyte, Innovision 3D, MSI, Palit, PNY, and Zotac. Nvidia itself will also be selling the Founders Edition models on its website. The cards will also feature in pre-built systems from companies such as CyberPower PC, Digital Storm, Falcon NW, IBUYPOWER, Maingear, Origin, NZXT, Puget and more.
There may be fewer PS5 Digital Edition consoles at retail compared to the base model – reports – VG247
It's going to be harder for everyone to find PS5's cheaper Digital Edition at retail.
The PS5 pre-order process has so far been a mess. Unlike what Microsoft is doing with Xbox Series X and Series S, Sony didn't set time/dates for when PS5 pre-orders would be going live.
This resulted in a free-for-all that saw retailers opening up pre-orders shortly after the conclusion of the PS5 Showcase event. There didn't seem to be a plan in place, so it looked like each retailer was simply reacting to their competitor's moves, making for a terrible experience for customers.
Sony admitted that this could have gone a lot better, and promised to replenish stock throughout the year. But what Sony neglected to mention was the difference in unit allocation between the standard, disc-based PS5, and the $100 cheaper Digital Edition.
According to multiple reports, Digital is much harder to find because Sony didn't make enough of it. Ars Technica contacted GameStop stores at nine locations across the US, and found that roughly 24% of the allotment is taken up by the Digital Edition, whereas the rest has all been standard.
20% was the most common ratio, but it could go as high as 33% and as low as 13%. A similar ratio could also be seen at other retailers Ars spoke to off the record. VGC has likewise heard that far fewer PS5 Digital Edition units will be available compared to the disc-based model.
[embedded content]
PlayStation boss Jim Ryan was even asked specifically by AV Watch to clarify the split, but wouldn't budge.
"The ratio between the Digital Edition and the disc drive model is currently something we cannot disclose at this time," said Ryan. "We cannot give specific information on numbers, but we can say that we plan to produce the necessary number of units to meet the demand for that model type."
"However, we've never produced two different console models at the same time before so deciding on the right number and the right ratio is very hard to know. We are doing our best to predict demand," he added.
It goes without saying that specialist retailers like GameStop would likely order more of the disc-based console, as it allows them to continue selling discs to customers, whereas a digital unit would limit their reach greatly.
But it also seems Sony itself may not be interested in offering the Digital Edition in mass quantities right now because the initial launch allotment will be bought by the hardcore anyway, so it may not be worth taking a hit on the – by most accounts, subsidised – Digital Edition until we clear this launch period. Of course, this tactic could end up biting Sony in the butt if Microsoft uses it to sell more of its $300 Xbox Series S.
We may never get clarity on this, but you can consult our PS5 pre-order page to keep up to date with stock refreshes across retailers, and hopefully get a console in time for the holidays.
Sony promises more PS5 pre-order stock for retailers – GamesIndustry.biz
Platform holder apologises for confusion after major stores sold out one day before pre-orders were supposed to begin
Sony has assured retailers and prospective PlayStation 5 owners that more stock is on the way following confusion over early pre-orders.
Orders for the upcoming console were due to open last Thursday, but on Wednesday several big retailers in the US and UK began taking pre-orders, with many selling out of their initial allocation by the end of the day.
Amazon has even warned those who have managed to place an order may not receive their console in time for November 12 launch.
The official PlayStation Twitter account has since posted an apology and promised more stock will be available soon.
"Let's be honest: PS5 pre-orders could have been a lot smoother," the platform holder tweeted. "We truly apologise for that.
"Over the next few days, we will release more PS5 consoles for pre-order — retailers will share more details. And more PS5s will be available through the end of the year."
The news follows reports that Sony was having issues with manufacturing a key component for PS5 and scaling back the number of units it could produce — although the platform holder has since denied this is the case.
"We have not changed the production number for PlayStation 5 since the start of mass production," the company told GamesIndustry.biz.
It has also been reported that Sony is using air freight, which is faster but more expensive, to ensure it can ship enough consoles to US retailers for launch.
This is the best time to get the PlayStation 5 for very cheap according to a study – Mashable SE Asia
In case you've missed the latest news on the Playstation 5, Sony has announced that the world's popular gaming console will be going for US$499.
There's a cheaper, disc drive-free Digital Edition that will also be released on the same day, November 12, 2020. It'll go for US$399.
However, taking into account currency conversions and other economic factors, the Playstation 5 would most likely be priced at US$538 (Standard edition) and US$506 (Digital edition). These conversions are based on the pricing set for the Singaporean market.
Naturally, gamers have begun preordering the console prior to its launch. But there are a select special few – you and me – who prefer waiting and getting the console for a much cheaper rate. The Playstation 5 is after all the most priciest console released by Sony to date.
If only there was a crystal ball. Actually we have data.
According to a study done by iPrice Group, the best time to buy the Playstation 5 would be six months after its official release.
Southeast Asian meta-search website operator says the perfect time would be in May 2021 and you'll be able to get the Standard edition for US$506 and Digital edition for US$416.
Yes, we're looking at a 6 percent discount for the Standard edition and a whopping 18 percent discount for the Digital edition. Nice!
Oh but there's even better news for those who're adept at being patient. The price is expected to drop even further by November 2021 to US$385 (Digital edition) and US$468 (Standard edition). That's 24 percent and 14 percent for both editions respectively .
Wait, so how did iPrice Group get these figures?
The e-commerce aggregator came to this conclusion by examining the price history of the PlayStation 4 Pro.
"We collected and compared selling prices of the console throughout the years on over 150 online shopping websites. And we noticed that the average online selling price for Sony consoles tends to drop by 6 percent, six months after release and then by a further 8 percent one year after release," the study reads.
The prices of course factor in seasonal discounts from nationwide online retailers (especially those in Singapore) or deals from unofficial sellers. So if you want those sweet juicy deals, buy the console online because the official price drop from Sony might take a longer time.
"The first official price drop for the PlayStation 4 happened two years after its initial launch, and price was slashed by 15 percent."
Well, the old adage 'Good things come to those who have wait' certainly rings true here.