Nylander, Marner each net two as Leafs double up Rangers – TSN
NEW YORK — The Toronto Maple Leafs are beginning to show that they can be an elite team in the Eastern Conference.
William Nylander and Mitchell Marner each scored their second goal of the game early in the third period to help the Maple Leafs beat the New York Rangers 6-3 on Friday night.
Pierre Engvall and Ilya Mikheyev also scored, and Frederik Andersen made 19 saves as Toronto won its third straight.
"There were a lot of really good signs for our team in terms of how we retain the puck, which I thought was a real key to this game in particular," Toronto coach Sheldon Keefe said after Toronto improved to 9-4-0 with him behind the bench. "When their team has the puck, they are a tough team to deal with. I thought we handled that well."
Brady Skjei, Ryan Strome and Pavel Buchnevich scored for New York. Alexandar Georgiev made 34 saves as the Rangers' losing streak reached three games.
Nylander scored a third-period, go-ahead goal when he sent a wrist shot past Georgiev at 2:10 of the final period, giving Toronto a 4-3 lead.
"They are a good team, we didn't do what we talked about in the third," Rangers alternate captain Jesper Fast said. "We want to play better at home, it's disappointing."
Less than a minute later, Strome had a dreadful turnover that Marner capitalized on. The 22-year-old forward pushed the Leafs' lead to two with his eighth goal of the season at 2:57.
Buchnevich snapped a nine-game goal drought when his wrist shot went through the legs of Andersen at 5:27 of the second period, tying the game at 3-all. Tony DeAngelo picked up his 17th assist of the season on the play. He leads Rangers defencemen in points with 24.
Marner gave Toronto a 3-2 lead at 2:50 of the second period when he scored a power-play goal on a two-man advantage. Skjei attempted to break up a pass intended for John Tavares, but redirected the puck past Georgiev.
"We want to score on our opportunities," Maple Leafs captain John Tavares said. "We want to continue to put the pressure on, play our type of game, keep the puck, create the chances when we can get them and capitalize when we get our opportunities. Obviously, we want to create as many as we can."
New York recovered from a sluggish start with two goals in the second half of the first period to knot the score at 2-2.
Skjei inadvertently notched his fifth of the season when a failed deke from the top of the crease trickled past Andersen. Mika Zibanejad recorded his 100th assist as a member of the Rangers on the play and Chris Kreider received credit for the other assist.
Strome evened the score with an easy tap-in 3:47 after the Skjei goal. Artemi Panarin picked up the primary assist as he extended his individual point streak to six games. He has found his way onto the score sheet in 23 of the previous 27 games. Buchnevich also assisted the Strome goal.
The Maple Leafs jumped out to a two-goal lead in the first 12 minutes of the opening period.
Justin Holl completed a give-and-go with Mikheyev at the top of the left circle to set up the scoring opportunity. Then, Holl slid a pass through Jacob Trouba and found Engvall alone in the slot. It was Engvall's second goal since making his NHL debut on Nov. 19 against Vegas.
Toronto doubled its first-period advantage when Nylander recorded his 12th of the season at 11:52. Trouba was caught watching the puck as Nylander cleaned up a rebound in front uncontested. Kasperi Kapanen assisted on the play.
Mikheyev scored his seventh of the season at 16:23 of the third period when Georgiev couldn't snag the puck with his glove.
NOTES: The Rangers have scored three or more goals in 16 of the last 22 games. … The Rangers are the only NHL team that has had eight players 21 years old or younger appear in at least one game in 2019-20. … Brett Howden skated in his 100th NHL game Friday. … New York scratched defenceman Libor Hajek and forward Micheal Haley. … Toronto scratched forward Adam Brooks and defenceman Martin Marincin.
UP NEXT:
Maple Leafs: Host Detroit Red Wings on Saturday.
Rangers: Host Anaheim Ducks on Sunday afternoon.
___
More AP NHL: https://apnews.com/NHL and https://twitter.com/AP_Sports
Bianca Andreescu to miss remainder of 2020 season – TSN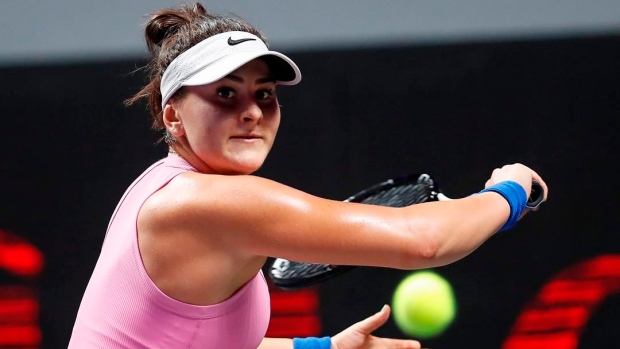 TORONTO — Bianca Andreescu says she is taking the remainder of the tennis season off to focus on her health and training.
The Canadian tennis star made the announcement Tuesday on Twitter.
The decision was expected after the 20-year-old from Mississauga, Ont., withdrew from the French Open. Outside of the last Grand Slam of 2020, there are only a handful of tournaments remaining on the WTA schedule that haven't been cancelled due to the COVID-19 pandemic.
"As hard as it was to come to this conclusion, I have so much to look forward to in 2021, including the Olympics," Andreescu said. "I want to use this time to focus my game so I can come back stronger and better than ever."
Andreescu hasn't played a competitive match since suffering a knee injury last October at the WTA Finals in China.
She also skipped the U.S. Open this month in New York, calling it a "difficult" decision. Andreescu won the 2019 U.S. Open over Serena Williams, becoming the first Canadian to win a singles Grand Slam.
Andreescu also won major events in Toronto and Indian Wells, Calif., last year as she reached No. 4 in the WTA rankings. She is currently at No. 7 despite her long period of inactivity.
The clay-court French Open, usually held in the spring, was postponed by four months due to the global pandemic.
Leylah Annie Fernandez of Laval, Que., and Eugenie Bouchard of Westmount, Que., are slated to represent Canada in women's singles at the tournament. Bouchard received a wild-card into the event.
Denis Shapovalov of Richmond Hill, Ont., Milos Raonic of Thornhill, Ont., Montreal's Felix Auger-Aliassime and Vancouver's Vasek Pospisil are Canada's players on the men's side.
The main draw begins Sunday.
NFL hands more than $1 million US in fines against 3 teams, coaches who didn't wear masks during games – CBC.ca
NFL coaches thumbed their collective, and exposed, noses at the NFL's mask mandate in Week 2.
The league responded with hefty fines of $100,000 US per coach and $250,000 per club. The first three to get fined were Denver's Vic Fangio, San Francisco's Kyle Shanahan and Seattle's Pete Carroll, according to a person with knowledge of the punishment who spoke to The Associated Press on condition of anonymity because the coaches were not identified.
The punishment was meted out a week after the NFL reminded team personnel on the sidelines about the rules for wearing face coverings during the coronavirus pandemic, lest they put the fledgling season at risk.
More coaches and clubs can expect similar punishments as the memo last week from Troy Vincent, who oversees the league's football operations, was largely ignored throughout the weekend.
Among other offenders: Patriots coach Bill Belichick and his offensive co-ordinator Josh McDaniels, Chiefs defensive co-ordinator Steve Spagnuolo, Colts coach Frank Reich and Rams coach Sean McVay.
Capping a weekend of deliberate defiance and/or desultory disobedience, Raiders coach Jon Gruden, who said last week he felt Vincent's memo was directed at him, and Saints coach Sean Payton were shown on a split screen Monday night, both of them breaking the rules.
Gruden wore his mask like a chin strap, and Payton sported his gaiter like a turtleneck.
Players exempt from face covering rules
Following the Raiders' 34-24 win over the Saints, Gruden revealed he'd had COVID-19 and apologized for violating the rules.
"I'm doing my best," Gruden said. "I've had the virus. I'm doing my best. I'm very sensitive about it. I'm calling the plays. I apologize. If I get fined, I will have to pay the fine."
The scenes were similar Sunday with head coaches and assistants apparently finding it too hard to keep their faces covered as required under the league's COVID-19 protocols with either a mask, gaiter or face shield. Players, who, like the coaches, are subject to daily COVID-19 tests, are exempt from the face covering requirements.
Some coaches such as Belichick, McDaniels and Steelers coach Mike Tomlin wore their masks or gaiters over their mouths but not noses. Others such as Carroll, Spagnuolo and Fangio wore their face coverings around their chins or necks, exposing both their mouths and noses.
In his strongly worded memo, Vincent said teams "must remain vigilant and disciplined in following the processes and protocols put in place by not only the league, union and clubs, but also by state and local governments."
Vincent added: "Becoming careless or ignoring face covering and physical distancing requirements will put the 2020 season at risk."
The rules don't apply to players, but all other individuals with bench area access, including coaches and members of the club medical staff, are required to wear face coverings at all times.
Failure to do so, Vincent warned in his memo, "will result in accountability measures being imposed against offending individuals and/or clubs. The face covering must be worn as designed so that it securely fits across the wearer's nose and mouth to prevent the transmission of the virus."
Hamlin, Michael Jordan partner on NASCAR team for Bubba Wallace – Sportsnet.ca
CHARLOTTE, N.C. — Denny Hamlin has joined Charlotte Hornets owner Michael Jordan to form a NASCAR team with Bubba Wallace as the driver, a high-profile pairing of a Black majority team owner and the only Black driver at NASCAR's top level.
The partnership was announced Monday night in co-ordinated social media posts by Jordan and Hamlin, with Wallace adding his own comment. The posts showed a picture of Jordan alongside a firesuit-clad Hamlin in a motorhome at a race track.
"Historically, NASCAR has struggled with diversity and there have been few Black owners," Jordan said in his statement. "The timing seemed perfect as NASCAR is evolving and embracing social change more and more."
Jordan becomes the first Black principal owner of a full-time Cup team since Hall of Famer Wendell Scott drove his own race car in 495 races from 1961 to 1973. Scott's 1964 victory at the Jacksonville 200 is the only win by a Black driver in Cup history.
The NBA great, who earlier this year pledged $100 million over 10 years for initiatives combating systemic racism, said the move into NASCAR is another step toward racial equality.
"I see this as a chance to educate a new audience and open more opportunities for Black people in racing," Jordan said.
Jordan joins former NBA player Brad Daugherty, a partner at JTG Daugherty Racing, as the only Black owners at NASCAR's elite Cup level.
"Michael and Bubba can be a powerful voice together, not only in our sport, but also well beyond it," Hamlin said.
Hamlin, a three-time Daytona 500 winner and a top contender for this year's Cup title, will be the minority owner of a single-car Toyota entry aligned with Joe Gibbs Racing. Hamlin has raced his entire career for Gibbs, a Hall of Fame NFL coach.
"Eleven years ago I met Michael Jordan at a then-Charlotte Bobcats game and we became fast friends," Hamlin wrote. "Not long after, I joined Jordan Brand as their first NASCAR athlete. Our friendship has grown over the years and now we are ready to take it to the next level.
"Deciding on the driver was easy — it had to be Bubba Wallace."
Wallace is the only Black driver in the Cup Series and this season used his platform to push for racial equality. The 27-year-old successfully urged NASCAR to ban the display of the Confederate flag at its events.
Wallace is winless in 105 Cup starts over four seasons, but he has six career victories in the Truck Series. He's been handcuffed by mid-level equipment driving the No. 43 for Hall of Famer Richard Petty and, until this summer, the team struggled to land sponsorship.
"Bubba has shown tremendous improvement since joining the Cup Series and we believe he's ready to take his career to a higher level," Hamlin said. "He deserves the opportunity to compete for race wins and our team will make sure he has the resources to do just that.
"Off the track, Bubba has been a loud voice for change in our sport and our country. MJ and I support him fully in those efforts and stand beside him."
There's been speculation for months that Hamlin was organizing some sort of ownership group as he expects NASCAR's business model to become more favourable for team owners when the "Next Gen" car is released in 2022. NASCAR rules prohibit a current driver from owning a team and driving for another, but Hamlin works around the policy with Jordan as the principal owner.
"Starting a race team has been something that Michael and I have talked about while playing golf together over the years, but the timing or circumstances were never really right," Hamlin said. "It just makes sense now to lay the foundation for my racing career after I'm done driving and also help an up-and-coming driver like Bubba take his career to a higher level."
Jordan became a partial owner of the Bobcats in 2006 and bought the team outright in 2010, restoring the franchise to its original Hornets name. Hamlin has been a longtime season-ticket holder with courtside seats along the visitors' bench.
Jordan dabbled in racing before with Michael Jordan Motorsports. He owned an AMA Superbike team and had one win in 10 years. Jordan has twice travelled to the NASCAR season finale to watch Hamlin race for the championship. Hamlin, who's 39, is still seeking his first title.
"Growing up in North Carolina, my parents would take my brothers, sisters and me to races, and I've been a NASCAR fan my whole life," Jordan said. "The opportunity to own my own race team in partnership with my friend, Denny Hamlin, and to have Bubba Wallace driving for us, is very exciting for me."
Wallace, who has cobbled together about $18 million in sponsorship deals since he made social equality his platform, already said he'd leave Richard Petty Motorsports at the end of the season.
"This is a unique, once-in-a-lifetime opportunity that I believe is a great fit for me at this point in my career," Wallace wrote. "I am grateful and humbled that they believe in me and I'm super pumped to begin this adventure with them."
Jordan and Hamlin purchased a charter for their team from Germain Racing that guarantees Wallace a spot in the 40-car field every week.