Obama slams Trump over coronavirus: 'He's jealous of Covid's media coverage' – CNN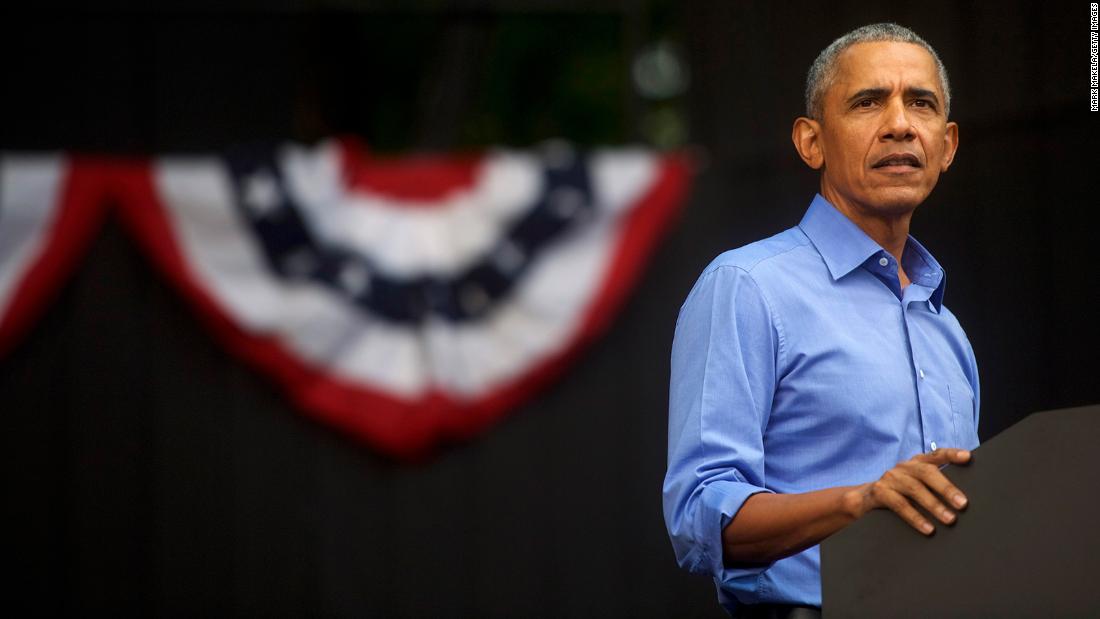 "More than 225,000 people in this country are dead. More than 100,000 small businesses have closed. Half a million jobs are gone in Florida alone. Think about that," Obama said, speaking from Orlando as he campaigned for Democratic nominee
Joe Biden
.
He continued, "And what's his closing argument? That people are too focused on Covid. He said this at one of his rallies. Covid, Covid, Covid, he's complaining. He's jealous of Covid's media coverage. If he had been focused on Covid from the beginning, cases wouldn't be reaching new record highs across the country this week."
Obama, an important surrogate for Biden, campaigned for his former vice president for the second time in four days in Florida. The key battleground state could play a decisive role in the outcome of the election, and recent polls show a tight race between Trump and Biden.
Obama's Orlando speech built on a blistering rebuke of Trump he delivered last week in
Pennsylvania
, his first foray onto the campaign trail since a speech to the Democratic National Convention earlier in the year, and over the weekend in
Florida
.
Obama's speeches have shown how he is keeping tabs on the day-to-day news about Trump, and how the Biden campaign is deploying him to deliver some of its harshest attacks on the current President and his administration.
Former presidents usually avoid directly attacking their successor in the White House, but Obama has delivered full-throated criticisms of Trump while campaigning for Biden. But Trump, with the way he has continually attacked Obama, even suggesting he should be indicted, has changed the calculus, thrusting the former president onto the campaign trail.
Democrats hope Obama can help gin up enthusiasm among the Democratic base and encourage Black men, Latinos and younger voters in battleground states to turn out and vote.
He accused Trump of failing to take preventative measures to contain the virus across the nation and in the White House. He also pointed to the second recent outbreak among White House staff, which infected several aides including Vice President Mike Pence's chief of staff, Marc Short.
"Let me say this: I lived in the White House for a while," Obama said. "You know, it's a controlled environment. You can take some preventive measures in the White House to avoid getting sick. Except, this guy can't seem to do it. He's turned the White House into a hot zone."
Obama criticized the comments made over the weekend by White House chief of staff Mark Meadows, who told CNN's Jake Tapper on "State of the Union," "We are not going to control the pandemic. We are going to control the fact that we get vaccines, therapeutics and other mitigation areas."
"Listen, winter is coming," Obama said. "They're waving the white flag of surrender. Florida, we can't afford four more years of this." He added, "We cannot afford this kind of incompetence and disinterest."
Trump responded to Obama's speech on Twitter, noting that the remarks were airing on Fox News and claiming his predecessor was drawing a small crowd and giving a "fake speech" for Biden.
"Listen, you've got a President right now, he wants full credit for an economy that he inherited, he wants zero blame for the pandemic he ignored. But you know what, the job doesn't work that way. You've got to be responsible 24/7. You've got to pay attention 24/7. Tweeting at the TV doesn't fix things. Watching TV all day doesn't fix things. Making stuff up doesn't fix things," Obama said.
One week from Election Day, Obama encouraged Floridians to vote early in-person or by mail. "Don't wait. Put it in the mail or drop it off at a dropbox location today. Don't take any chances, just get it done," Obama said.
"We have to turn out like never before, Orlando. We have to leave no doubt. We can't be complacent. We were complacent last time. Folks got a little lazy. Folks took things for granted. And look what happened. Not this time," Obama said.
Obama praised his former vice president, describing Biden as a man of "principle and character" and highlighting his empathy and decency.
"He made me a better president, and he's got the character and the experience to make us a better country," Obama said.
Obama laid out the ways Biden has said he would get the pandemic under control, including making coronavirus tests free and widely available, distributing a vaccine to every American at no cost and providing enough personal protective equipment to all front-line workers.
"He's going to make sure that small businesses that hold our communities together and employ millions of Americans can reopen safely, and he understands that we're not going to rebuild the economy and put people back to work until we get this pandemic under control," Obama said.
He lambasted Trump and Republicans for attempting to overhaul the Affordable Care Act, Obama's landmark health care plan.
"Last week, Trump flat out said he hopes the Supreme Court takes your health insurance away. Said it out loud," Obama said. "Don't boo, vote," he said, repeating a favorite line of his when the crowd booed. The Supreme Court is set to hear oral arguments on the future of the ACA, also known as Obamacare, next month.
Obama said if elected, Biden and his running mate Sen. Kamala Harris of California would "protect your health care, they will expand Medicare, they'll make insurance more affordable for everybody, because Joe knows that a president's first job is to keep us safe from all threats, foreign, domestic, and microscopic."
This story has been updated.
Judge at Toronto van attack trial suggests media should stop naming killers but courts should not – National Post
Article content continued
Her words on Friday, born of exasperation, described it as having a "gun to my head" and being handed "a ransom demand" for her kidnapped child.
The evidence from Westphal and his team is the only expected expert testimony directly supporting Minassian's mental state defence.
"All of Mr. Minassian's eggs are in this particular basket," Molloy said in her ruling.
After all, Minassian has admitted he purposely rented a van on April 23, 2018, and drove it down a busy sidewalk with the planned purpose of killing as many people as he could.
Because Westphal is in the United States and the trial is being held online due to COVID-19, Molloy cannot do what she has done before, which is send police to corral a witness and bring them to court, where refusal to testify could lead to imprisonment.
"The devastation wrought by Mr. Minassian cannot be overstated. However, he is entitled to a fair trial in our courts, and to call a defence supported by evidence. That evidence exists, but is in the control of Dr. Westphal," she concluded.
Molloy's words on not naming killers rekindles the debate over what to do in the wake of violence that was raised by Prime Minister Justin Trudeau after the Nova Scotia rampage.
In Trudeau's first public address after the Nova Scotia mass shooting during which 22 people were killed in April, he asked that the killer's identity not be included in media coverage of the tragedy.
"I want to ask the media to avoid mentioning the name and showing the picture of the person involved," he said as part of his prepared remarks. "Do not give him the gift of infamy. Let us instead focus all our intention and attention on the lives we lost and the families and friends who grieve."
Social media 'out of control,' says Norfolk mayor – Simcoe Reformer
Port Rowan man pleads guilty to threatening Chopp
Norfolk County Mayor Kristal Chopp says harassment and even threats of violence have been part of her job since being elected in 2018.
"I'm pretty tough, but the constant barrage of abuse that some find amusing has affected my psychology," the mayor said in an interview last week.
Earlier this month, a 57-year-old Port Rowan man was sentenced after he pleaded guilty to uttering a threat to cause death or bodily harm to Chopp.
Dana Robert Dargie was placed on house arrest for 30 days and put on probation for 18 months, during which he is banned from communicating with or going near the mayor. He also can't go to the municipal building or attend any Norfolk council meetings. And he was directed to get counselling for anger management.
"It's my understanding that he was warned once to stop and he didn't," Chopp said of Dargie.
But Dargie is just one of many people who lash out on social media against the mayor, who has faced controversy over council's decisions to cut services and staff, among other things.
At a Norfolk council meeting last Tuesday, the mayor was accused by her council colleagues of using bullying tactics and intimidation as the politicians aired their feelings and grievances. Chopp refused to participate in the meeting, gathering her things and leaving.
Along with emails and negative online comments, Chopp is mocked through a parody account on Twitter, which often compares her to U.S. President Donald Trump. She said a members-only Facebook site with 3,000 members seems to have been formed specifically to discuss and denigrate her work and that of Norfolk CAO Jason Burgess, who is the municipality's fifth CAO in just over a year.
She said she regularly receives inappropriate emails, including some from a "dirty old man," who has sent dozens of messages, including half-naked photos of himself.
"I never used to believe in blocking people but that has changed in recent times. Social media has become too out of control, too offensive, too damaging and too harassing."
And that harassment has extended to her family.
Chopp said her parents' Hamilton-area farm was visited last year by bylaw officers looking for illegal cannabis.
"They realized they had been sent on a wild goose chase the second they stepped onto the farm but said they had so many phone calls and emails telling them to check it out that they finally went."
A spokesperson for the City of Hamilton confirmed bylaw officers visited the farm and found no violations.
Chopp said that incident is still under investigation and included a "22-page manifesto" from someone named "Harry Smith," who mailed his allegations to major media organizations in Canada and to Chopp's employer, Air Canada, where she works as a pilot. The "manifesto" said the mayor is a narcissistic dictator and psychopath, who owns her own plane and runs a marijuana business.
"I think there's a reason why women, in particular, don't want to get involved in politics," she said. "I can give you a list of more than a dozen men I'm allegedly sleeping with. And, if they don't get off on that one, they call me a lesbian."
Chopp said she has pondered taking civil action against some of the harassers as the abuse intensifies
She said she hopes Dargie's conviction will stop others.
"But I don't think it will," she said. "Social media has taken on a life of its own and the facts don't seem to matter.
"Ignoring the keyboard warriors is difficult but I will do my best to soldier on."
SGamble@postmedia.com
@EXPSGamble
The Debate – France, security and the media: Does the new global law go too far? – FRANCE 24
Issued on: 23/11/2020 – 20:17
France is caught in a row over the right to film police officers in the course of their duty. It is a controversy that has brought demonstrators on to the streets. A new law on the Security of France goes to a final vote on Tuesday. The Bill with a controversial amendment has been passed for a first time by the National Assembly by a margin in 146 to 24. Article 24 concerns the right to film the police. It raises fears and concerns among many media here in France about the right to report and inform.
This evening with our panel we discuss the issues. Police officers have a tough job. But freedom to report is a foundation of democracy
Produced by Alessandro Xenos, Juliette Laurain and Imen Mellaz.