Ocean Economy: The Next Wave of Sustainable Innovation – Visual Capitalist
Exploring the Digital Asset Ecosystem
The digital asset sector has undergone a rapid expansion over the past couple of years, growing in value and functionality.
Beyond the price growth of popular cryptocurrencies, digital assets are powering innovative applications that enable value transfer beyond just payments. From tokens that grant dividend-like revenue to holders, to tokens backed by other digital and physical assets, the digital asset ecosystem is redefining asset and financial structures before our very eyes.
This framework created by Arca explores and defines the state of the digital asset ecosystem, looking at how traditional assets might one day be integrated into this new taxonomy.
The Functions and Types of Digital Assets
Digital assets can be broken down into three different types of assets that fulfill three primary functions. The first two functions of digital assets, store of value and medium of exchange, are well established functions of digital and traditional assets.
However, a third functionality of being able to pass through values to holders has emerged, with benefits like discounted application fees, governance voting rights, and monetary rewards passed onto token holders.
These functions are fulfilled by three main types of digital assets:
Currency: tokens that are a unit of account and medium of exchange
Asset-backed tokens: tokens backed by hard assets like equity, debt, or physical assets
Pass through tokens: tokens that grant revenues, rewards, and network benefits to holders
Many know of Bitcoin, the founding cryptocurrency that functions as a digital currency today. Along with this, tokens whose value is backed by other assets like Arca Lab's ArCoin (Ticker: RCOIN) are also straightforward in nature and functionality.
Pass through tokens are where digital assets explore innovative concepts and structures unique to the blockchain networks that underpin the assets.
For example, cryptocurrency exchange FTX issued an exchange token (FTT) at launch, which provides holders with reduced trading fees on the platform. FTT holders can also stake, or lock up, their tokens to receive increased referral rebates, more votes in FTX polls, and more airdrop rewards (tokens exclusively given out to holders or stakers of another token).
Classifying Governance and Decentralization
Along with token types and their functionality, it's important to understand the governing bodies and governance structures behind digital assets.
The governing body is the entity that issues and controls the function of a digital asset, ultimately defining the purpose and proposed value of a digital asset. These range from centralized governments and organizations, like the government of the Bahamas (issuer of the CBDC, the Bahamian Sand Dollar) to Decentralized Autonomous Organizations and blockchain protocols like Ethereum (ETH) and Solana (SOL).
| Governing Body | Governance Structure |
| --- | --- |
| Government | Centralized |
| Organizations | Centralized |
| Individuals | Centralized |
| Decentralized Autonomous Organizations (DAOs) | Decentralized |
| Protocols, Platforms, and Dapps | Typically decentralized |
Governance structures define the framework and procedures which decide and implement changes for a digital asset. These changes can be about anything, like the digital asset's tokenomics, pass through values, or future development goals.
While some governing bodies like governments and organizations have centralized governance structures, centralization and decentralization isn't all or nothing and can be seen as more of a spectrum.
Certain DAOs or protocols might have a core team of developers that propose certain features, which are then voted on and ultimately decided by the holders of the digital asset.
The Future of Traditional Assets in a Digital Framework
With an established taxonomy of digital assets, we can start to map out how traditional assets fit into this framework.
From tokenizing real estate and commodities for easier digital exchange and settlement to equity-like tokens issued by companies that provide holders with voting rights or non-financial rewards, digital assets will reshape the traditional asset structures of today.
By providing unbound and transparent asset structures, digital assets are providing people around the world with more freedom in storing, transferring, and accruing value.
Go to Ar.ca to learn more about digital assets today.
Canadian dollar weakens as BoC foregoes rate hike
The Canadian dollar fell against its broadly stronger U.S. counterpart on Wednesday as the Bank of Canada surprised some investors by leaving interest rates on hold, offsetting support for the currency from higher oil prices.
The Bank of Canada will soon start hiking interest rates from record lows to combat inflation, Governor Tiff Macklem said, after the central bank left its policy rate at a record low of 0.25%.
Money markets had seen about a 70% chance that the central bank would hike on Wednesday for the first time since October 2018. They now expect lift-off in March.
"The disappointment from the Bank of Canada will quickly fade while the tailwind from oil is significantly growing," said Adam Button, chief currency analyst at ForexLive.
"The open question is how much of the recent rise is fundamental and how much is political."
Rising political tensions between Russia and Ukraine have added to concerns about further disruption in an already-tight market for oil, one of Canada's major exports. U.S. crude oil futures settled 2% higher at $87.35 a barrel.
The Canadian dollar was trading 0.4% lower at 1.2680 to the greenback, or 78.86 U.S. cents, after trading in a range of 1.2560 to 1.2688.
The U.S. dollar rallied against a basket of major currencies and Wall Street gave back its earlier gains as the Federal Reserve signaled that it is likely to raise U.S. interest rates in March and later launch a significant reduction in its asset holdings.
Canadian government bond yields rose across the curve although by much less than U.S. rates. The 10-year was up 2.2 basis points at 1.826%.
Last Wednesday, it touched its highest level in nearly three years at 1.905%.
(Reporting by Fergal Smith; Editing by Bernadette Baum and Sandra Maler)
Poll suggests some Canadians are feeling brighter about the economy, own finances – Coast Reporter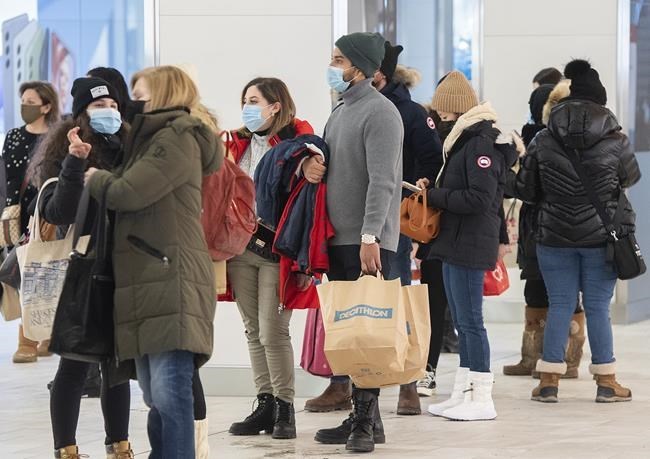 OTTAWA — A new poll suggests some Canadians are feeling more upbeat about the state of the domestic economy and their own pocketbooks, though not quite as positive as they were before the COVID-19 pandemic.
The annual Leger survey of economic confidence found that nearly two in every five respondents rated the economy as being good or very good, which was up from the same survey last February.
Still, just over half of respondents weren't as chipper on the state of the economy, with 54 per cent rating it as poor or very poor.
That figure was a drop from the 61 per cent of respondents in last year's survey, but still above the 36 per cent recorded in February 2020 just before the first wave of the pandemic.
About two-thirds of respondents also showed confidence in their personal finances, a figure that has remained steady through surveys in each of the previous two years.
The poll of 2,399 Canadians who took part in an online panel between Jan. 7 and 12 cannot be given a margin of error because internet panels are not considered to be truly random samples.
Christian Bourque, Leger's executive vice-president, said the results suggest respondents are more optimistic about the economy than markets and economists who have downshifted expectations for the year. The poll indicates that optimism also extends to their personal finances despite high inflation rates.
"People feel a little bit more upbeat than one would have thought and it's certainly an increase from what we saw over the past year in terms of overall optimism," Bourque said.
Downgrading expectations comes on the back of signals from central banks on both sides of the border that their rock-bottom interest rates will go up this year to combat high inflation. There are also supply-chain problems and the spread of the Omicron variant that have created economic headwinds to kick-start 2022.
On Wednesday, the Bank of Canada released its updated outlook for the economy.
The central bank estimated the economy grew by 4.6 per cent in 2021, down half a percentage point from its previous forecast in October, and now projects growth in real gross domestic product in 2022 at four per cent, down from 4.3 per cent.
The Bank of Canada said part of the downgrade this year is due to the impact of Omicron, hints from governments that spending is easing earlier than expected, and supply chain issues that will have "larger and more broad-based negative implications on economic activity" this year.
Canadians generally are fairly upbeat about the national economy, mixed with some level of prudence for what may come, which Bourque noted played out in regional results.
The biggest boost in optimism for the economy between last year and now came from respondents in Alberta. But the oil-producing province also had the largest percentage of respondents, at 61 per cent, who had the least confidence in the economy.
"For Premier Kenney, it's another 'what do I do about this now?'" Bourque said. "Let alone management of the pandemic, now he has to face up to a population that feels that things are not going Alberta's way."
Among the top financial worries cited by respondents were the value of their investments, the safety of their savings, and being able to pay their bills.
Those were the same top issues in the poll done last February, although the results suggest fewer respondents were worried about those issues overall.
This report by The Canadian Press was first published Jan. 26, 2022.
Jordan Press, The Canadian Press
The CLIC™ Chronicles: 10 ways to build a circular economy – Lombard Odier
Statistic cookies help website owners to understand how visitors interact with websites by collecting and reporting information
Marketing cookies are used to track visitors across websites. The intention is to display ads that are relevant and engaging for the individual user and thereby more valuable for publishers and third party advertisers. We work with third parties and make use of third party cookies to make advertising messaging more relevant to you both on and off this website.