Ocean intelligence drives blue economy – University of Victoria News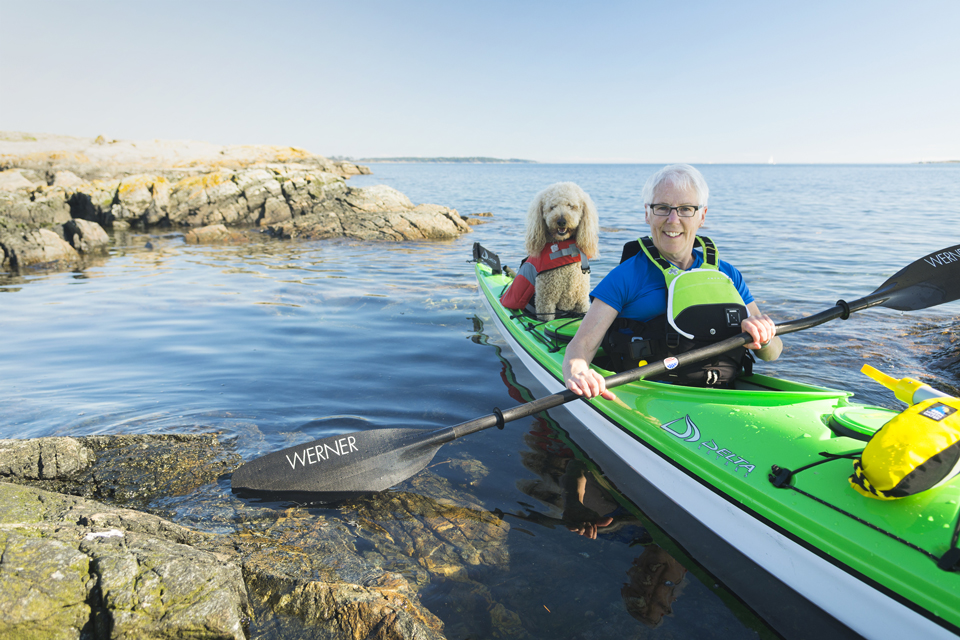 The urgent need to protect our warming planet is stimulating the next great wave of economic innovation. Fuelled by scientific evidence, coordinated efforts and transformative action, Canada has joined other nations in developing a roadmap to a "blue economy," which strikes a balance between economic growth and sustainability.
Kate Moran, president and chief executive officer of Ocean Networks Canada (ONC), an initiative of the University of Victoria, explains why Canada is well-positioned for success to show cooperative leadership in the global blue economy through ocean intelligence and progressive, ocean-based industries and programs. Moran is speaking at this week's annual meeting of the American Association for the Advancement of Science. The event there marks the beginning of ONC's pivotal role 15 years ago providing an interactive real-time window into the world's understanding of the ocean.
Q. What is required to build a sustainable blue economy in Canada?
A. A sustainable blue economy in Canada can be built through innovative ocean data analytics, ecosystem-based fisheries management and renewable energy systems. It will be backed by significant, coordinated investment in coastal and maritime tourism, resource exploration, shipbuilding and new technology development to support emerging ocean-based industries such as marine biotech and bioprospecting.
Long-term success will depend on smart public policy, support for research, and continued ocean sector investments to ensure that we maximize the efforts of global partnerships. We already have the seeds of this mission-oriented approach with ONC on the Pacific Coast and the Ocean Supercluster on the Atlantic Coast.
Q. What role does ocean intelligence play in addressing the global climate crisis?
A. We all know the state of the ocean is an important indicator of the overall health of our planet. Ocean observation shows undeniable evidence of a rapidly changing climate, which means we must act swiftly using all the information, knowledge and resources we have available.
When we pair ocean observation data with scientific knowledge, we begin to unlock the astonishing potential of ocean intelligence. Ocean intelligence presents the opportunity to develop new technologies that address climate change, as well as the tools to measure if and how our efforts are making a difference.
Q. How can we make sure that our scientific findings are translated into real-world applications to, for example, influence policy?
A. The short answer is to ensure we take important scientific findings and make them relevant to those who make the big decisions that impact our climate. ONC is a great example, as we began primarily as a science facility 15 years ago and expanded into developing applications for society and industry.
We know that ocean intelligence is an essential source of information that, when in the right hands, can guide coastal communities, researchers, policymakers and governments. By working collaboratively with stakeholders, we can ensure that our findings are utilized to inform science-backed decision-making about our future.
Q. What does a successful blue economy look like now and in the future?
A. Canada has great potential for a sustainable blue economy, but only if we act with urgency to tackle these critical issues of our time. A mission-oriented approach with common goals is essential. Our strategy should start with wide consultation across Canada's provinces and territories, especially with Indigenous Peoples, and should outline a vision for Canada's ocean-related sectors that supports this broader goal.
Envisioning the blue economy of the future starts with development of new technology, specifically, solutions for climate change.
—Kate Moran, ONC president and chief executive officer
Q. Feb. 11 marks the International Day of Women in Science. Why is it important to have more women working in science-related fields?
A. Long-standing gender stereotypes are pushing women and girls away from science-related fields, and there is still work to be done to achieve full and equal access to and participation in the sciences. At Ocean Networks Canada, we celebrate and empower women and girls who are leading scientific innovation and we call for action to remove the barriers that hold them back.
A more innovative society functions well, takes care of our planet, and finds new and better ways to do things. It inspires scientific and technological breakthroughs and brings about exciting new opportunities for economic development. This month, we are celebrating diversity through the UN International Day of Women and Girls in Science and Black History Month. Diversity in science is vital for a more innovative society.
With many vaccinated, Israel reopens economy before election – CTV News
JERUSALEM —
Israel reopened most of its economy Sunday as part of its final phase of lifting coronavirus lockdown restrictions, some of them in place since September.
The easing of restrictions comes after months of government-imposed shutdowns and less than three weeks before the country's fourth parliamentary elections in two years. Israel, a world leader in vaccinations per capita, has surged forward with immunizing nearly 40 per cent of its population in just over two months.
Bars and restaurants, event halls, sporting events, hotels and all primary and secondary schools that had been closed to the public for months could reopen with some restrictions in place on the number of people in attendance, and with certain places open to the vaccinated only.
Israeli Prime Minister Benjamin Netanyahu's government approved the easing of limitations Saturday night, including the reopening of the main international airport to a limited number of incoming passengers each day.
Netanyahu is campaigning for reelection as Israel's coronavirus vaccine champion at the same time that he is on trial for corruption.
Israel has sped ahead with its immunization campaign. Over 52 per cent of its population of 9.3 million has received one dose and almost 40 per cent two doses of the Pfizer vaccine, one of the highest rates per capita in the world. After striking a deal to obtain large quantities of Pfizer/BioNTech vaccines in exchange for medical data, Israel has distributed over 8.6 million doses since launching its vaccination campaign in late December.
While vaccination rates continue to steadily rise and the number of serious cases of COVID-19, the illness caused by the virus, drops, Israel's unemployment rate remains high. As of January, 18.4 per cent of the workforce was out of work because of the pandemic, according to Israel's Central Bureau of Statistics.
At the same time that it has deployed vaccines to its own citizens, Israel has provided few vaccines for Palestinians in the West Bank and Gaza Strip, a move that has underscored global disparities. It has faced criticism for not sharing significant quantities of its vaccine stockpiles with the Palestinians. On Friday, Israel postponed plans to vaccinate Palestinians who work inside the country and its West Bank settlements until further notice.
Israeli officials have said that its priority is vaccinating its own population first, while the Palestinian Authority has said it would fend for itself in obtaining vaccines from the WHO-led partnership with humanitarian organizations known as COVAX.
Israel has confirmed at least 800,000 cases of COVID-19 since the start of the pandemic and 5,861 deaths, according to the Health Ministry.
Startup: Only Quantum Cryptography Can Save The $100 Trillion Global Digital Economy – Forbes
Nations and startups around the world are investing hundreds of billion of dollars in quantum computing, says quantum security startup CEO James Nguyen. And while there are plenty of positives in quantum computing technology — new medical treatments are just one — the problem is that for a high-functioning quantum computer, all the cryptographic security we currently have could be as flimsy as using "password123" for your bank account.
That means that $100 trillion could be at risk by 2025.
"The World Economic Forum already said that by 2025 … the digital economy is going to be worth a hundred trillion dollars," Ngyuyen told me recently on the TechFirst podcast. "And … everything that we operate today that's important to us, such as our memories, our financial assets, our legacy, or even our military weapons … anything that we deal with in sets of information … is controlled over the internet."
Quantum pioneer IBM says that quantum computing will create new exposure risk since quantum computers can quickly solve the complex math problems that form the foundation of today's security. Those problems secure our bank accounts and nuclear weapons, and while classical supercomputers can take thousands of years to solve them, IBM says a large-scale quantum computer could theoretically solve them in hours or days. Other computing giants like Microsoft are already hard at work on post-quantum cryptography. And Google has said that quantum computing could "end encryption" within five years.
Ngyuyen says the threat is already here, especially given that Russia and China are the two countries investing the most in quantum computing investment, and the regardless of the exact timeline, every organization needs to be "quantum ready."
He also says that his Canadian startup, Quantropi, has the answer.
"We've developed the world's first cloud-based platform for digital quantum key distribution over the internet," Ngyuyen says. "We've been able to prove — with a partnership with McGill — that we're a hundred thousand times faster than existing quantum key distribution systems."
According to Ngyuyen, Quantropi's solution is something like an abstraction layer for quantum security that banks and digital retailers and military organizations can incorporate into their systems without needing their own on-site quantum computers. Essentially, it's software with the core of a quantum algorithm that can be implemented in quantum computers as well as classical computers. Quantropi says that while many companies can generate very strong quantum entropy — very random numbers — no-one has been able to distribute this effectively at high speed over existing infrastructure.
In other words, over the internet.
This is essentially quantum security as a cloud service, at gigabits per second.
Quantropi's solution uses a quantum random number generator from Quintessence Labs out of Australia, then streams quantum cryptography to clients via a process the company calls QEEP: quantum entropy expansion and propagation. The result is "perfect secrecy" in key encoding, according to a presentation the company made during a recent IEEE quantum event.
Of course, many companies claim to have the perfect solution for security, and seemingly, everyone gets hacked sooner or later.
Ngyuyen says Quantropi is working in closed beta with Fortune 100 companies as well demonstrating and testing its technology in universities like McGill. The company has multiple patents with over ten outstanding, he adds, and has been recommended by the National Research Council of Canada to be a nominee for the Science Startup Breakthrough of The Year.
Whether or not Quantropi has the final solution remains to be seen. But fixing security in the age of quantum computing is almost unimaginably important.
Because a working quantum computer that can break high-standard encryption in the hands of bad actors would make the mammoth Solar Winds hack look like a script kiddie.
"[Quantum computing] really undermines and breaks today's PKI encryption," Ngyuyen says. "And if a criminal was going to basically leverage a quantum computer for bad reasons … you literally can start wars. You literally can basically empty people's bank accounts … steal people's identities … everything that we believe or, you know, is important to us, it's going to be broken."
Get the full interview on the TechFirst podcast.
Biden on brink of passing historic $1.9tn boost to US economy – Financial Times
Joe Biden is on the brink of securing final approval from Congress for his $1.9tn stimulus bill — a bet that massive fiscal intervention aimed at lower and middle class families will speed up America's recovery without overheating the economy.
After the US Senate voted to approve the package on Saturday, the Democrat-controlled House of Representatives is poised to give its final green light to the bill on Tuesday, allowing it to be signed into law by Biden.
Barring any last-minute trouble in the House, where Democrats hold a slim majority, the stimulus legislation will mark a big political victory for Biden, who made it his top priority since entering the White House on January 20.
The stimulus bill — known as the American Rescue Plan — represents one of the largest US government interventions in the economy of the post-world war two era — just short of the size of the $2.2tn March 2020 pandemic stimulus, but larger than the $787bn recovery plan during the 2009 financial crisis.
The prospects for its passage have already led many private-sector economists to upgrade their forecasts for US growth this year. Federal Reserve officials are likely to do the same when they publish their latest economic projections next week.
But the plan has attracted criticism from Republican lawmakers — who have so far unanimously opposed the plan — as well as some economists, including Lawrence Summers, the treasury secretary under Bill Clinton — who say it risks a harmful spike in inflation.
A recent sell-off in long-term government debt — with yields on 10-year Treasury bonds rising above 1.5 per cent for the first time in more than a year — has fuelled those concerns, though senior US policymakers including Janet Yellen, the treasury secretary, and Jay Powell, the Federal Reserve chair, have dismissed the worries.
Around the world, the US stimulus package could give a fresh jolt to the global recovery amid hopes that widespread vaccinations throughout the year will help reopen many economies. But any unintended jump in US inflation or debt yields could unsettle markets and prove particularly harmful for emerging markets.
Domestically, Biden's top aides and many Democrats on Sunday touted the plan as "historic and transformational" legislation for families that have struggled through the pandemic. The bill — which will be financed entirely by adding to the US deficit — will dispatch $1,400 means-tested payments to most Americans; extend emergency federal jobless benefits worth $300 per week until September; increase a tax credit for children; provide aid to states and local governments; and boost funding for schools and vaccinations.
"This is a bill that reflects President Biden's belief that the best way to get the economy back on track and get it growing is to invest in working people and middle class people," Kate Bedingfield, the White House communications director, told CNN. "It is urgent aid that is going to help people all across the country but it's also making a long-term investment," she added.
The US president had applauded passage of the Senate's version in remarks on Saturday, following an all-night session in the upper chamber of Congress.
Biden was on Sunday expected to sign an executive order to boost voting rights, at an event commemorating the civil rights protesters who were tear-gassed and beaten by state troopers in Selma Alabama 56 years ago.
Senate passage of the stimulus legislation — by a party-line 50 to 49 vote — was held up for hours as Democratic leaders sought to get the decisive consent of Joe Manchin, the moderate West Virginia Democrat, who was insisting on tighter terms for the jobless benefits.
On Sunday, Manchin did the rounds of US television networks to trumpet his role in the talks, rejecting any fears that the Biden plan was excessive.
"I can assure you, we have helped every segment of society right now, more so than ever before with this piece of targeted legislation," he told Fox News Sunday.