Oil prices climb to highest in years as COVID recovery, power generators stoke demand
 Oil prices hit their highest in years on Monday as demand continues its recovery from the COVID-19 pandemic, boosted by more custom from power generators turning away from expensive gas and coal to fuel oil and diesel.
Brent crude oil futures rose 87 cents, or 1%, to $85.73 a barrel by 0111 GMT, the highest price since October 2018.
US West Texas Intermediate (WTI) crude futures climbed $1.12, or 1.4%, to $83.40 a barrel, highest since October 2014.
Both contracts rose by at least 3% last week.
"Easing restrictions around the world are likely to help the recovery in fuel consumption," analysts from ANZ bank said in a note on Monday.
"The jet fuel market was buoyed by news that the U.S. will open its borders to vaccinated foreign travellers next month. Similar moves in Australia and across Asia followed."
They added that gas-to-oil switching for power generation alone could boost demand by as much as 450,000 barrels per day in the fourth quarter.
Still, supply could also increase from the United States, where energy firms last week added oil and natural gas rigs for a sixth week in a row as soaring crude prices prompted drillers to return to the wellpad.
The U.S. oil and gas rig count, an early indicator of future output, rose 10 to 543 in the week to Oct. 15, its highest since April 2020, energy services firm Baker Hughes Co said last week.
China's economy, meanwhile, likely grew at the slowest pace in a year in the third quarter, hurt by power shortages, supply bottlenecks and sporadic COVID-19 outbreaks.
The world's second-largest oil consumer issued a new batch of oil import quotas for independent refiners for 2021 that show total annual allowances were lower than last year, a first reduction of import permits since these firms were allowed into the market in 2015.
(Reporting by Jessica Jaganathan; Editing by Kenneth Maxwell)
Canadian employers, facing labor shortage, accommodate the unvaccinated
Canada's tight labor market is forcing many companies to offer regular COVID-19 testing over vaccine mandates, while others are reversing previously announced inoculation requirements even as Omicron variant cases rise.
Canadian Prime Minister Justin Trudeau's government adopted one of the strictest inoculation policies in the world for civil servants and has already put more than 1,000 workers on unpaid leave, with thousands more at risk.
Airlines, police forces, school boards and even Canada's Big Five banks https://www.reuters.com/world/americas/canadas-major-banks-require-employees-entering-premises-be-vaccinated-2021-08-20 have also pledged strict mandatory vaccine policies. But following through has proven less straightforward, especially as employers grapple with staffing shortages and workers demand exemptions.
Job vacancies in Canada have doubled so far this year, official data shows, and vaccine mandates can make filling those jobs harder, potentially putting upward pressure on wages. That could fuel inflation https://www.reuters.com/world/americas/canadas-annual-inflation-rate-hits-47-oct-highest-since-feb-2003-2021-11-17, already running at a near two-decade high.
"It's already difficult to find staff, let alone putting in a vaccine mandate. You'd cut out potentially another 20%" of potential workers, said Dan Kelly, chief executive of the Canadian Federation of Independent Business.
There are pitfalls to employing the unvaccinated. Companies run a higher risk of COVID-19 outbreaks and many vaccinated employees are uncomfortable working with those who have not had the jab, said industry groups and marketing experts.
At Luda Foods, a Montreal-based soup and sauce maker, president Robert Eiser said he has 14 open jobs, no vaccine mandate and no plans to restrict new hires to the vaccinated.
"I don't know that I want to reduce the (labor) pool, which is already quite low," said Eiser. "We need to attract people to meet the demand. If we don't, our competitors will."
Data released on Friday underpinned Canada's tight labor market, with a hefty 153,700 jobs https://www.reuters.com/markets/us/canada-posts-hefty-job-gains-outlook-clouded-by-omicron-variant-2021-12-03 added in November. It also showed a growing mismatch between available workers and unfilled jobs. And job postings are far above pre-pandemic levels. (Graphic: Canada job postings surge above pre-pandemic level Canada job postings surge above pre-pandemic level, https://graphics.reuters.com/HEALTH-CORONAVIRUS/CANADA2/klvyknzklvg/chart.png)
WALKING BACK
The province of Quebec backtracked on a vaccine mandates for healthcare workers last month, saying they could not afford to lose thousands of unvaccinated staff. Ontario, which was also eyeing a mandate, said it would not go ahead.
Toronto-Dominion Bank and Bank of Montreal have both softened their vaccine policy to allow regular testing for workers who missed their Oct. 31 inoculation deadline.
In Canada, 86% of adults are fully inoculated, though that drops under 80% among 18-40 year olds. At least 15 cases of the new Omicron https://www.reuters.com/markets/rates-bonds/canada-has-reported-total-11-cases-omicron-variant-health-official-2021-12-03 variant in Canada have been reported in the past week.
John Cappelli, vice president of onsite managed services in Canada for global recruitment firm Adecco, said half of his clients are mandating vaccines with the other half allowing regular testing for the unvaccinated.
But he expects the Omicron variant will prompt more workplaces to get strict on vaccination, even as they grapple with the tightest job market he's seen in his 25-year career.
"We are now starting to see our first workplace (COVID-19) cases in five months," he said.
The number of Canadian job postings on search website Indeed mentioning vaccine requirements has quadrupled since August. (Graphic: Canada job postings and vaccine mandates, https://graphics.reuters.com/HEALTH-CORONAVIRUS/CANADA3/byvrjqrlmve/chart.png)
In the hard-hit manufacturing sector, where 77% of firms say their top concern is attracting and retaining workers, vaccine mandates are more rare.
Dennis Darby, CEO of Canadian Manufacturers and Exporters, said most of Canada's factories have operated safely throughout the pandemic. While CME encourages vaccination, "some companies are still using rapid testing if somebody doesn't want to get vaccinated," he added.
But companies risk a hit to their reputation if they are overt in efforts to tap into the unvaccinated as a labor pool, said Wojtek Dabrowski, managing partner at Provident Communications.
"If you go out and say, 'We are intentionally seeking to hire unvaccinated people,' many customers are equating that with you being anti-science and anti-safety," said Dabrowski.
(Reporting by Julie Gordon and Steve Scherer in Ottawa, additional reporting by Rod Nickel in Winnipeg and Nichola Saminather in Toronto; Editing by Alistair Bell)
LETTER: Sidney working towards a vibrant economy – Sooke News Mirror
In the spring of 2014, Sidney's then-mayor Cross struck a mayor's downtown revitalization task force and I was appointed vice-chair to Mark Dickinson's chairman. Mr. Dickinson led a cross-functional team of dedicated citizens, representatives from the chamber of commerce, Sidney BIA, as well as town staff to renew the economic development strategy for Sidney. Going in, we knew there were several iterations of well-intentioned committees in the past and we mused would we be able to forge a new strategy.
Hours were spent in the Arbutus Room at town hall over several months on a SWOT (strengths, weaknesses, opportunities, and threats) analysis, prioritizing an action registry and producing a report to present to council on our findings. The council of the day accepted the report just prior to the civic election.
Mayor Cross retired and a new council reviewed and ratified the report which provided four pillars for success and a roadmap to achieve them. It included the recommendation to establish an economic development committee of citizens willing to 'roll up their sleeves' to operationalize the recommendations. If this model wasn't successful after a year or so, it was recommended that a consultant be engaged to fine-tune the strategy and the tactics.
The EDC was formed and quite frankly was ineffective due to several strong personalities with differing agendas and goals. Members resigned, new members stepped in, but it became clear that 'Plan B' needed to be effected. The EDC is still an entity in the town but I am pleased to see that cooler heads have prevailed and a consulting firm with expertise in this area has been engaged.
I applaud this decision and sincerely hope the contract deliverables can leverage the town's strengths and mitigate any perceived weaknesses in support of a vibrant business economy.
Brian Losie
Sidney
Nobody seems to know what's going on with the economy – CNN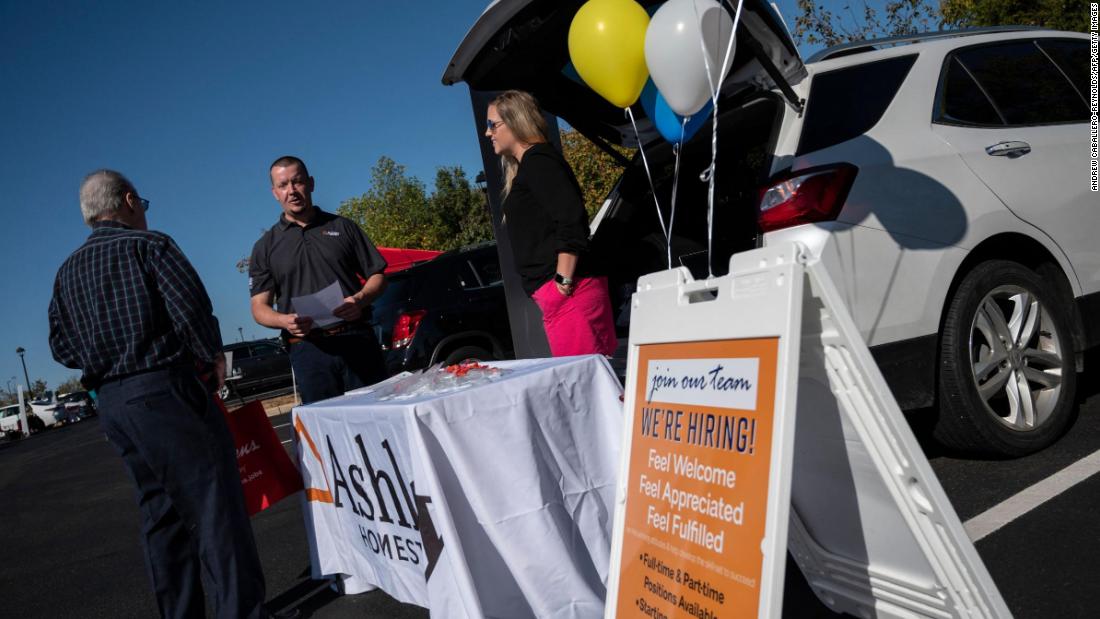 The economy is on the road to recovery from the coronavirus pandemic, reeling from inflation or a source of disappointment on jobs creation, depending on who you're talking to.
It's probably all three, and what happens from month to month seems to be something of a surprise. That element of unpredictability might be the most normal possible thing given the shock of the pandemic — the extraordinary government intervention to save the economy is unlike anything anybody alive today has ever seen.
It's hard to decide how important any single thing is.