Oilers, Rangers, Sabres, Phase 3
In today's NHL rumor rundown, Edmonton's Connor McDavid spoke about the process of the players voting for the 24-team play-in and how it specifically affected the Oilers. Why did the team vote for the format despite it not being in their favor?
One of the teams out as a result of that vote was the Buffalo Sabres whose season ended. Rasmus Ristolainen of the Sabres told media that he assumes he'll be traded now. And, as a member of one of the seven teams that didn't make the play-ins or the playoffs, could his trade come sooner than later? Technically, these teams can make deals starting right away.
Finally, there is news from the NHL on Phase 3 of the league's return to play plan, even though Phase 2 hasn't technically began yet.
McDavid and Nurse Comment on Oilers Vote
Despite the fact that the approved format hurts the Oilers as much as hurts any of the teams now forced to compete in a play-in game, Connor McDavid noted this is what was best for the league as a whole.
McDavid said, "Lots of guys had to make sacrifices and the Oilers were part of that. We had a good season and put ourselves in a good spot but we still got to play in the Play-In Round and that's the way it goes." Now, if the season resumes, Edmonton has to get past the Chicago Blackhawks.
Ultimately, the Oilers didn't vote based on what was best for them. He said, "It's best for the League and guys understood that."
Darnell Nurse was the Oilers' team rep in meetings and he explained that the Oilers decided by democracy vote. "There's no perfect situation here. We want to play and I think we showed that," he said. He added:
"No matter what position you're in, you got to win every series to get that ultimate goal. We could sit here, complain and hope for a different format but at the end of the day, the Return To Play Committee put together a good format. They worked hard on it and if we have to play an extra series, we're OK with that."
Rangers Unsure About Kakko's Status
Larry Brooks of the New York Post notes that New York Rangers president John Davidson isn't sure what Kaapo Kakko's status will be for any games the Rangers play during the pandemic. Like Max Domi of the Montreal Canadiens, Kakko has Type 1 diabetes and that means medical staff may determined it's not safe to play.
When it comes to playing in the playoffs, Davidson said, they "will listen to science and the medical people."
Ristolainen Thinks a Trade is a Given
Rasmus Ristolainen spoke with media after confirmation the regular season closed and made a few newsworthy comments. Among them, he told John Vogl of The Athletic, he believes he'll be "one of the first ones that's probably going to get traded".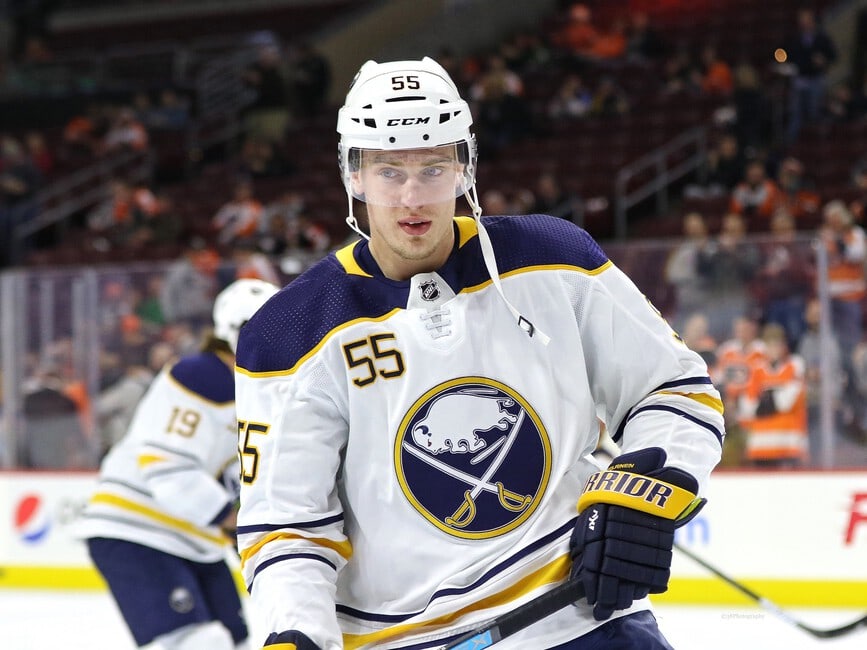 Ristolainen has been a part of trade rumors out of Buffalo for a couple of seasons but recently re-upped GM Jason Botterill referred to him as a "core player" for the organization. Obviously, there's a disconnect there.
If the Sabres do try to trade Ristolainen, some teams will be a bit leery of his advanced stats numbers but he's a strong defenseman that could do well on a team with some cap room. Risotalinen has two years remaining on his current contract which carries a $5.4 million per season.
Phase 3 Set For July?
According to Elliotte Friedman of Sportsnet, the NHL has informed players that Phase 3 of the league's return to play plan, a three-week training camp, will not start before July 10. This estimate comes without Phase 2 actually having gotten underway yet. Phase 2 is small group workouts, but could being next week.
If mid-July is accurate for a training camp, James Mirtle of The Athletic suggests it could be October before a 2019-20 champion is crowned.
Source:  The Hockey Writers
Reports: NHL playoffs will take place in Toronto and Edmonton – Stanley Cup of Chowder
If the NHL playoffs end up happening, it looks like all of the action is going to be north of the border.
Sportsnet reported earlier this afternoon that Edmonton and Toronto have been selected as hub cities, with a formal announcement to come sometime soon.
Other reporters have since confirmed those reports.
An #NHL team executive confirms to The Post that Toronto and Edmonton were selected as hub cities.

— Mollie Walker (@MollieeWalkerr) July 1, 2020
The Sportsnet article linked above also makes note of the fact that Elliotte Friedman reported that (sensibly) the Eastern Conference teams will be in Toronto and the Western Conference teams will be in Edmonton.
It remains to be seen where the Final will be played.
If the reports are to be believed (and when there are this many "reports," they're rarely wrong), this appears to be a good sense decision by the NHL.
Frankly, large swaths of the United States are in the midst of disastrous COVID-19 spikes, and even the states that are seeing encouraging trends are still a cluster or two away from falling into the same state.
Canada appears to have a better handle on the virus, and the cities above have the amenities needed to support the league's hub plan.
While some will cry foul/favoritism, with no fans, there's really not going to be any home-ice advantage in these series. One could argue that the Leafs will be more comfortable in their own arena, but how much impact will that really have?
Presumably, the league will still require players from the home cities to stay in the hubs/clusters/pods/whatever like the rest of the teams, so it's not like the Oilers players will get the luxury of sleeping in their own beds every night.
Overall, another step toward resumption by the league, again with the caveat that things are fluid.
Training camps could start in just a couple of weeks, and teams would likely end up heading to their hub cities before the end of the month.
Report: NFL to cut preseason in half – TSN
The NFL will cut its preseason in half and push back the start of exhibition play so teams have more time to train following an all virtual off-season made necessary by the coronavirus pandemic, a person with knowledge of the decision told The Associated Press.
The person spoke on condition of anonymity because the league hasn't announced that the preseason will be cut from four games to two.
The pandemic forced teams to conduct their entire off-season programs via videoconference. So, teams will be gathering together for the first time when training camps open July 28.
Minus the usual minicamps, on-field practices and in-person weight training from April to June, players' conditioning won't be what it normally is. So, eliminating the first week of preseason games Aug. 13-16 will give them more time to ratchet up their football fitness.
Teams will now play exhibitions Aug. 20-24 and Aug. 27-31 during what were originally the second and third weeks of exhibition play with all 32 teams playing one home and one road game.
Most of those games will remain the same as originally scheduled although some matchups in that second slate will have to be changed so every team gets a game at home.
The exhibition finales on Sept. 3 were also scrapped, giving teams more time to get ready for the regular season, which opens Sept. 10 with Houston at Kansas City.
There are no changes to the regular season schedule.
The league continues to draw up protocols, not only for COVID-19 mitigation but for ramping up practices during the first few weeks of training camp.
The annual Hall of Fame Game pitting Pittsburgh and Dallas on Aug. 6 was recently scrapped as the induction ceremonies were pushed back to 2021.
___
Follow Arnie Melendrez Stapleton on Twitter: http://twitter.com/arniestapleton
___
More AP NFL: https://apnews.com/NFL and https://twitter.com/AP_NFL
Hubmonton! Edmonton and Toronto picked as NHL hub cities, multiple sources report – Edmonton Journal
Article content
This in from NHL insider John Shannon, talking to Reid Wilkins of CHED about the NHL's selection of Toronto and Edmonton as playoff hub cities: "It looks like Edmonton and Toronto are the two hub cities."
On Twitter Shannon said: "All indications pointing to a "Made in Canada" for the Hubs. Amongst other things, the increased virus cases in 36 states, have Edmonton and Toronto has the hub cities for the NHL."
And from Mark Spector of Sportsnet: "EDM gets the Hub, an obvious decision that took too long to make. Lowest COVID by far. They'll also get Oilers and West teams, my understanding, with East playing in TOR. Makes no sense for TV to have East teams out West."
Denver hockey writer Adrian Dater: "Vegas losing out on being a hub, to Edmonton, a last-minute shocker. But the virus made too big of a comeback in Vegas it seems. Wow."
And on the NHL and NHLPA collective bargaining agreement, there's also hopeful news: