Okanagan home to some of B.C.'s top priced real estate – Parksville-Qualicum Beach News
While almost all of B.C.'s top priced homes are in Vancouver, the Okanagan did crack the top 500 list with some pricey properties.
Four Kelowna and two Lake Country homes made the list, which was updated Jan. 4, 2022.
A $14 million Kelowna home is the most expensive single family residence in the Okanagan at No. 296 on the provincial list.
Other highly valued properties include an $11.2 million dollar home in West Kelowna, a Kelowna Lakeshore Drive acreage worth $12.2 million, a custom home along the banks of Okanagan Lake in Kelowna valued at $11.9 million, a five-bedroom home at Pixton Road in Lake Country worth $13.5 million and another Lake Country home on Juniper Cove Road valued at $12.3 million.
While it didn't make the top 500 in B.C., a Coldstream home did make the top 100 in the Thompson Okanagan. The Kalavista Drive waterfront family residence is valued at $8.6 million.
Lake Country boasts the most expensive average single-family home in the region, assessed at $886,000, a 32 per cent increase over last year. Kelowna and West Kelowna are next followed by Peachland, where values increased 39 per cent.
Coldstream assessments rose more than $20,000 to an average of $817,000 while Vernon saw a $165,000 jump to $644,000.
Penticton isn't far behind at $637,000, while Summerland surpasses both at $695,000. Osoyoos properties are in the $600,000 range, Armstrong's average is $578,000 (a 34 per cent increase), comparable to Salmon Arm's $574,000.
The average Spallumcheen home is worth $521,000 (the largest increase at 42 per cent) while Lumby's is $503,000 and Enderby's is $468,000.
[embedded content]
The average strata home in Vernon is valued at $350,000, up 25 per cent from last year.
The period from July 1, 2020 to July 1, 2021 in Vernon saw a 33.9 per cent increase and 30.6 per cent for rural Vernon.
Spallumcheen had the biggest jump, 41.2 per cent, followed by Enderby at 34, Armstrong at 33.8, Coldstream at 31.7 and Lumby at 28.9.
In the next few days, owners of more than 286,000 properties throughout the Thompson Okanagan can expect to receive their 2022 assessment notices, which reflect market value as of July 1, 2021.
"The real estate market has been robust in the Okanagan and most property owners can expect higher assessment values for 2022 with many communities seeing increases over 30 per cent," Okanagan area deputy assessor Tracy Wall said. "Sadly, we recognize that some Okanagan homeowners have been impacted by wildfires and flooding and they are encouraged to contact BC Assessment to discuss the damage to their property."
– with files from Cole Schisler, Black Press Media
---
@VernonNews
newsroom@vernonmorningstar.com
Like us on Facebook and follow us on Twitter.
Seeking BCREA Appointee to the Real Estate Foundation of BC – BCREA
The BC Real Estate Association (BCREA) Board of Directors is seeking an appointee for the Real Estate Foundation of BC's Board of Governors. This appointment term would commence April 1, 2022.
About the Real Estate Foundation of BC
In August 1985 the British Columbia real estate industry, in cooperation with the BC Ministry of Consumer and Corporate Affairs, established the Real Estate Foundation as a non-profit corporation under the Real Estate Act. On January 1, 2005, the Real Estate Services Act and the Real Estate Development Marketing Act replaced the Real Estate Act. The Foundation continued under the Real Estate Services Act.
The purpose of the Foundation is to undertake and carry out real estate public and professional education, real estate law reform, real estate research and other projects intended for the public or professional good in relation to real estate activities and to undertake and carry out projects and activities that the Minister designates as being in the public interest.
Call for Letters of Interest
Responsibilities include:
Governing in public interest;
participating in Board affairs;
understand the organization's mandate;
participate in the development, review, and approve the strategic plan;
select, appoint, compensate, evaluate, and terminate the Chief Executive Officer;
review financial and corporate issues; and
review and consider staff grant recommendations.
The Board operates within the broad policy direction prescribed by section 93 (1) of the Real Estate Services Act.
If you are somebody who has the following attributes and competencies, we would love to hear from you:
strong real estate experience;
governance experience;
a commitment to advancing equity, diversity, and inclusion; and
a commitment to learning and strengthening relationships with Indigenous Peoples and governing entities.
For the full list of desired personal attributes & competencies, please click here.
While previous experience as a governor is not required, it is important that Governors understand the roles and responsibilities of a member of a not-for-profit governing board and have the necessary experience and demonstrated skills to enable them to contribute to board planning, decision-making and oversight.
Time and Term Commitment
The amount of time a Governor spends on Foundation business varies from month to month, and from person to person. A Governor can expect to spend a minimum of eight in-person days on Foundation business throughout the year. This does not include committee, meeting preparation or travel time.
In addition, Governors are requested–individually or as a Board–to attend special events from time to time.
Each member is appointed for a one to three-year term and may serve up to six years in a row.
How to Apply
For the full Governor role description, click here.
If you have questions about the vacancy or wish to apply, please submit a letter of interest and current resume to the attention of the BCREA Nominating Committee at [email protected] by February 11, 2022.
The BCREA Nominating Committee thanks all applicants; however only those selected as potential candidates will be contacted.
To subscribe to receive BCREA publications such as this one, or to update your email address or current subscriptions, click here.
Another record month for Woodstock-area real estate market – Woodstock Sentinel Review
While the number of home sales in Woodstock hit a record high last year, real estate officials predict the ongoing shortage of housing inventory will continue throughout 2022.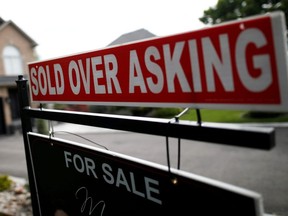 Article content
While the number of home sales in Woodstock hit a record high last year, real estate officials predict the ongoing shortage of housing inventory will continue throughout 2022.
Article content
Last year, home sales totalled 1,888 units in the Woodstock area, Woodstock-Ingersoll & District Real Estate Board officials said, which was a 10.2 per cent increase from 2020.
Anthony Montanaro, the president of the Woodstock-Ingersoll & District Real Estate Board, said the surging home sales and scarcity of new listings were simply the result of an increased demand for housing.
"It's basically the old supply and demand. Woodstock is in a lot of demand from outside our area," Montanaro said.
He says this heightened demand is primarily coming from buyers in the Greater Toronto Area.
"A lot of people are migrating down the 401 (and) 403 corridors going out west, but we are also seeing some migration from Kitchener, Guelph and the Hamilton area," Montanaro said.
Because of this new migration leading to a higher demand, the Woodstock area's current housing shortage has only become worse.
"Although the number of newly listed properties during December was well above average for this time of year, it was still insufficient to keep up with the seemingly endless demand. As a result, overall inventory has dropped below 40 active listings for the first time in history. Without an influx of new listings, the ability of buyers to find a home that suits them will soon become severely limited," Montanaro said.
At the end of this past month, active listings had fallen to 36, a sharp decrease of 39 per cent from December 2020. This was the lowest number of active listings for the month of December in past three decades, real estate officials said.
Article content
Despite this shortage, Montanaro said that demand will only continue.
"There's no inventory – the demand is tight because of that – so it's going to be more of the same. We are going to see repeats of this going forward into 2022," he said.
A recent population study by Ontario's Ministry of Finance also predicts Oxford County's population will increase by more than 35 per cent by the year 2046, adding to the demand on the local market.
In light of this, Montanaro said there are more and more buyers competing for the same homes, resulting in "multiple-offer situations" and contributing to rising home prices in the region.
"It's being fuelled by people coming from the Greater Toronto Area area," Montanaro said.
The benchmark for home prices – measured by the MLS Home Price Index, which was used to calculate the standard prices of houses in the region in December 2021 – had reached $641,400, a 32.4 per cent from December 2020.
The total dollar value of all homes sold last month was $82.4 million, a 56.2 per cent jump from last December and an all-time record for the month.
"With fierce competition for such few listings, it's no surprise that both average price and the (benchmark price) set all-time records in December," Montanaro said.
Looking ahead to 2022, Montanaro said the market would be dictated by inventory levels.
"If inventory starts to increase, then I think you can see prices kind of level off but, if the demand is still there – which we forecast that it still will be there – and the inventory is low then, yes, I can see prices increasing a little bit this year," he said.
COVID protocols slack in Toronto real estate showings, tenant says – Global News
A Toronto man renting a condominium apartment says real estate agents who showed it to prospective buyers disregarded COVID protocols. When he objected he was warned he could be evicted if he refused to allow others inside.
Connolly told Global News in a television interview that he asked the listing brokerage representing his landlord to ensure that touch surfaces were wiped down in his rented unit after showings.
The Ontario Real Estate Association, whose mandate is to help "realtors succeed in building stronger communities" according to its mission statement, directs members to take COVID protocols in showings seriously.
"Ensure door handles, light switches, counters, cabinet knobs and other high-touch surfaces are targeted. Once a showing is complete the home should be cleaned and disinfected again," OREA writes in its guidance for safe in-person showings.
Connolly says there were seven showings on the first weekend, each with about two prospective buyers, and one group that included four visitors to his unit.
"Five of seven did not follow instructions to sanitize touch surfaces after viewing," Connolly said.
Asked how he could be sure they were not compliant, Connolly said he was present for about half the visits.
"For the other showings I set up a camera for my own safety to watch them," he said, adding he did not make recordings but watched at another location.
Connolly also said the brokerage did not attempt to maximize virtual visits before scheduling in-person showings as advised by OREA.
"They listed my unit using stock photos not of my unit which forced people to come in and look at my unit," he said.
OREA instructs members that "the use of virtual open houses and virtual tools are still strongly recommended."
"Conduct as much business as possible virtually," OREA tells members on its website.
When Connolly, in a series of emails, reported his concerns that buyer agents were not following his requests in accordance with the OREA rules, he finally advised the brokerage that he would not permit further showings until cleaning was made a priority.
The response was swift.
"If I didn't back down they were going to move to evict me," Connolly told Global News, providing an email sent by the brokerage raising the possibility of legal action and removal.
Conolly, a project manager in the construction sector, says he considered it a direct threat and he allowed showings to continue.
The listing brokerage is Pierre Carapetian Group, which boasts "Pierre is in the top .3 per cent of Toronto realtors…with over 14 years of experience."
Carapetian's website claims "We've facilitated over half a billion dollars in Toronto real estate transactions."
When Global News contacted Carapetian for comment, an associate speaking on his behalf said "no sorry" in response to a request for a video interview, adding "he is booked this week."
However, in a 465-word written statement, Carapetian asserted "we have done nothing illegal."
Carapetian said his company "did try to accommodate" Connolly "as much…as reasonably possible."
"We took precautions to call each showing agent and personally ask them to wipe down surfaces in addition to following the showing instructions," the statement continued.
Carapetian said "we called the Landlord and Tenant Board to verify if the tenant's request was reasonable" and that blocking of viewings could give the owner the opportunity to consider an eviction process.
Later, Carapetian accused Connolly of trying "at every turn to impede the sale of this property, deliberately and intentionally."
However, he offered no details.
The second-floor condominium unit, which Connolly had expressed an interest in buying after moving in about a year ago, has since been sold. Connolly says he understands he will soon receive an eviction notice because the new owner wishes to occupy the apartment.
One of Carapetian's business associates, speaking on the broker's behalf, had previously told Global News the written reference to eviction for not cooperating was "not a threat".
In explaining that the agency "did everything we could" she suggested by telephone that Connolly could do his own housekeeping after the showings.
"Couldn't he do the same thing? Couldn't he just wipe down the surfaces?" the spokesperson said, before being reminded that Connolly was a tenant, not the unit's owner.
Carapetian concluded the letter to Global News with a warning:
"We consider these types of statements on our business slanderous and misleading and we will seek damages for any false or misleading narratives," Carapetian wrote.
Connolly says he raised the concerns about cleanliness and safety to alert other tenants in the province to make sure they assert their rights if their unit is put up for sale during the pandemic.
"So that every tenant is respected and their safe place where they should feel safe—at home during a pandemic when they're told to stay at home—that they they have that protection."
© 2022 Global News, a division of Corus Entertainment Inc.