OnePlus unveils new 120Hz QHD OLED display, likely coming to the OnePlus 8 Pro – GSMArena.com news – GSMArena.com
As expected, OnePlus held a screen technology communication event today, detailing its new mobile display tech. As per company CEO Pete Lau on Weibo, the technology is now officially out of the research and development phase, which does make it very likely to appear on the upcoming OnePlus 8 phones. As per an industry insider source, we can expect to see the shiny new OLED on the OnePlus 8 Pro. It's regular sibling will likely be getting a simpler alternative.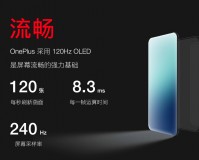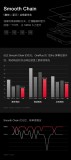 OnePlus 120Hz OLED display details
The really nifty bit of the story, however, is that OnePlus was nice enough to share some information-dense slides, detailing the new display tech. These are in Chinese, so excuse us in case we miss some small detail.
The star of the show here is, of course, the 120Hz refresh rate. As further guarantee of a smooth experience, OnePlus is also advertising a 240Hz touch sampling rate, as well as just 8.3ms of rendering time for each frame.
Elaborating on this further, we have what OnePlus calls "Smooth Chain". From what we can gather, it represents a combination of hardware and software optimization along the entire touch input and display output chain, so that the delay between input and response can be brought down as low as possible. Some sort of frame rate smoothing in games, similar to what Huawei has with its GPU Turbo tech seems to be at play here as well, although we don't really have any specifics yet.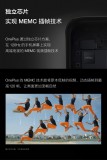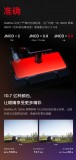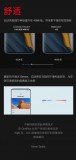 OnePlus 120Hz OLED display details
MEMC is another nifty, even if not conceptually new feature. It stands for Motion Estimation, Motion Compensation and is basically a smart frame insertion and interpolation layer that can process lower framerate video up to a simulated 120 fps. This should be done in real time since it is handled by an independent chip on the display itself.
Last, but not least, OnePlus also claims its new display, or rather that of its supplier, since OnePlus does not manufacture panels, is very accurate in a number of ways. The company is using the JNCD (Just Noticeable Color Difference) accuracy metric and claims a value lower than 0.8. Anything below 1 on that scale is considered great.
The new panel is also true 10-bit, for a total of 1.07 billion colors. No mention of HDR support to go along, though. Perhaps OnePlus is still working on certification. Finally, these new panels have 4096 levels of brightness adjustment, up from 1024. This could come in handy for any potential HDR implementation as well.
Source 1 (in Chinese) | Source 2 (in Chinese)
HyperX Expands Alloy Keyboard Lineup with Alloy Elite 2 Mechanical Gaming Keyboard – Calgary Herald
Article content continued
About HyperX
HyperX is the gaming division of Kingston Technology Company, Inc., the world's largest independent memory manufacturer, with the goal of providing gamers, PC builders, PC, console and mobile power users with high-performance components. For 16 years, the HyperX mission has been to develop gaming products for all types of gamers – high-speed memory, solid state drives, headsets, keyboards, mice, charging accessories for console players, USB flash drives, and mousepads – to the gaming community and beyond. The award-winning HyperX brand is known for consistently delivering products that deliver superior comfort, aesthetics, performance, and reliability. HyperX gear is the choice of celebrity ambassadors, pro gamers, tech enthusiasts, and over-clockers worldwide because it meets the most stringent product specifications and is built with best-in-class components. HyperX has shipped over 65 million memory modules, 10 million gaming headsets and one million keyboards worldwide.
The Samsung Galaxy M41 battery could be its biggest feature – Android Authority
Credit: Robert Triggs / Android Authority
A 6,800mAh Samsung battery appeared on Chinese certification site 3C.
It's rumored to be a Galaxy M series power pack, possibly for the M41.
The battery's only slightly smaller than Samsung's flagship tablet.
---
Modern smartphones are laden with multiple cameras and high refresh rate displays, but these cutting-edge features still need a reliable battery to power them.
According to a new listing on China's 3C certification website (h/t: RootMyGalaxy), a forthcoming Samsung smartphone could sport a battery that's just shy of 7,000mAh capacity.
The unit will make 6,800mAh available to its host device, dwarfing the capacity of the Galaxy S20 Ultra's battery and will provide nearly as much juice as the flagship Galaxy Tab S6 tablet. It's also bigger than the Galaxy M31, which sports a 6,000mAh battery.
See also: The best Android smartphones with the best battery life
This battery likely won't find its way into a flagship though (sorry Galaxy Note 20 fans) but will reportedly be mated to the Galaxy M41 or Galaxy M51.
The capacity increase isn't all that surprising given the Galaxy M series' history. Samsung tends to load this budget-focused line with large batteries, notched displays, and multiple rear cameras. While not much else is known about the Galaxy M41 just yet, expect it to follow a similar formula.
It should be said that smartphone battery life is determined by a number of factors, and not simply raw capacity. However, expect the device powered by this battery to spend quite a few hours away from the charger.
Sony factory assembles PS4 in 30 seconds, only four humans involved in process – TechSpot
In brief: It's no secret that robots are heavily involved in manufacturing, often at the expense of human jobs, and a Sony factory that builds the PlayStation 4 is no different. Its assembly line pumps out a fully functional console in just 30 seconds, and only four people are involved in the process.
As reported by the Nikkei Asian Review, the factory, operated by Sony's manufacturing arm Sony Global Manufacturing & Operations, is found on the outskirts of Kisarazu across the bay from Tokyo.
The facility's 103-foot assembly line for the PlayStation 4 was completed in 2018. The assembly is done entirely by robots, with the only humans involved directly being the two that feed motherboards onto the line, and two that package the finished consoles.
The Kisarazu plant has 32 robots, supplied by Mitsubishi Electric, 26 of which are dedicated solely to attaching wires, tape, and other flexible parts to the consoles—a complex task that most robots would find too finicky. The PS4's flexible flat cable, for example, requires one robot arm to hold up the cable and another to twist it. The cable then needs to be attached in the right direction with just the right amount of pressure.
"There's probably no other site that can manipulate robots in this manner," said one of the site's engineers. "The blend of robotic and human labor is painstakingly optimized with a prority on return on investment."
It's unclear whether the more complex PlayStation 5 will also zoom through an assembly line in just 30 seconds, though a mostly automated process seems likely. We recently saw a photo of what's alleged to be a PS5 that just came off a line, but the image could easily be a fake.