Ontario reports 156 new COVID-19 cases, including 3 in greater Kawarthas region – kawarthaNOW.com
Here's an update on COVID-19 cases in Ontario as well as in the greater Kawarthas region.
On the first day of step three of its reopening plan, Ontario is reporting 159 new COVID-19 cases, with only 4 of Ontario's 34 health units reporting double-digit increases — Grey Bruce (34), Waterloo (25), Toronto (23), Peel (12) — and 15 health units reporting no new cases at all. The seven-day average of daily cases has decreased by 4 to 151.
Hospitalizations have decreased by 6 from yesterday to 159, with the number of ICU patients falling by 10 to 158 and the number of patients on ventilators decreasing by 2 to 112.
Ontario is reporting 10 new COVID-related deaths today, with none in long-term care homes.
Over 17.8 million vaccine doses have been administered, an increase of 168,616 from yesterday, with almost 95% of Ontario's total population now having received at least one dose. Almost 7.6 million people have been fully vaccinated, an increase of 148,190 from yesterday, representing over 51% of Ontario's total population.
For a daily summary of cases in Ontario, including a breakdown of cases in each of Ontario's 34 health units, visit ontario.ca/page/how-ontario-is-responding-covid-19.
Advertisement – story continues below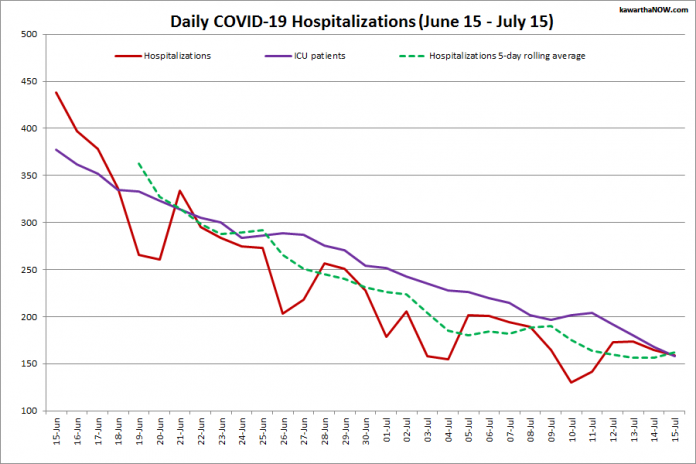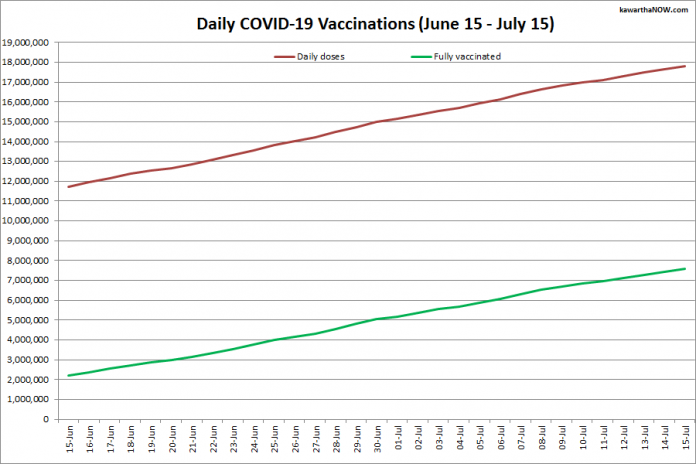 Advertisement – story continues below
In the greater Kawarthas region, there are 3 new cases to report, including 2 in Hastings Prince Edward and 1 in Haliburton.
An additional 6 cases in the region have been resolved, including 5 in Peterborough and 1 in Kawartha Lakes.
Regional active cases have decreased by 5 in Peterborough and by 1 in Kawartha Lakes, and have increased by 2 in Hastings Prince Edward and by 1 in Haliburton.
There are currently 28 active cases in the greater Kawarthas region, a decrease of 3 since yesterday, including 14 in Kawartha Lakes, 8 in Peterborough, 5 in Hastings Prince Edward (3 in Belleville, 1 in Tyendinaga & Deseronto, and 1 in North Hastings), and 1 in Haliburton. There are no active cases in Northumberland.
Since the pandemic began in the greater Kawarthas region, there have been 1,623 confirmed positive cases in the Peterborough area (1,593 resolved with 22 deaths), 1,136 in the City of Kawartha Lakes (1,077 resolved with 58 deaths), 946 in Northumberland County (929 resolved with 17 deaths), 123 in Haliburton County (121 resolved with 1 death), and 1,138 in Hastings and Prince Edward counties (1,122 resolved with 11 deaths). The most recent two deaths were reported in Peterborough and Kawartha Lakes on June 29.
Advertisement – story continues below
For detailed data for each health unit, visit the COVID-19 trackers for Peterborough Public Health, Haliburton, Kawartha, Pine Ridge District Health Unit, and Hastings Prince Edward Public Health.
For more information about COVID-19 in Ontario, visit covid-19.ontario.ca.
Majority of COVID-19 cases at large public events were among vaccinated Americans: CDC study – CTV News
A new study by the U.S. Centers for Disease Control and Prevention showed that three-quarters of individuals who became infected with COVID-19 at public events in a Massachusetts county had been fully vaccinated.
The study, published on Friday, showed that three-quarters of those infected were fully vaccinated, suggesting the Delta variant of the virus is highly contagious.
A separate CDC internal document, first reported by the Washington Post on Friday, described the Delta variant as being as transmissible as chickenpox and cautioned it could cause severe disease.
The new study's authors recommended that local health authorities consider requiring masks in indoor public settings regardless of vaccination status or the number of coronavirus cases in the community.
The study identified 469 people with COVID-19, 74% of whom were fully vaccinated, following large public events in the state's Barnstable County. Testing identified the Delta variant in 90% of virus specimens from 133 people.
The viral load was similar in people who were fully vaccinated and those who were unvaccinated, the CDC said.
High viral loads suggest an increased risk of transmission and raised concern that, unlike with other variants, vaccinated people infected with Delta can transmit the virus, it said.
The finding of the report "is concerning and was a pivotal discovery leading to CDC's updated mask recommendation," CDC director Rochelle Walensky said in a statement.
On Tuesday, the CDC reversed course on guidance for mask wearing, calling for their use in areas where cases are surging as a precaution against the possible transmission of the virus by fully vaccinated people.
"The masking recommendation was updated to ensure the vaccinated public would not unknowingly transmit virus to others, including their unvaccinated or immunocompromised loved ones," Walensky said in a statement.
Reporting by Manas Mishra in Bengaluru; Editing by Howard Goller
Obstetrician groups recommend COVID vaccine during pregnancy – Burnaby Now
Two leading obstetricians' groups on Friday recommended COVID-19 shots for all pregnant women, citing concerns over rising cases and low vaccination rates.
The American College of Obstetricians and Gynecologists and the Society for Maternal-Fetal Medicine said vaccinations in tens of thousands of pregnant women over the past several months have shown the shots are safe and effective during pregnancy.
COVID-19 during pregnancy increases risks for severe complications and can also increase chances for preterm birth. U.S. government data show only about 16% of pregnant women have received one or more doses of the COVID-19 vaccine.
The two groups had previously said pregnant people shouldn't be excluded from vaccination but stopped short of endorsing the shots.
The president of the OB-GYN group, Dr. Martin Tucker, said in a statement that doctors should enthusiastically recommend the shots to their patients.
Dr. Emily Miller, obstetrics chief at Northwestern Medicine in Chicago, said she hopes the new recommendation "will help pregnant people feel more confident in their decision to get the COVID-19 vaccine as soon as possible."
Miller is a member of the maternal-fetal medicine group's COVID-19 task force.
Pregnant women weren't included in studies that led to emergency authorization of the vaccines. Experts including the federal Centers for Disease Control and Prevention have not discouraged vaccination during pregnancy and have said available safety information is reassuring.
___
The Associated Press Health and Science Department receives support from the Howard Hughes Medical Institute's Department of Science Education. The AP is solely responsible for all content.
The Associated Press
COVID-19 in B.C.: Almost 250 new cases and over 1200 active cases; almost 700 active cases in Interior Health; and more – The Georgia Straight
Both B.C. Health Minister Adrian Dix and provincial health officer Dr. Bonnie Henry have been speaking at news conferences about the risks and impact of both B.C. wildfires as well as extreme heat conditions upon health across the province.
While the province faces challenges from those issues, the numbers of new and active COVID-19 cases in B.C. continue to climb upward.
Once again, the new case count for the province hit a new high in recent weeks and the number of active cases has risen above 1,200 cases.
In addition, Interior Health, with an outbreak in the Central Okanagan that was declared earlier this week, is nearing 700 active cases.
Today, the B.C. Health Ministry is reporting 243 new COVID-19 cases (including one epi-linked case).
Currently, there are 1,231 active cases, which is a rise of 176 cases since yesterday.
At the moment, 47 individuals with COVID-19 are in hospital (a decrease of four people since yesterday), and 16 of those patients are in intensive care units (four fewer than yesterday).
The new and active cases include:
131 new cases in Interior Health, with 693 total active cases (an increase of 93 cases since yesterday);
56 new cases in Fraser Health, with 277 total active cases (an increase of 35 cases);
32 new cases in Vancouver Coastal Health, with 160 total active cases (an increase of 21 cases);
13 new cases in Island Health, with 65 total active cases (an increase of 14 cases);
nine new cases in Northern Health, with 28 total active cases (an increase of nine cases);
two new cases of people from outside of Canada, with eight total active cases (an increase of three cases).
The good news is that no new deaths have been reported. That leaves the overall total COVID-19-related fatalities at 1,771 people who have died during the pandemic.
With 66 recoveries since yesterday, a cumulative total of 146,876 people who tested positive have now recovered.
During the pandemic, B.C. has recorded a cumulative total of 149,889 cases.
Yesterday, Island Health announced that the Eagle Ridge immunization clinic would be relocated on July 30 to the air-conditioned Victoria Conference Centre due to the anticipated high temperatures.
Today, Island Health extended the relocation dates to July 31 and August 1.
Since the provincial immunization program began in December, B.C. has administered 6,774,257 doses of Pfizer, Moderna, and AstraZeneca vaccines.
As of today, 81.1 percent (3,758,385) of eligible people 12 and older have received their first dose and 64.9 percent (3,008,360) have received their second dose.
In addition, 82.0 percent (3,548,137) of all eligible adults in B.C. have received their first dose and 67.5 percent (2,921,008) have received their second dose.
More good news is that none of the five regional health authorities have declared any new healthcare or community outbreaks, and none have listed any new public exposure events or business closures.
Currently, there are two active healthcare outbreaks, both in longterm care facilities: Holyrood Manor (Fraser Health) and Nelson Jubilee Manor (Interior Health).