Ontario reports 1,958 new coronavirus cases; 43 new deaths – CP24 Toronto's Breaking News
Ontario's top public health official says that the transmission of COVID-19 appears to be a on the wane after a worrisome spike in cases following the holidays.
Chief Medical Officer of Health Dr. David Williams made the comment during a briefing on Monday, hours after the Ministry of Health reported 1,958 new COVID-19 cases and 43 more deaths.
The seven-day average of daily cases fell from 2,460 to 2,371 over the last 24 hours. That is down from 3,074 at this point last week and 3,394 on Jan. 11.
"A lot of the health units their numbers per 100,000 are coming down pretty well across the board, there's a few sort of plateauing and levelling off, but it tells us that we're going in the right direction and that you're doing the right things you need to do," Williams said, while acknowledging that the trend should still be taken with "a grain of salt" due to the circulation of a new, more contagious variant that originated in the United Kingdom.
Provincial labs processed about 36,000 test specimens in the past 24 hours, generating a positivity rate of at least 5.4 per cent.
There have been 5,846 deaths and 227,494 recoveries from coronavirus infection since Jan. 25, 2020.
Another 23,620 active cases remain in Ontario, and that number is down approximately 2,000 in the past week.
Twenty-seven of the deaths reported on Monday involved residents of the long-term care system.
There were at least 1,425 patients receiving care in Ontario hospitals on Monday, according to local public health units and hospital networks, and the Critical Care Services of Ontario report from Sunday said there were 415 adult patients in intensive care across Ontario, along with one child.
ICU occupancy has held roughly steady for the past two weeks.
About 283 people were breathing with the help of a ventilator.
Michael Garron Hospital intensivist Dr. Michael Warner said that admissions to hospital appear to be stabilizing, but the situation could worsen dramatically because of the highly infectious B.1.1.7 variant from the United Kingdom.
"I think it is great that case numbers are coming down, we can't dispute that, and ICU admissions are stable around 415 for the past week or so. I guess that is good but we can't let our guard down. And we really have no idea how much B117 and other variants are circulating in Ontario or Canada," he said.
On Sunday, officials in Simcoe-Muskoka said they detected another what was believed to be the 21st case of the B.1.1.7 variant, in a retail store worker who had contact with residents of a Bradford long-term care home.
Williams, however, said during Monday's briefing that the total confirmed number of cases involving the variant is actually 34, up from 15 last week.
Public Health Ontario is conducting a "point-prevalence study" of all positive samples collected on a given day last week to see how many cases of the UK variant are circulating in the community.
Of the new cases confirmed on Monday, 727 are in Toronto, 365 are in Peel, 157 are in York, 62 are in Durham, 55 are in Hamilton and 54 are in Halton.
Meanwhile, supply restrictions continue to limit the number of additional COVID-19 vaccinations administered per day.
Health Minister Christine Elliott said about 6,000 more doses were administered on Sunday, bringing the total to about 292,000 injections to date.
COVID-19: BC seniors aged 90+ can start to sign up for vaccination on March 8 – Victoria News – Victoria News
B.C. seniors born in 1931 or earlier will be first up for the COVID-19 community vaccination program, with registration for appointments starting next week, public health officials said Monday.
Anticipating a huge demand from seniors living at home and their relatives for the coronavirus vaccine, the province has arranged a rolling schedule by age for people to contact their regional health authority for appointments. It begins with people aged 90 and up booking appointments starting March 8, with appointments starting March 15. Then 85 and up can call starting March 15, with vaccinations starting March 22. People aged 80 and up or their relatives can call starting March 22, with vaccinations starting March 29.
Phone numbers will be activated starting March 8, officials said at a news conference March 1. Health authority call centre information and a step-by-step process are available on the provincial website at gov.bc.ca/bcseniorsfirst and also on websites for Fraser Health, Interior Health, Northern Health, Island Health and Vancouver Coastal Health. Relatives or friends of elderly people are allowed to call for appointments on their behalf when they are eligible.
Appointment bookings start with seniors 90+ #COVID19BC pic.twitter.com/2ivlXVVQ3w

— Tom Fletcher (@tomfletcherbc) March 1, 2021
The Fraser Health region, with more people and more seniors than the other four B.C. regions, will have online bookings available as well, in an effort to ease a rush of phone calls that provincial call centre staff may be unable to keep up with at first.
Provincial health officer Dr. Bonnie Henry said almost complete vaccination of staff and residents in long-term care and assisted living facilities has provided almost blanket protection for frail elderly residents, and immunization is nearing completion for remote Indigenous communities. Indigenous people aged 65 are included in the community vaccination program set for those 80 and up in the general population, due to higher risk that has been shown.
Callers are urged to wait until their age group is eligible for appointments, and have the necessary information ready: First and last name, date of birth, postal code, B.C. personal health number, and contact information (email or mobile phone number of the senior or support person). People will be given a list of clinics close to home.
Vaccine has protected long-term care residents #COVID19BC pic.twitter.com/IwIvvffWkQ

— Tom Fletcher (@tomfletcherbc) March 1, 2021
Officials warn everyone that health authority call centres will never ask for a social insurance number, driver's licence number or banking and credit card details. If anyone asks for that, hang up immediately and contact your local health authority.
Henry said Health Canada's approval of a third vaccine from AstraZeneca may allow an earlier vaccination date for people under age 80, assuming the delivery dates for all manufacturers are met. First shipments of that vaccine will be targeted to paramedics and other first responders not yet reached by the first stages of protection for health care workers and seniors.
"This is a vaccine that is fridge-stable, which means we can use it in the community in a much more agile way," Henry said.
Results from first doses of Pfizer and Moderna vaccines are better than expected, and have allowed the province to extend the time between doses up to four months, Henry said.
---
@tomfletcherbc
tfletcher@blackpress.ca
Like us on Facebook and follow us on Twitter.
COVID-19 Today: A look at the numbers for Newmarket, York Region, Ontario – NewmarketToday.ca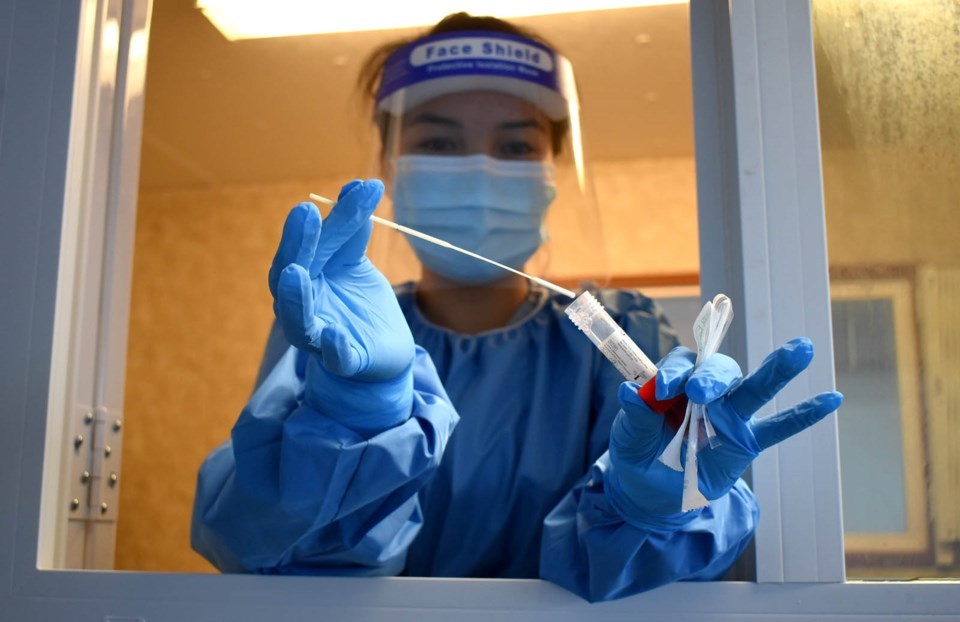 Newmarket (reported Sunday, Feb. 28 at 5 p.m.)
1,596 cases of COVID-19
2 more cases since Feb. 27
33 (+1) variant cases

2 (+0) B.1.1.7. U.K.; local transmission
31 (+1) lineage not yet determined; 21 (+1) close contact, 5 (-1) local transmission, 5 workplace

1,512 (+6) cases resolved (94%)
47 (-3) active cases
0 more deaths, totalling 37
7 (+1) hospitalized, 1 (+0) in ICU
5 (+0) institutional outbreaks

Outbreak #2 declared Feb. 26 at Amica Newmarket Retirement Home (1 health-care worker)
Outbreak #2 declared Feb. 22 at Eagle Terrace Long-term Care Home (4 staff)
Outbreak declared Feb. 19 at Inn From the Cold (1 resident, 1 staff)
Outbreak declared Feb. 3 at The Newmarket Residence (54 residents, 10 staff)
Outbreak #3 Jan. 4 at Southlake Regional Health Centre (27 patients, 16 health-care workers)

3 (+0) school surveillances

Surveillance #2 declared Feb. 26 at Dr. J.M. Denison Secondary School (1 staff)
Surveillance declared Feb. 26 at Poplar Bank School (1 student)
Surveillance #2 declared Feb. 25 at Denne Public School (1 staff)

1 (+0) child care outbreak

Outbreak declared Feb. 6 at Brightpath Newmarket (5 children, 5 staff)

0 (-1) workplace outbreak
37 (-2) new cases in last 7 days
281 tests on Feb. 25, 5 positive (1.8% positivity) update N/A
The Nitty Gritty
742 (+2) cases close contact, or 46%
311 (+0) cases institutional outbreak, or 20%
389 (+2) cases community transmission, or 24%
11 (-1) cases under investigation, or 1%
40 (+0) cases travel, or 3%
91 (+0) cases workplace outbreak, or 6%
395 (+1) cases age 19 to 34, 25%
277 (+0) cases age 35 to 44, or 17%
239 (+0) cases age 45 to 54, or 15%
205 (+1) cases age 55 to 64, or 13%
143 (+0) cases age 65 to 79, or 9%
118 (+0) cases age 80+, or 8%
103 (+0) cases age 4 to 13, or 7%
79 (+1) cases age 14 to 18, or 5%
37 (+0) cases age 0 to 3, or 2%
York Region (reported Sunday, Feb. 28 at 5 p.m.) at red control zone
28,829 confirmed cases of COVID-19
66 new cases since Feb. 27
617 (+20) variant cases

79 (+0) B.1.1.7 U.K.
538 (+20) lineage not yet determined

27,509 (+104) cases resolved (95%)
796 (-42) active cases
0 more deaths, totalling 524
137 (+5) cases are hospitalized, 25 (+1) patients in ICU
380 (+1) workplace outbreaks, 15 (+0) active, 3,120 (+1) cases
Recovery Measures
Cases in schools, child care centres
59 (+0) school outbreaks, 2 (+0) active
409 (+5) school surveillances, 30 (+5) active
59 (+0) child care outbreaks, 3 (+0) active
1,161 (+8) total school and child care cases
789 (+5) student/children cases
372 (+3) staff cases
Institutional Outbreaks
260 (+1) institutional outbreaks, 26 (+1) active

Outbreak #5 declared Feb. 27 at Revera Elginwood LTC, Richmond Hill (1 health-care worker)
Nitty Gritty
14,838 (+106) cases, or 51%, close contact
8,493 (+33) cases, or 29%, community transmission
3,051 (+2) cases, or 11%, institutional outbreak
238 (-29) cases, or 1%, under investigation
454 (+3) cases, or 2%, travel
1,575 (+12) cases, or 5%, workplace outbreak
7,484 (+14) cases age 19 to 34, or 26%
4,908 (+7) cases age 45 to 54, or 17%
4,356 (+14) cases age 55 to 64, or 15%
4,020 (+7) cases ages 35 to 44, or 14%
2,651 (+6) cases age 65 to 79, or 9%
1,708 (+1) cases age 80+, or 6%
1,742 (+10) cases age 4 to 13, or 6%
1,451 (+3) cases age 14 to 18, or 5%
509 (+0) cases age 0 to 3, or 2%
Around the region:
Vaughan 12,144 (+31) cases, 307 (-21) active
Markham 7,572 (+14) cases, 190 (-5) active
Richmond Hill 3,774 (+15) cases, 145 (+2) active
Newmarket 1,596 (+2) cases, 47 (-3) active
East Gwillimbury 617 (+0) cases, 29 (-1) active
Aurora 939 (+2) cases, 24 (-1) active
Georgina 672 (+1) cases, 21 (-6) active
Whitchurch-Stouffville 810 (+1) cases, 20 (-5) active
King 645 (+0) cases, 12 (-2) active
Ontario (reported at 10:30 a.m. on March 1, for Feb. 28)
301,839 confirmed cases of COVID-19
1,023 new cases since Feb. 27
565 (+7) variant cases

535 (+7) U.K. variant
27 (+0) South African variant
3 (+10 Brazilian variant

6 more deaths, totalling 6,986
284,283 resolved 94.2% of cases
659 (+32) cases are hospitalized; 280 (-9) in ICU; 175 (-10) on ventilators (*about 10% of hospitals did not submit data)
35,015 more tests completed, with 13,416 awaiting results
2.3% positivity Feb. 25
Vaccines
17,424 daily doses administered Feb. 28
704,695 total doses
263,214 completed (people fully vaccinated)
Cases in children, youth
6,772 (+57) cases ages 4 to 8
9,091 (+47) cases ages 9 to 13
9,548 (+59) cases ages 14 to 17
Institutional Outbreaks
1,275 (+1) outbreaks at long-term care homes, 91 (-5) active
753 (+0) outbreaks at retirement homes, 57 (-4) active
416 (+1) outbreaks at hospitals, 31 (-4) active
3,865 (+1) long-term care resident deaths
14,958 (+0) cases are long-term care residents
35000 Eligible Residents Already Pre-Registered for COVID Vaccine, Two New Cases Identified in Eastern NL – VOCM
There are two new confirmed cases of COVID-19 in the province today.
Both are in the Eastern Health region and involve people under the age of 20 who are contacts of previous cases.
Eleven people are in hospital with the virus. There have been 27 new recoveries for a total of 236 active cases in Newfoundland and Labrador.
A previous case reported on February 22, has turned out to be a false positive.
Dr. Janice Fitzgerald says there has been great interest in preregistration for those 70 and older for the COVID vaccine. She says there's been good uptake with over 35,000 people already pre-registered.
Those with access to the internet are encouraged to fill out the form online and help others who may need assistance. Or you may call 1-833-668-3930 or 709-273-3930 8 a.m. to 8 p.m. daily.
In the meantime, Fitzgerald is strongly discouraging people from non-essential travel in and out of the metro region while it remains in Alert Level 5. Visits to the cabin or a snowmobile run are not considered to be essential, she suggests.
NL Reviewing AstraZeneca Vaccine Following Health Canada Approval
The province is still reviewing the evidence surrounding the AstraZeneca vaccine, which received Health Canada approval late last week.
Chief Medical Officer of Health Dr. Janice Fitzgerald says the vaccine meets Health Canada's standards for safety and efficacy and quality.
The vaccine is effective in preventing serious illness as a result of COVID-19 says Fitzgerald and they're still reviewing the evidence to see where it will fit into the province's strategy.
Premier Andrew Furey expressed optimism knowing that the Johnson & Johnson vaccine is "not too far behind" in getting Health Canada approval.
[embedded content]