Ontario reports 209 new COVID-19 cases, with almost 5.4 million people fully vaccinated – kawarthaNOW.com
Here's an update on COVID-19 cases in Ontario as well as in the greater Kawarthas region.
Ontario is reporting 209 cases today, with most of the cases in Waterloo (47), Halton (22), Niagara (20), Toronto (20), and Grey Bruce (20). The seven-day average of daily cases has decreased by 20 to 226.
Hospitalizations have increased by 27 from yesterday to 206, but part of this increase may be because of underreporting yesterday, as more than 10% of hospitals did not submit data for the daily bed census on Canada Day.
The number of ICU patients has decreased by 9 to 243 and the number of patients on ventilators has increased by 5 to 165. Ontario is reporting 9 new deaths, with none in long-term care homes.
Almost 15.4 million vaccine doses have been administered, an increase of 210,504 from yesterday, with over 86% of Ontario's total population now having received at least one dose. Almost 5.4 million people have been fully vaccinated, an increase of 191,567 from yesterday, representing over 36% of the total population.
For a daily summary of cases in Ontario, including a breakdown of cases in each of Ontario's 34 health units, visit ontario.ca/page/how-ontario-is-responding-covid-19.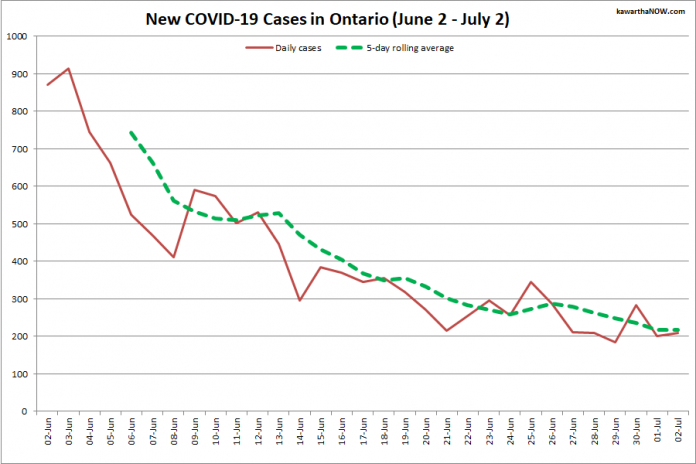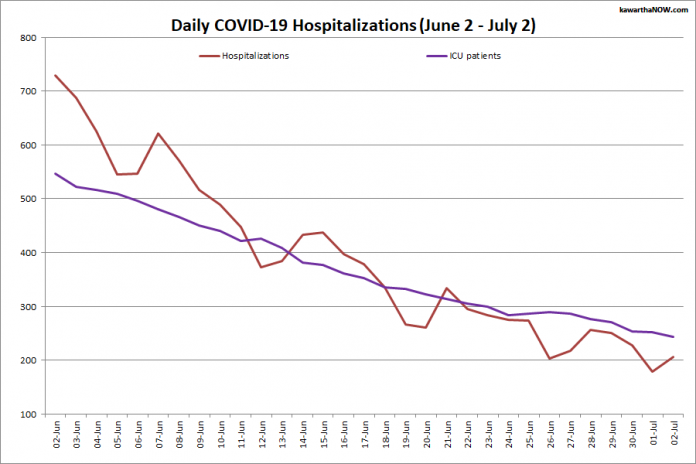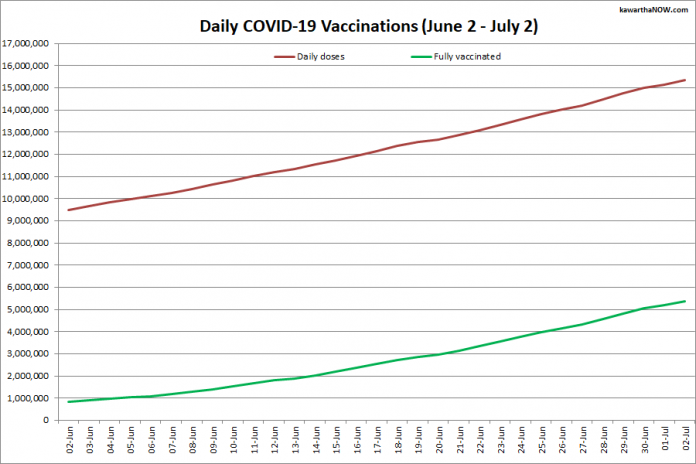 Advertisement – story continues below
Numbers for the greater Kawarthas region are unavailable on weekends as health units in the region no longer publish reports on Saturdays or Sundays.
However, for July 2, Ontario reports 5 new cases for Haliburton, Kawartha, Pine Ridge District Health Unit, 1 new case for Peterborough Public Health, and no new cases for Hastings Prince Edward Public Health.
The weekend's numbers will be confirmed with regional health units issue their reports on Monday.
As of July 2, there were 36 active cases in the greater Kawarthas region, an increase of 11 since June 30, including 19 in Peterborough, 12 in Kawartha Lakes, 3 in Hastings Prince Edward (1 in Quinte West, 1 in Central Hastings, and 1 in Prince Edward County), and 2 in Northumberland. There are no active cases in Haliburton.
Since the pandemic began in the greater Kawarthas region, there have been 1,593 confirmed positive cases in the Peterborough area (1,552 resolved with 22 deaths), 1,097 in the City of Kawartha Lakes (1,040 resolved with 58 deaths), 946 in Northumberland County (927 resolved with 17 deaths), 122 in Haliburton County (121 resolved with 1 death), and 1,130 in Hastings and Prince Edward counties (1,116 resolved with 11 deaths). The most recent two deaths were reported in Peterborough and Kawartha Lakes on June 29.
Advertisement – story continues below
For detailed data for each health unit, visit the COVID-19 trackers for Peterborough Public Health, Haliburton, Kawartha, Pine Ridge District Health Unit, and Hastings Prince Edward Public Health.
For more information about COVID-19 in Ontario, visit covid-19.ontario.ca.
Canada extends COVID-19 border measures until Sept. 30, including ArriveCan app
OTTAWA — The federal government will extend current COVID-19 public health measures for travellers entering Canada, including the use of the ArriveCan app, until at least Sept. 30.
In a release Wednesday, the Public Health Agency of Canada also said it will continue the pause of mandatory random testing for fully vaccinated travellers at all airports until mid-July.
It first announced the pause on June 11 and said in the release that it's allowing airports to focus on streamlining their operations.
The public health agency said it's moving forward with plans to relocate COVID-19 testing for air travellers outside of airports to select test provider stores, pharmacies or by virtual appointment.
Mandatory random testing is to continue at land border points of entry with no changes.
The release added that travellers who are not fully vaccinated and don't have a valid exemption must continue to test on Day 1 and Day 8 of their 14-day quarantine.
"As we move into the next phase of our COVID-19 response, it is important to remember that the pandemic is not over. We must continue to do all that we can to keep ourselves and others safe from the virus," said Health Minister Jean-Yves Duclos in a statement.
He also urged people to remain up to date with the recommended vaccinations to ensure they are adequately protected against infection, transmission and severe complications.
"As we have said all along, Canada's border measures will remain flexible and adaptable, guided by science and prudence."
All travellers will have to continue to use the ArriveCan app or website to provide their travel information within 72 hours before their arrival in Canada or before boarding a cruise ship destined for the country. The government said 95 per cent of land and air travellers are using the app and it's taking steps to enhance compliance.
The government also said moving testing outside of airports will allow Canada to adjust to increased traveller volumes while still being able to monitor and quickly respond to new variants of concern or changes to the epidemiological situation.
It said border testing has been essential in helping Canada slow the spread of the virus, as data from the tests are used to understand the current level and trends of importation of COVID-19 into the country.
The testing program also allows for detection and identification of new COVID-19 variants of concern, it said.
Tourism groups and border-community mayors and MPs have called on the government to ease restrictions and scrap the ArriveCan app, saying the measures are limiting cross-border travel.
Transport Minister Randy Boissonnault said the government is deeply invested in growing Canada's visitor economy.
"From our reputation as a safe travel destination to our world-class attractions and wide-open spaces, Canada has it all and we are ready to welcome back domestic and international tourists, while prioritizing their safety and well-being."
This report by The Canadian Press was first published June 29, 2022.
The Canadian Press
Western researchers use MRI to learn cause of long-COVID symptoms – BlackburnNews.com
Western researchers use MRI to learn cause of long-COVID symptoms
File photo of woman coughing. Photo courtesy of © Can Stock Photo / HighwayStarz
June 29, 2022 7:30am
A study led by researchers at Western University has revealed the cause of long-COVID symptoms.
New data published by Western professor Grace Parraga and the LIVECOVIDFREE study, based out of five centres in Ontario, is the largest MRI study of patients with long-COVID. The term long-COVID refers to symptoms of brain fog, breathlessness, fatigue and feeling limited while doing everyday things, often lasting weeks and months post-infection.
This is the first study to show a potential cause of long-COVID, which has helped physicians in the study target treatment for the patients.
"I think it is always a conundrum when someone has symptoms, but you can't identify the problem," said Parraga, a Tier 1 Canada Research Chair in Lung Imaging to Transform Outcomes at the Schulich School of Medicine and Dentistry. "If you can't identify the problem, you can't identify solutions."
By using MRI imaging with inhaled xenon gas, researchers have identified that the symptoms are caused by microscopic abnormalities that affect how oxygen is exchanged from the lungs to the red blood cells.
Researchers used the technology to watch the function of the 300-500 million tiny alveolar sacs, which are about 1/5 of a millimetre in diameter and responsible for bringing oxygen to the blood.
"What we saw on the MRI was that the transition of the oxygen into the red blood cells was depressed in these symptomatic patients who had had COVID-19, compared to healthy volunteers," Parraga said.
Further CT scans pointed to 'abnormal trimming' of the vascular tree, which indicated an impact on the tiny blood vessels that deliver red blood cells to the alveoli to be oxygenated.
Parraga said the study showed no difference in severity between patients who were hospitalized with COVID-19 and those who recovered without hospitalization. She said this is an important finding as the latest wave of COVID-19 has affected many people who did not receive hospital-based care.
To conduct the study, researchers recruited patients suspected to be suffering from long-COVID from London Health Sciences Centre's Urgent COVID-19 Care Clinic and St. Joseph's Health Care London's Post-Acute COVID-19 Program. Some participants experienced persistent shortness of breath more than six weeks post-infection, while others were still symptomatic after 35 weeks.
One of the participants is Alex Kopacz, a London-native and Canadian Olympic bobsleigh gold-medalist, who called his experience with COVID-19 "harrowing" and believed the virus would not affect him long-term as he is a young athlete.
"I was on oxygen for almost two months after COVID, and it took me almost three months to get to a place where I could go for a walk without gasping for air," Kopacz said. "The take home message for me is that we have to remember that this virus can have very serious long-term consequences, which are not trivial."
Researchers are now conducting a one-year follow-up to better understand these results.
The study was done in collaboration with researchers outside of London at Lakehead University, McMaster University, Toronto Metropolitan University and Sick Kids Hospital in Toronto.
Stroke treatment breakthrough found in heart attack drug: Canadian researchers | CTV News – CTV News Calgary
A drug used to treat heart attacks has proven to be an effective treatment for the most common type of stroke, and an even better treatment than the current clinical standard, says a team of Canadian researchers.
Over 80 per cent of all strokes are ischemic strokes, caused by a blood clot blocking, or narrowing, an artery leading to the brain. For over 20 years, the standard of care has been the immediate delivery of a clot-busting medication called Alteplase (tPA).
In the largest study of its kind ever run in Canada, researchers at the University of Calgary and University of Toronto found that the drug Tenecteplase (TNK), currently used in heart attack treatment, is at least equally effective as tPA and possibly more effective in treating ischemic strokes.
"Tenecteplase is known to be an effective clot dissolving drug," explained U of C researcher Dr. Bijoy Menon. "It is very easy to administer which makes it a game changer when seconds count to save brain cells."
The Alteplase Compared to Tenecteplase study found Tenecteplase (TNK), a heart attack treatment drug, to be a much more favourable treatment for ischemic strokes than tPA as it's easier to administer.
Menon says the findings of the AcT (Alteplase Compared to Tenecteplase) trial were so conclusive he expects TNK to become the standard of care worldwide in very short order.
"Guideline Committees get the results, they debate the results, and then the transition happens. So I see this move happening within the next few months," said Menon.
"The results are very convincing. It's quite clear at the end of the study that you now have a better choice, and because of the debilitating nature of stroke, there's urgency to actually change care."
The current standard of care, tPAm, is complex to administer. It takes up to an hour and requires an infusion pump that needs to be monitored. The pump makes it more difficult to transport patients within a hospital or by ambulance to a larger facility with a dedicated stroke center for treatment.
By comparison, TNK is administered with a single dose through a syringe. The method eases the burden on nurses and doctors, and shaves time off the delivery of the medicine. U of T researcher Dr. Rick Swartz says it also means it will be available as a treatment in more places.
"TNK could potentially be administered wherever the patient is seen first, at a medical centre or small hospital," explained Swartz. "One of the reasons Tenecteplase is so effective is that in can be administered as a single immediate dose. That's a big advantage, saving critical time and complication."
TNK attaches itself to the clot for a longer period of time than tPA, meaning blood flow is restored faster and for a longer period of time. Project nurse lead Carol Kenney says it will save lives.
"In our field we say 'time his brain' and any minute or any second that we can save in treating a patient is critical," said Kenney. "Giving them medication quicker, and trying to get rid of the clot in their brain and get them back to normal again quickly, is so important. It really matters for every patient."
Stroke survivor André Lavoie, who suffered a stroke in 2015, was part of a focus group that helped guide researchers. While he has recovered from the stroke, Lavoie remains acutely aware of the need for effective, immediate treatment.
"It is really an advancement to get the people to survive, and the whole thing with a stroke is; you may survive a stroke, but it's your quality of life that you will looking for," said Lavoie
"So if you have a stroke, and you can have that drug within half an hour an hour, it's much better than two hours, or three hours to get it. Brain cells usually do not regenerate. So when they die, they die."
The cross-country AcT Trial included 1600 patients in 22 primary and comprehensive stroke centers across Canada. The results were presented at a conference in Montreal on Wednesday, and published in the medical journal The Lancet.