Ontario reports 209 new COVID-19 cases, with almost 5.4 million people fully vaccinated – kawarthaNOW.com
Here's an update on COVID-19 cases in Ontario as well as in the greater Kawarthas region.
Ontario is reporting 209 cases today, with most of the cases in Waterloo (47), Halton (22), Niagara (20), Toronto (20), and Grey Bruce (20). The seven-day average of daily cases has decreased by 20 to 226.
Hospitalizations have increased by 27 from yesterday to 206, but part of this increase may be because of underreporting yesterday, as more than 10% of hospitals did not submit data for the daily bed census on Canada Day.
The number of ICU patients has decreased by 9 to 243 and the number of patients on ventilators has increased by 5 to 165. Ontario is reporting 9 new deaths, with none in long-term care homes.
Almost 15.4 million vaccine doses have been administered, an increase of 210,504 from yesterday, with over 86% of Ontario's total population now having received at least one dose. Almost 5.4 million people have been fully vaccinated, an increase of 191,567 from yesterday, representing over 36% of the total population.
For a daily summary of cases in Ontario, including a breakdown of cases in each of Ontario's 34 health units, visit ontario.ca/page/how-ontario-is-responding-covid-19.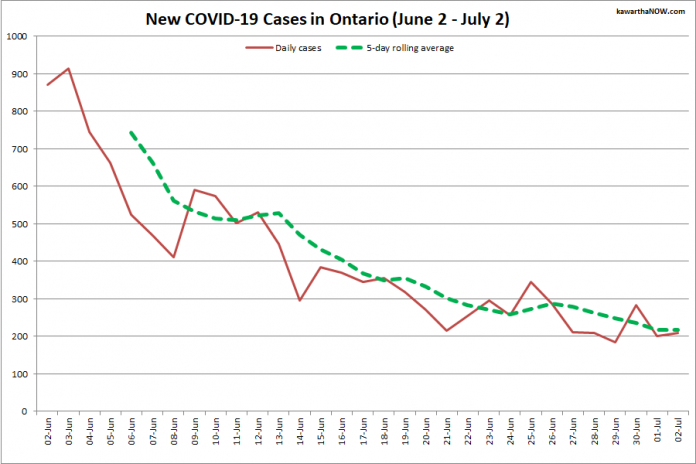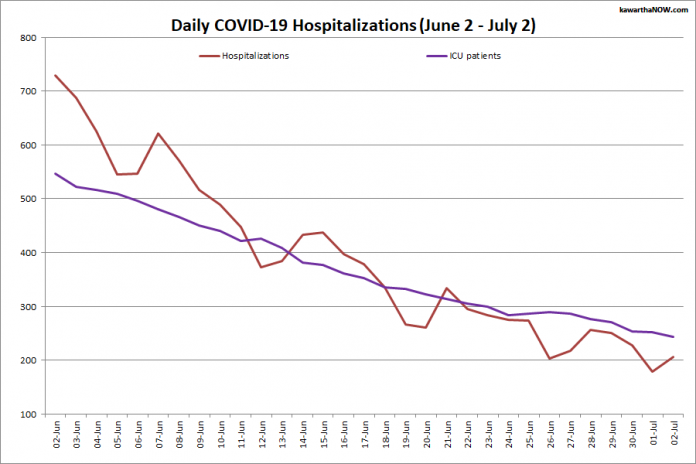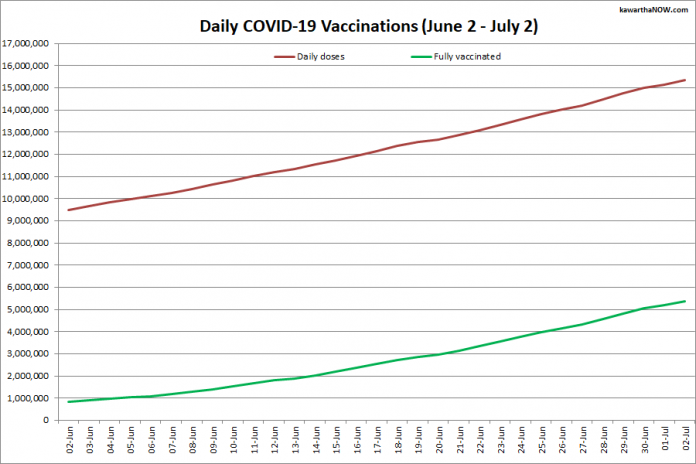 Advertisement – story continues below
Numbers for the greater Kawarthas region are unavailable on weekends as health units in the region no longer publish reports on Saturdays or Sundays.
However, for July 2, Ontario reports 5 new cases for Haliburton, Kawartha, Pine Ridge District Health Unit, 1 new case for Peterborough Public Health, and no new cases for Hastings Prince Edward Public Health.
The weekend's numbers will be confirmed with regional health units issue their reports on Monday.
As of July 2, there were 36 active cases in the greater Kawarthas region, an increase of 11 since June 30, including 19 in Peterborough, 12 in Kawartha Lakes, 3 in Hastings Prince Edward (1 in Quinte West, 1 in Central Hastings, and 1 in Prince Edward County), and 2 in Northumberland. There are no active cases in Haliburton.
Since the pandemic began in the greater Kawarthas region, there have been 1,593 confirmed positive cases in the Peterborough area (1,552 resolved with 22 deaths), 1,097 in the City of Kawartha Lakes (1,040 resolved with 58 deaths), 946 in Northumberland County (927 resolved with 17 deaths), 122 in Haliburton County (121 resolved with 1 death), and 1,130 in Hastings and Prince Edward counties (1,116 resolved with 11 deaths). The most recent two deaths were reported in Peterborough and Kawartha Lakes on June 29.
Advertisement – story continues below
For detailed data for each health unit, visit the COVID-19 trackers for Peterborough Public Health, Haliburton, Kawartha, Pine Ridge District Health Unit, and Hastings Prince Edward Public Health.
For more information about COVID-19 in Ontario, visit covid-19.ontario.ca.
The science didn't change, the virus did, Fauci says as U.S. CDC updates mask guidance – CTV News
The change in CDC guidance recommending all Americans wear a mask indoors in areas with high COVID-19 transmission is a sign of the change the Delta variant has carved into the pandemic landscape, Dr. Anthony Fauci told CNN.
"We're not changing the science," the director of the National Institute for Allergy and Infectious Disease told CNN's Chris Cuomo. "The virus changed, and the science evolved with the changing virus."
Before Tuesday, the U.S. Centers of Disease Control and Prevention advised only unvaccinated people to wear masks indoors. But with the spread of the Delta variant — believed to be at least twice as transmissible as the Alpha variant, which was dominate in the U.S. in the spring — and vaccination rates remaining low while infection rates on the rise, the CDC updated its guidance to advise that everyone in high transmission areas wear a mask when indoors.
Currently, only 49.2% of the U.S. population is fully vaccinated against COVID-19, according to the CDC.
Some experts point to unvaccinated Americans as an important factor in the mask guidance change, saying the measure had to be implemented to get them to mask up.
"Eighty million American adults have made a choice. They made a choice not to get the vaccine, and those same people are not masking and that is the force that is propagating this virus around this country," CNN Medical Analyst Dr. Jonathan Reiner told CNN.
But others, including the CDC, said the decision had more to do with new data showing that, unlike with other strains, vaccinated people who are infected with the Delta variant can still get high viral loads, making it more likely they could spread the virus.
"Unlike the Alpha variant that we had back in May, where we didn't believe that if you were vaccinated you could transmit further, this is different now with a Delta variant," CDC Director Dr. Rochelle Walensky said, citing information investigators found when looking at outbreak clusters.
With nearly all 50 states undergoing a surge of new cases averaging at least 10% more than the week before, according to data from Johns Hopkins University, U.S. Surgeon General Dr. Vivek Murthy said the U.S. is seeing just how dangerous the variant is in real time.
"This is actually what you want to happen with science. You want science to be dynamic, you want recommendations to reflect the latest science, and that's what you see in the recommendations that were issued today," Murthy told CNN's Wolf Blitzer Tuesday.
But one thing hasn't changed, Murthy added, saying data is still showing current vaccines are highly protective against infection, severe illness and death from the Delta variant.
Vaccinations are still the 'bedrock' of ending the pandemic
While masking up will help reduce the spread of COVID-19 in the U.S., getting vaccinated is still "the bedrock" to ending the pandemic, Murthy said.
"Vaccines still work. They still save lives. They still prevent hospitalizations at a remarkably high rate," he added.
Vaccination rates are still not where they need to be to get enough of the U.S. inoculated against the virus to slow or stop its spread, experts have said. Many experts have advocated for vaccine requirements as one way to increase vaccination rates in the U.S.
Los Angeles officials announced Tuesday that the city will require all of its employees to show proof of vaccination or submit to weekly testing.
"The fourth wave is here, and the choice for Angelenos couldn't be clearer — get vaccinated or get COVID-19," said Mayor Eric Garcetti in a statement. "We're committed to pursuing a full vaccine mandate. I urge employers across Los Angeles to follow this example," he added.
The move comes after the number of people hospitalized with the coronavirus in Los Angeles County nearly doubled in the past two weeks. There are currently 745 people hospitalized with the virus, compared to 372 people two weeks ago, according to the Los Angeles County Department of Public Health.
Such requirements by local entities are "very reasonable," Murthy said Tuesday.
Some U.S. hospitals and federal agencies are mandating that employees get vaccinated against COVID-19 or submit to regular testing. Murthy noted that many private institutions are considering following suit.
"Those are decisions the federal government is not going to make," Murthy told CNN's Wolf Blitzer. "It's going to be institutions that make them, but I do think that they are very reasonable, because this is a time when we've got to take all steps possible to protect not just ourselves, but the people around us, from COVID-19."
Officials call for more vaccinations as hospitals are overwhelmed
The impact of the Delta variant and increasing cases can be seen in the data and in the strain on hospitals.
After decreases over the past couple of months, cases of COVID-19 among children and teens are on the rise again, with more than 38,600 infected last week, the American Academy of Pediatrics reported Tuesday.
More than 4.13 million kids have tested positive for COVID-19 since the start of the pandemic. Kids represent more than 14% of the weekly reported cases.
In Springfield-Greene County in Missouri, the CoxHealth hospital system is having to expand its morgue capacity due to an increase in COVID-19 related deaths, President and CEO Steve Edwards said Tuesday.
"Last year we did expand it and we are expanding it further. We've actually brought in a portable piece of technology that allows bodies to be cooled and placed outside the morgue. We have had to expand that because the mortality has gone up so much lately," Edwards said during an update in the county on behalf of CoxHealth.
In explaining what he called the "severity of the disease", Edwards said, "We've had over 4,000 admissions for COVID. And with 549 deaths that means thirteen and a half percent of our admissions have died. And when we look in our ICUs, about 40% of patients that are in the ICU don't make it out of the ICU."
In New Orleans, as cases have gone up, hospitals have become strapped for resources and started turning people away, Communications Director for the City of New Orleans Beau Tidwell said Tuesday.
"For God's sake, get your vaccine," he added.
The CDC called on doctors and public health officials to act urgently to get more Americans vaccinated.
"COVID-19 cases have increased over 300% nationally from June 19 to July 23, 2021, along with parallel increases in hospitalizations and deaths driven by the highly transmissible B.1.617.2 (Delta) variant," the CDC said in Tuesday's health alert.
Without more vaccinations, the U.S. could see increased morbidity and mortality related to COVID-19, which could continue to overwhelm healthcare facilities, the CDC said.
Vaccinated should wear masks indoors in US COVID hotspots: CDC – Al Jazeera English
People in parts of the United States where COVID-19 infections are surging should wear masks indoors even if they are fully vaccinated against the coronavirus, the country's public health agency has advised.
Citing new information about the ability of the Delta variant to spread among vaccinated people, the US Centers for Disease Control and Prevention (CDC) on Tuesday also recommended indoor masks for all teachers, staff, students and visitors to schools, regardless of vaccination status.
"In areas with substantial and high transmission, CDC recommends fully vaccinated people wear masks in public, indoor settings to help prevent the spread of the Delta variant and help protect others," CDC Director Rochelle Walensky told reporters during an afternoon news briefing.
The US is averaging more than 57,000 coronavirus cases a day and 24,000 hospitalisations, and public health officials for weeks have warned that COVID-19 infections are increasing, especially in parts of the country with low vaccination rates.
Walensky said while vaccinated Americans represent "a very small amount of transmission" – and stressed that the vast majority of new infections, hospitalisations and deaths is occurring among unvaccinated individuals – vaccinated people still have the ability to pass the virus on to others.
"With the Delta variant, vaccinating more Americans now is more urgent than ever," she added.
Rising infections
The recent rise in cases comes after mask-wearing and other public health restrictions were loosened, and restaurants, bars and other venues reopened in many parts of the country amid a sharp increase in national vaccination rates.
The new CDC recommendations are not binding and many Americans, especially in Republican-leaning states, may choose not to follow them.
"This is not a decision that we … have made lightly," Walensky said about the new guidelines, acknowledging that many people are frustrated by the ongoing pandemic. "This new data weighs heavily on me, this new guidance weighs heavily on me."
US President Joe Biden welcomed the agency's recommendations on Tuesday as "another step on our journey to defeating this virus".
"I hope all Americans who live in the areas covered by the CDC guidance will follow it," Biden said in a statement, adding that masking students in schools "is inconvenient … but will allow them to learn and be with their classmates with the best available protection".
"Most importantly, today's announcement also makes clear that the most important protection we have against the Delta variant is to get vaccinated. Although most U.S. adults are vaccinated, too many are not. While we have seen an increase in vaccinations in recent days, we still need to do better," Biden said.
The CDC had advised people to wear masks for much of the pandemic in settings where they could not maintain six feet (1.8 metres) of distance between themselves and others.
In April, as vaccination rates rose sharply, the agency eased its guidelines on the wearing of masks outdoors, saying that fully vaccinated Americans no longer needed to cover their faces unless they were in a big crowd of strangers. In May, the guidance was eased further for fully vaccinated people, allowing them to stop wearing masks outdoors in crowds and in most indoor settings.
The guidance still called for wearing masks in crowded indoor settings, like buses, planes, hospitals, prisons and homeless shelters, but it cleared the way for reopening workplaces and other venues.
Subsequent CDC guidance said fully vaccinated people no longer needed to wear masks at summer camps or at schools, either.
Coronavirus vaccines are widely available across the US, and 60 percent of adults are fully vaccinated while 69 percent have received at least one dose, according to CDC data. But millions of people remain unvaccinated – and the recent increase in cases is especially pronounced in US states with low vaccination rates, such as Florida.
'Wrong direction'
Dr Anthony Fauci, the White House chief medical adviser, warned during the weekend that the US was moving "in the wrong direction" on the coronavirus – and he urged people to get jabs.
"If you look at the inflection of the curve of new infections," Fauci said in an interview on CNN's State of the Union programme on Sunday, stressing that most infections are among Americans who have not been vaccinated.
"It is among the unvaccinated and since we have 50 percent of the country is not fully vaccinated, that's a problem – particularly when you have a variant like Delta which has this extraordinary characteristic of being able to spread very efficiently and very easily from person to person," he said.
Some municipalities and states have re-imposed mask mandates amid the increase in cases.
In St Louis, Missouri, a county-wide mask mandate took effect on Monday, requiring most people, regardless of their vaccination status, to wear a mask indoors and on public transportation.
Los Angeles, California also recently reinstated its mask requirement, while the top public health official in King County, Washington, which includes the city of Seattle, last week asked everyone to wear masks in indoor public spaces – even if they are vaccinated.
Calls have also grown to require health workers, among others, to be vaccinated.
"Due to the recent COVID-19 surge and the availability of safe and effective vaccines, our health care organizations and societies advocate that all health care and long-term care employers require their workers to receive the COVID-19 vaccine," a group of more than 50 healthcare organisations, including the American Medical Association, said on Monday.
That same day, the US Department of Veterans Affairs said it would require its doctors and other medical staff to get COVID-19 vaccines, becoming the first federal agency to impose such a mandate.
BC Steps Up Measures to Increase Vaccinations – Yahoo News Canada
British Columbia's vaccination strategy is changing course to target the more than 900,000 eligible people who are not yet immunized against COVID-19.
The Vax For BC campaign will see mass vaccination clinics scale down to make way for smaller community-based clinics, drop-in centres and mobile vaccination clinics to meet people where they are.
The interval between shots will drop from eight weeks to seven, and as low as six in regions with particularly low vaccination rates.
And the province will make 20,000 shots available without appointments on "Walk-in Wednesday," Aug. 4, in addition to freeing up more shots at every location for walk-ins.
"We are making it even easier for people to get vaccinated to protect themselves and their loved ones against COVID-19," said provincial health officer Dr. Bonnie Henry on Tuesday.
More than 80 per cent of people over 12 in B.C. have received at least one dose of a COVID-19 vaccine, an effort that public health officials said should be commended.
But the missing 19.6 per cent, "those 900,000 are really, really important" to prevent a fourth wave of the virus in B.C., Dr. Penny Ballem said today.
"We've had incredible success and commitment by the public," said Ballem, who is in charge of the vaccine rollout. "But we have to keep going, and we have to capture more people."
Unvaccinated people accounted for about 78 per cent of COVID-19 cases between June 15 and July 15, despite representing only 19.6 per cent of the population.
Those who had a single dose accounted for 18 per cent of cases. And fewer than five per cent of cases involved people who were fully vaccinated.
Overall, vaccinations are preventing about 70 per cent of potential infections, according to recent provincial modelling.
"It is extremely important to get both doses of the vaccine," said Henry.
The recent slow increase in daily and active cases is still largely driven by social gatherings and events with unvaccinated people, Henry said, most of which are in the Interior.
"We don't yet have enough people with full protection that it can't spread," Henry said.
Increasing vaccinations is particularly important in the Northern and Interior Health regions, Henry said, where long travel times from small communities to existing clinics can make it difficult to get vaccinated.
The regional differences are stark. In Northern Health, 32.5 per cent of the eligible population has not received any vaccine, more than double the 14.8 per cent who are unvaccinated in Vancouver Coastal Health.
In Interior Health, where nearly two-thirds of recent cases have been located, 26.2 per cent of the population is unvaccinated.
When asked about how much of that is due to access and how much is due to vaccine hesitancy or anti-vax sentiments, Henry said the province estimates only about five per cent of people are staunchly opposed to COVID-19 vaccines.
The others, hopefully, can be reached by answering their questions about the vaccines and making it as easy as possible to get vaccinated by bringing the shots to them, she said.
"This is the time for us to say, 'We can answer your questions,'" said Henry.
The province is not currently considering punitive measures, like mandating businesses to require proof of immunization for service, to encourage people to be vaccinated.
But Henry said businesses and events are within their rights to require vaccines for entry or separate vaccinated and unvaccinated customers.
"It is a choice not to get vaccinated, but there are consequences," said Henry.
Health-care workers who choose not to be vaccinated will be required to mask and present negative COVID-19 tests, she added, and potentially barred from working in certain units.
"I have very limited patience for people in health care who are not vaccinated," said Henry. "There will be consequences for that decision."
Henry and Health Minister Adrian Dix noted that with increased vaccination and the province's low and stable hospitalization rates, it is unlikely B.C. will see more restrictions or the mask mandate reinstated. The U.S. Centers for Disease Control recommended a return to mask mandates today.
"COVID is going to be with us for a while," said Dix. "The pandemic, we hope, will not."
Moira Wyton, Local Journalism Initiative Reporter, The Tyee