OPEC Divided As Saudi Arabia Pushes For Deeper Cuts – OilPrice.com
By Tsvetana Paraskova – Mar 04, 2020, 9:30 AM CST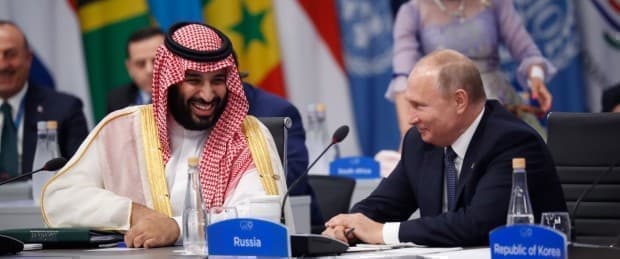 As top officials from OPEC countries start to arrive in Vienna for this week's OPEC+ meeting, OPEC's top producer Saudi Arabia is pushing for a huge cut of more than 1 million bpd, while restive cartel producer Libya, which has lost 1 million bpd due to the port blockade, thinks that there's no need for additional cuts on top of that outage.
Saudi Arabia wants the OPEC+ coalition to agree to a collective cut of more than 1 million bpd, delegates told Bloomberg on Wednesday.
On Tuesday, the Joint Technical Committee of the OPEC+ group, meeting before the regular OPEC meeting, considered bigger oil production cuts—between 600,000 bpd and 1 million bpd, and ended up recommending additional cuts of at least 600,000 bpd.
But the head of Libya's National Oil Corporation (NOC), Mustafa Sanalla, told S&P Global Platts on Wednesday that additional deeper cuts were "not logical" and that the 1 million bpd outage in Libya was "enough".
"I think there is no need to reduce because they've already now lost 1 million b/d," Sanalla said, as carried by Platts.
Some analysts have warned in the past weeks that the OPEC+ decision is being complicated not only by the uncertainty regarding the recovery of Chinese and global oil demand, but also by the Libyan outage with uncertain timelines as to when the country could return 1 million bpd to the market.
Meanwhile, Iran's Oil Minister Bijan Zangeneh told reporters in Vienna that there is an oversupply on the market and "it's necessary that OPEC and non-OPEC do something for the balance in the market," Iran's oil ministry's news service Shana reported.
The partners need to cut at least 500,000 bpd of their production, Zangeneh said, noting that in his opinion, "the Russians would resist until the last moment not to lower their output."
This weekend Russian President Vladimir Putin suggested that Moscow would continue to play ball and cooperate with OPEC, although it sees current oil prices as "acceptable."
By Tsvetana Paraskova for Oilprice.com
More Top Reads From Oilprice.com:
Tsvetana Paraskova
Tsvetana is a writer for Oilprice.com with over a decade of experience writing for news outlets such as iNVEZZ and SeeNews.
Home sales tumble again as mortgage rates surge – Business News – Castanet.net
Photo: CTV News
Sales of previously occupied U.S. homes slowed for the third consecutive month in April as mortgage rates surged, driving up borrowing costs for would-be buyers as home prices soared to new highs.
Existing home sales fell 2.4% last month from March to a seasonally adjusted annual rate of 5.61 million, the National Association of Realtors said Thursday.
That was slightly higher than what economists were expecting, according to FactSet. Sales fell 5.9% from April last year. After climbing to a 6.49 million annual rate in January, sales have fallen to the slowest pace since June 2020, when they were running at an annualized rate of 4.77 million homes.
The median home price in April jumped 14.8% from a year ago at this time to $391,200. That's an all-time high according to data going back to 1999, NAR said.
"Without a doubt, rising mortgage rates, rising prices are hurting affordability, but we should not discount that we're still lacking inventory," said Lawrence Yun, NAR's chief economist.
Fierce competition for limited properties on the market and ultra-low mortgage rates superheated the housing market the last couple of years, but now its cooling as homebuyers face sharply higher home financing costs than a year ago following a rapid rise in mortgage rates.
In April, the weekly average rate on a 30-year fixed-rate home loan climbed above 5% for the first time in more than a decade, crimping would-be homeowners' purchasing power at the outset of the spring homebuying season, traditionally the busiest period for home sales.
Mortgage rates are climbing following a sharp move up in 10-year Treasury yields, reflecting expectations of higher interest rates overall as the Federal Reserve hikes short-term rates in order to combat the worst inflation in 40 years.
With inflation at a four-decade high, rising mortgage rates, elevated home prices and tight supply of homes for sale, homeownership has become less attainable, especially for first-time buyers.
Higher rates can limit the pool of buyers and cool the rate of home price growth — good news for buyers. But higher rates can also limit affordability.
For now, the housing market continues to favor sellers as buyers vie for a still tight inventory of homes for sale, which has kept pushing up home prices. Even as sales slowed last month, it was common for homes on the market to receive multiple offers.
Inventory levels have to go higher before multiple offers dissipate from the market, Yun said. Until then, prices are likely to move higher.
"We anticipate, again, a continuing decline in home sales, but not necessarily home prices," he said.
On average, homes sold in just 17 days of hitting the market last month, unchanged from March or April last year. In a market that's more evenly balanced between buyers and sellers, homes typically remain on the market 45 days.
As is typical in the spring, the number of homes on the market increased in April from the previous month. Some 1.03 million properties were available for sale by the end of April, up 10.8% from March, but down 10.4% from April last year.
At the current sales pace, the level of for-sale properties amounts to a 2.2-month supply, the NAR said. That's up from 1.9 months in March, and down from 2.3 months a year ago.
Real estate investors and other buyers able to buy a home with just cash, sidestepping the need to rely on financing, accounted for 26% of all sales last month, down from 28% in March, NAR said.
Homes purchased by investors made up 17% of sales in April, down from 18% the previous month, while first-time buyers accounted for 28% of transactions, down from 30% in March and 31% a year ago.
Canadian Real Estate Prices 38% Overvalued, Largest Trend Deviation In 40 Years: BMO – Better Dwelling – Better Dwelling
[unable to retrieve full-text content]
Gas prices in Ontario rising: Best time to fill up | CTV News – CTV News Toronto
Gas prices in Ontario dropped 10 cents per litre on Friday ahead of the long weekend, but the relief at the pumps is expected to be short-lived.
The average price of gas in Ontario dropped to $196.6 per litre Friday, which is a 13-cent drop from Wednesday.
However, President for Canadians for Affordable Energy Dan McTeague says Ontario gas prices are projected to rise over the next two days.
"We're going to see a four-cent increase on Saturday and although the markets haven't settled yet, it's pretty clear that we are likely looking at about a two-cent increase (on Sunday). In other words, you got the 10 cents off today, it's going to go up between now and Sunday by about six cents a litre," he told CP24 Friday morning.
On Wednesday, gas prices hit a whopping $209.9 per litre, and McTeague says gas prices are set to top that in the coming week.
"Next week, the Americans begin their unofficial kickoff to the summer driving season. That's going to put a lot of pressure on gas prices for us here in Canada. They are really the ones to determine prices for us, they're a large market. I would expect that we're going to be back to $2.10 a litre probably within the next week or so."
Gas prices have been elevated since late February mostly due to fuel supply shortages amid the war in Ukraine and international sanctions that have been imposed as a result.
For the coming summer months, McTeague says the outlook on gas prices is grim partly because of impending weather issues.
"We may see days where we hit $2.30, $2.25 if we're lucky. American weather problems in the Gulf Coast tend to be a big deal," he said.
"The summer looks like average prices will get to $2.15 a litre here in the GTA, and right across most of southern Ontario," he added.