OPINION: Alleged social media mistakes can sink a political career before it starts – Sault Star
Someone is always watching and words and actions don't go unnoticed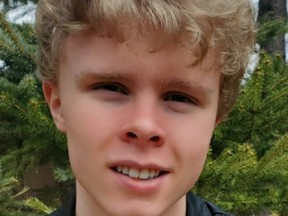 Article content
The Ontario Liberal Party is having a tough time finding a candidate for Sault Ste. Marie.
Article content
In a week's span, it has crossed off two potentials on its list – local Indigenous lawyer Naomi Sayers and Espanola teen Aidan Kallioinen.
The party's vetting process and social media posts of the want-to-be candidates seem to have been the issue in both cases.
Sayers has since chosen to run as an independent candidate for Sault Ste. Marie and we'll let that process unfold as it will.
It's the Kallioinen issue that's a little more interesting.
The Grade 12 student, 18, who is set to graduate from high school just weeks after the election, is barely old enough to vote.
In fact, based on his age, he's never voted in a provincial election. Yet his political interests, and perhaps savviness, almost saw him as a candidate in the June 2 election. His social media presence may have ended his political career very early.
The teen holds steadfast that he didn't pen the derogatory and racial social media slurs on a gaming social media platform. Instead, he counters that his identity was falsely associated with the social media posts.
"I have no prior involvement in any of those comments and I can't control what people are saying," he said in a telephone interview. "I can tell you they were not my posts. I was about 13 or 14 when I was part of that online gaming forum for Minecraft and those comments were not made by me."
Hmmm. Perhaps he wasn't as savvy at 13 as he is now. Perhaps he didn't take precautions to protect his account. Perhaps he's telling the truth. We will never know.
Article content
Kallioinen no doubt has a strong interest in politics. He's appeared as a panelist on Sirius XM's Canada Talks PolitiKIDS channel. He's been involved in a high school political group or committee. His social media posts follow or share both federal and provincial political highlights of the day. He's even written his own stories on thecanadianidea.ca, a youth-led news site, met former Algoma-Manitoulin-Kapuskasing MP Brent St. Denis and has toured the Ontario legislature.
While it appears he was grooming himself for a future in politics, that came to an abrupt end after The Toronto Sun published a column that alleges Kallioinen's name is associated with a number of derogatory and racial social media slurs. Some are found on a gaming social media platform where he allegedly used the name outfieldcheck, while others are on allegedly on Twitter, Instagram and reddit. The posts have since disappeared.
Kallioinen denies scrubbing his own social media profile – or at least most of it.
So, shortly after the column appeared and was shared on social media, Kallioinen spoke to Liberal Party officials and he was quickly dumped as a candidate.
The real lessons to be learned here are about social media and how posts can help or hinder an individual's goals.
Sayers says she's also been open and honest about her past – as a sex worker – and her extensive social media presence, some of which is critical of the federal Liberals and Prime Minister Justin Trudeau. It's obvious some people don't like seeing her honest and blatant truth in her posts.
Article content
On the other hand, Kallioinen says he doesn't have a large social media presence for someone in his demographics, yet that which is present and resulted in his candidacy dismissal, is not his. That's a tough one to prove one way or the other.
On Friday, it was announced the Liberals fired another candidate in the Chatham-Kent-Leamington riding after the NDP pointed out the candidate used a slur on Facebook. It earlier fired Parry Sound-Muskoka candidate Barry Stanley for his unproven theory on the cause of homosexuality.
The Progressive Conservatives haven't gone unscathed. Stephen Lecce was forced to apologize after his fraternity 'slave auction' fundraising event from more than a decade ago came to light. He has apologized and no further action has been taken – yet.
These incidents just go to show you that someone is always watching and words and actions don't go unnoticed.
The reality is social media is a part of our daily lives and studies show that the time individuals spend on social media platforms is increasing. In other words, we're likely to see and hear about even more of similar faux pas in the future and the incidents, photographs, or posts, are never completely erased.
While social media allows people to stay 'connected' to others and to events, among other things, posts are there in black and white. It's like writing a letter or taking a photograph. It's permanent. It's there for all to see and any attempts to erase the undesirable later in life may not happen in its entirety.
Social media is continuing to evolve and will continue to become a more integral part of our lives. Similarly, social media users also need to evolve – and in some cases, beware before they press that 'send' button, click that image or speak certain words in front of others.
It's not the social media platforms that should be branded as good or bad. Instead, it's what individuals post to them that can be helpful or detrimental.
These are lessons that will continue to be learned – or not.
Elaine Della-Mattia is The Sault Star's political reporter.
Can't comment on NewsClick's China link, respect media freedom: US
The US government has seen reports of NewsClick's alleged links to China and is aware of concerns around it though it can't independently comment on the veracity of those claims. But, as a general principle, the US continues to urge Indian government as well other governments across the world to respect the human rights of journalists, including freedom of expression online and offline.
At a regular State Department briefing on Tuesday, when asked about the raids on the proprietors, staffers and contributors of NewsClick and a New York Times report that the news website was a part of a Chinese influence operation funded through an American businessman, State department's principal deputy spokesperson Vedant Patel said, "So we are aware of those concerns and have seen that reporting about this outlet's ties to the PRC (People's Republic of China), but we can't comment yet on the veracity of those claims."
Patel added that, separately, the US strongly supported "the robust role of the media globally, including social media, in a vibrant and free democracy".
"We raise concerns on these matters with the Indian Government, with countries around the world, through our diplomatic engagements that are, of course, at the core of our bilateral relationship. And we have urged the Indian Government, and have done so not just with India but other countries as well, about the importance of respecting the human rights of journalists, including freedom of expression both online and offline."
Patel, however, said that he did not have any additional information about "this particular circumstance or any of the underlying issues that may or may not be related to this outlet".
India's Latest Media Arrests Put Washington in an Awkward Spot
(Bloomberg) — India's latest media crackdown puts the US in an awkward position as it seeks to balance promotion of human rights with courting New Delhi to counter the influence of China.
Police in the South Asian country's capital arrested the editor-in-chief and another employee of online newspaper NewsClick Tuesday under sweeping anti-terrorism laws. Authorities also raided the offices of the publication, without giving a reason.
Prime Minister Narendra Modi's government has been targeting critical independent media since he took office in 2014. NewsClick came to prominence in 2021 for its extensive coverage of farmer protests against government plans to liberalize agriculture. India has previously accused the media organization of having funding ties to China, which it denies.
For Arati Jerath, a New Delhi-based political analyst, the arrests create a challenge for Washington.
"The US does not want to get too involved in India's domestic affairs," she said. "They are looking at India through a geopolitical prism and with China in the picture, India is a strategic partner."
US Department of State spokesman Vedant Patel said he couldn't comment yet on claims NewsClick has ties to China.
Patel also stressed the importance of press freedom globally. "We raise concerns on these matters with the Indian government, with countries around the world," he told reporters in Washington.
India has often argued its democracy and vibrant press are a counterpoint to China with its one-party state and heavily controlled media. The US frequently finds itself torn between its efforts to defend human rights around the world and the pragmatic need to partner with governments accused of rights abuses.
India's government has often used its anti-terrorism law to intimidate and punish journalists. The law, which doesn't allow for bail, empowers the police to detain suspects for years without leveling official charges.
India has also scrutinized many mobile app and technology companies for alleged links to China after a Himalayan border clash between New Delhi and Beijing in 2020.
In 2021, authorities raided NewsClick's office and the homes of seven staff members for what they described as improper foreign investments. Several of them were questioned and NewsClick called the allegations "misleading, unfounded and without basis in fact or law."
In August, the New York Times cited NewsClick as an organization allegedly being used for Chinese propaganda overseas. India's Information and Broadcasting Minister Anurag Thakur said at the time the media outlet was being funded by Beijing.
Speaking to reporters on Tuesday, Thakur said he didn't need to justify the raids. "If someone has done something wrong, the investigative agencies will work on it," he said.
Free Democracy
NewClick's human resources head Amit Chakravarty was also arrested. Several employees' laptops and mobile phones were seized. Local media reported at least 30 premises were raided, including the homes of six NewsClick reporters.
India fell to 161st of 180 countries and territories in a press freedom ranking by Reporters Without Borders, a press advocacy group, this year. In February, authorities raided the BBC's offices in New Delhi, weeks after the British broadcaster aired a documentary about Modi's role in 2002 riots in his home state of Gujarat.
Last year, Mohammad Zubair, a journalist running a fact-checking website, Alt News, was arrested after highlighting anti-Islamic comments made by former BJP officials.
The Press Club of India expressed concern about the arrests and raid, saying it wants the government to explain its actions. The group plans to protest the detentions at a march Wednesday.
Jerath, the analyst, questioned India's move to arrest the people under the terrorism law without providing details or evidence.
"You have already labeled them as terrorists," she said.
(Updates with details on the crackdown. An earlier story corrected paragraph 11 to show authorities raided the homes of seven NewsClick staff members in 2021.)
What is NewsClick? A look at India's media crackdown – Al Jazeera English
We use cookies and data to
Deliver and maintain Google services
Track outages and protect against spam, fraud, and abuse
Measure audience engagement and site statistics to understand how our services are used and enhance the quality of those services
If you choose to "Accept all," we will also use cookies and data to
Develop and improve new services
Deliver and measure the effectiveness of ads
Show personalized content, depending on your settings
Show personalized ads, depending on your settings
Non-personalized content is influenced by things like the content you're currently viewing, activity in your active Search session, and your location. Non-personalized ads are influenced by the content you're currently viewing and your general location. Personalized content and ads can also include more relevant results, recommendations, and tailored ads based on past activity from this browser, like previous Google searches. We also use cookies and data to tailor the experience to be age-appropriate, if relevant.
Select "More options" to see additional information, including details about managing your privacy settings. You can also visit g.co/privacytools at any time.