OPINION: Alleged social media mistakes can sink a political career before it starts – Sault Star
Someone is always watching and words and actions don't go unnoticed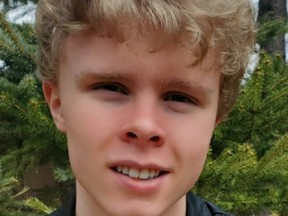 Article content
The Ontario Liberal Party is having a tough time finding a candidate for Sault Ste. Marie.
Article content
In a week's span, it has crossed off two potentials on its list – local Indigenous lawyer Naomi Sayers and Espanola teen Aidan Kallioinen.
The party's vetting process and social media posts of the want-to-be candidates seem to have been the issue in both cases.
Sayers has since chosen to run as an independent candidate for Sault Ste. Marie and we'll let that process unfold as it will.
It's the Kallioinen issue that's a little more interesting.
The Grade 12 student, 18, who is set to graduate from high school just weeks after the election, is barely old enough to vote.
In fact, based on his age, he's never voted in a provincial election. Yet his political interests, and perhaps savviness, almost saw him as a candidate in the June 2 election. His social media presence may have ended his political career very early.
The teen holds steadfast that he didn't pen the derogatory and racial social media slurs on a gaming social media platform. Instead, he counters that his identity was falsely associated with the social media posts.
"I have no prior involvement in any of those comments and I can't control what people are saying," he said in a telephone interview. "I can tell you they were not my posts. I was about 13 or 14 when I was part of that online gaming forum for Minecraft and those comments were not made by me."
Hmmm. Perhaps he wasn't as savvy at 13 as he is now. Perhaps he didn't take precautions to protect his account. Perhaps he's telling the truth. We will never know.
Article content
Kallioinen no doubt has a strong interest in politics. He's appeared as a panelist on Sirius XM's Canada Talks PolitiKIDS channel. He's been involved in a high school political group or committee. His social media posts follow or share both federal and provincial political highlights of the day. He's even written his own stories on thecanadianidea.ca, a youth-led news site, met former Algoma-Manitoulin-Kapuskasing MP Brent St. Denis and has toured the Ontario legislature.
While it appears he was grooming himself for a future in politics, that came to an abrupt end after The Toronto Sun published a column that alleges Kallioinen's name is associated with a number of derogatory and racial social media slurs. Some are found on a gaming social media platform where he allegedly used the name outfieldcheck, while others are on allegedly on Twitter, Instagram and reddit. The posts have since disappeared.
Kallioinen denies scrubbing his own social media profile – or at least most of it.
So, shortly after the column appeared and was shared on social media, Kallioinen spoke to Liberal Party officials and he was quickly dumped as a candidate.
The real lessons to be learned here are about social media and how posts can help or hinder an individual's goals.
Sayers says she's also been open and honest about her past – as a sex worker – and her extensive social media presence, some of which is critical of the federal Liberals and Prime Minister Justin Trudeau. It's obvious some people don't like seeing her honest and blatant truth in her posts.
Article content
On the other hand, Kallioinen says he doesn't have a large social media presence for someone in his demographics, yet that which is present and resulted in his candidacy dismissal, is not his. That's a tough one to prove one way or the other.
On Friday, it was announced the Liberals fired another candidate in the Chatham-Kent-Leamington riding after the NDP pointed out the candidate used a slur on Facebook. It earlier fired Parry Sound-Muskoka candidate Barry Stanley for his unproven theory on the cause of homosexuality.
The Progressive Conservatives haven't gone unscathed. Stephen Lecce was forced to apologize after his fraternity 'slave auction' fundraising event from more than a decade ago came to light. He has apologized and no further action has been taken – yet.
These incidents just go to show you that someone is always watching and words and actions don't go unnoticed.
The reality is social media is a part of our daily lives and studies show that the time individuals spend on social media platforms is increasing. In other words, we're likely to see and hear about even more of similar faux pas in the future and the incidents, photographs, or posts, are never completely erased.
While social media allows people to stay 'connected' to others and to events, among other things, posts are there in black and white. It's like writing a letter or taking a photograph. It's permanent. It's there for all to see and any attempts to erase the undesirable later in life may not happen in its entirety.
Social media is continuing to evolve and will continue to become a more integral part of our lives. Similarly, social media users also need to evolve – and in some cases, beware before they press that 'send' button, click that image or speak certain words in front of others.
It's not the social media platforms that should be branded as good or bad. Instead, it's what individuals post to them that can be helpful or detrimental.
These are lessons that will continue to be learned – or not.
Elaine Della-Mattia is The Sault Star's political reporter.
Social Media Increasingly Linked With Mass Shootings – Forbes
On Wednesday, authorities in Texas identified Salvador Ramos as the 18-year-old shooter who had opened fire in Robb Elementary School in Uvalde, Texas. Ramos, who had killed at least 19 students and two teachers during his shooting spree on Tuesday, had allegedly posted disturbing images online prior to carrying out the senseless attack.
According to reports, an Instagram account allegedly connected to Ramos featured disturbing photos. That account has since been taken down.
It was just last week that New York's attorney general, Letitia James, announced that her office was investigating social media companies after another mass shooter had used the online platforms to plan, promote and stream a massacre in a Buffalo grocery store that left 10 dead. James said her office would investigate Twitch, 4chan, 8chan and Discord along with other platforms that the shooter used to amplify the attack.
Many are asking if warning signs were missed.
"It is impossible to prevent people from making threats online," explained William V. Pelfrey, Jr., Ph.D., professor in the Wilder School of Government and Public Affairs at Virginia Commonwealth University.
Yet he suggested that social media organizations do have a moral responsibility to identify and remove threatening messaging.
"They are generally abysmal at this task. Direct threats (i.e. I want to shoot the President, I want to kill myself) frequently are flagged and investigated. Indirect threats are much harder to identify and rarely receive any attention," Pelfrey continued. "Many social media companies will need to make decisions – protect individual's rights to make oblique threats or protect safety. Compromising freedom of speech seems abhorrent until we weigh that compromise against the lives lost in Buffalo or the many other places where radicalized violent extremists found their motivation to kill."
The Anti-Social Networks
As the United States remains very much in what President Joe Biden has identified as an "Uncivil War," where the country remains so politically divided, the platforms that were once about friendly discussions have evolved very much into "anti-social networks" where people now find themselves in echo chambers that support their opinion and views.
"Social media has compounded a growing racial, cultural and gender divide in America and the world," explained Anthony Silard, professor at the Luiss Business School, Rome, and the author of The Art of Living Free in the Digital Age.
Social media has enabled the actions of extremists to be live-streamed to the masses.
"One facet of the Buffalo shooting that is critical for understanding its conception and operation is that it was not the work of one person," added Silard. "The shooter brought his thought community with him via live stream. They were poised and ready to send out the horrific imagery of innocent people being slaughtered before the social media site, Twitch, could take it down, in an impressive two minutes. They succeeded, yet millions watched from the comfort of their screens.
"With his thought community virtually present and at the ready, the shooter felt less alone and propped up by the hate-imbued ideology of his group," Silard added. "Herein lies an important point for lawmakers to consider about the role of social media in this tragedy: it enabled rapid, collective action by a hate group."
Lack Of Empathy
Social media has also been seen as responsible in lowering the empathy of most Americans. It is easy to "speak your mind" about someone on social media based on a tweet they made or something they posted on Facebook. Even like-minded individuals with similar interests can find themselves in serious flare ups that turn hostile.
This has been common with email, posts on Newsgroups and online forums, but has increased significantly in the era of social media.
"One of the primary reasons social media has become so dangerous to a healthy society is that it erodes empathy. The reason town hall meetings became a healthy medium for cross-aisle conversations is that people had to listen to each other, even when they disagreed," said Silard."Now that these conversations have gone online, empathy has fallen to the wayside. A recent meta-analysis of seventy-two studies conducted between 1979 and 2009, for instance, found that the empathy levels of American college students have dropped 40 percent, which the authors primarily attribute to the rise of social media."
The social media platforms have largely failed to address the issue, and in some cases it has only served to radicalize individuals, such as the recent mass shooters.
"Social media companies like Facebook promised us that its services would encourage people to care more for each other and express their authentic views more both online and in person. None of this has happened," warned Silard. "Instead, recent Pew research has found that people speak up less in person now for fear of retribution. Why? Social media has helped them realize there are many opposing views out there they would prefer not to confront."
Media Advisory: Premier Furey to Announce Additional Measures to Help Residents with the Cost of Living – News Releases – Government of Newfoundland and Labrador
The Honourable Andrew Furey, Premier of Newfoundland and Labrador, the Honourable Siobhan Coady, Deputy Premier and Minister of Finance, and the Honourable Bernard Davis, Minister Responsible for Labour, will announce additional measures today (Thursday, May 26) to help Newfoundlanders and Labradorians with the cost of living. The event takes place at 1:00 p.m. in the Media Centre, East Block, Confederation Building.
The announcement will be livestreamed on Facebook.
– 30 –
Media contacts
Meghan McCabe
Office of the Premier
709-729-3960
meghanmccabe@gov.nl.ca
Victoria Barbour
Finance
709-729-4087, 327-6152
victoriabarbour@gov.nl.ca
Lynn Robinson
Environment and Climate Change
709-729-5449, 691-9466
lynnrobinson@gov.nl.ca
Ideon Media announces exclusive Canadian partnership with VICE Media Group – GlobeNewswire
TORONTO, May 25, 2022 (GLOBE NEWSWIRE) — Ideon Media announced today it will serve as the exclusive ad sales and branded content development partner for VICE Media Group (VMG), the world's largest independent youth media group, in Canada. VMG digital properties, which include VICE.com, and Refinery29.com, reach a combined 13.3 million unique visitors in Canada per month across all platforms (GAR, GWL, Comscore, VICE Census).
The new partnership will see Ideon Media exclusively represent the commercial activity of VICE.com and Refinery29.com in Canada to brands and advertisers. This includes the sale of media advertising and sponsorships, production of branded content as well as affiliate advertising and commissions.
"VICE leaves an indelible mark on the public discourse, with impressive in-depth reporting and authentic storytelling that resonates worldwide. We're so proud to represent VICE in Canada, and so flattered that Ideon has been given full latitude to help Canadian advertisers tell their stories on platforms like VICE and Refinery29 using Canadian talent and creators," said Kevin Bartus, Ideon Media President and CEO.
"VICE is a true Canadian media success story, and has always been the gold standard for integrated campaigns targeting the youth demographic, and I am thrilled to be working with the company again. From best-in-class branded content, to incredible brand-sponsored events, and even cutting-edge proprietary digital ad products; VICE and Refinery29 allow brands to reach a huge Canadian audience of highly influential Gen-Z and Millennial young people in authentic and meaningful ways," said Shawn Phelan, Vice President of Brand Partnerships, Ideon Media.
"I am delighted to be partnering with Kevin, Shawn and the team at Ideon in Canada to drive future growth across our publishing business. Our shared passion for the VICE brands, storytelling, breakthrough content solutions and our audiences will allow us to realise our ambitious growth targets in the market and to forge new opportunities with brands and advertisers," said Luke Barnes, Chief Revenue Officer and Chief Digital Officer, EMEA, VICE Media Group.
ABOUT VICE MEDIA GROUP
VICE Media Group is the world's largest independent youth media company. Launched in 1994, VICE has offices across 25 countries across the globe with a focus on five key businesses: VICE.com, an award-winning international network of digital content; VICE STUDIOS, a feature film and television production studio; VICE TV, an Emmy-winning international television network; a Peabody award winning NEWS division with the most Emmy-awarded nightly news broadcast; and VIRTUE, a global, full-service creative agency. VICE Media Group's portfolio includes Refinery29, the leading global media and entertainment company focused on women; PULSE Films, a London-based next-generation production studio with outposts in Los Angeles, New York, Paris and Berlin; and i-D, a global digital and bimonthly magazine defining fashion and contemporary culture and design.
ABOUT IDEON MEDIA (www.ideonmedia.com)
Ideon Media is a Toronto-based digital firm that offers a wide spectrum of advertiser solutions with best-in-class publisher representation and wholly owned and operated sites, including SavvyMom.ca and 29Secrets.com. Ideon specializes in custom content programs created by our award-winning in-house editorial team, influencer programs, events, performance network, proprietary data, and analytics. Ideon Media reaches a combined total of 18.6 million Canadians (Comscore, March 2022).
For more information or interview requests: Shawn Phelan at shawn.phelan@ideonmedia.com