The fool's gold of art forgery is a problem of the art world's own making
Jon S. Dellandrea is an art historian and collector, the chair emeritus of the Art Canada Institute, and the author of The Great Canadian Art Fraud: Forgeries of The Group of Seven and Tom Thomson.
To some, particularly outside Canada, Ojibwe artist Norval Morrisseau was "the Picasso of the North." But for generations of Indigenous peoples in Canada, he was a trailblazer.
Born on the Sand Point reserve in 1932 and raised by his maternal grandparents, he was taken to St. Joseph's Indian Residential School in Fort William, Ont., at the age of 6, before dropping out of school altogether by the time he was 10. As he developed as a painter, inspired by Indigenous mythology and traditional pictography, he founded the influential Woodland School and his exhibits appeared around the world, from the National Gallery of Canada to the Smithsonian in Washington.
"At a time when enforced assimilation was national policy and First Nations had only recently been accorded the right to vote in federal elections," wrote Carleton University art history professor Carmen Robertson, "Morrisseau's paintings stood out because few Indigenous people made art that was viewed as contemporary within the narrow framework accepted in mainstream cultural circles."
By the time Morrisseau died in 2007, at the age of 75, he had become widely admired for his remarkable talent and work. The art market reflected this, too, with significant prices and demand for his pieces.
And for all his achievements and all of his fame, he also earned interest from forgers, driven by an art market fuelled by greed. That was true in life – he himself identified at least 175 fakes in six galleries during his lifetime – and it is also true in death.
Earlier this month, in what one police officer called "the biggest art fraud in world history," eight men based out of Ontario were accused of operating three groups that mass-produced forged Norval Morrisseau paintings, which were then sold for tens of millions of dollars. More than 1,000 works were seized; police say that at least one of the groups issued faked certificates of authenticity. Many buyers have since learned that they were apparently swindled, and the underlying market for Morrisseau paintings have collapsed.
The schemes appear to have unravelled after the release of a 2019 documentary, There Are No Fakes, which followed Kevin Hearn – a member of Canadian band the Barenaked Ladies – as he sued a gallery that sold him what was later flagged as a fake Morrisseau. "I started thinking, well, how many other people have been ripped off by this guy or other people?" Mr. Hearn told The Canadian Press in 2020. Police proceeded to investigate many of those accused in the film.
But the news appears to have been met by Canadians at large with a relative shrug, likely because there is a feeling that the "other people" Mr. Hearn is thinking about are wealthy, or are public figures, or otherwise not badly dented by losing a few million dollars.
The damage that art fraud wreaks, however, goes deeper than that. "These are not small, victimless crimes," said Ontario Provincial Police Detective Inspector Kevin Veillieux, who is managing the Morrisseau forgery case. "These are people that took advantage of one man's legacy in order to turn a profit for themselves." These crimes are certainly not new to the art world, either – and they are an issue of the art world's own making.
---
---
Forgery has long been a part of the story of art collecting. In 1496, a 21-year-old artist in Rome produced a marble sculpture of a sleeping Eros, the Roman god of love and desire. The piece was buried in the ground to quickly produce the effect of aging, and when it was dug up a dealer sold it as an authentic antiquity to Cardinal Raffaele Riario, a serious collector of ancient art. A few years later, Riario discovered the real origin of the sculpture – but rather than accuse the young artist of forgery, he chose to become his patron. Why? He was struck by the talent of the artist, who history now remembers as the Renaissance giant Michelangelo.
Fast forward to the 1930s and 40s. Han van Meegeren, a Dutch painter of remarkable skill, was more than a little irritated that his talent was not appropriately recognized by the nasty community of art critics and curators at the time. His revenge? Fake the work of the famous 17th-century painters of the Dutch Golden Age, particularly the work of Johannes Vermeer, the creator of Girl With A Pearl Earring.
Eventually, his country's government charged him with fraud and aiding and abetting the enemy, accusing him of selling national treasures – such as Vermeer paintings – to the Nazis. But after his arrest, van Meegeren revealed that the paintings were forgeries.
Although he died fairly young in 1947 at the age of 58, van Meegeren had the last laugh. Movies have been made and books have been written about his story, and his fake art sold for the equivalent of US$250-million in today's currency – an amount that includes the money defrauded from the German Nazi leaders who bought the "Vermeer."
After the Second World War, he managed to convince the Dutch courts that the sale was an effort to outwit the Nazis, rather than to simply profit from them, and he received just a one-year prison sentence for forgery, of which he served only one day before dying.
Issuing fake certificates of authenticity is not new to the art world, either. Dealer labels are not difficult to reproduce, and faking stamps, such as the one that Group of Seven painter J.E.H. MacDonald designed to authenticate the works of Tom Thomson after his peer's drowning in 1917, does not take a lot of engineering genius.
Canada has had its own well-publicized art frauds prior to the Morrisseau affair, too. Significant as that scheme is believed to be, the Canadian art world has seen forgeries on a major scale before: of the works of the Group of Seven, the Painters Eleven, the Beaver Hall Group and the Painters of the Montée Saint-Michel. Unfortunately, the public's memory is short, and so – perhaps not surprisingly – history repeats itself.
But the Group of Seven example is particularly instructive. In the early 1960s, in a dramatic court case that shook the Canadian art community, gallery owner Leslie W. Lewis and art dealer Neil Sharkey were sent to jail for duping the public with fraudulent art of substantial quantities and not insubstantial prices.
The similarities between the 1963 and 2023 cases are interesting. They both include a concerted effort by the Ontario Provincial Police to track down the sources of the fake paintings and to bring those responsible to justice; they both included some prominent Canadians, as well as some ordinary collectors looking for a bargain; and both sparked a response that perhaps none of this really mattered, as ordinary people were not harmed. Rather, the argument went, it was a few rich doctors, lawyers and entertainers who could afford to spend the money – and lose it to fraudsters, too.
But the judge saw things differently in 1963. "It was the most reprehensible type of fraud and it is difficult to know what effect it will have on many people," said Justice Robert Forsyth. "It will shake the confidence of art lovers." That argument should be considered today.
One of the most interesting facts I discovered in doing research for my book was that in the early 1960s, it was an open secret that some Canadian art dealers knew that fake European art had been dumped in Canada for many years – and were content to sell the works all the same. Lewis, one of the dealers sentenced to jail in 1963, had been selling in excess of 580 paintings a year through Ward-Price auctioneers, which at that time was Canada's largest auction house. We don't know definitively how many of those paintings were fake, but the number was large. How that auction house escaped prosecution remains a mystery: Ben Ward-Price testified that he just sold what was consigned to him and that he was "ignorant" of the art offered, even though the firm advertised "expert appraisals."
What we do know is that many mainstream dealers in Canadian art had, for many years, turned a blind eye to this aspect of the junk art market until junk Canadian art began to appear. Suddenly, their core business was being threatened. Ignorance of the issue quickly morphed into righteous indignation.
In 1962, Max Stern, then-owner of Montreal's venerable Dominion Gallery, wrote to the artist Robert Pilot – at the time, the president of the Royal Canadian Academy – to make the case that the fakes were an existential threat to the Canadian art market. "Why is the sale of fakes so dangerous?" Stern wrote. "The buyer who has acquired a fake and finds out he has a worthless object on his hands will never buy another painting again, be it by a living artist or an artist from the past."
Stern, who wrote an op-ed for The Globe and Mail at the time, went on to say: "Among Canadian fakes are fakes of paintings by A.Y. Jackson, Tom Thomson, J.E.H. MacDonald, Clarence Gagnon, J.W. Morrice and many others. Canada is unfortunately also flooded with fakes which are imported from abroad. We are flooded with fake Corot, Constable and Krieghoff, only to mention a few. The educational and cultural damage to our youth who grow up with this trash, and are even taught to admire it, is immense and the financial loss goes into the millions of dollars."
Now we find ourselves many years later with the Morrisseau case in the headlines, and with tales of art forgery increasingly becoming everyday news. Just last summer, allegations about forgeries of another popular art icon – the late Jean-Michel Basquiat, who died tragically at the age of 27 and whose works are worth millions of dollars in the art auction market today – prompted the Federal Bureau of Investigation to raid the Orlando Museum of Art. And work by Maud Lewis has been selling for record prices, including a $350,000 sale last year for one painting that the Nova Scotia icon had traded for a grilled cheese sandwich. Those prices, as well as a folksy story that makes authentication difficult – she reportedly produced two or three small paintings a day, many of which were sold for a few dollars near a Nova Scotia highway – have attracted forgers, including her own husband, who reportedly sold fakes under her name after she died.
So what do we make of all this? Why does art fraud happen?
---
---
The simple explanation is that humans like to own something that other humans view as valuable and rather cool: Gucci bags, Rolex watches … the list goes on, including that great painting that might hang on your a wall, regardless of whether it's real.
But there is something unique to this when it comes to art. Art is meant to induce powerful feelings in a viewer, but that collides with the values of the art world – an illogical enterprise that, at its core, is aimed at manufacturing a small group of stars to worship and then hyping them up.
A leading art dealer once told me that his principal talent was his "great eye," and I never fully understood this comment. If the "great eye" is the appreciation of the artistic talent of a painter, then I think I understand the concept because I, and many people around the world, have one of those "great eyes." If the great eye is to look to the bottom corner of a painting to recognize the signature, and from that to attribute value, then that feels like something else altogether.
This was an issue even in the 1960s case. "Art consists of lines on a canvas. You either like it or you don't," Group of Seven member A.Y. Jackson testified while on the stand.
A.J. Casson, then the youngest living member of the Group of Seven, also grappled with the debate during the trial. The painter had worked directly with the Ontario Provincial Police on the forgery investigation; when newbie OPP inspector James Erskine told the Art Gallery of Ontario that he knew very little about Canadian art, the gallery advised him to reach out to Casson, who agreed to help because he cared deeply about the reputation of his colleagues whose work was being faked. That partnership led to the identification of more than 100 fake paintings, which were then seized – a remarkable effort that earned Casson a special OPP badge, which read "Art Advisor." As a result, Casson also took the stand, where he was cross-examined by the lawyer for Sharkey.
"Would you agree that there are two types of people, those who admire a sunset and those who admire themselves for admiring a sunset?" the lawyer asked. Casson paused, and then responded: "Yes, I see what you mean. These people were buying names, just names, names and nothing more."
So, the market creates stars – but the logical endpoint of this may be that the signatures of the stars are made to matter much more than the quality of the art. This is why the work of some artists of quite remarkable talents languish in the abyss of the ignored, while lesser talents find their works featured in the glossy promotions of the next great exhibition. There are many stories of galleries around the world paid by promoters to feature the works of one profit-making darling or another. This is the conundrum of the art world.
The art market often feels like penny stocks in the mining industry: Investors buy in when exploratory drilling is going on, and then try to sell at a profit while the hype machine props up the share price. Never mind that the mine may not even lead to any actual extraction, and the stock could be deemed worthless: The profits are the thing.
So what can the art community do to instill confidence, celebrate talent and recognize actual value, rather than only the monetary kind?
On one level, I think the answer is clear: We need rigorous scholarship and serious academic study of art, confidence in the integrity of auction houses and dealers, and meticulous attention to "real" provenance, as opposed to the kind that is easily faked, such as stamps or certificates. Jackson Pollock, for instance, is perhaps the most forged artist of the postwar period, and authentication of his work increasingly relies on scientific analysis, including by spectroscopic techniques that compare the pigments on a given painting against the remnants of pigments on Pollock's studio floor.
Canada can even claim some credit for the introduction of scientific rigour to the authentication of art. The late Dr. Nathan Stolow of the National Gallery of Canada played a key role in the Group of Seven forgery case by providing analysis and forensic examination, techniques that he would share with other conservators and make integral to National Gallery collections.
In the case of Morrisseau, there is the added layer that he was Indigenous, and Indigenous art is a field that continues to be understudied. "With Morrisseau, a large reason for the ease of forgery has had to do with the fact that until very recently a scarce amount of attention was given to Canadian Indigenous art," Dr. Sara Angel, the founder of the Art Canada Institute, told me. "To spot a forgery one needs to know what one is looking at. Although Morrisseau is a star, and despite the attention of prominent scholars, the scholarship on him still needs to catch up."
But ultimately, the art world needs to change how it sells itself. If the industry continues to be defined by stars and icons – about the names, and not the works – it will continue to invite fakery.
It's only appropriate that it appears to have been Kevin Hearn who helped launch the investigation into the Morrisseau fakes. After all, his band, the Barenaked Ladies, gave the world an iconic song about the pleasures of wealth. "If I had a million dollars," it goes, "I'd buy you some art, a Picasso or a Garfunkel."
What is the punchline here? If you have money, flaunt it – and "famous art" is a good way to do it. Whether it's a painting by a cubist legend or by a singer-songwriter doesn't matter: What matters is the money. And as long as that's the case, the art world will always have forgery as a problem.
Hannah Gadsby's Disastrous 'Pablo-matic' Show at the Brooklyn Museum Has Some 'Pablo-ms' of Its Own – ARTnews
Over the past half century, Pablo Picasso's reputation has taken quite a beating. Once termed a "genius" by fellow Cubist Georges Braque and later a "prodigy" by his biographer John Richardson, Picasso was called a "walking scrotum" in Robert Hughes's 1991 history of modern art. In 2019 he was even labeled an "egoist" by artist Françoise Gilot, who ended their tumultuous decade-long relationship and then chronicled it in a 1964 memoir that was recently reprinted.
The shift owes something to feminists like Linda Nochlin, who, in a well-known 1971 ARTnews essay, asked if Picasso would have been called a genius if he were born a girl. But most people don't know Nochlin. They know Hannah Gadsby, a comedian who took up Picasso in their 2018 Netflix special Nanette, going so far as to say he "just put a kaleidoscope filter" on his penis when he helped think up Cubism, a movement that prized a multiplicity of perspectives.
Gadsby is even more unsparing than that in the audio guide for their new Brooklyn Museum show, "It's Pablo-matic: Picasso According to Hannah Gadsby," which opens to the public on Friday.
Gadsby notes that Picasso was a "monumentally misogynistic and abusive domestic authoritarian dictator," and that he "takes up too much space." To further underscore the point, perhaps in homage to Hughes, Gadsby lends Picasso the nickname "PP." You can do the work figuring out that very unsubtle pun.
"Picasso is not my muse of choice," Gadsby later says of organizing the show. "I regret this." They should.
Organized with Brooklyn Museum curators Catherine Morris and Lisa Small, "It's Pablo-matic" aspires toward a new kind of Picasso scholarship that better accounts for his misogyny, his bad behavior, and his colonialist impulses. Gadsby and the curators intend to accomplish this by weaving in more recent works by pillars of feminist art, a noble gesture meant to "unearth and champion voices and perspectives that are missing from our collective understanding of ourselves," per Gadsby.
The show's problem—Pablo-m, if you will—is not its revisionary mindset, which justly sets it apart from all the other celebratory Picasso shows being staged this year to mark the 50th anniversary of his death. That is the appropriate lens for discussing much of Picasso's oeuvre in 2023. It is, instead, the show's disregard for art history, the discipline that Gadsby studied, practiced, and abandoned after becoming frustrated with its patriarchal roots.
The Pablo-ms begin before you even enter the first gallery. Above the show's loud red signage on the museum's ground floor, there's a 26-foot-long painting by Cecily Brown, Triumph of the Vanities II (2018), featuring an orgy of brushy forms set against a fiery background. The painting looks back to the bacchanalia of Rococo painting and the intensity of Eugène Delacroix's hues. It has little to say about Picasso, an artist whom Brown has spoken of admiringly.
Inside the show, there's Jo Baker's Birthday (1995), a Faith Ringgold print featuring a reclining Josephine Baker beside a bowl of ripe peaches. This is a direct allusion to paintings by Henri Matisse like Odalisque couchée aux magnolias (1923), not to Picasso. (A better Ringgold selection would've been her 1991 quilt Picasso's Studio, which takes on the artist more directly.) Likewise, there's Nina Chanel Abney's Forbidden Fruit (2009), in which a group of picnickers are seated around and atop watermelons. It's a composition that specifically recalls Édouard Manet's Déjeuner sur l'herbe (1862–63), not any particular Picasso painting.
There's no question that Ringgold and Abney are highlighting the limits of modernism—they replace white figures with Black ones, whom they suture into European images. But this exhibition is not about the modernist canon as a whole, which is itself an extension of a male-dominated Western art history that spans centuries. It's specifically about one man, per the show's title: Picasso, whom "It's Pablo-matic" flatly offers as the only modernist worth critiquing. He isn't.
Ironically, one of the few Picasso-focused works comes courtesy of Gadsby themselves. It's a ca. 1995 copy of Picasso's Large Bather with a Book (1937), depicting a blocky, boulder-like figure crumpled over an open volume. Gadsby painted their reproduction on the wall of their parents' basement. Looking back on it, they now call it "shitty."
"Picasso once said it took him four years to paint like Raphael, but a lifetime to paint like a child," Gadsby writes in the wall text. "Well, I don't want to call myself a genius … But it did only take me four years to be as funny as Raphael."
"Funny" is debatable, but comedy is used as a curatorial device throughout the show. Gadsby's quotes, which are printed above more serious art historical musings, are larded with the language of Twitter. "Weird flex," reads one appended to a Picasso print of a nude woman caressing a sculpture of a naked, chiseled man. "Don't you hate it when you look like you belong in a Dickens novel but end up in a mosh pit at Burning Man? #MeToo," reads another that goes with a print showing a minotaur barging into a crowded, darkened space.
Most of the works in this show are by Picasso, strangely enough. This in itself constitutes an issue—you can't re-center art history if you're still centering Picasso.
But if the curators must, they have at least brought some impressive works to the US for the exhibition. There are several paintings on loan from the Musée National Picasso in Paris, some of which are enlisted in savvy ways.
One of them, Corrida: la mort de la femme torero (Bullfighting: Death of the Female Bullfighter), from 1933, shows a woman tumbling across two colliding bulls. Upon impact, her breasts spill out, lending the scene an unseemly erotic quality that courses through so many of the Picasso works in this show. It's all the more disturbing to learn that this female toreador was based on Marie-Thérèse Walter, who was romantically involved with Picasso at the time. I agree with the curators' assessment that this painting emblematizes Picasso's brutal tendencies. I only wish it wasn't paired with this quote from Gadsby: "If PETA can't cancel Picasso … no one can."
It's key that the show repeatedly references Gilot and Walter, as well as other women from Picasso's love life, like the artist Dora Maar and the dancer Olga Khokhlova. These women were previously written off as Picasso's "muses," and "It's Pablo-matic" suggests that historians still have trouble talking about them. While the show is frank about the negative aspects of these women's relationships with the artist, they are always discussed within the context of Picasso, who continues to exert a strong gravitational pull.
I detected a disingenuous sentiment amid it all. Gilot and Maar both produced art of note. Where was that in this show? It would've been instructive to see their work placed on equal footing with Picasso's. Or, for that matter, pretty much any female modernists. The only ones who make the cut are Kathe Köllwitz and Maria Martins, both of whom are represented by unremarkable examples of their remarkable oeuvres.
These women didn't make it into history books for a long time, and that's the subtext of Kaleta Doolin's Improved Janson: A Woman on Every Page #2 (2017), a piece included in this show. The work takes the form of a famed art history textbook that has, in every one of its pages, a vaginal oval cut out of it. An image of Picasso's Demoiselles d'Avignon (1907) was sliced by Doolin during the work's making, its lower left-hand corner now lopped off.
Doolin's work is about removal: she leaves parts of Janson's book absent to make clear that women artists, for so many centuries, were kept out of the picture. This was a painful, violent elision, and Doolin makes steps toward rectifying the carnage by acknowledging all that contributed to it. If only Gadsby had done the same.
Why does this show contort art history so? There are numerous Picasso works here that portray threesomes, rapes, and bestiality. The wall text doesn't hide the sources of these images: Ovid's poetry, Greek mythology. When Picasso represented a minotaur kneeling over a nude, sleeping woman who can't consent, he was glorifying sexual assault, using classical art as a limp justification. He was hardly the first male artist to do that, however: Bernini, Titian, Correggio, Poussin, and many more did it too. Yet this exhibition directs its aim only at Picasso.
Many of the women in this exhibition are responding to centuries of misogyny, not just Picasso's. Betty Tompkins has a grand, grisaille painting showing an erect penis entering a vagina in close-up—an image that recalls a certain Gustave Courbet work—while Joan Semmel takes a lighter approach, with a painting of a post-coital couple shown from the woman's point of view. Ghada Amer is showing a terrific embroidered work in which pools of red thread reveal pairs of splayed-open women's legs, and Rachel Kneebone has a porcelain piece that looks like a fountain of limbs. There's no specific reference point in these works, because the male gaze is omnipotent. It wasn't found only in Picasso's studio.
The final gallery, the sole one without any Picasso works in it, brings "It's Pablo-matic" into even squishier territory. There are some great works here—Dara Birnbaum's classic video skewering Wonder Woman, an Ana Mendieta photograph of an abstracted female form sculpted into the ground, Dindga McCannon's painting of a multihued revolutionary with real bullets fixed to the canvas—but they have almost nothing in common, beside the fact that they are all owned by the Brooklyn Museum.
The supplement to this exhibition, available on the Bloomberg Connects app, includes an interview with one artist in this gallery, Harmony Hammond. Asked about her feelings on Picasso, she says, "Truth be told, I don't think about Picasso and his work."
It would've been nice to have more artists who were thinking about Picasso, or whose work, at least, has something to do with him. But this seems like too much to ask from the curators, especially Gadsby, who greets that line of thinking with a big, fat raspberry. "Humans are not doing great," they say on the audio guide. "We are unsettled. I blame Picasso. That's a little joke. Or is it? I don't know."
Revealing show cleverly pairs two female Impressionists – The Globe and Mail
In a new Impressionism show at the Art Gallery of Ontario in Toronto, there's a moment parents will recognize. In an 1897 painting, by the American expat artist Mary Cassatt, a mother lies in bed with a baby. Front and centre, the plump toddler sits upright, rosy-cheeked and bright-eyed, while the mother gazes sleepily up from her pillow. There's a tea cup nearby and the child seems to be holding some bread: The title, Breakfast in Bed, is saccharine enough to suggest a tender maternal scene of the kind prized by Victorian audiences. Look closer at the mother's expression, however, and you'll perceive her reality: a 6 a.m. wake-up when she would rather sleep.
This clever exhibition is stuffed with such telling moments, achieved by juxtaposing Cassatt's work with that of the Canadian Impressionist Helen McNicoll. On the surface, the combo, entitled Cassatt – McNicoll: Impressionists Between Worlds, might seem opportunistic or merely convenient. Cassatt was an American living in France and part of the original circle dubbed Impressionist; McNicoll, 35 years younger, was a Canadian working in England under the general influence of the new styles. Throw together two female artists who belong to different generations and never met, and see if some of Cassatt's wider fame can rub off on McNicoll's work, not particularly well known even to Canadians. However, the execution, by AGO curator Caroline Shields, offers so many smart observations drawn from this pairing that the show swiftly banishes these doubts.
Shields argues that Cassatt and McNicoll, who both criss-crossed the Atlantic in the age of the steam liner, were figures who inhabited liminal spaces as they travelled between Europe and North America and negotiated professional restrictions placed on women. They could not venture unaccompanied into the city streets or cabarets so beloved by the French Impressionists, and convention encouraged them to concentrate on domestic subjects, although both were unmarried and childless.
Shields makes this point with two paintings near the start: Cassatt's Young Girl at a Window shows a woman looking inwardly rather than out at a Parisian view; McNicoll's The Open Door shows a country woman in an interior, perhaps seeking light to tie a knot in her sewing, but with her back turned to the great outdoors. So, both women are placed at the threshold of places where they do not venture.
Next, the exhibition matches Cassatt's Woman Bathing of 1890-91, one of her familiar drypoint prints heavily influenced by Japanese ukiyo-e, with Interior (1910) by McNicoll, a view of an empty bedroom. By placing the familiar image of a woman at her toilette beside Interior, Fields makes the point that McNicoll has deliberately removed a nude from her scene.
The AGO has also provided a brief video in which the painting is animated as though we were watching the room through the day in time-lapse photography, revealing McNicoll's use of a shaft of light to enliven her composition. Compared to the pointless animation in the so-called immersive shows devoted to such artists as Vincent Van Gogh or Claude Monet, this small educational intervention by AGO interpretive planner Gillian McIntryre is an astute way of asking viewers to stop and look closer.
Looking closer and thinking again is what this show is all about. Cassatt's pictures of women and babies are often ambivalent – Maternal Caress and The Child's Caress seem to show women suffering babies batting at their faces – while McNicoll painted children alone, without mothers supervising them.
One exception is In the Shadow of the Tree from 1910, which shows a young caregiver on a summer day reading a book with a pram beside her, one hand touching it as if to rock the baby. That painting, along with several showing women under parasols or tents at a beach, are testament to McNicoll's masterful painting of light. Dappled or filtered light on a summer day is perhaps her most magnificent subject.
McNicoll was primarily known for outdoor scenes but around 1913, she began a series of ambitious canvases featuring women in interiors, including two of a figure wearing a massive white crinoline. As the drive to women's suffrage reached its peak, these confining dresses were now seen as outmoded: McNicoll calls both paintings The Victorian Dress. What would have happened next? McNicoll died of diabetes at age 35 in 1915, so sadly we will never know.
It's not a contest, but she often comes across as the stronger artist here, her brushwork more impressive in its impressionistic effects; her figures more graceful. In a section about labour, Cassatt is represented by Young Women Picking Fruit, an oddly emphatic painting from 1891 in which a well-dressed receiver looks adoringly up at the picker, as a symbol of women passing knowledge to each other. About 20 years later, McNicoll is painting working class women picking apples or carrying hay in more convincing depictions of empowerment.
This weighting probably has more to do with available loans than the reality of the two careers. The AGO has assembled 27 of McNicoll's paintings from its own collection (which also includes all her sketchbooks, many on display) and from museums in Ontario, Quebec and New Brunswick, as well as private collections. Cassatt is represented by only 13 paintings and her best known pieces, works such as The Child's Bath at the Art Institute of Chicago, are not included. Instead, Chicago has lent the more fussy female figure On a Balcony. The biggest hits are a pair of deliciously sophisticated female portraits, Portrait of Madame J from the Maryland State Archives and The Cup of Tea from New York's Metropolitan Museum.
There are no Cassatt paintings in Canadian collections, but luckily the National Gallery of Canada does hold an edition of the 10 drypoint prints devoted to women at their toilette, riding a bus or bathing children. It's impressive to see the full series at the AGO, to recognize Cassatt's meticulous printmaking and her commitment to making women seen in art rather than merely objectified.
More than a century separates us from Cassatt and McNicoll and it's easy to assume that all is sweetness and light in their paintings of elegant ladies, chubby babies and vigorous farm girls. By pairing the two, Cassatt – McNicoll slyly reveals the many subtleties in the work of two female artists carving out careers in what was, in their day, a man's profession.
Cassatt/McNicoll continues to Sept. 2023 at the Art Gallery of Ontario in Toronto.
Hannah Gadsby's Picasso exhibit roasted by art critics – The A.V. Club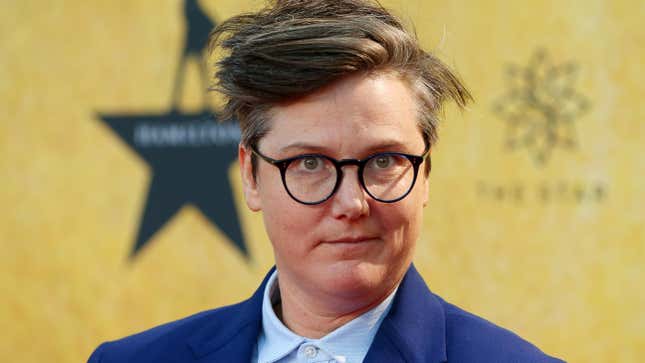 "It's Pablo-matic: Picasso According to Hannah Gadsby" has been Pablo-matic from the start. The comedian was criticized for launching an exhibit at the Brooklyn Museum, where Elizabeth A. Sackler (of Purdue Pharma infamy) apparently sits on the board of trustees. "Doesn't matter what cultural institution you work with in America, you're going to be working with billionaires and there's not a billionaire on this planet that is not fucked up. It is just morally reprehensible," Gadsby lamented to Variety, nevertheless moving forward with the exhibit.
John Hughes says the director called his Ferris Bueller performance "boring"
After having criticized Picasso in their lauded Netflix special Nanette, Gadsby was tapped to co-curate an exhibition to mark the 50th anniversary of the artist's death. The show examines Picasso's "complicated legacy through a critical, contemporary, and feminist lens, even as it acknowledges his work's transformative power and lasting influence." The exhibit consists of Picasso's work with the work of female artists, with the addition of Gadsby's commentary.
Reviews of the show (which opens on Friday) are, shall we say, not kind. Gadsby's quips tacked to Picasso's art "function a bit like bathroom graffiti, or maybe Instagram captions," writes New York Times reviewer Jason Farago, who dismisses Gadsby's commentary as "juvenile." ARTnews' Alex Greenberger observes that Gadsby's quotes are "larded with the language of Twitter," highlighting the label above a minotaur print: "Don't you hate it when you look like you belong in a Dickens novel but end up in a mosh pit at Burning Man? #MeToo."
There is no debate about Picasso's misogyny or any of the more unsavory (and well-documented) aspects of his character. Instead, it's the apparently facile way Gadsby (with co-curators Catherine Morris and Lisa Small) has chosen to frame the show. The female artists featured do not include female Cubists, women inspired by Picasso, or the female artists Picasso was actually involved with in his life. Instead, their work "[seems] to have been selected more or less at random" writes Farago, while Greenberger notes that many of these pieces from female artists "have almost nothing in common, beside the fact that they are all owned by the Brooklyn Museum."
The scathing criticism of the exhibit has been met with some schadenfreude online, particularly with the subset of folks for whom Nanette didn't land. "Still thinking about that perfect @jsf piece on Hannah Gadsby's Picasso show. Such a sharp evisceration of the corrosive effect a certain strain of meme-y social justice has had on culture and criticism. If people's receptiveness means we can finally move past that, I'm thrilled," The New Republic's Natalie Shure wrote on Twitter. And of course, some people just like a good, well-written take down: "So so so happy that Hannah Gadsby made the Pablo-matic (lmfao) exhibit because the reviews of it have been the best most fun culture writing in a while imo!!!!!," tweeted writer Sophia Benoit.
Agree or disagree (and perhaps you'll have to visit the Brooklyn Museum to decide), the criticism of Gadsby's criticism is lethally sharp. "Not long ago, it would have been embarrassing for adults to admit that they found avant-garde painting too difficult and preferred the comforts of story time. What Gadsby did was give the audience permission—moral permission—to turn their backs on what challenged them, and to ennoble a preference for comfort and kitsch," Farago writes of Nanette, later adding, "The function of a public museum (or at least it should be) is to present to all of us these women's full aesthetic achievements; there is also room for story hour, in the children's wing." You can read the full piece here.