OPPO Reno3 5G and Reno3 Pro 5G Rumor Roundup: All We Know about OPPO's new 5G Phones – gizmochina
OPPO's Reno series is all set to get a refresh tomorrow, at the official Reno3 5G launch event in Hangzhou, China. The Reno3 5G and Reno3 Pro 5G models will be officially announced tomorrow alongside the company's new OPPO Enco Free TWS earbuds. With their launch tomorrow, OPPO would also officially label the Reno series as the smartphone lineup with one of the shortest product cycles ever! After all, this would be the third-generation model, with the first-gen device being announced just 10 months ago!
Despite having a 5G phone in the market – the OPPO Reno 5G, the Reno3 5G duo will be the pioneering the company's growth in this emerging market. Both phones are expected to be mid-range with a few premium features and will ditch the pop-up camera design of its predecessors.
Since the OPPO Reno3 5G and the Reno3 Pro 5G differ quite significantly, let's take a look at what to expect from each device individually.
The OPPO Reno3 5G will be what the Redmi K20 was in the K20 series. It will bring 5G, an AMOLED display, a quad-camera setup, and a thin sub-8mm body at a cheaper price tag than the Pro model.
In terms of design, the Reno3 5G and its Pro sibling will differ quite significantly on the front. The Reno3 5G will feature a flat 6.4-inch Super AMOLED FHD+ display with a waterdrop notch on top. If you know, motorized camera setups ensure you have a full-screen display, but they have a drawback. Pop-up camera-equipped phones are heavier and thicker than traditional front camera solutions, like a waterdrop notch. OPPO is giving priority to a slimmer and comfortable form factor on the Reno3 5G and hence, you get the waterdrop notch on its display.
At the back, things are very similar to the 'Pro' version. We can expect a quad-camera setup on the top left corner with the bottom two cameras sharing the same sub-housing. This is what differentiates the Reno3 with the Pro version, which has all the four cameras within its pill-shaped camera housing. The words 'Ultra Steady' are written beside the quad-camera solution, which confirms the phone will have some sort of video feature like the 'Super Stable' mode on the OnePlus 7 series.
In terms of specs, the quad-camera setup is expected to feature a 64MP primary shooter with an 8MP wide-angle sensor, and two other 2MP sensors, likely for Macro and bokeh. On the front, you can expect a 32MP shooter to take care of your selfies.
Inside, the OPPO Reno3 5G is confirmed to feature the Dimensity 1000L 5G processor. We can expect Mali-G77 GPU to be paired with the CPU for a pretty good graphics performance. There should be an 8GB RAM + 128GB ROM variant alongside a high-end 12GB RAM + 128GB ROM model. A large 4025mAh battery should take care of the power requirements with the 30W VOOC 4.0 fast charging technology.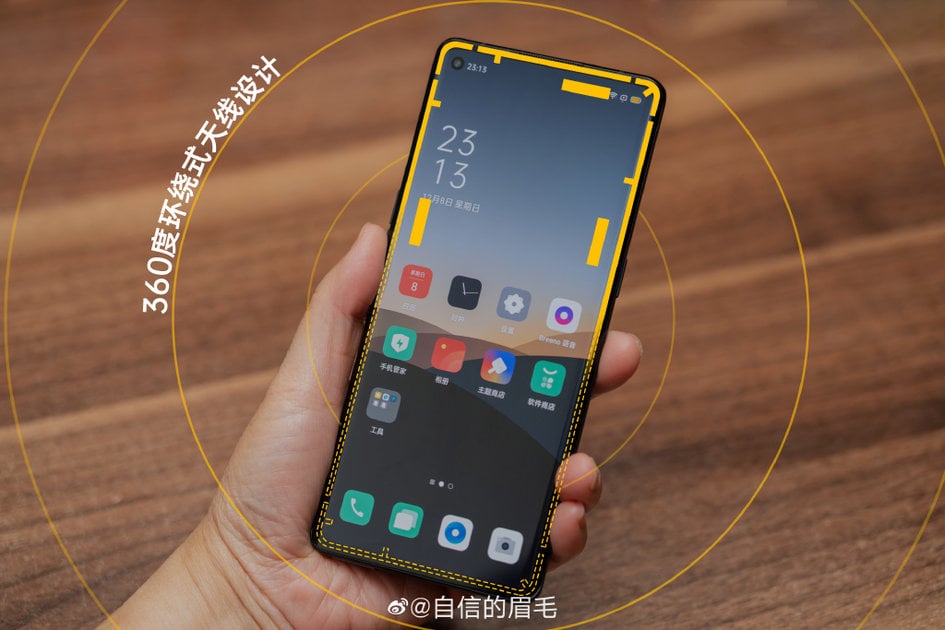 OPPO has already confirmed that both, the Reno3 5G and the Reno3 5G Pro models will feature a 360° surround antenna design to better implement 5G connectivity. Both phones will support 5G SA/NSA (standalone / non-standalone) networks.
As for the pricing, the 8GB RAM + 128GB model of the Reno3 5G is rumored to start at 3,199 Yuan ($458) while the 12GB RAM + 128GB model could be priced at 3,599 Yuan ($515).
OPPO Reno3 Pro 5G is going to be the star of the launch event tomorrow. The phone will feature a beautiful curved 6.5-inch display on the two sides, kind of like the Galaxy S10. I mentioned the Galaxy S10, and not the OnePlus 7T Pro here simply because it shares one another feature that's present on the S10 – a punch-hole camera. The OPPO Reno3 Pro 5G is confirmed to feature a punch-hole camera on the top left corner of the display. It looks like punch-hole cameras are gaining traction in the premium smartphone segment with the likes of the Redmi K30 5G, Vivo X30 Pro 5G, and even the upcoming Realme X50 featuring one, or even two, punch-hole shooters on the display. Note that the display will feature a high 90Hz refresh rate.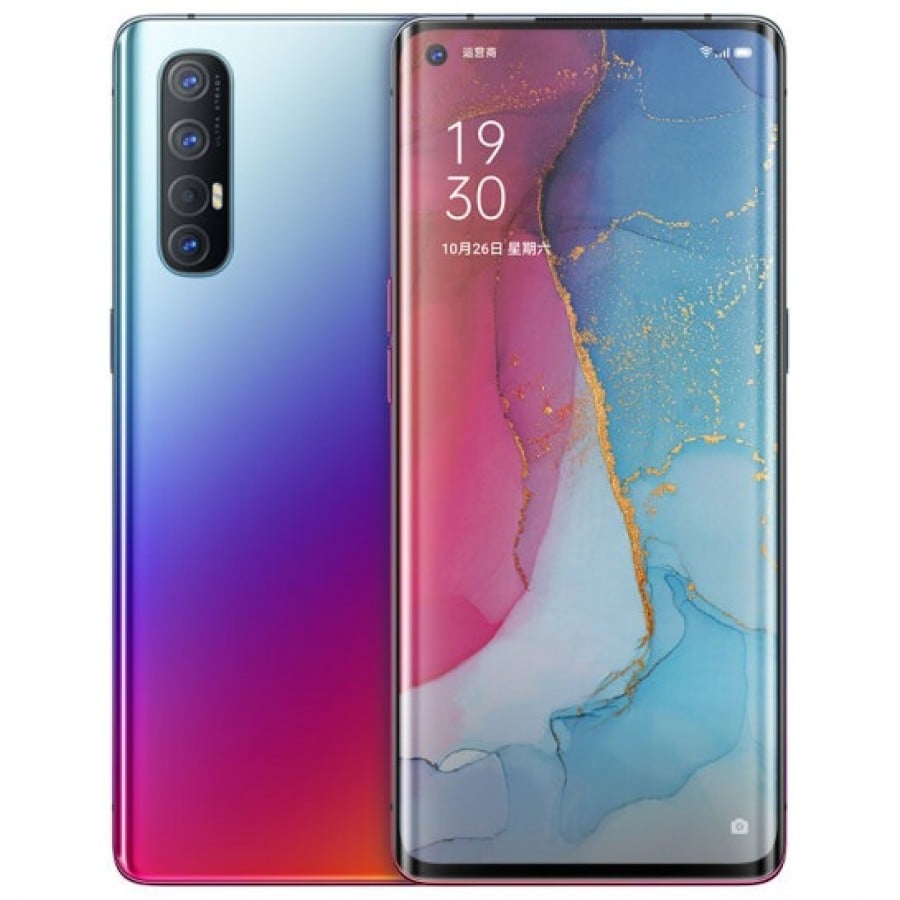 The Reno3 Pro 5G will also come with a slim profile, measuring just 7.7mm in thickness and 171 grams, a far cry from the 9mm thick and 190+ gram weight of the Reno2 Z or even the OPPO Reno 5G models. To make things really interesting, OPPO has confirmed that the phone will feature a 4025mAh battery with 30W fast charging too, in this slim form factor. At the back, the quad-cameras will be arranged vertically, in a pill-shaped design.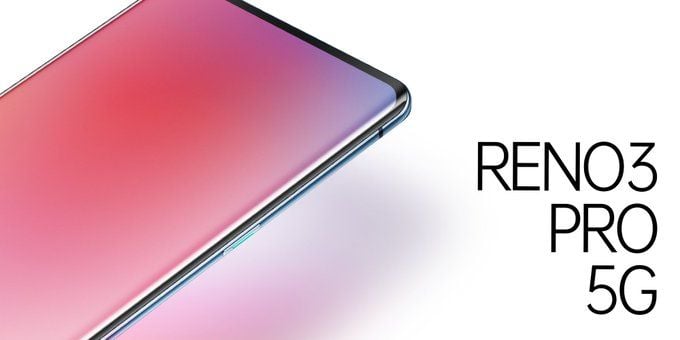 It is expected that both, the OPPO Reno3 5G and the Reno3 Pro 5G will ditch the 3.5mm headphone jack. To recall, the OPPO Reno 5G model didn't have this dedicated jack, but it made a comeback with the Reno2 Z. Even the Pro model is expected to feature an in-display fingerprint solution. There should be four colors available at launch: Misty White, Sunrise Impression (Blue-red gradient), Blue Starry Night, and Midnight Black.
The quad-cameras at the back should feature a 48MP primary camera, with an 8MP shooter (likely wide-angle), another 13MP sensor (telephoto likely), and a 2MP shooter (possibly for macro or bokeh). According to a recent Geekbench listing, the OPPO Reno3 Pro 5G, aka PCRMOO scored 2847 and 7686 in the benchmark test. It didn't reveal the processor inside but OPPO has already confirmed that it will use the Snapdragon 765G octa-core chipset, the same one that powers the Redmi K30 5G.
Both phones are expected to run on ColorOS 7 based on Android 10.
The OPPO Reno3 Pro 5G's 8GB RAM + 128GB ROM model is rumored to start at 3699 yuan ($529) and it could go up to 4199 yuan ($601) for the 12GB RAM +256GB top-end variant.
Reservations for both the devices are already up in China and have crossed 500,000 registrations already.
The Reno3 5G and the Reno3 Pro 5G will be announced tomorrow. So we are less than 24 hours away from getting official details from the company.
Apple Suppliers Worried About iPhone Demand, Production Ramp-Up for New iPhones Reportedly Postponed – MacRumors
Most of the factories in China that supply devices and components to Apple are back to churning out products, but Apple suppliers are said to be worried about how much demand there will be for the current iPhone models and the new iPhones expected in the fall.

According to Reuters, a senior official at one of Apple's major supply companies said that orders for quarter ending in March are likely to drop 18 percent compared with the previous year. Production ramp-up for new 5G iPhones has also been postponed, though the official said it is still possible iPhones could launch as scheduled.
"No one is talking about manpower or material shortage (in China) anymore. Now everyone is looking at whether demand from U.S. and Europe could keep up," said the person, who has direct knowledge of the matter. "The focus now is the demand from consumers in the U.S. and Europe."
An Apple display supplier that had anticipated shipping 70 million ‌iPhone‌ displays to Apple is considering lowering that target to 58 million as well as reducing the workforce at its Apple production lines in Vietnam.
One supplier in Malaysia, a country now facing shutdowns, says that things are changing "on a day by day basis" because of ongoing supply chain disruptions.
Some suppliers are not expecting a drop in demand, however. An ‌iPhone‌ sensor supplier told Reuters that the current quarter was better than last year, and that the second quarter will also likely see a higher volume of shipments. "We are still producing as per the forecast given to us," said the source.
A report from Nikkei earlier this week suggested that Apple is considering delaying the 2020 iPhone launch by months, but that no decision had been made yet. The same report suggested that some suppliers have been asked to defer mass production schedules for two to three months, which is also mentioned in Reuters' report.
DigiTimes this morning said that suppliers who make printed circuit boards for the ‌iPhone‌ had not been asked to postpone volume production for components designed for the 2020 ‌iPhone‌, so there seem to be mixed reports coming from the supply chain at this time.
A week ago, Bloomberg said that the iPhone 12 models are still on course for a fall launch, so whether there will be changes to Apple's typical September ‌iPhone‌ launch plans remains to be seen.
Microsoft to divest AnyVision stake, end face recognition investing – Financial Post
Microsoft Corp on Friday said it would sell its stake in AnyVision, an Israeli facial recognition startup, and said it no longer would make minority investments in companies that sell the controversial technology.
The decision marks a policy change for the Redmond, Washington-based software maker, which has aimed to shape how the technology industry approaches facial recognition. Microsoft has laid out principles to guide its own development of the technology, saying it should perform without bias and must not impinge on democratic freedoms.
Civil liberties groups have said police use of facial recognition could lead to unfair, arbitrary arrests and limit freedom of expression.
Microsoft came under scrutiny last summer for participating in a $74 million funding round for AnyVision, which critics said contradicted the company's principles.
AnyVision, based outside Tel Aviv, came under scrutiny following media reports that its technology was used to surveil Palestinians who lived in the occupied West Bank. Microsoft later hired former U.S. Attorney General Eric Holder and a team from Covington & Burling to investigate the claims.
The law firm found that AnyVision's technology was in use at checkpoints in border crossings between Israel and the West Bank – as the startup had said – but that it had not fueled a mass surveillance program there, according to a copy of the audit's findings posted on the website of M12, Microsoft's venture fund.
Even so, Microsoft said that as a result of the probe it decided to exit the business of investing in facial recognition startups altogether.
"For Microsoft, the audit process reinforced the challenges of being a minority investor in a company that sells sensitive technology, since such investments do not generally allow for the level of oversight or control that Microsoft exercises over the use of its own technology," Microsoft and AnyVision said in a joint statement posted on M12's website.
Microsoft did not have a timeline to share for when the divestment will occur and who will buy its stake, a spokesman said. It was not immediately clear if other M12 investments were impacted by the policy change.
AnyVision did not immediately comment.
While Microsoft has turned down some facial recognition sales on human rights grounds, such as declining a deal for the capital city of a country that nonprofit Freedom House said was not free, it continues to develop the software for other commercial and public sector uses.
Microsoft said there was no change to its internal work on facial recognition.
(Reporting by Jeffrey Dastin in San Francisco and Munsif Vengattil in Bengaluru; Editing by David Gregorio and Leslie Adler)
Apple's factories are running, but suppliers wary about iPhone demand – Reuters
(Reuters) – As China reopens its economy after months of lockdown, Apple Inc's (AAPL.O) iPhone factories are largely up and running. But with the coronavirus pandemic spreading across the world, the urgent question for the company is how many buyers there will be both for current models and the new slate of phones expected in the fall.
FILE PHOTO: People wearing protective masks wait for checking their temperature in an Apple Store, in Shanghai, China, as the country is hit by an outbreak of the novel coronavirus, February 21, 2020. REUTERS/Aly Song/File Photo
A senior official at one of Apple's major contract assemblers said Apple's orders for the quarter ending in March are likely to drop 18% compared with the previous year. The production ramp-up for new phones that work with next-generation 5G networks has been postponed, this person said, though it is still possible the 5G phones could launch as scheduled in the fall.
"No one is talking about manpower or material shortage (in China) anymore. Now everyone is looking at whether demand from U.S. and Europe could keep up," said the person, who has direct knowledge of the matter. "The focus now is the demand from consumers in the U.S. and Europe."
One of Apple's key display suppliers is preparing for a similar level of contraction, according to a person familiar the matter. The company had anticipated shipping 70 million iPhone displays this year, but is now considering lowering that target by more than 17% to 58 million units.
The company is also planning to reduce the workforce at its Apple-designated production lines in its Vietnam factory, where displays are assembled before heading to China to be put into phones, this person said.
Apple declined to comment for this story.
Earlier this month, the company closed retail stores around the world even as it began to reopen outlets in China. With much of Europe and the United States on lockdown and unemployment soaring globally, there is little clarity on when demand might return.
The company could also yet face further supply chain problems as countries including Malaysia and Vietnam impose new restrictions to combat the coronavirus.
"Things are changing on a day by day basis due to supply chain disruptions, so it is difficult to craft any meaningful comment at the moment about both supply and demand," said an official at one supplier in Malaysia.
FOGGY DEMAND OUTLOOK
In February, Apple retracted its sales forecast for the quarter ended in March without giving a new one. Shares have dropped more than 15% since the start of the year.
"Our base case scenario assumes a shock to June quarter demand with steadily improving results" in the second half of the year rather than a "V-shaped" recovery, Canaccord Genuity analyst Michael Walkley wrote in a note to investors on March 18.
Taipei-based technology analyst Arthur Liao of Fubon Research cut iPhone shipment forecasts for this year's first quarter to 35 million units, down 17% from 41 million units a year ago. The firm lowered total iPhone shipment forecasts for 2020 to 198 million, down from an earlier forecast of 204 million.
In the United States, at least, consumers themselves seem uncertain whether they will resume spending. In a survey of more than 2,600 U.S. adults by Civis Analytics conducted March 18-20, more than half of respondents said they planned to spend about the same on consumer electronics as before the virus outbreak if the situation is contained in the coming weeks.
But if the situation worsens, the respondents were evenly split, with roughly one-third each saying they would spend less, the same or more on consumer electronics when conditions returned to normal.
Such ambiguity has made it hard for Apple suppliers to gauge how 2020 will play out.
One maker of a sensor for the iPhone said the company continues to produce and ship parts for Apple devices and that this year's first quarter ending in March was better than last year, with the second quarter also likely be higher volume than the year before.
"We were given a forecast for this quarter before the pandemic, about a month ago," a person familiar with the situation at the sensor supplier said last week. "And now we are still producing as per the forecast given to us."
(Corrects paragraph 10 to show that Apple retracted its guidance in February, not January)
Reporting by Yimou Lee in Taipei, Heekyong Yang in Seoul, Krishna N. Das in Kuala Lumpur and Stephen Nellis in San Francisco; Editing by Jonathan Weber and Matthew Lewis