Orillia artist 'keeping it together' amid pandemic through his art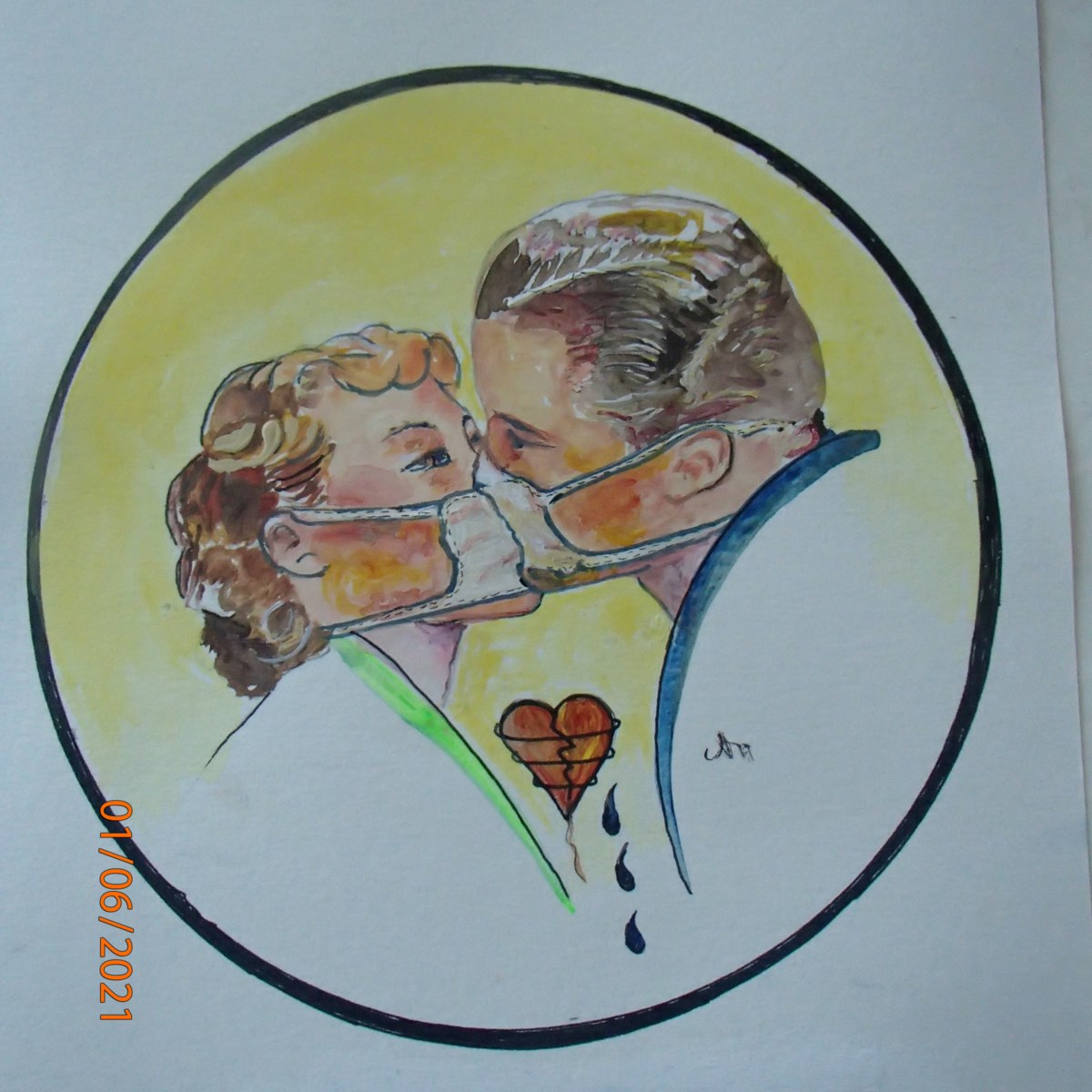 Hello Orillia and welcome to Lockdown 2.0…or is it 3.0? Or 4.0? I have lost count.
Regardless, this latest lockdown is not good news for our creatives and anything they have been trying to do in 2021, so far. In-person events and gatherings are cancelled until at least February, and we are told to stay home. Period. I predict lots of art being made in this time of being inside!
Local artist Jimi McKee is one who has not been resting on his laurels, despite being an artist for over 50 years. McKee was born and grew up in Toronto, attending St. Michael's College School. He had and has many interests, including sports cars, boats, fishing, art, and music.
In 1995, McKee acquired a collection of 218 native totem poles, which he then restored. He figured that all the prominent hotels in Canada would want to display these in their lobbies, but, sadly, the hotels weren't interested.
Luckily, a friend of his was having an antique show in Port Carling, and let him have some space to set up the totem poles for sale. The totem poles were a huge hit with the Muskoka crowd, and McKee was able to sell them all that day!
McKee and friend Wayne Hill went on to make 225 more totems, for families, neighbourhoods, and institutions such as the Orillia Opera House, the Hospital for Crippled Children in Toronto, and others.
McKee's art doesn't stop at totems. He paints and does metal sculptural work as well as restoring antique cars. And for 50 years, he went down to the Florida Keys each winter and worked as a commercial fisherman.
Hurricane Irma wiped out McKee's place in the Keys, but he still goes to Florida each year, as his 1890 house here in Canada isn't the most comfortable in the winter. This year, getting down to Fort Myers Beach in Florida was more challenging, with having to ship his truck down, and flying down being the only option.
He usually shows work in a couple of galleries in Florida, but COVID-19 squashed that opportunity this year. With the virus on the rampage down there, bars and restaurants still open, hospitals overflowing, and masks not mandatory, as McKee says, "…we have to be extremely vigilant in our choices of what we do."
So, he's been painting a lot in his lanai, and finished these three paintings, pictured, in the last three weeks. Upcoming, he looks forward to getting back to his home on Lake Simcoe when the weather improves, and being in the Images Thanksgiving Tour this fall (fingers crossed!)
The Orillia Museum of Art and History's online store is open, and its QuarARTine online art auction is ongoing, and can be found here. These are smaller works of art that can be purchased very reasonably, and help support the museum during these pandemic closures. Bid if you can!
Creative Nomad Studios is offering an At Home Art Kit and lessons for kids, on Jan. 18. For lots more information and to sign up, click here.
If you would like to support your local creatives, reach out on Facebook or Instagram about websites, or curbside pick up. Some local galleries are snapping photos of work available and posting it on social media, so check it out there as well.
We will get through this, but it's definitely going to be a long winter inside. Make it better by purchasing some unique local art to beautify your home.
Take care and stay safe!Send your arts news to annaproctor111@gmail.com by Tuesday at noon to be included in this column.
Source: – OrilliaMatters
In Conversation With French Art Gallery Owner, Nathalie Obadia – Forbes
Nathalie Obadia, founder of her eponymous gallery with spaces in Paris and Brussels representing artists such as Fiona Rae, Laure Prouvost, Benoît Maire, Valérie Belin, Fabrice Hyber, Roland Flexner, Lorna Simpson, Sarkis, Manuel Ocampo, Wang Keping and Xu Zhen, discusses the pros and cons of online art fairs.
During the age of COVID-19, do you believe we'll see more online art fairs worldwide in the future?
Online fairs were very important last year, but we already feel a weariness. Collectors do not visit all online viewing rooms. Some collectors said they are already tired of it. Since the '60s, fairs and their success rely on the possibility to gather galleries, collectors, curators, press and artists. Nothing will change the physical perception of a work and meeting all the different actors of the art world. If in 2021, international art fairs cannot be organized, there will be less online visits. Nevertheless, it will strengthen local business in galleries in New York, Paris and London.
How has the pandemic and subsequent lockdowns worldwide affected the way in which you support your artists, collectors, curators and visitors, instituting new online content?
Until now and since March, we are lucky as this period went well. We sold several artworks online and at the gallery thanks to loyal collectors. We will have to adapt to a longer, and therefore structural change: less travels, less art fairs, less exhibitions of non-European artists, as they cannot come to France. We will focus on artists living in Europe.
What was the percentage of your online sales in 2019 versus 2020?
Our online sales grew by 30 % in 2020 compared to 2019.
Will you continue to participate in as many art fairs as before (whether physical or digital), or reduce the number?
Of course we will participate in fewer art fairs in 2021, as fewer art fairs will occur. Nevertheless, we will work on the French and Belgian markets, which are stronger than people are used to admitting. We will participate in international and strategic art fairs if they aren't canceled, such as Art Basel Hong Kong, Art Basel Miami and more. Moreover, we will participate for the first time at Asia Now, which is a small and specialized fair in Paris that takes place the same week as FIAC contemporary art fair.
Why did you decide to participate in the physical edition of Art Paris 2020 last September, after the fair had been postponed then canceled?
Nothing will replace a meeting at a booth and a collector looking at an artwork. Nothing replaces an exchange, a spontaneous discussion in front of a work or around art. It is also an opportunity to meet many people that we have not seen for months. We were very happy about Art Paris, which was a test. We learned to work wearing a mask for 10 hours and to recognize our collectors despite that. We concluded more than 20 sales, mostly to French collectors. That is a good sign and means that we have collectors in France despite what we usually hear. A third of our sales were made to new collectors.
How has your vision of the future of the art world changed? Does COVID-19 spell the end of massive physical art fairs, or do you believe that they will be able to survive now and in the future and remain relevant?
Already before the pandemic, there was a sign of the system of fairs running out of steam: too many, too large. On one hand, we saw the big global international fairs like the three Art Basels, the three Friezes and the FIAC being organized, and already the energies of some of these big fairs were starting to run out because too many exhibitors put forward globalized international art. On the other hand, smaller boutique fairs like Art Genève, or more specialized like African art in 1-54, are becoming more interesting and will now perhaps be those that will be possible to organize and that will have more visitors.
Works in group show at London art gallery examine year of pandemic – London Free Press (Blogs)
Article content
A new exhibition at a city art gallery features works by more than 20 London-area artists exploring their experiences during the pandemic.
Westland Gallery is hosting the annual gallery artists' group exhibition until Feb. 13 that includes works by artists who will be featured at the gallery this year.
Artists in the exhibition include Catherine Morrisey, Erica Dornbusch, Donna Andreychuk, Johnnene Maddison, Paul Lambert, Jane Roy, Carol Finkbeiner Thomas, Kim Harrison, Sheila Davis, Lisa Johnson, Denise Antaya, Andrew Sookrah, Brent Schreiber, Dana Cowie, Sharon Barr, Pat Gibson, Geoff Farnsworth, Eleanor Lowden, Jeanette Obbink and Jill Price.
"This year we encouraged our artists to submit artwork that reflected on their experiences during 2020," said Danielle Hoevenaars, the gallery's associate director.
"The artistic responses we received are as unique as each individual experience of this unprecedented year has been. Contrasting themes play a big role in this exhibition: loss of public spaces alongside reflections of the home, feelings of isolation alongside the pursuit of meaning, happiness and justice."
Cape Breton woman's COVID-19 inspired public art show features face masks and personal sentiments – TheChronicleHerald.ca


SYDNEY MINES, N.S. —
Bailee Higgins hopes her public art project will help promote an important public health measure while connecting people in the community.
I Wear A Mask For Sydney Mines is a series of digital portraits of people who live or work in Sydney Mines wearing masks, which are designed to reflect their personalities. Included with each portrait is a comment from the subject about why they wear a face mask or a little about their experience during the COVID-19 pandemic.
"It's a project that's meant to bring people together since we can't get physically together," said Higgins, who is in the art education program at the Nova Scotia College of Art and Design in Halifax.
"And it's a project that can encourage people to wear a face mask as a way to help protect everyone during the pandemic, which I think is an important message."
Created for a public art class Higgins is taking at NSCAD University, the Sydney Mines native received a Rising Youth grant so she could continue the project until March 1.
During the last week of February, she is planning a virtual livestreaming show of all the portraits she's completed to this point. But the artist, who has a bachelor of fine arts degree from Mount Allison University in Sackville, N.B., plans to continue doing portraits until the end of the pandemic.
"I want to get as many people as possible involved so we can get as many people's experiences included," she said.
POWERFUL MESSAGES
One participant who is a COVID-19 survivor living off-island wrote a statement that Higgins calls "powerful."
In it, the woman said her health will never be the same again and that she wants to live in a world where people care about protecting people around them.
"Our cases have been pretty low here. So hearing from someone who has had it and is still suffering from the lasting effects is really powerful," Higgins said.
Alex Cormier saw Higgins's Facebook post looking for subjects for the I Wear A Mask series and the mother of two said she wanted to participate in the project because protecting others is a message that hits close to home.
"It's affected our family directly, the COVID pandemic. My mother had COVID and now she suffers long-term effects from COVID. Her lungs are permanently damaged," Cormier said about her decision to be a model in the series.
"If by helping promote the message that face masks work, if we can protect anyone else's mother or grandmother or father or someone else in the community by wearing masks, then we should do what we can to get that message across."
Each digital portrait takes about an hour and a half to complete and is done on an iPad with a special pen which allows the artist to draw right on the screen.
To date, Higgins has completed 40 portraits and hopes to finish at least 100 by the time the pandemic is over.
Anyone interested in being a model in the I Wear A Mask For Sydney Mines series can contact Higgins by email at [email protected], through Facebook messenger on the project page or by phone at 902-578-9444.
Nicole Sullivan is an education, enterprise and diversity reporter for the Cape Breton Post.
RELATED: