Ottawa Art Gallery, Diefenbunker Museum reopen to visitors – CBC.ca
The Ottawa Art Gallery and the Diefenbunker Museum reopened to visitors Wednesday for the first time since the COVID-19 shutdown began.
"[We're] very, very happy that after 117 days we're welcoming everyone back," Alexandra Badzak, director and CEO for the Ottawa Art Gallery, told CBC's Ottawa Morning on Wednesday.
The downtown gallery is reopening to front-line workers on Wednesday and to the general public on Thursday.
Gallery hours have changed in order to give staff time to clean and disinfect the building, Badzak said. The OAG is now open Wednesday to Sunday, from 10 a.m. to 6 p.m.
Older adults and people who are immunocompromised will have priority access to the gallery for the first hour each day, from 10 a.m. to 11 a.m.
I was excited to go for a tour of the Ottawa Art Gallery this morning and see first hand the measures they have taken to keep us safe. Thanks Alex for inviting me! Enjoy the Art 2 metres apart! <a href="https://t.co/kcC7BGGQV2″>pic.twitter.com/kcC7BGGQV2</a>

&mdash;@JimWatsonOttawa
"We've put in a whole bunch of measures that are going to keep our public really safe," Badzak said.
The gallery has installed "fun and creative" signals throughout to remind visitors to stay two metres apart, but otherwise they'll have freedom to roam.
"We didn't want to do a whole bunch of arrows everywhere," Badzak said. "We wanted people to be able to explore."
Both the OAG and the Diefenbunker Museum in Carp are asking visitors to register or buy tickets before they arrive.
At the OAG, people can book a time slot online or by phone. At the Diefenbunker, visitors are asked to purchase tickets online before they arrive, but they won't be required to use them at any particular time.
If the Diefenbunker gets too busy, the museum's website says visitors may have to wait outside.
Visitors to both venues are required to wear cloth masks, which are now mandatory in all public, indoor settings throughout Ottawa and the surrounding area.
Senior curator Michelle Gewurtz leaves Ottawa Art Gallery for position in Peel Region – Ottawa Citizen
Article content
The former senior curator of the Ottawa Art Gallery has left that institution for a new position in Peel Region.
Michelle Gewurtz officially assumes her duties as Supervisor of Arts and Culture for the Peel Art Gallery, Museum and Archives as of Aug. 17.
Gewurtz had also been an adjunct research professor at Carleton University and served in "curatorial, educational outreach, and advisory capacities" at SAW Gallery in Ottawa, A Space Gallery and Gallery 44 in Toronto, the Richmond Art Gallery in British Columbia, Kniznick Gallery in Waltham, Mass., and The Freud Museum in London.
"I'm delighted to join PAMA in the role of Supervisor of Arts and Culture," Gewurtz said in a media release issued by the gallery based in Brampton, Ont. "I look forward to working with PAMA's team to present new ideas and develop community-oriented programming. Together, we'll enhance the art gallery and museum as a central cultural meeting place for the diverse communities of Peel Region and beyond."
Catherine Sinclair is now listed as deputy director and chief curator of the Ottawa Art Gallery.
Local artist Kathryn Durst to create public art mural in downtown Peterborough – kawarthaNOW.com
Peterborough artist Kathryn Durst has been chosen to create a public art mural in downtown Peterborough commissioned by the First Friday Ptbo Art Crawl.
The mural will cover the two interior walls of the alleyway of the Commerce Building, at the northwest corner of Water and Hunter streets, which is home to the studios of many of the artists who have participated in the monthly art craw (currently on hiatus due to the pandemic).
The mural project is supported by the Peterborough Downtown Business Improvement Area (DBIA) and Ashburnham Realty, which owns the Commerce Building.
Advertisement – story continues below
The First Friday Ptbo mural selection committee reviewed proposals from 20 local artists before selecting Durst's proposal for the mural.
Born in Peterborough, Durst graduated from St. Peter Secondary School and then studied animation at Sheridan College. She was an intern at Pixar Animation Studios and worked at several animation studios before launching a career as an illustrator for children's books.
She achieved international media coverage for illustrating the New York Times best-selling children's book Hey Grandude!, written by Sir Paul McCartney and published by Penguin Random House in 2019.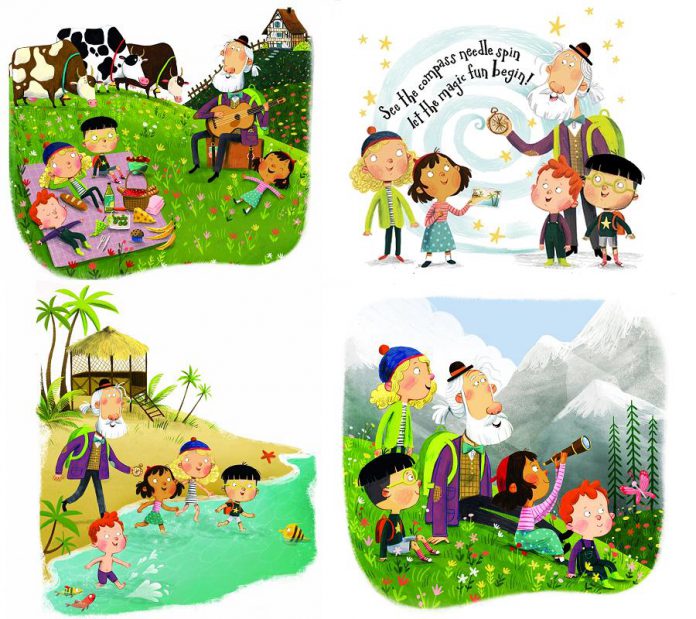 The 30-year-old Durst lives in Peterborough with her dog Chili.
To see samples of her art, visit her website at www.kathryndurst.com or her Instagram account @kathryndurst.
Durst receives a $3,000 award to create the mural, which must be completed using exterior latex paint only by the end of August.
When the mural is completed, First Friday Ptbo will be host a mural launch in September (date to be confirmed).
Bringing dance creativity to summer art program – Weyburn Review
Dance instructors Jessica Dixon and Faith Bratrud brought the creativity of dance to the City of Weyburn's summer art program on Wednesday. Jessica taught the group a dance routine, then she had them gather around and each child demonstrated their own dance move which everyone else had to try to copy.