Ottawa's top doctor backing business closures – CBC.ca
Ottawa's medical officer of health "absolutely" supports the province's decision to close down bars, restaurants, gyms and theatres for 28 days, in light of the fact that the capital currently has the highest rate of COVID-19 transmission in the province.
During an hours-long coronavirus update Wednesday, Dr. Vera Etches reminded Ottawa city council that two weeks ago, she asked people to go to bars and restaurants only with members of their households.
"That was something that I was advocating for two weeks ago because of the harm potentially to businesses," said Etches. "The situation hasn't got any better over those two weeks. It's gotten worse, and it's getting worse faster, and I absolutely support the provincial decision to close bars and restaurants and gyms where there's close contact."
As of last Friday, the city had 62 cases of COVID-19 per 100,000 residents, while Toronto had 59 cases per 100,000, making Ottawa the city with the highest rate of infection, according to the province.
Hospitalizations have doubled in less than three weeks, while a study of wastewater shows that the virus in the community is growing "exponentially."
Businesses demand evidence
Small businesses in Ottawa have called on the province to provide more evidence for why it shut down bars, restaurants, gyms and theatres in this city, when there have been no declared outbreaks in those sectors.
However, Etches said Ottawa Public Health (OPH) has seen "transmission within social groups that have used restaurants" and "clear transmission among employees within restaurants."
She said the fact that there have been no official outbreaks, defined as two or more linked, lab-confirmed COVID-19 cases within a workplace, doesn't necessarily mean transmission isn't occurring in those venues. She said while it's likely not the fault of the businesses themselves, those are places where people from different households are nevertheless mixing, increasing the likelihood of transmission.
Coun. Eli El-Chantiry moved a motion Wednesday to support a plea from local businesses for a justification from the province for the closures put in place last Friday. The motion was adopted unanimously.
However, Ottawa-area MPP Lisa MacLeod, the minister of heritage, sports, tourism and culture industries, told reporters Wednesday morning that the province would not be reversing the closures.
Premier Eschews Media Questions in House – VOCM
Premier Andrew Furey refused to take questions from the media today regarding two key issues facing the government.
The media was seeking clarification on the status of government's talks surrounding the merger of Husky Energy with rival Cenovus, as well as the status of embattled MHA Perry Trimper.
The premier did take questions in the House but when the time came to face the media afterward, his office said he would not be available.
The Premier spoke with Innu Nation Grand Chief Etienne Rich earlier today after Rich called for Trimper to be removed from the Liberal caucus over controversial comments he made regarding Indigenous people in Labrador.
---
The premier's office issued this written statement late this afternoon:
"I spoke with Innu Nation Grand Chief Etienne Rich this morning, and we agreed that we have a good dialogue we plan to maintain. We continued a conversation about moving forward with cultural sensitivity training throughout government."
---
No reason was immediately given for the premier's no-show, which Tory Leader Ches Crosbie called disgraceful, given the importance of the Husky merger and the highly-charged and sensitive issue of Innu relations with government.
It was left to Energy Minister Andrew Parsons to field questions regarding the Husky-Cenovus merger, noting a call with executives of the newly formed company is still planned for this week.
Trimper, meanwhile, says he has no further comment, adding he's looking forward to continuing to assist his constituents until 'the writ is dropped' on the next election.
Microsoft beats quarterly revenue estimates, shares rise – Investing.com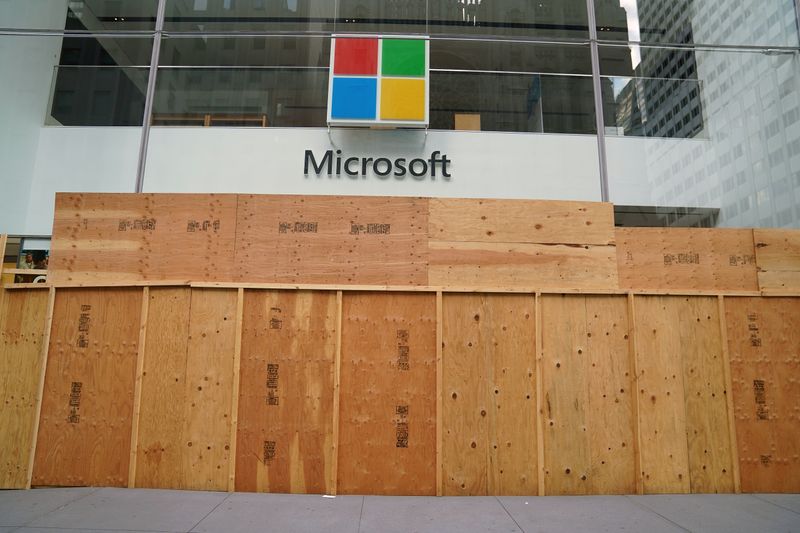 © Reuters. The Microsoft store is pictured in the Manhattan borough of New York City
By Stephen Nellis and Akanksha Rana
(Reuters) – Microsoft Corp (O:) beat Wall Street estimates for quarterly revenue and profit on Tuesday, powered by a slight uptick in growth in its flagship cloud computing business as the software maker continued to benefit from a global shift to working from home and online learning.
The pandemic has accelerated a move already under way toward cloud-based computing, helping companies such as Microsoft, Amazon.com Inc's (O:) cloud unit and Alphabet Inc's (O:) Google Cloud. For Microsoft, it has also boosted demand for its Windows operating systems for laptops and its Xbox gaming services as families work, learn and play from home, leading to profit that was about 30% above expectations.
"It was another healthy quarter, with continued demand for remote offerings continuing to power results," Microsoft Chief Financial Officer Amy Hood told Reuters in an interview.
Revenue growth for Azure, the company's flagship cloud computing business, was 48%, up from 47% in the previous quarter and ahead of Wall Street estimates of 43.45%, according to consensus data from Visible Alpha. Hood said the rise was driven by "an increase in larger, long-term Azure contracts."
GRAPHIC: Microsoft Azure revenue growth – https://graphics.reuters.com/MICROSOFT-RESULTS/xegvblbbnvq/chart.png
Microsoft has shifted to selling many of its products via recurring subscriptions, which investors like because it generates stable revenue flows. The value of Microsoft's future recurring revenue contracts with big business customers was flat from the previous quarter and its proportion of one-time deals rose slightly after two quarters of growth.
Microsoft bundles together several sets of software and services such as Office and Azure into a "commercial cloud" metric that investors watch closely to gauge the company's progress in selling to large businesses. Microsoft's commercial cloud gross margins – a measure of the profitability of its sales to large businesses – was 71%, compared with 66% a year earlier.
Hood said some of the rise was explained by a change in accounting rules for Microsoft's servers, but the better margins were also driven by sales of lucrative software such as Dynamics 365, which competes with Salesforce.com (N:).
"That Dynamics 365 revenue growth of 38% was better than we thought and quite good," Hood told Reuters.
Microsoft said 93% of commercial cloud products were sold as subscriptions, compared with 94% the quarter before. The company's remaining performance obligations – a measure of how much revenue has been booked for the future in sales contracts but not yet formally recognized as revenue – stayed flat at $107 billion in the fiscal first quarter but was up from $86 billion a year prior.
Microsoft said revenue in its "Intelligent Cloud" segment rose 20% to $13 billion in the first quarter, with 48% growth in Azure. Analysts had expected revenue of $12.7 billion, according to IBES data from Refinitiv.
Revenue from its personal computing division, which includes Windows software and Xbox gaming consoles, rose 6% to $11.8 billion.
The company's revenue rose 12% to $37.2 billion in the quarter ended Sept. 30, beating analysts' estimates of $35.72 billion.
"Microsoft's strong earnings beat shows its market share in cloud computing is expanding while its legacy software products such as Windows and Office are in great demand during the pandemic," said Haris Anwar, senior analyst at Investing.com.
Net income rose to $13.89 billion, or $1.82 per share, from $10.68 billion, or $1.38 per share, a year earlier. Analysts had expected a profit of $1.54 per share.
Microsoft shares were down 0.2% at $212.77 in after-hours trading after the results, although trading is often relatively muted until after Microsoft executives give financial guidance. The company will hold a conference call later on Tuesday.
New COVID-19 case reported in Nova Scotia – CBC.ca
Nova Scotia reported one new case of COVID-19 Tuesday, giving the province six active cases.
The province said the new case is in the Central Zone and the person had travelled outside of Atlantic Canada. The person has been self-isolating, the province said.
Nova Scotia Health Authority labs completed 610 Nova Scotia tests on Monday. So far, the province has recorded 109,462 negative test results, 1,102 positive cases and 65 deaths. No one is currently in hospital related to the virus.
The latest numbers from around the Atlantic bubble are:
P.E.I. reported no new cases and one active case Tuesday.
Newfoundland and Labrador reported no new cases and 4 active cases Tuesday.
New Brunswick reported 3 new cases and 60 active cases on Monday.
Anyone with one of the following symptoms should visit the COVID-19 self-assessment website or call 811:
Fever.
Cough or worsening of a previous cough.
Anyone with two or more of the following symptoms is also asked to visit the website or call 811:
Sore throat.
Headache.
Shortness of breath.
Runny nose.
MORE TOP STORIES