People Space: Comings and goings at Slate, AY, Oxford… – Real Estate News EXchange
Slate Retail REIT and Slate Office REIT both named new senior executives during the past few days. At Slate Retail (SRT-UN-T), Andrew Agatep was promoted to chief financial officer and David Dunn to chief operating officer. Slate Office REIT named Michael Sheehan as its new CFO.
Agatep joined Slate Retail REIT in 2015 and most recently served as a vice-president and controller overseeing financial reporting, treasury and risk management. Prior to joining Slate, Agatep worked at BHP Billiton in Australia and PricewaterhouseCoopers.
Dunn also joined Slate Retail REIT in 2015 and most recently served as vice-president, asset management. He previously worked at CBRE.
The REIT is an owner and operator of U.S. grocery-anchored real estate.
At Slate Office REIT (SOT-UN-T), Sheehan had previously overseen financial reporting, treasury and risk management as director and controller. Prior to joining Slate, he worked at Ernst & Young LLP.
Both of the CFO positions were previously held by Robert Armstrong. He will continue as a member of the senior leadership team of Slate Asset Management, supporting the REITs and other Slate business verticals.
McAllan retires from Oxford Properties
The retirement of Andrew McAllan after three decades of service truly marks the end of an era at Oxford Properties.
The former head of real estate management "was feted by his friends, colleagues, current and former presidents of Oxford Properties" said Oxford VP John Peets in a LinkedIn post.
"I post on behalf of thousands who celebrate your contributions to Oxford and the real estate industry, we will miss you dearly. You had a legendary career few will ever repeat."
At Oxford, McAllan rose from managing director and senior vice-president to head of real estate management, a role he maintained for 23 years. He oversaw a 50-million-square-foot portfolio which included office, retail, residential units, industrial and hotels and led 1,300 employees in eight cities.
During his career, McAllan managed the integration of more than 7.7 million square feet of acquisitions.
Lacheur heads AY's Canadian RE management
Neil Lacheur has joined Avison Young as principal and executive vice-president of real estate management services in Canada. In this newly created role, Lacheur leads the strategy to grow AY's property management business across the country.
"This is an exciting time to join Avison Young as it continues its ambitious growth trajectory in Canada and globally," Lacheur said in a release.
Lacheur joins Avison Young from QuadReal Property Group, where he had been since its founding, leading the firm's customer service strategy and culture. He holds a degree in Economics from University of Victoria and is a LEED-GA.
Hughes joins Quadreal board
QuadReal Property Group has appointed Alastair Hughes to its board of directors. Hughes has over 30 years of real estate experience in multiple international markets.
He joins QuadReal's board after serving on the global executive board at JLL, where he held various executive management positions including CEO of JLL Asia Pacific and CEO of JLL Europe, Middle East and Africa.
"Alastair is a globally recognized leader and board member," said Thomas Garbutt, QuadReal's board chair, in a release. "We welcome the unparalleled perspective he will bring to complement our board experience and to guide our dedicated leadership team."
QuadReal's $37.6-billion portfolio includes $12 billion in international investments.
Hughes holds a bachelor in economics from Heriot-Watt University and a diploma in land economy from the University of Aberdeen.
Goudron takes helm at Parq Vancouver
Peter Goudron has taken on the roles of president and CEO of Parq Vancouver. Goudron brings more than 25 years of gaming, operations management and leadership experience to the position and replaces Joe Brunini.
Most recently he was executive director at the B.C. Gaming Industry Association. Goudron began his career at the Pacific National Exhibition and then held executive roles at Great Canadian Gaming Corporation.
The downtown Vancouver entertainment and gaming complex features two luxury hotels, the downtown's only casino, restaurants and lounges, park space and more.
Darling Colliers' new Edmonton managing director
Richard Darling has joined Colliers International as managing director of its Edmonton office.
Darling joins Colliers from Acklands-Grainger, where during a two-decade career he led a team responsible for growing $600 million in annual sales and presided over 300 national accounts.
"Richard brings a fresh perspective to strategic leadership, and a proven history of motivating high-performance teams," said Scott Addison, president, brokerage at Colliers Canada.
Darling will lead the Edmonton team driving business development and raising the profile of Colliers in the local market.
Lippay named CEO of FirstShot
FirstShot Fund Inc. has appointed Jamie Lippay as its CEO. Lippay previously built a highly successful enterprise sales force automation software and consulting business focused on the U.S. alcoholic beverage distribution industry.
His company was listed on Profit Magazine's Fastest Growing Companies in Canada many times and received the Microsoft Blue Sky Innovation award for ground-breaking software.
Lippay, a CPA with 25 years of business experience, is a graduate of the University of Toronto commerce program and received an MBA from the Schulich School of Business.
FirstShot is considering acquisitions of distressed and vacant mall properties in Canada and the U.S. to be repurposed for destination sites.
CIM International Group new CFO
Real estate and resources company CIM International Group appointed Pascal Attard as CFO to replace Edward Yang, who had filled the role on an interim basis.
Attard was the CFO of Delivra Corp. until November 2019, when he guided that company through the sale of its business. Attard also served as vice-president of finance and corporate controller.
Prior to that, Attard was the corporate controller for Red Tiger Mining Inc., after rising through the ranks for six years at McGovern Hurley LLP.
He holds a bachelor of accountancy, with honours, from Brock University and is both a CPA and CA.
In addition, Toronto-based CIM said Steven Zhang replaced Yang as its corporate secretary.
Partington heads Gallagher's Canadian operations
International insurance firm Gallagher named Dave Partington CEO of its Canadian retail property/casualty brokerage operations.
Partington joined Gallagher in 2012, initially leading regional offices in the U.K. In 2014, he relocated to the U.S. as president of the small business practice for Gallagher's retail P/C brokerage operations.
Missaghie joins Inovalis board
Inovalis Real Estate Investment Trust (INO-UN-T) has placed Michael Missaghie on its board as an independent trustee.
Missaghie is president and CEO of Arch Corporation and portfolio manager, Anson Advisors Inc. responsible for management of the Arch Absolute Return Real Estate Fund.
Marleau resigns from Delma board
Hubert Marleau recently resigned from the board of directors of Montreal-based real estate firm Delma Group (DLMA-CN). Marleau was instrumental in achieving the public listing of the company's RTO.
"Mr. Marleau is among the founders of this company and has contributed to what it has become today and the foundation of tomorrow's growth," said Henri Petit, Delma's CEO, in a release.
B.C. real estate prices dip for fourth straight month – Business in Vancouver
Compared to last summer, prices are still up 3.6% in B.C. | Photo via Artie Photography (Artie Ng) / Getty Images
B.C. real estate prices have fallen for a fourth straight month, shaving about 4% off their value from June, transaction statistics show.
Average home sale prices across the province are now down 15.7% in July — sitting at about $920,000 — as compared to the market's latest peak in March, when the average price was nearly $1.1 million.
Prices in the Fraser Valley have fallen the most of any region in B.C. since March — 20.5%, as the average unit now sells for just over $1 million.
"High mortgage rates continued to lower sales activity in July," said BC Real Estate Association chief economist Brendon Ogmundson Thursday in his monthly market update for July.
"Many regions around the province have seen sales slip to levels well below normal for this time of year," added Ogmundson.
Compared to last summer, prices are still up 3.6% in B.C.; however, prices are trending to a point where they will soon see a year-over-year decline, after peaking at 24.9% gains in March.
Active July listings of 31,386 remain below the estimated 38,000 needed for long-term market balance. Last July there were 24,473 listings.
Sales volume is down 42% year over year, from $8.6 billion worth of transactions in July 2021 to $5.2 billion last month. More properties sold in B.C. last January (6,138) than they did in July (5,572).
Chilliwack and the Fraser Valley saw the biggest drops in year-over-year sales, with declines of 57% and 50%, respectively.
The association noted that as the pace of sales activity declines below normal levels, inventory is accumulating.
"Inventories remain quite low, but the slow pace of sales has tipped some markets into balanced or even buyers' market territory," stated the association.
In an effort to curb inflation, sitting at 8.1% in June, the Bank of Canada has increased interest rates from 0.25% in January to 2.5% in July and another rate hike is expected Sept. 7. The bank has stated it is targeting a 3% or 3.25% rate by the end of the year, which will further erode homebuyers' qualifying levels.
Real estate downturn could be good news for Sault home buyers – SooToday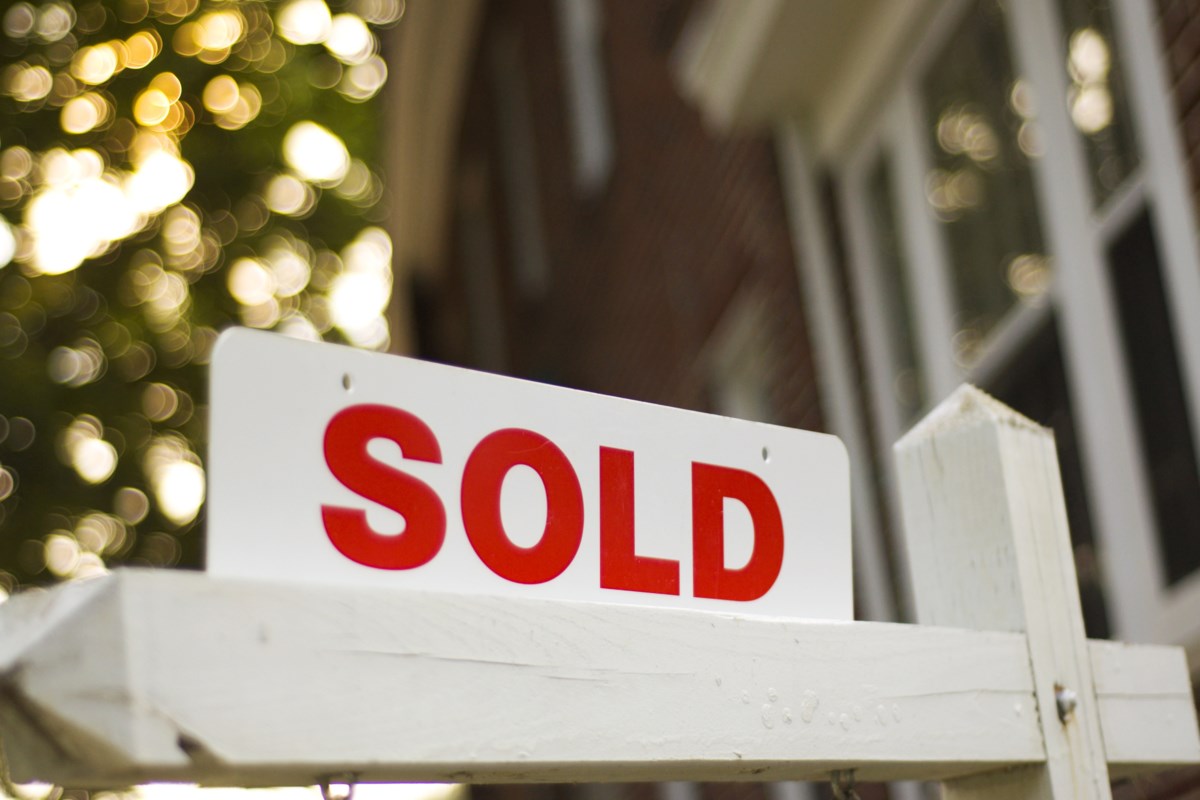 RBC – Canada's largest bank – foresees the country's real estate bubble popping with a big downturn in both sales and prices.
With inflation pushing lending rates up, those rising rates are expected to cool down the real estate market.
As reported earlier, local home sales were down significantly in July as compared to July 2021 but the average price was still up at $320,314 – a 20.3 per cent increase from last year.
While RBC forecasts the overnight rate will climb to 3.25 per cent by October, the bank and real estate industry experts see the anticipated downturn in prices as a correction and a welcome change.
"What we're experiencing in Sault Ste. Marie is more of a market stability, which to me is a good thing because it's allowing buyers to have a little more power to buy a home," said Jonathan Mogg, Sault Ste. Marie Real Estate Board president.
That could turn out to be good news for first time home buyers in the Sault, some of whom lamented back in March that out of town home buyers, many from southern Ontario, were paying big money for homes in the Sault, those buyers either GTA residents eager to relocate away from the hustle and bustle or absentee buyers purchasing Sault homes and renting them out.
That trend squeezed out many Sault residents desiring to buy a house in their hometown.
"That seems to be cooling off," Mogg told SooToday.
"Big time investors will always be in play, people who are in southern Ontario and decide that they want to invest in housing but can't afford that market so it's been pushing those kinds of people up north. But we're noticing that with the interest rates going up there's a lot less of those types of investors entering the local market, so that's positive."
"It's kind of hit a point where a lot of people have cooled off on the idea of investing in housing so that's good for the local people because now they're starting to have a chance at buying a home again," Mogg said.
"What I'm noticing is that a lot of buyers who were previously disillusioned are starting to come out of the woodwork and getting excited about trying to buy a house again. That's awesome because these are people who had tried previously and the market was just too hot for them at the time. Now they're seeing things cool off a little bit so it's spurring them to say 'okay, now's the time I'm actually going to buy a house, this is it.'"
"It's good to see that," Mogg said.
Mogg said renting a home is still an option for those who can afford it because the average three bedroom bungalow in Sault Ste. Marie's price is approximately $320,000 – making it hard for anyone with a budget under that amount.
That can cost between $1,500 and $2,000 a month.
That's not the best option for most people, but the option is there for those who have the cash.
As far as apartment rentals are concerned, rates for two bedroom apartments in the Sault cost at least $1,300 a month.
Though realtors naturally prefer people to buy homes as opposed to renting them or renting apartments, Mogg said "it goes beyond a professional thing. Being a member of this community I want everybody to have the chance to have good quality housing."
Canada real estate market: Mortgage rates hurt Vancouver sales | CTV News – CTV News Vancouver
Properties are selling for less and staying on the market longer, recently released reports on real estate in British Columbia show.
The B.C. Real Estate Association said in a report Thursday that high mortgage rates across Canada continue to impact home sales in the province, and many regions are seeing sales below normal levels.
The BCREA reported a 42 per cent drop in sales in July, compared to the same month last year.
As sales decline, there are now 28 per cent more available homes on the market compared to a very low inventory in 2021.
The association noted the inventory is still low this year, but the slow pace of sales has tipped some regions into balanced, or even buyer-favouring, markets.
At the same time, buyers are still paying more than they were in 2021.
Data from the group HouseSigma published earlier this week showed July's median price in Metro Vancouver is now at $880,000. The BCREA had the average across the entire province at $923,449.
According to HouseSigma, the median it's seeing now is 0.9 per cent lower than the average price in June of this year, but slightly higher than in July 2021.
Looking at the last six months, the median for the region as a whole has dropped 14.4 per cent, the company said.
HouseSigma looked at specific municipalities, and found that buyers in Delta and Surrey are seeing the biggest decreases in price when comparing July to February.
According to its data, the median in Delta is down 24.7 per cent, and in Surrey, 24 per cent.
Coquitlam is the only municipality it looked at where buyers are actually paying a bit more (3.9 per cent) than they were towards the start of the year.