Phil Kessel is the NHL's unlikely Ironman
This is an excerpt from The Buzzer, which is CBC Sports' daily email newsletter. Stay up to speed on what's happening in sports by subscribing here.
Last night in San Jose, Vegas Golden Knights forward Phil Kessel played in his 990th consecutive regular-season game, breaking the NHL record set by Keith Yandle last season. Given the 35-year-old Kessel's relatively soft physique and legendarily questionable diet, his ascension to the title of NHL Ironman has to be one of the most improbable feats in hockey. But there's more to Kessel than meets the eye. In honour of his consecutive-games streak and his 400th NHL goal, which he scored last night, here are a few fun Phil facts:
He's an incredible athlete… Kessel's doughy (for a pro hockey player) 5-foot-11, 208-pound body and receding hairline belie some serious physical gifts. Before entering the NHL, the talented Wisconsinite was touted as the next great American star. He racked up 286 points in an 86-game season at the bantam level, then went on to record 51 points in 39 games as an 18-year-old freshman at the University of Minnesota in 2005-06. That same season, he beat out Russian phenom Evgeni Malkin for the world junior championship scoring title with 11 points in seven games. Scouts there called Kessel the fastest player in the tournament and raved about his shot. A few months later, the Boston Bruins drafted him fifth overall. Sixteen years later, he's one of just 12 U.S.-born players to reach the 400-goal mark.
…and not just on the hockey rink. Besides his prowess on the ice, teammates rave about Kessel's abilities in the weight room, on the golf course and even in more cardiovascularly demanding sports like basketball and soccer. "He's incredibly athletic," former teammate Blake Wheeler told Sportsnet's Kristina Rutherford. "He's the type of guy that, he's good at everything he does." By all accounts from guys who've played with him, Kessel is easy to get along with too.
The start of his pro career was marred by health problems. Here's another reason why the idea of "Phil Kessel: Ironman" once seemed so unlikely. A couple of months into his rookie season with the Bruins, Kessel underwent surgery for testicular cancer. But he returned to the lineup just a month later and played in nearly every Boston game the rest of that season and all 82 the next (perhaps an early indication of the Ironman in the making). Kessel missed a dozen games in 2008-09, after which he was traded to Toronto. His Leafs debut was delayed due to off-season shoulder surgery that caused him to miss the first 12 games. Kessel finally suited up for Toronto on Nov. 3, 2009. He hasn't missed a game since.
The Ironman streak spans nearly 13 years and four teams. Despite averaging more than 30 goals per season (including a lockout-shortened one) in his six years with the Leafs, Kessel's tenure there ended badly as his laid-back personality proved a tough fit with Toronto's tightly wound fans, media and organization. After the Leafs traded him to Pittsburgh in a salary dump during the 2015 off-season, Kessel got the last laugh by promptly winning back-to-back Stanley Cups. Sidney Crosby took the Conn Smythe Trophy as playoff MVP both years, but Kessel had a strong case in 2016 when he led the Penguins in goals (10) and points (22). He was excellent the following year too, notching eight goals and 23 points in the post-season. After Pittsburgh, Kessel spent three years in the desert (literally and metaphorically) with lowly Arizona, where he had a respectable 52 points last season. Say what you will about the Coyotes (and we have) but they helped Kessel keep his streak alive last March by allowing him to play just one shift in a game at Detroit before hopping on a chartered flight arranged by the team so he could join his longtime girlfriend for the birth of their first child. If you count playoff games, Kessel has now played in 1,071 consecutive contests. To put that in perspective, only nine per cent of current NHL players were in the league when his streak began in November 2009.
Yes, his diet could use some work. Though he just became a father about eight months ago, Kessel has carried a dad bod for a while, thanks somewhat to his notorious taste for junk food. Toronto sportswriter Steve Simmons is still getting dunked on for his long-ago accusation that Kessel was overfrequenting the city's hot dog stands (a dig that Phil deliciously trolled after winning the Cup), but there's at the very least a (popcorn) kernel of truth to that possibly apocryphal story. In an age where many pro athletes are extremely careful about what they eat, Kessel's teammates tell of a Sour Patch Kids fanatic whose dorm room at the Sochi Olympics was littered with candy wrappers and who liked to drink Coke between periods. But that propensity to pig out is a feature, not a bug, when it comes to Kessel's appeal. His Hall of Fame case may be a bit thin as he's never come close to winning a major regular-season individual award, but hockey fans can never seem to get their fill of Phil.
Netherlands, Senegal advance out of Group A after wins on final match day
Senegal's Kalidou Koulibaly, right, celebrates with teammates scoring his side's second goal during the World Cup group A soccer match between Ecuador and Senegal, at the Khalifa International Stadium in Doha, Qatar, Tuesday, Nov. 29, 2022. (Francisco Seco/AP)
AL RAYYAN, Qatar (AP) — Senegal captain Kalidou Koulibaly put his team into the last 16 of the World Cup by volleying home the winner in a 2-1 victory over Ecuador on Tuesday.
Koulibaly scored three minutes after Moises Caicedo had evened the score at 1-1.
In a must-win match for the African champions, Senegal took the lead after a first-half penalty by Ismaila Sarr. Caicedo scored his goal in the 67th.
At 1-1, Ecuador would have advanced from Group A and Senegal would have been eliminated.
The Netherlands beat Qatar 2-0 in the other match to win the group. Senegal finished second while Ecuador and Qatar were eliminated.
Senegal last advanced from the group stage at the 2002 World Cup, when the team reached the quarterfinals in its tournament debut.
Netherlands 2, Qatar 0
AL KHOR, Qatar (AP) — The Netherlands finished off the worst showing by any World Cup host nation by beating Qatar 2-0 on Tuesday.
The Dutch advanced to the round of 16 by winning Group A while the Qataris, who were already eliminated, became the first host to lose all three of its group matches at soccer's biggest event.
Cody Gakpo put the Netherlands ahead midway through the first half with his third goal in as many matches and Frenkie de Jong doubled the advantage five minutes into the second half.
The Netherlands is a three-time runner-up at the World Cup, and also finished third in 2014, while Qatar was making its tournament debut.
The Dutch failed to qualify for the 2018 World Cup.
The Netherlands finished with seven points at the top of the group. Senegal, which beat Ecuador 2-1 in the other group game, advanced in second place with six points. Ecuador was eliminated with four points and Qatar ended with zero.
The attendance at Al Bayt Stadium, which also hosted Qatar's loss to Ecuador in the tournament opener, was given as 66,784 — nearly at full capacity. There were small pockets of orange-clad Netherlands supporters, and Qatar fans behind one of the goals who chanted in unison and jumped up and down.
At one point during the second half, Qatar fans held aloft a large Palestinian flag that said "Free Palestine" on it.
In the 26th minute, Gakpo took control outside the area, dribbled forward and unleashed a powerful side-footed shot between two defenders that entered inside the right post.
Gakpo became the fourth Dutch player to score in three consecutive World Cup games after Johan Neeskens (1974), Dennis Bergkamp (1994) and Wesley Sneijder (2010). He also became only the second player to open the scoring for his team three times in the same group stage after Alessandro Altobelli for Italy in 1986.
De Jong's goal came when he sprinted forward uncontested to knock in a rebound from close range following a shot from Memphis Depay.
A possible third goal for the Netherlands by Steven Berghuis was waved off following a video review for a handball in the buildup.
Berghuis then hit the bar in added time.
While the Netherlands dominated the possession and created many more chances, Qatar did push forward on occasion and there was a nervy moment for the Dutch when goalkeeper Andries Noppert had trouble collecting a long-range shot from Ismael Mohamed after Gakpo's goal.
TOP SCORER
Gakpo drew level with France standout Kylian Mbappé and Ecuador veteran Enner Valencia atop the tournament scoring chart.
For club and country in all competitions this season, Gakpo has been involved in 35 goals in 29 appearances with 17 goals scored and 18 assists.
That should make the 23-year-old PSV Eindhoven forward the target for an expensive transfer in the upcoming months.
'We came to make history': Canada hoping to achieve more firsts at World Cup
UMM SALAL, Qatar – Even if Canada can't advance to the knockout stage, a strong finish to the World Cup will have lasting ramifications.
Thursday's game against Morocco simultaneously means nothing from a Canadian perspective, but the players know that it's imperative that they close out the tournament by achieving another first.
"We came here to the World Cup to make history," said Alphonso Davies after training on Tuesday. "First game didn't go our way, we played well but we didn't get the three points we wanted. I'm happy to put my name in the history books [versus Croatia], we showed the quality but definitely, in this third game, we want to finish with three points."
"This group has been chasing and reaching history throughout this journey," stated midfielder Jonathan Osorio. "There's a lot of records that were broken and we'll continue going on that journey."
It's vitally important that Canada doesn't close out the World Cup with a whimper. Sure, losing the first two matches and ending any hopes of reaching the knockout stage is a disappointment, as Osorio pointed out, but every casual or hardcore fan will remember this tournament a lot more fondly if it ends on a high.
"We do believe that we are good enough to pass through to the next round," said Osorio. "Unfortunately the results didn't go our way but I think we put together two pretty good performances."
In fairness to Canada, the final 25 minutes of the first half in the Croatia defeat were horrific. But they responded well after halftime until Andrej Kramaric completed his brace.
Morocco won't be an easy test, either, having drawn Croatia and beaten Belgium to line itself up for a possible appearance in the last 16.
But there's no doubt that Canada's first appearance at a men's World Cup in 36 years will be a boon for the sport.
It starts with the players. Alistair Johnston is close to joining Scottish champions Celtic, who will participate in the Champions League if it goes back-to-back in the Premiership. Ismael Kone has been linked to several clubs in Europe as well.
"Each and every guy on this team has the potential to play in the top five leagues in the world," said Davies.
"The quality we have in this team is tremendous. I feel that is definitely showing itself in their abilities on this stage."
Plus there are the future stars of tomorrow who will be even more motivated to pursue soccer as a sport having seen their heroes square off against the best in the world.
"We're hoping that the dream of the Canadian kid starts to evolve," said Osorio. "It's not a dream of making the World Cup. It's a dream of getting past the first round, getting to the semifinals, getting to the final and someday winning the World Cup, why not?"
Scoring the first goal in men's national team history at a World Cup will go a long way toward achieving that goal. A win over Morocco to cap off the first appearance in 36 years would be even greater.
From there, strong showings at the 2023 Concacaf Nations League and Gold Cup will only prepare the team for a historic World Cup at home in 2026.
World Cup Iran-US: Why Iran gave the US players flowers in 1998 – BBC
Amid harsh barbs and heated geopolitics, the last World Cup match-up between Iran and the United States began with an unlikely gesture – bouquets of white flowers.
The flowers, Iran's coach later said, were meant as a symbol of peace ahead of the 1998 showdown in France.
The latest meeting, however, went without any friendly gestures.
The previous match, held in Lyon, came 20 years after diplomatic relations between the two nations were severed as a result of the storming of the US embassy in Tehran in 1979 and subsequent 444 day hostage crisis.
Just one month before kick-off, the US State Department labelled Iran the world's "most active" state sponsor of terrorism, while several high-level Iranian officials kept up a steady drumbeat of anti-US rhetoric.
Despite the tensions evident in the halls of the United Nations and in the Persian Gulf, Iran's players – led by California-based manager Jalal Talebi – decided to start the match with a signal that the only competition between the two would be on the pitch.
"We decided to make something special," Mr Talebi said in an oral history of the match produced by ESPN.
"Let us go inside and give them nice flowers to say that we are here for peace. We are not here for fighting or anything."
The US team reciprocated, giving their opponents US Soccer Federation (USSF) pennants. Together, the squads posed for a group picture, with many of the players smiling ahead of the high-pressure match.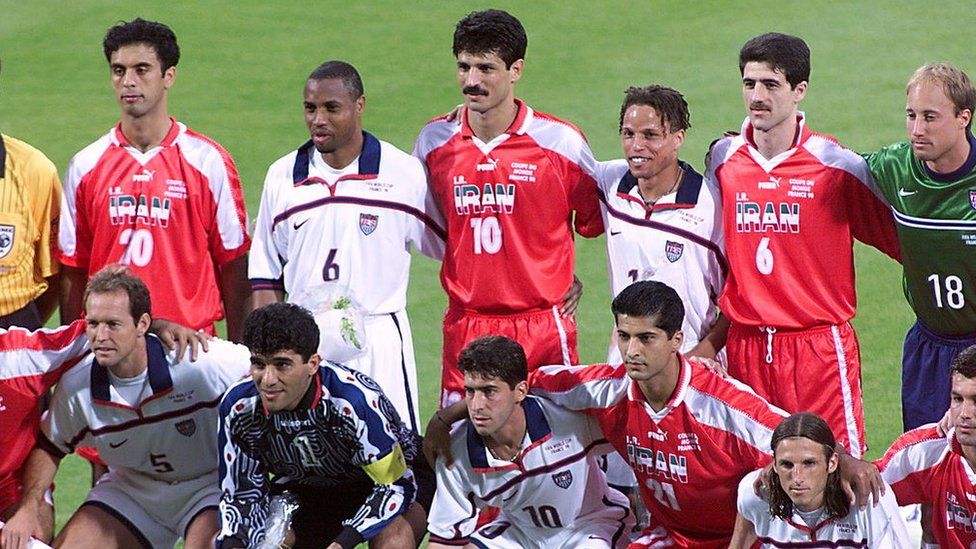 "I thought that was great," Cobi Jones, then a midfielder for the US team, said in the ESPN report.
"It's just like a sign of like sport trumping politics and all that. That was very important and having the mixed photo was great."
The days leading up to the World Cup rematch on Tuesday between the two teams were once again marked by tensions, coming amid widespread anti-government protests in Iran and just after the USSF removed the emblem of the Islamic Republican from the flag it posted in online graphics.
The pictures were later deleted, and US manager Gregg Berhalter apologised, saying that "sometimes things are out of our control" and that he and the US team were only focused on football.
The US team went into the match hoping to avoid a repeat of the 1998 game, which ended with a 2-1 victory for Iran, though both countries were eliminated from the tournament after the game.
Alexi Lalas, a Fox Sports commentator who was a member of the 1998 team, told the Associated Press that the current US team would be well advised not to ignore the wider geopolitics surrounding the current match.
"Understanding the importance of this game, not just from a soccer perspective but from a cultural perspective, I think is crucial for the United States," he said, addressing what would motivate the US on the pitch.
The US-Iran match in Qatar ended 1-0 in the Americans' favour after a goal from Christian Pulisic in the 38th minute.