Pixel 4A 5G is the unusual $500 phone that gives you 5G without skimping on the camera – CNET
In a world where nearly every handset maker is selling a 5G phone, Google did something unusual: It made a less expensive 5G device that doesn't compromise on the features consumers care about the most — especially the camera.
The company's new $499 Pixel 4A 5G, unveiled Wednesday, packs in the same superfast 5G connectivity as Google's new $699 Pixel 5 flagship, as well as the same Qualcomm Snapdragon 765G processor, 128GB of storage and a fingerprint sensor on the back. Importantly, the camera setup is identical, with both phones sporting an 8-megapixel front-facing lens and two rear cameras: a standard 12.2-megapixel sensor and a 16-megapixel ultrawide camera.
"Some people think that to get all the benefits of 5G at an affordable price, there needs to be a compromise on some of our core features like camera," Soniya Jobanputra, product manager of Pixel, said during Wednesday's press conference. "But that's not true."
When it comes to other specs, the 4A 5G even has a bigger, 6.2-inch screen than the Pixel 5's 6-inch display, and it still comes with a headphone jack. The main advantages of the Pixel 5 over the 4A 5G are IP68 water resistance, a 90Hz refresh rate on the display, reverse wireless charging and a slightly bigger camera, all features that typically don't spur consumers to upgrade.
The top reasons people generally buy new phones are better screens, batteries and cameras. Waterproofing and wireless charging — the two most noticeable ways the Pixel 5 differs from the 4A 5G — don't entice consumers to upgrade. That could cause many would-be buyers to opt for the cheaper of the Pixels.
"Google is doing exactly the right [thing by] not compromising with the imaging quality on the cheaper [Pixel]," Strategy Analytics analyst Ville-Petteri Ukonaho said. "But I have a hard time figuring out how they justify the $200 price difference."
He predicted the Pixel 4A 5G will be the most popular of Google's new phones. "Why would I buy the Pixel 5 when I can have almost identical specs with the 4A?" Ukonaho said.
Google, long known for its software prowess, has been making its own Pixel handsets since 2016, well after its ill-fated Motorola acquisition and divestiture. But it hasn't had much traction against Apple's iPhones and the companies that use Google's Android operating system in their devices. Last year, Google ranked 14th when it came to the 1.4 billion smartphones shipped around the globe, according to Strategy Analytics. It shipped only about 8.4 million handsets, far below Samsung's approximate 300 million, Huawei's 240 million and Apple's nearly 200 million, the firm said.
Google just hasn't been able to compete in high-end phones, which led it to design a midtier line last year. The Pixel 3A boosted Google's smartphone operations, but the company discontinued the device in July. While the Pixel 4A 5G could be attractive to buyers who want a 5G phone for under $500, it'll face tough competition from Samsung's A Series and even Apple's $399 4G iPhone SE.
Google's camera prowess
Google has set its Pixels apart from iPhones and other Android devices through its camera technology, something that could make consumers give the Pixel 4A 5G another look. Its Pixels have led the pack in terms of low-light capabilities, and Google's phones are often listed as the devices with the best overall cameras on the market. While Apple, Samsung and others have been adding more lenses to the backs of their devices, Google has opted to make image improvements using software and artificial intelligence.
"Pixel is synonymous with a great camera experience, no matter what price point you have," Creative Strategies analyst Carolina Milanesi said. "They couldn't compromise with that. They had to give you what they do best, what sets them apart from similarly priced 5G phones."
The company pioneered computational photography skills that result in better photos without boosting the device's hardware to higher end specs. Because many Pixel camera improvements come through software, Google is able to extend new features to older phones, making them useful for longer.
In the Pixel 4A 5G and the Pixel 5, Google dropped the telephoto lens found in its earlier phone in favor of an ultrawide-angle camera that can better capture groups of people, tall buildings or cramped indoor scenes. Apple made the same move with its iPhone 11, which became the company's top seller.
Google also combined its low-light Night Sight feature with its portrait mode, which blurs background details. That "allows subjects to stand out even in low light," Jobanputra said.
Cheaper 5G phone prices
The first 5G phones available last year cost significantly more than their 4G counterparts. But the coronavirus pandemic has forced handset makers to reevaluate their launch plans and drop pricing for 5G phones much quicker than many market watchers had expected. Many have introduced mainstream devices alongside or shortly after pricier flagship models.
"Most of the first wave of 5G phones came out at a really expensive price point," Rick Osterloh, Google's hardware chief, told reporters after Google's Wednesday event. "We wanted to try to hit more of a mainstream market."
Google isn't alone. Samsung earlier this year introduced a lineup of inexpensive Galaxy A phones in the US, with two 5G models coming in under $650. Last week, it unveiled its Galaxy S20 Fan Edition, a $700 5G phone that was tailored for the current environment. TCL also has designed 5G phones at more mainstream pricing, as have Motorola and other Android companies.
Those devices generally have come with trade-offs compared with the flagship versions. In Samsung's case, the South Korean company has used less expensive materials like plastic and made some concessions on the rear camera setup, such as removing 8K video recording.
Though the Pixel 4A 5G costs $150 more than the 4G-only version of the device from early August, Google amped up the specs to justify the cost bump. That includes a bigger screen, a second camera lens on the back, a bigger battery and, of course, 5G. At the time the 4A launched, CNET's Lynn La said "for its price, the Pixel 4A has one of the best cameras you can get on a phone."
Now Google will have to hope its camera prowess helps its new Pixel 4A 5G garner the same praise — even when compared with the Pixel 5.
CNET's Richard Nieva contributed to this report.
Jittery Investors Sell Apple Stock, but Bulls Advise Buying Ahead of Supercycle – Barron's

Apple

shares are taking it on the chin Friday one day after the company reported a strong September quarter, but one which triggered just enough questions to give investors pause after the stock's big 2020 run.
For the quarter, Apple (ticker: AAPL) reported revenue of $64.7 billion, up about 1% from a year ago and slightly ahead of the Wall Street consensus of $64.2 billion. Profits were 73 cents a share, two pennies ahead of consensus.
It was a down quarter for iPhone sales, as demand slowed ahead of the iPhone 12 launch, but Apple had substantial growth in almost every other category. Mac sales were $9 billion, up 29%. iPad sales were $6.8 billion, up 46%. Wearables increased 20.8%, to $7.9 billion. Services revenue was $14.5 billion, up 16.3%.
There are multiple factors weighing on the stock. For one, the 21% drop in iPhone sales, while not a big surprise, was a little worse than some analysts had modeled. Two, the 29% drop in Greater China sales was a little shocking and a reflection of the company's lagging position in 5G phones in a key market. And three, Apple declined to give guidance for the third straight quarter, which really shouldn't have surprised anyone but seemed to rattle some investors.
On the post-announcement call with investors, the company responded to all of those concerns. Without providing detail, it said iPhone 12 sales are off to a strong start—but it just started shipping the iPhone 12 and iPhone 12 Pro, and won't even start taking orders on the low-end iPhone 12 Mini or high end iPhone 12 Pro Max until next week.
On China, the company said it was hurt more there than other markets by the lack of 5G phones in the quarter, but a rebound is expected in the December quarter, and early demand for the new phones is promising.
As for guidance, Apple didn't provide detail, but did say that iPhone sales would be up year over year in the holiday quarter despite only a partial quarter of iPhone 12 sales—and it expects double-digit growth in services and in all non-iPhone hardware categories in the quarter.
Citigroup's Jim Suva adds two other logs onto the worry pile—a modest decline in gross margin and worries about potential regulatory oversight. On the guidance issue, he writes that he was "a bit surprised" that Apple didn't give an outlook. On China, he writes that "China has a more advanced 5G network compared to many countries and simply put consumers want a 5G phone rather than a 4G phone." On margins, he says the issue is mostly one of mix, with Macs and iPads carrying lower margins than iPhones and services. (It was a spectacular quarter for both Macs and iPads, remember.) And as for regulation, he sees headline risk, but no risk to fundamentals for at least the next 12 months.
Bottom line: He keeps his Buy rating and $125 target price.
Bernstein analyst Toni Sacconaghi, who keeps a Market Perform rating on Apple shares, writes that the quarter was "solid, but not spectacular." He finds it noteworthy that Apple didn't provide explicit guidance. "The upshot is that we doubt that consensus EPS forecasts are likely to change materially, which we view as a likely disappointment given high investor expectations," he writes.
Sacconaghi agrees that the key from here is iPhone 12 demand. "So how do we interpret Apple's Q1 guidance/commentary, and what does it say about the iPhone 5 cycle?" he asks. "Unfortunately, it is likely too early to tell—and Apple itself legitimately does not appear to know, given very limited selling days and the unique timing of the iPhone launch. But the punchline is simple: iPhone revenues have to grow double digits year-over-year in fiscal Q1, or March needs to be dramatically stronger than seasonal for this cycle to have a shot of being the super cycle buyside investors appear to be anticipating."

Morgan Stanley's

Katy Huberty came away from the call more bullish than ever. "All signs point to a supercycle," she writes in a research note, repeating her Overweight rating and $136 price target. "We continue to see upside to fiscal 2021 estimates after Apple grew revenue double-digits across all products including iPhone after normalizing for [the iPhone] product cycle. iPhone growth will accelerate further on extended replacement cycles, more new [models] and aggressive subsidies."
Huberty adds that her "confidence in Apple's ability to retain existing users, attract new users and accelerate growth and profitability has never been higher as Apple enters fiscal 2021 with its strongest product and services portfolio in years and several tailwinds at its back, including the growing proliferation of 5G technology; work, learn and play from home demand; and rising adoption and monetization of digital services."
Wedbush analyst Dan Ives likewise is undeterred in his bullish view. "Last night…the Street and the overall market was hoping for blow out results from FAANG tech stalwarts with Apple and

Amazon

leading the way and ultimately came away disappointed with tech stocks selling off this morning on the news," he writes. "Taking a step back, we believe Apple is on the cusp of its largest iPhone product cycle since iPhone 6 in 2014 and we would be buyers on any weakness." He keeps his Outperform rating and $150 target.
Apple was off 4.9%, at $109.70, in recent trading. The

S&P 500

was down 1.3%.
Write to Eric J. Savitz at eric.savitz@barrons.com
Samsung regains top smartphone vendor spot as Xiaomi overtakes Apple – The Verge
Samsung is back on top as the world's biggest smartphone vendor one quarter after losing its spot to Huawei, according to reports from IDC, Counterpoint, and Canalys. The news comes just as Samsung posted its highest quarterly revenue figures ever, which the company said was helped by a boost in demand for smartphones.
Huawei became the number one vendor for the first time three months ago, benefiting from strong sales in China while much of the rest of the world was operating under constrained retail conditions due to the COVID-19 pandemic. But Huawei's shipments fell 7 percent quarter-on-quarter and 24 percent year-on-year, according to Counterpoint, while Samsung's shipments increased by 47 percent over the last quarter.
Xiaomi was able to regain the number three spot for the first time in several years, overtaking Apple for the first time with year-on-year growth of 46 percent. Apple's shipments fell 7 percent year-on-year in the July-September quarter, no doubt affected by the fact that its new iPhones this year slipped until October and November release dates.
The fifth, sixth, and seventh spots go to BBK brands Oppo, Vivo, and Realme. Counterpoint has Oppo at number five, while IDC and Canalys give that spot to Vivo, but all three firms agree the numbers are close. If the three independent brands' third-quarter shipments were combined, they would be closer to Samsung in first place than Huawei in second place.
MagSafe Wallet for iPhone 12 Now Available for Pickup at Select Apple Stores Internationally – MacRumors
Apple's new Leather Wallet with MagSafe for iPhone 12 models is available for pickup today or tomorrow at select Apple Stores in the United Kingdom, France, Germany, Italy, the Netherlands, Australia, Singapore, and Hong Kong. We've yet to see any pickup availability in the United States or Canada, but we'll update this story if that changes.
A few customers have started sharing photos of the Leather Wallet on Twitter after completing a pickup at an Apple Store today.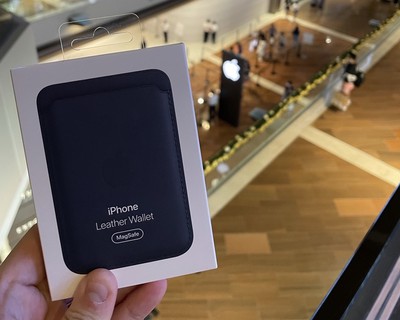 Photo shared by Leonard on Twitter
As noted by 9to5Mac, it also appears that some customers are beginning to see their online orders marked as shipped earlier than expected. Many of these customers are seeing an estimated delivery range of November 2-9.
Priced at $59 in the United States, the MagSafe Wallet is designed to magnetically attach to the back of iPhone 12 models, allowing customers to carry a few credit cards or IDs with their device. The wallet is designed with tanned European leather and is offered in four colors: Baltic Blue, California Poppy, Saddle Brown, and Black.