Politics Briefing: U.S. land border opening to fully vaccinated Canadians in early November – The Globe and Mail
Hello,
The U.S. land border will soon be open for non-essential travel to Canadians who are fully vaccinated.
The announcement came in a Wednesday news release from U.S. Secretary of Homeland Security Alejandro Mayorkas. He said the change would take effect some time in early November, but did not specify an exact date.
The decision was based on guidance from the U.S. Centers for Disease Control and Prevention, he said, and the country will also begin allowing travellers from Mexico to enter at the same time. Anyone crossing into the U.S. will need to show proof of vaccination.
Canada opened its land border to fully vaccinated Americans in August, but the U.S. did not follow suit at the time. Both countries closed the land border to non-essential travel when the COVID-19 pandemic hit in March, 2020.
As the fourth wave continues to spread across Canada, provincial health officials are working to decrease case counts and increase vaccination rates.
Manitoba is tightening restrictions in the southern part of the province, a region that has slow vaccine uptake. B.C.'s top doctor, Bonnie Henry, issued an order in her province on Tuesday for children five and up to wear masks in public spaces. Previously this was only required for those aged 12 and up.
A vaccine for children aged five to 11 could be approved by Health Canada as early as next month, and Dr. Henry said that priority will be given to those in areas of the province where there are already low vaccination rates.
This is the daily Politics Briefing newsletter, written by Ian Bailey. Today's newsletter is co-written with Menaka Raman-Wilms. It is available exclusively to our digital subscribers. If you're reading this on the web, subscribers can sign up for the Politics newsletter and more than 20 others on our newsletter signup page. Have any feedback? Let us know what you think.
TODAY'S HEADLINES
The Independent Senators Group, the largest bloc in the upper chamber, is considering expelling one of its members from caucus. The ISG is calling Manitoba Senator Marilou McPhedran before a closed-door hearing next Monday to decide if she will be kicked out.
A new human-rights campaign is targeting the Canadian practice of holding some asylum seekers and refugee claimants in jails. Led by Human Rights Watch and Amnesty International, the campaign urges Canadian provinces to cancel arrangements with the Canadian Border Services Agency that allow thousands of immigrant detainees to be held in provincial jails each year without a time limit.
Environmental activists who are opposed to Line 5 are urging U.S. President Joe Biden to support Michigan and Gov. Gretchen Whitmer in their legal effort to shut down the cross-border pipeline. Canada wants formal negotiations with the U.S. under terms of a 44-year old treaty to address the Line 5 dispute.
Canada, along with its G20 allies, is pushing the Taliban to allow Afghans better access to humanitarian aid. This follows a virtual summit on Tuesday where G20 leaders discussed the continuing crisis in Afghanistan. From the CBC.
PRIME MINISTER'S DAY
The Prime Minister is in Ottawa on Wednesday, according to his public itinerary.
In the morning he virtually delivered remarks at Sweden's Malmo International Forum on Holocaust Remembrance and Combating Antisemitism. In the afternoon he's scheduled to meet with the Federation of Canadian Municipalities' Big City Mayors' Caucus.
LEADERS
No public itineraries were issued by the other leaders for Wednesday.
HOW TO BE A PRIME MINISTER
From Governing Canada, A Guide to the Tradecraft of Politics by Michael Wernick (Published by On Point Press, an imprint of UBC Press)
The Politics Briefing newsletter is featuring excerpts from Governing Canada, a new book by Michael Wernick, the former clerk of the privy council. Our focus is a key chapter, Advice to a Prime Minister. (Parliamentary reporter Kristy Kirkup reported on the project here.)
Today's excerpt features some key points of, Mr. Wernick's advice on everyday decisions away from cabinet meetings:
"A lot of the actual work of the prime minister is done away from the cameras and the spotlight. It is about going to meetings and reading and signing documents. Images from British television of an endless flow of red briefcases- dispatch boxes -aren't far from the mark. One recent prime minister agreed to cap the flow at eighty notes per week. Another agreed to bundle smaller information updates into a weekly package Another pressed the PCO to get the essentials of any note down to a one-page summary box. It was the intelligence briefers who first became skilled at the use of photos, maps, charts, and infographics to convey information, after years of writing long, dense texts Make your preferences clear, and revisit them at least one a year…
"You will be tempted to do a lot of business through oral discussion at meetings. There are reasons why getting things in writing is often in your interest. One is that your reaction or decision can be garbled, ambiguous, or misunderstood when received by others. People tend to hear what they want to hear or expect to hear. There is far less room for that if you have a document that lays out what you are agreeing to. Implementation will be smoother. Notes can be a touchstone later when people may be arguing about what was decided. They can always come back with new information or new advice."
OPINION
Andrew Coyne (The Globe and Mail) on why in Canada, the rule of law is giving way to the rule of will: "A constitution is more than the written text. It depends on a cultural consensus that the constitution is something to be respected, and not ignored, or overwritten, or bent out of shape by interpretation. In Canada, the institutions responsible for upholding that consensus – governments and courts – have repeatedly shown themselves incapable of it."
Brahma Chellaney (contributor to The Globe and Mail) on why the U.S. must deter a Chinese invasion of Taiwan: "The worst stance the United States could take would be to oppose a Chinese takeover of Taiwan without credibly signalling a genuine willingness to defend the island militarily. Mr. Xi, who has grown accustomed to acting with impunity, would only be emboldened. With that, the Indo-Pacific order would be overturned, dealing a mortal blow to the United States' global pre-eminence."
David Parkinson (The Globe and Mail) on how unwinding pandemic policy measures will ease foot off inflation gas pedal: "Pandemic-related measures on both the fiscal (government spending) and monetary (Bank of Canada) sides are poised to recede in the coming weeks, removing a significant amount of policy stimulus from the economy. Turns out policy, like a lot of other contributors to the current inflation picture, can also be transitory."
Naomi Alboim, Karen Cohl (Policy Options) on a postelection to-do list for the Afghan crisis: "Afghan refugee claimants in Canada should be fast-tracked at the Immigration and Refugee Board, as has been done for groups from certain other world areas. We also need to expedite the transition to permanent residence for Afghans who entered the country on a temporary permit because they didn't have the opportunity to complete their immigration processing overseas. Individuals on a temporary permit are not eligible for federal programs available to permanent residents, including income support and the sponsorship of family members."
Send along your political questions and we will look at getting answers to run in this newsletter. It's not possible to answer each one personally. Questions and answers will be edited for length and clarity.
Got a news tip that you'd like us to look into? E-mail us at tips@globeandmail.com. Need to share documents securely? Reach out via SecureDrop
How green politics are changing Europe – BBC News
An ocean of conservative blue blankets the electoral map in Germany's southern state of Bavaria.
And yet the conservative vote actually fell across Germany in last month's federal vote, while the Greens achieved their biggest success yet,.
In an election dominated by climate change, a speck of green has made a ripple in Bavaria. For the first time a Greens candidate was directly elected to represent Bavaria in the federal parliament.
It is symbolic of the creeping rise in support for European green parties, from Hungary to Finland.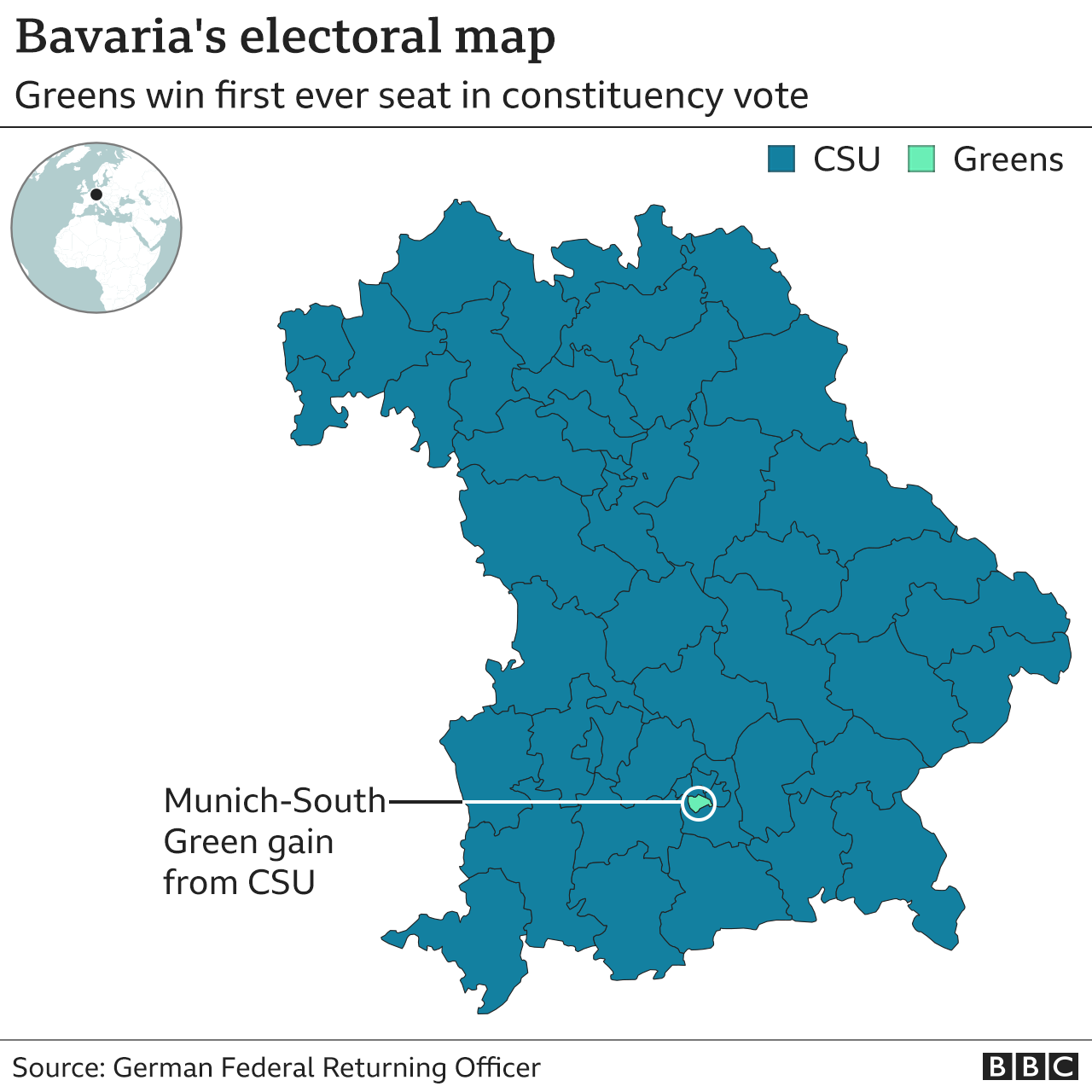 The new MP, Jamila Schäfer, beamed with satisfaction when she recalled her surprise victory in Munich-South, by a wafer-thin margin of 0.8%. Only once before had the CSU lost the constituency since 1976.
"This is a major sign of change," Ms Schäfer told the BBC.
A campaign 'close to the people'
The Greens won 14.8% of the vote nationwide, appealing beyond their eco-protest roots with Annalena Baerbock standing as candidate for chancellor. Now they are in talks to share power as part of a three-way coalition.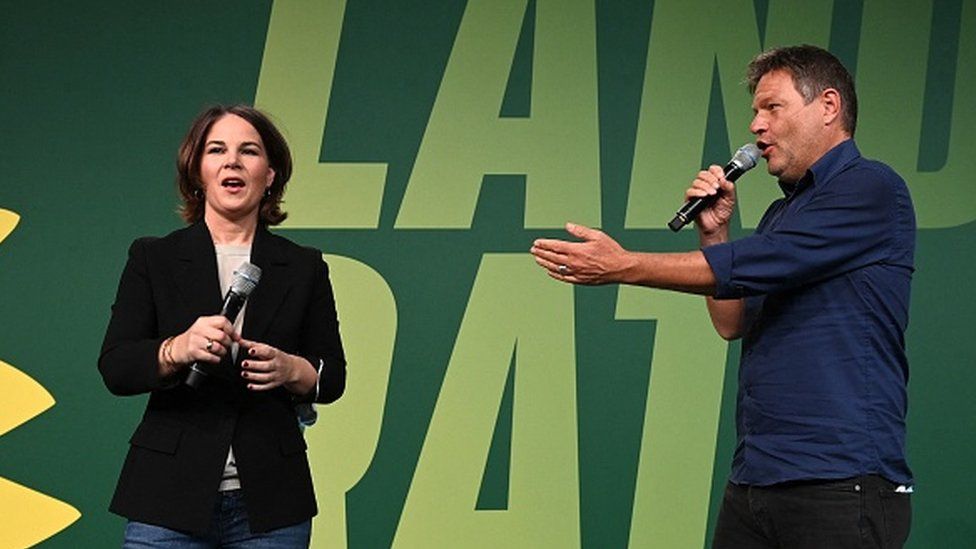 Ms Schäfer, 28, is the Greens' deputy federal chairwoman and typifies a party that has undergone a national makeover after years of power-sharing in several German states (Länder).
She rose through the ranks of Green Youth, taking part in school strikes against education reforms, long before Swedish activist Greta Thunberg made her name by skipping classes for climate protests.
Climate change was consistently ranked as the most serious facing Germany in opinion polls ahead of the election.
Even so, Ms Schäfer targeted her "close-to-the-people" campaign in Munich-South on housing, pensions and taxes.
Green shoots of success
Once ridiculed by many as idealistic hippies, Green parties increased their vote share in 13 European countries at the most recent national elections. In six of those countries – Austria, Belgium, Finland, Ireland, Luxembourg and Sweden – green parties have a share of power in coalition governments.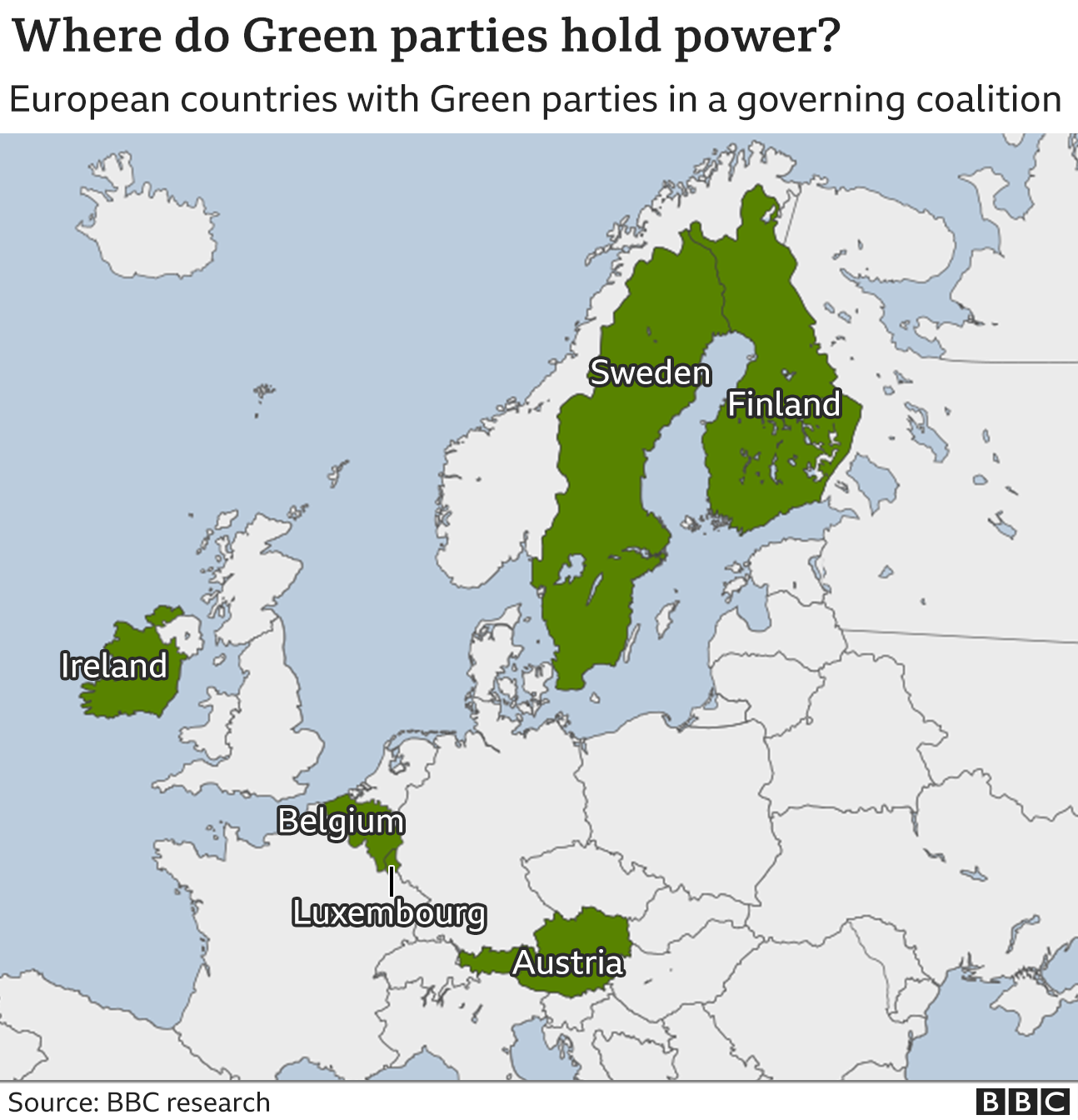 In all those cases, the Greens are pressing their partners to adopt more ambitious targets for lowering carbon emissions. Elsewhere, the green mayors of Amsterdam and Budapest are aiming for carbon neutrality by 2050 and 2030 respectively – to balance the greenhouse gases emitted and absorbed by their cities.
Despite last month's election success for the German Greens, even co-leader Ms Baerbock admitted they had failed to live up to early opinion poll ratings: "We wanted more. We didn't achieve that."
Given the urgency of curbing emissions, what's holding the Greens back?
Trust and fear of change
One explanation is that mainstream parties across Europe have elevated climate change to the top of their agendas.
"If you're concerned about the climate, it doesn't follow that you're going to vote green," Adam Fagan, a political scientist at King's College, London, said. "It means you're going to scrutinise the manifestos of the main parties for their green credentials."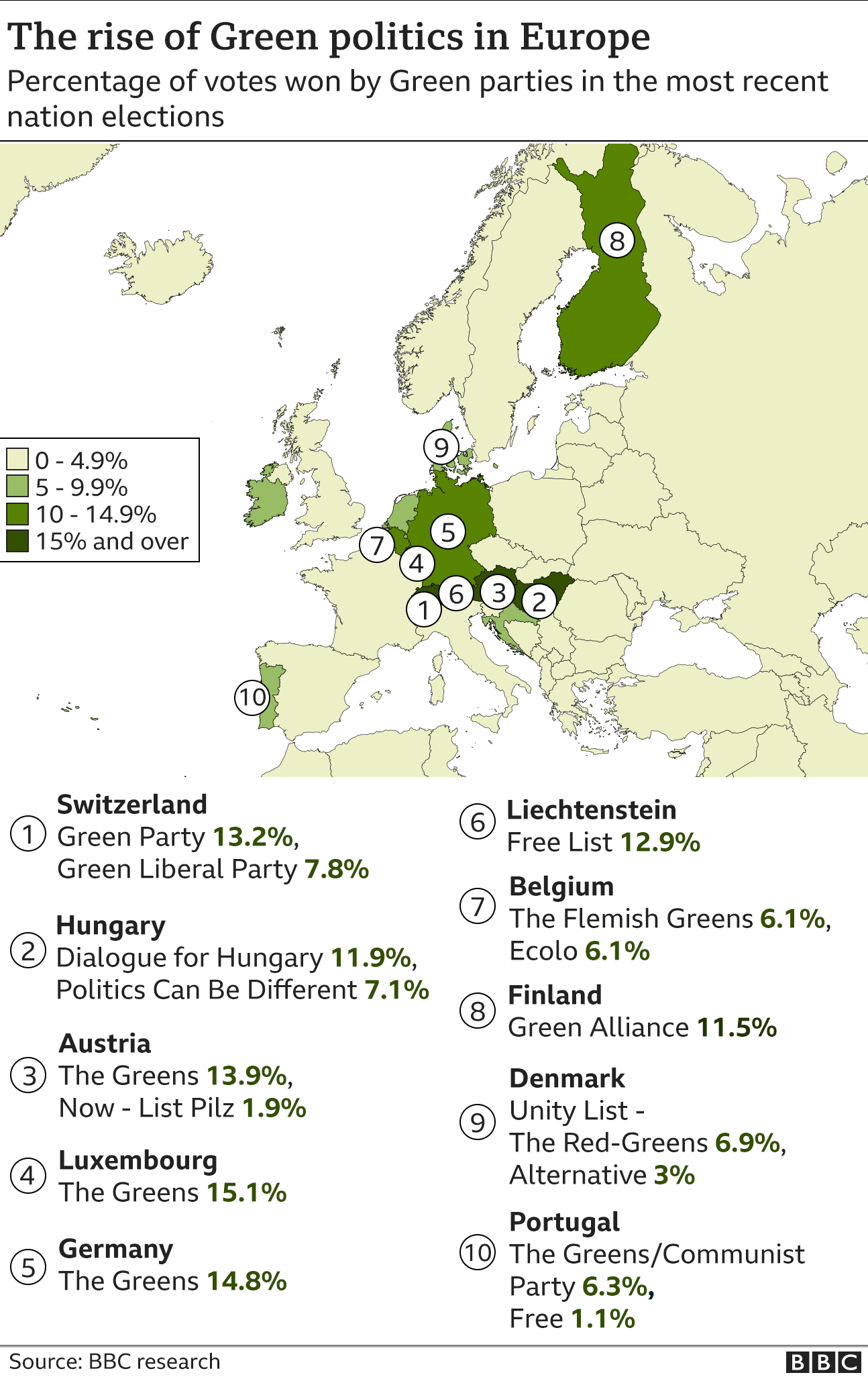 Green parties tend to do better in countries with more proportional systems, as used by the European Union for its parliamentary elections. For example, the Greens/EFA bloc gained 25 seats with 10.8% of the vote in the 2019 election to the European Parliament.
"People think putting the Greens in power [in the EU] is less dangerous," said Philippe Lamberts, co-president of the Greens/EFA.
"From the right and the left, there's always a question hanging over us: can you really trust the Greens with the economy?"
National election results suggest the answer is no.
To reduce emissions, the Greens say big structural changes to the economy are needed. While those reforms are necessary, they scare people and put them off voting green, Ms Schäfer said.
"They're worried they'll be the losers of big transformation," the MP said. "It's a lack of control that people are afraid of. But we need to convince people that our politics is not about giving up control."
'Killing the planet'
It's even more difficult in Southern and Eastern European countries, where support for green parties is fragmented or non-existent. Surveys show that climate change is far from a top priority in post-communist countries such as Poland, the Czech Republic and Lithuania.
Voters and political parties there are generally more concerned about economic development or migration, leaving environmental issues to civil society groups.
Mr Lamberts believes voters find the message that their country's model is "killing the planet" unpalatable.
Unlike in many of the other former Soviet-bloc states, green parties have made inroads in Hungary.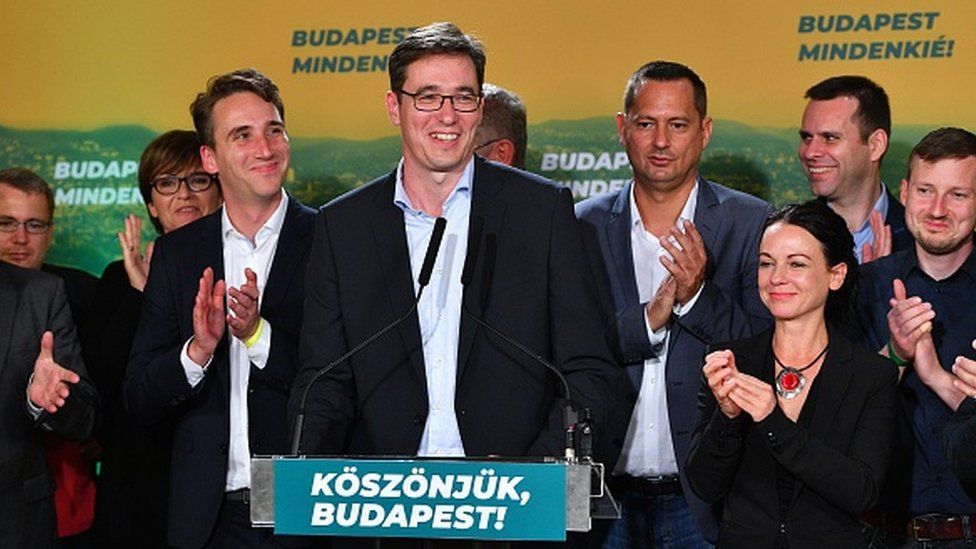 The green LMP party has won seats in three consecutive national elections since 2010, while Dialogue received 11.9% of the vote in an alliance with the Hungarian Socialists in 2018.
Dialogue's success came under the leadership of Gergely Karacsony, who was elected mayor of Budapest in 2019.
He defeated the nationalist incumbent by rallying opposition parties behind his liberal platform, and promising solutions not only to environmental issues, but economic and social ones too.
"In Hungary today, there are three different crises. A democratic crisis, a social crisis and an environmental crisis," Budapest's mayor told the BBC. "The advantage of the green movement is that we have proposals for all three."
He linked green policies such as urban foresting and carbon-free public transport to Hungary's poor record on air quality and other environmental problems.
Particularly in post-Soviet countries, the mayor said, social justice must go hand in hand with the green transition.
"We cannot put the costs of sustainability on disadvantaged segments of society."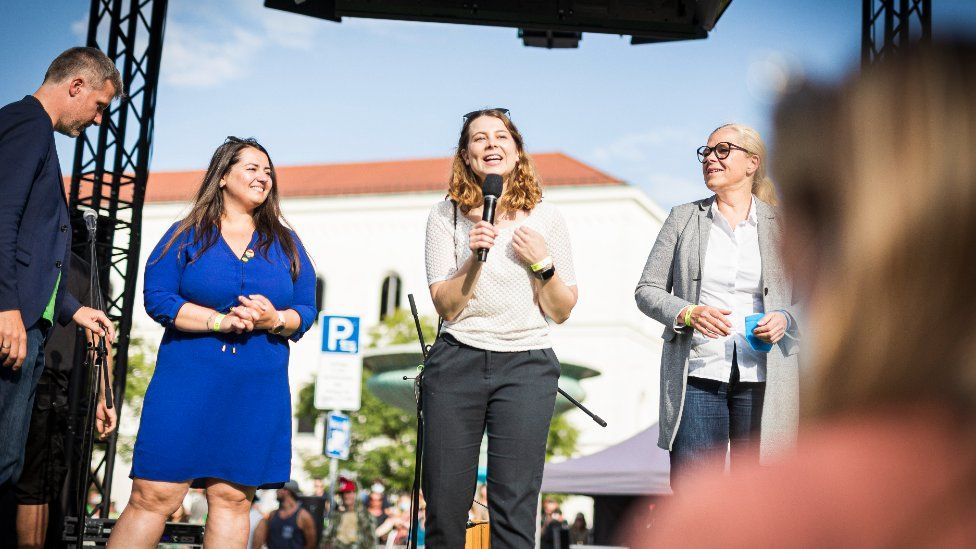 What worked in Budapest may not necessarily follow elsewhere, but green candidates have achieved electoral success where they have channelled voter discontent, united the opposition and diversified their offer beyond the environment.
If the Greens can build on these gains, there is a future for them in coalitions, Professor Fagan said.
"Green politics in Europe is getting bigger and stronger, and I'm sure it will grow in the coming years," Ms Schäfer said.
Biden says he's concerned about Chinese hypersonic missiles
U.S. President Joe Biden said on Wednesday he is concerned about Chinese hypersonic  missiles, days after a media report that Beijing had tested a nuclear-capable hypersonic glide weapon.
Asked by reporters as he was boarding Air Force One for a trip to Pennsylvania whether he was concerned about Chinese hypersonic missiles, Biden said, "Yes."
The Financial Times said at the weekend that China had tested a weapon in August that flew through space and circled the globe before cruising down toward a target that it missed. China's foreign ministry denied the report.
(Reporting by Nandita Bose; Writing by Mohammad Zargham; Editing by Leslie Adler)
Ethiopia conducts two air strikes on Tigray within hours, war escalates
The  Ethiopian government carried out a second air strike within hours on the Tigray region on Wednesday, significantly escalating a campaign to weaken rebellious Tigrayan forces in an almost one-year-old war.
The second strike was in Agbe in the Temben region some 80 km (50 miles) west of the regional capital Mekelle, targeting a military training centre and heavy artillery depot, government spokesperson Legesse Tulu said.
That came after a morning air strike in Mekelle, the third this week. Tigrai Television said the attack targeted the centre of the city while the Addis Ababa government said it targeted buildings where Tigrayan forces were repairing armaments.
The Tigray People's Liberation Front (TPLF) has "been adept at hiding munitions and heavy artillery in places of worship and using ordinary Tigrayans as a human shield", Legesse said.
Two witnesses and a humanitarian source in Mekelle told Reuters that the morning strike appeared to have targeted Mesfin Industrial Engineering PLC, a factory complex which the government believes supports the TPLF.
TPLF leader Debretsion Gebremichael, referring to government forces, said: "They are desperate on the war front. My interpretation is they are bombing us because they are losing on the ground and it's their reprisal. The fact that they are bombing shows they don't care about Tigrayan civilians."
Speaking to Reuters by satellite phone from an undisclosed location, Gebremichael said the strike did not hit the engineering complex, rather another private company compound, but he had no further details.
Nine civilians, including a five-year-old child, were being treated at Ayder Referral Hospital for injuries sustained in the strike, according to TPLF-run Tigrai Television.
The blast shattered the windows of Mekelle General Hospital, about one kilometre away from Mesfin Industrial, and damaged nearby homes, said a doctor at the hospital. It had received five wounded people, he said.
"Four of them were factory employees and the fifth one is a lady whose lives near the factory. Her house was destroyed by the air strike," the doctor said.
Tigrai Television posted photographs of what appeared to be plumes of billowing smoke. Reuters geolocated the images to Mekelle.
The two sides have been fighting for almost a year in a conflict that has killed thousands of people and displaced more than two million amid a power struggle between the TPLF, which controls the northern region, and the central government of Prime Minister Abiy Ahmed in Addis Ababa.
The TPLF dominated the Horn of Africa country's ruling party for decades before Abiy, who is not a Tigrayan, took office in 2018.
CONTROL OF THE SKIES
Mesfin Industrial Engineering is an equipment manufacturer and car and truck assembly plant that was part of EFFORT, a TPLF-owned conglomerate.
After war broke out last November, the government froze the company's bank accounts, saying there was evidence that it was supporting the TPLF. The company could not be reached for comment. Most communications in Mekelle are down.
Mekelle was also hit by two air strikes on Monday https://www.reuters.com/world/africa/mekelle-capital-ethiopias-tigray-hit-by-air-strikes-regional-tv-2021-10-18. The TPLF accused the government of launching the attacks. A government official initially denied the accusation but state media later reported the air force had conducted a strike.
The attacks follow intensified fighting in two other northern regions where the military is trying to recover territory taken by the TPLF, which recaptured Mekelle and most of the rest of Tigray several months ago.
In July, the TPLF pushed into the two other regions, Amhara and Afar, and several hundred thousand more people fled their homes, according to the United Nations.
Last week, after the TPLF said the military had started an offensive in Amhara, the military said that the TPLF had "opened war on all fronts", and that government forces were inflicting heavy casualties.
"The federal air strikes on Mekelle appear to be part of efforts to weaken Tigray's armed resistance, which has recently made further gains in eastern Amhara region, with fighting ongoing in some areas," said Will Davison, a senior analyst on Ethiopia at the International Crisis Group think-tank.
"Along with superior manpower, control of the skies is one of the few remaining areas of military advantage for the federal government," Davison said.
(Reporting by Addis Ababa newsroom with additional reporting by George Sargent in London and Nairobi newsroom; writing by Maggie Fick; editing by Nick Macfie, Angus MacSwan and Mark Heinrich)