Politics Is About What's Possible | Tufts Now – Tufts Now
For political strategist and activist Wilnelia Rivera, growing up in Lawrence, Mass., made her witness each day to the realities of injustice, and at the same time it gave her the experience of persistent hope.
Rivera brought both—the understanding of injustice and that continuing hopefulness—to her virtual audience at Tufts on Feb. 17. The occasion was her recognition as the inaugural recipient of the Lyon and Bendheim Citizenship Award from the Jonathan M. Tisch College of Civic Life.
Rivera, A04, AG14, is the founder and president of Rivera Consulting, Inc., a strategist consulting firm for movement-building and policy-driven causes, candidates, and organizations. After earning her undergraduate degree from Tufts, she worked with Neighbor to Neighbor, where she helped reform the Criminal Offender Record Information (CORI) system, making it illegal for employers to ask about a person's criminal history on an initial job application in Massachusetts, and assisted in the push for the city of Lynn to invest in interpreters and translation services for non-English-speaking parents and a more inclusive environment for LGBTQ students.
As a political strategist, Rivera was instrumental in helping to elect Deval Patrick as Massachusetts' first Black governor—and Ayanna Pressley as a U.S. congresswoman after a groundbreaking primary victory against a 10-term Democratic incumbent.
During the hour-long Tufts event, Rivera characterized the role of organizers and activists as "hold[ing] the moral arc of what's possible . . . no matter what the congressional cycle says, no matter what the election cycle says," she said. "They're going to hold on to that and we need that. We need people in society that are going to hold on to the most important values of justice of who we should be as a country."
Rivera also offered insights about what's missing in our democracy and how we can reclaim it, her responsibility to those on whose behalf she advocates, and the key to effecting change in politics. (Watch the talk here.) Here are three takeaways from the discussion, which was moderated by Kalimah Knight, deputy director of media relations at Tufts.
Politics is only moveable when movement comes in. The best advice Rivera ever received? "When we're in the building—whatever the building is—our job is to make it possible." But Rivera has pushed that advice still further: "So, I would say, 'Well, OK, I can do that. But what if we have a movement that changes what's possible?' And how do these two things speak to one another so that it's actually more coordinated and we're not just screaming and having a fight about all of our differences, yet not really making progress where it matters the most—in the buildings where laws and rules of engagement are made every day?"
From her time spent in both the electoral and the activist spaces, she has learned that "politics is only movable when movement comes in." As a timely example, she offered the call to defund the police as an opportunity for Black Lives Matter to draw attention to "something that, for hundreds of years, we've been trying to get more attention on. It now creates the opportunity for politics to be possible." She also called for finding common ground around urgency. "We spend too much time saying, 'My thing is more urgent than yours,'" she said, and not focusing enough on developing a shared understanding of what's urgent for both parties.
The power of a new kind of conversation—and listening. Presented with a question about the tension between individuals involved in electoral politics and those with an activist perspective, Rivera saw reason for hope. It's a question, she observed, that has become more popular in the past two years: "That's an important indication of the recognition that organizing and politics actually do exist in the same democracy." Further, instead of thinking about our democracy as we see it today, she encouraged attendees to consider ways in which they have begun to see evidence of both electoral politics and movement actors starting to work together around the country.
Rivera also invited a reframing of this tension as "discomfort" resulting from a multiracial society in which there is no single identity. She encouraged the audience to consider the politics of difference and the strategies that we must learn to be able to address that discomfort. She offered a framework of self-reflection—of asking yourself, "Why am I uncomfortable? What do I have to learn from this?"—as a means to open up a "new conversation."
Even if you are in dialogue with the same people, including people with whom you are going to continue to have differences, that self-reflection about your discomfort can enable you to really listen, she said. "That's the core of what's missing in our democracy and our society: We don't know how to listen to one another," she observed. "We can do campaigns; we can write press releases; we can do all the different tactical things… but the art of the conversation with each other is falling by the wayside."
People matter—and so do money, power, and systems. Rivera cited a valuable lesson from her early days in community organizing and outreach work—one that she offers to activists and change agents today: People matter. But that's not enough. She said, "What I learned from those early years is that power matters, money matters, and systems matter . . . and how they interact with one another ultimately dictates the conditions for what's possible or not." She encouraged her audience to carefully consider those interactions as part of their organizing and outreach so that they can actively move the work forward.
With this understanding, she said, comes an obligation to those with whom she works. "I'm usually inviting people . . . to give up a part of their everyday life to something that's bigger than them," she said. "And I feel it's my responsibility to be knowledgeable on power, money, and systems so that I can create a baseline of understanding for why it's going to be tough, for why it's going to take a long time."
In addition to that forthrightness with her partners in activism, she is also committed to giving people the opportunity to consider, "'Do I want to be a part of this?'" She terms that responsibility "a moral compass" for activism and organizing—and "an integrity that frames and drives everything" she does.
The Lyon and Bendheim Citizenship Award is the successor to the Lyon and Bendheim Alumni Lecture Series. That series was initially established by J.B. Lyon, A85, and Tom Bendheim, A85, to bring to campus prominent alumni—often leaders from the private sector. The new award, of which Rivera is the inaugural recipient, is intended to recognize individuals who have shown a commitment to civic engagement through successful initiatives, creative solutions, or bold leadership and to connect them with students and alumni on campus.
At the start of the Feb. 17 program, Bendheim spoke on his own behalf and Lyon's about the original lecture series and its rededication as the new award. "We're really proud of all the business leaders that we brought to campus," he said. "But times change . . . and we wanted to broaden our focus and expand the opportunities for Tufts students to connect with leaders across the professional and civic spectrum who are making a difference. We couldn't imagine a more deserving recipient for this new award than Wilnelia Rivera . . . someone who exemplifies how to pursue political change and having a lasting systemic impact."
Zlatan Ibrahimovic hits out at LeBron James for getting involved in politics – Sky Sports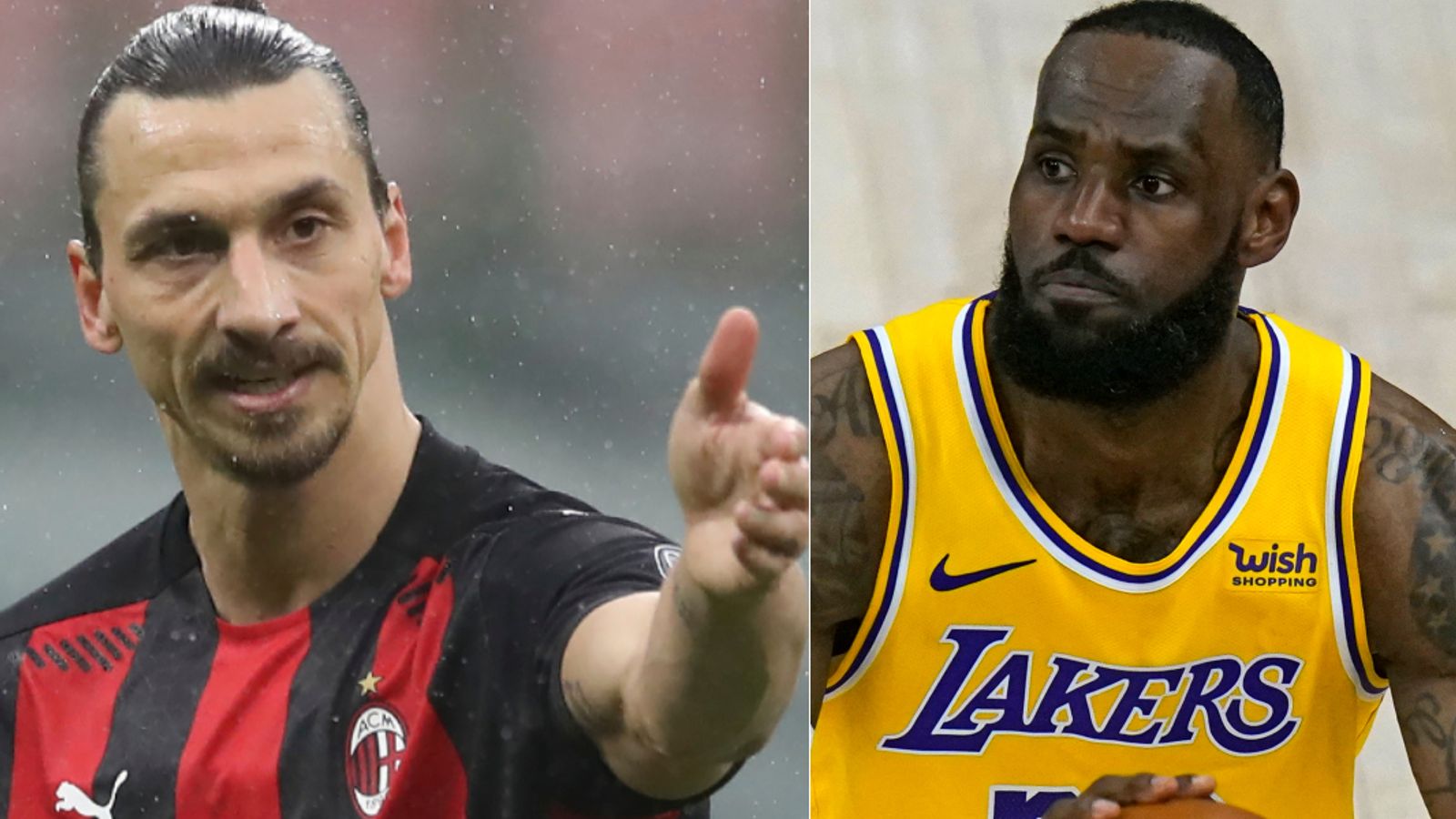 Zlatan Ibrahimovic has hit out at LeBron James for getting involved in politics, telling him to stick to what he is good at.
Four-time NBA champion James, who Ibrahimovic described as a phenomenal basketball player, has been one of the NBA's leading voices against racial injustice and police brutality in the US.
A frequent critic of former US President Donald Trump, the LA Lakers forward also helped form a group aimed at battling voter disenfranchisement in predominantly black communities last year.
"I like him [James] a lot. He's phenomenal, but I don't like when people with a status speak about politics. Do what you're good at doing," Ibrahimovic told UEFA and Discovery+ in Sweden.
"I play football because I'm the best playing football. I'm no politician. If I'd been a politician, I would be doing politics.
"This is the first mistake famous people do when they become famous. For me it is better to avoid certain topics and do what you're good doing, otherwise you risk doing something wrongly."
Okay @Ibra_official based on your position @KingJames is great at basketball and shouldn't voice his opinion about politics. You're really good at football so you shouldn't voice your opinion about Lebron using his platform for good. Or your opinion on anything outside football! https://t.co/xNbDo5vc9g

— Michael Johnson (@MJGold) February 26, 2021
Ibrahimovic's comments were criticised by American sprint great Michael Johnson.
"Okay Ibra, based on your position @KingJames is great at basketball and shouldn't voice his opinion about politics," Johnson tweeted.
"You're really good at football so you shouldn't voice your opinion about LeBron using his platform for good. Or your opinion on anything outside football!"
Women Of Color Have Always Been In Politics. Now They Are Changing Congress. – FiveThirtyEight
The current Congress includes more women of color than ever before, thanks to historic wins in the 2020 election. FiveThirtyEight spoke with three political scientists about why it's taken so long to get to this point, and how having these women in office will affect the legislature.
Zlatan Ibrahimovic to LeBron James – 'Do what you're good at,' stay out of politics – ESPN
AC Milan star Zlatan Ibrahimovic criticized LeBron James and others on Thursday for their activism in what the former LA Galaxy star called "politics."
Speaking in an interview for UEFA for Discovery+ in Sweden on Thursday, the outspoken striker said that although he admired James' talent, it's a "mistake" when athletes step out of their lane and get involved socially and politically.
– Stream ESPN FC Daily on ESPN+ (U.S. only)
– Stream Serie A games on ESPN+
"[LeBron] is phenomenal at what he's doing, but I don't like when people have some kind of status, they go and do politics at the same time," Ibrahimovic said. "Do what you're good at. Do the category you do. I play football because I'm the best at playing football.
"I don't do politics. If I would be a political politician, I would do politics. That is the first mistake people do when they become famous and they become in a certain status. Stay out of it. Just do what you do best because it doesn't look good."
James has been a force for social change and political action. His More Than a Vote organization drew more than 42,000 volunteers to work at polling stations for the November election, helped some earn back their voting rights and pushed for turnout among Black people and young voters.
He has also focused on his hometown of Akron, Ohio.
The I Promise School he opened in 2018 now has over 450 students in third through sixth grades. When the pandemic shut down the school, James and his team ensured students got hot meals delivered to their homes — even complete Thanksgiving meals. An affordable housing project for 50 families broke ground this year. And in December, plans for House Three Thirty (a nod to Akron's area code) were announced, detailing how James is going to offer things like accessible family financial health programming, job training and a community gathering space.
"I still know what I do on the floor, and obviously, I give everything to the game," James told The Associated Press in December. "But I can make a greater impact off the floor right now, more than I can on the floor. And I want to continue to inspire people with the way I play the game of basketball. But there's so many more things that I can do off the floor to help cultivate people, inspire people, bring people together, empower them."
His outspokenness hasn't always been well-received, however. In February of 2018, a prominent conservative commentator famously told him to "shut up and dribble" in response to his "talking politics."
Ibrahimovic has made headlines for acrobatic goals, bombastic boasts and on-field controversy throughout his wildly successful soccer career.
In January, he faced accusations of racism after a clash with Inter Milan's Romelu Lukaku during a Coppa Italia quarterfinal clash. Ibrahimovic, who often refers to himself in the third person, was accused of having used offensive language during his spat with Lukaku and later posted a message on social media reiterating that he is against racism, with his coach later backing his claims.
Information from The Associated Press was used in this report.