Politics overhangs U.S. Christmas as government shutdown nears, COVID aid uncertain – Reuters
(Reuters) – President Donald Trump will spend Christmas Day at his Palm Beach resort as millions of Americans face the risk of losing jobless benefits on Saturday and a partial government shutdown looms next week, following his threat to not sign a $2.3 trillion coronavirus aid and spending package.
Democratic President-elect Joe Biden, whose victory Trump still refuses to acknowledge nearly two months after the Nov. 3 election, is spending the day at his Delaware home and has no public events, according to his staff.
Meanwhile, the U.S. Congress, which normally is adjourned the last week of December, will be preparing to return to work.
On Monday, following the Christmas weekend, the House of Representatives is scheduled to vote on overriding Trump's veto of a $740 billion bill authorizing the country's defense programs. If the House vote succeeds, the Senate could hold its vote as early as Tuesday..
The fight over the spending and aid package comes as Americans face an unprecedented holiday season, amid a pandemic that is killing people in record numbers. Nearly 320,000 Americans have died of COVID-19 this year and the daily death toll is repeatedly well over 3,000, the highest since the pandemic began.
On Christmas Eve, Trump played golf at his course in West Palm Beach, Florida, and tweeted a series of grievances repeating his baseless claims about the election result, including one aimed at Senate Republicans, whom he accuses of abandoning him because many now publicly recognize Biden as the winner.
Trump issued dozens of pardons this week, including to former aides convicted for obstructing a federal investigation into Trump's ties to Russia, and to four private security guards convicted of killing unarmed Iraqi civilians.
Trump stunned members of both parties when he unexpectedly announced this week his dislike of the $2.3 trillion spending bill, a package that had taken the House and Senate months to negotiate. The bill provides $892 billion in coronavirus relief, and $1.4 trillion in regular government appropriations.
Trump, who was represented in the negotiations with lawmakers by Treasury Secretary Steven Mnuchin and had not objected to the terms prior to the House and Senate votes, complained that the package was too full of money for special interests and foreign aid, and said the $600 in direct payments to most Americans was too small, demanding instead that the amount be increased to $2,000.
A White House official said Thursday that Trump's threat to not sign the bill should not come as a surprise, noting that Trump had once signed a mammoth omnibus bill against his better judgment and said at the time that he would not do it again.
In December 2018, Trump started a 35-day government shutdown when he refused to sign a spending bill that didn't include the funding he wanted for a border wall.
Without his signature on the coronavirus aid bill, about 14 million people will lose unemployment benefits on Saturday, and a partial government shutdown will begin on Tuesday.
It is unclear if Trump will ultimately sign the $2.3 trillion bill. Trump could also choose to take advantage of a situation known as a "pocket veto," rather than outright vetoing the coronavirus aid package. Because the current Congress expires on Jan. 3, Trump could let the normal 10-day period that a president has to sign or veto a bill simply run out. Bills die if they are not enacted during the Congress in which they are introduced.
If he does issue a veto, the House and Senate could try and override it next week. Congress might also have to pass a stopgap spending bill on Monday, before money that funds government operations expires at midnight.
Also on Monday, the Democratic-controlled House plans to vote on legislation providing one-time, $2,000 checks to individuals to help them during the coronavirus pandemic.
Reporting by Tim Reid in Los Angeles and Richard Cowan in Washington; Additional reporting by Steve Holland in Palm Beach, Florida; Editing by Heather Timmons and Leslie Adler
Tasha Kheiriddin: The pandemic is already changing the future of Canadian politics – National Post
Article content
What a difference a year makes. On Jan. 25, 2020, the first COVID case was identified in Canada. At the time, our country's leaders were grappling with a different crisis: blockades of rail lines and supply chains by Indigenous protesters in support of the hereditary chiefs of the Wet'suwe'ten First Nation. For most Canadians, COVID-19 was a matter for China, a minor headline, possibly just another bad flu.
Until, of course, it wasn't.
Today, the pandemic has upended every facet of our lives. Sadly, communities which were already disadvantaged have borne the brunt of the impact. This week, Cree doctor Marlyn Cook, who works in Moose Factory, Ont., told CTV News "One of the biggest things COVID-19 is bringing out, is the racism within the health-care system." Meanwhile, other trends have emerged as well: a growing urban-rural exodus, and a nosedive in trust in our elected officials.
What does this new reality portend for Canadian politics? How will it shape issues in the elections to come? Here are three possible issues and the impacts they could have.
Politics Briefing: Trudeau says new travel restrictions are coming – The Globe and Mail
Hello,
New travel restrictions are coming, Prime Minister Justin Trudeau says – but just what they are is not yet clear.
Mr. Trudeau has been repeating the warning for days now that Canadians should not book non-essential trips out of the country, or even between provinces, because new restrictions could come at any time.
Public-health officials are worried that March Break travel could cause new outbreaks, of the sort that triggered new lockdowns in January from Christmas-break travel.
The Liberal cabinet has apparently not decided yet what the new restrictions will be, but it could include mandatory 14-day quarantining at a hotel upon a traveller's return to Canada.
This is the daily Politics Briefing newsletter, written by Chris Hannay. It is available exclusively to our digital subscribers. If you're reading this on the web, subscribers can sign up for the Politics newsletter and more than 20 others on our newsletter signup page. Have any feedback? Let us know what you think.
TODAY'S HEADLINES
The Liberal government unveiled today $1-million low-interest loans for businesses in sectors such as tourism and hospitality that have been hit particularly hard by public-health restrictions.
The Liberal government also launched budget consultations for 2021 after skipping the 2020 budget due to the pandemic.
A group of Conservatives who worked under Stephen Harper – including former minister John Baird and former chief of staff Nigel Wright – are organizing an effort to get more Canadian expats to vote Conservative in the next election.
Brampton Centre MP Ramesh Sangha has been removed from the Liberal caucus, apparently after making comments that labelled two current and former Liberal cabinet ministers who are Sikh – Navdeep Bains and Harjit Sajjan – as "extremists."
Senator Lynn Beyak says she is retiring and, in a parting shot, says the residential schools that led to generations of trauma in Indigenous communities still did some good things.
Protesters drew attention yesterday to the fact that Canada continues to ship light-armoured vehicles to Saudi Arabia for use in the conflict against Yemen.
The United Nations refugee agency said last year saw a record low number of resettlements due to the pandemic and travel restrictions.
And the chief executive officer of the Great Canadian Gaming Corp. has stepped down after he and his wife were caught posing as motel workers in the Yukon in order to get early access to the COVID-19 vaccine. The two were charged and fined, though Rita Luxton, the owner of the motel at which they claimed to work, suggested the punishment didn't go far enough. "I don't think a $500 fine is going to give any kind of justice to anybody because the guy can obviously afford to charter a goddamned plane," she said.
Campbell Clark (The Globe and Mail) on moving on from Julie Payette's resignation as Governor-General: "Ms. Payette is reported to have created a toxic workplace, not sold secrets to the Russians. The remedy is her departure. The government doesn't have to finance her post-GG projects, or fund an office for her. And if anyone in the House of Commons wants to take a close look at the benefits allotted to future governors-general, senators – or MPs – fine. But having Parliament consider a new law solely to remove Ms. Payette's pension? That would be an improper targeting of an individual out of excessive political pandering."
Rita Trichur (The Globe and Mail) on the need to knock down interprovincial trade barriers: "It's clear that Ottawa needs to give our premiers a swift kick in the pants. Currently, only four provinces – British Columbia, Saskatchewan, Manitoba and Nova Scotia – allow for some form of direct-to-consumer shipments for their residents, but there are restrictions. What's more, the lack of reciprocity among provinces has proved to be a sore spot during the pandemic."
Erna Paris (The Globe and Mail) on the need to hold Donald Trump accountable for his actions: "Impunity for grave acts corrodes societies because the failure to render individual perpetrators accountable abets (often deliberate) forgetting. Impunity encourages perpetrators to rejoice in their putative success and to infer, correctly, that the citizenry is unwilling to stop them. This is perilous in both the short and the long term."
Joan Fraser (Montreal Gazette) on the future of anglophones in Quebec: "Old myths endure that anglos are wealthy oppressors of francophones. How many people realize that proportionately far more Quebec anglophones than francophones now live below the poverty line, and that anglophones are more often unemployed? How many realize that the majority of anglophones are now bilingual? Combatting old perceptions can be exhausting."
Got a news tip that you'd like us to look into? E-mail us at tips@globeandmail.com. Need to share documents securely? Reach out via SecureDrop
Auf Wiedersehen, 'Mutti': How Angela Merkel's centrist politics shaped Germany and Europe – The Conversation Australia
Since 2005, Germany's Chancellor Angela Merkel has been one of the most stable and enduring of political forces, both in Europe and on the global stage. During her 16 years as leader, she has won four elections for her conservative Christian Democratic Party (CDU), faced the European refugee crisis, the global coronavirus pandemic, the threat of European populism, and challenging leaders such as US President Donald Trump and Russia's Vladimir Putin.
In September 2021, when the German elections will be held, one of the longest serving leaders of postwar Europe will leave office. She does so having steered Germany from being a "sick man of Europe" to becoming the world's fourth largest economy.
She leaves her country and Europe with her own singular brand of "Merkelism": the pragmatic politics of the centre marked by managing alliances and eliminating rivals; a considered pro-Europeanism and a belief in transatlantic relations; and a specific form of at times indecisive incrementalism.
---


Read more:
How Angela Merkel has become – and remains – one of the world's most successful political leaders


---
She 'waits and waits'
For sociologist Wolfgang Streeck, Merkel is
a postmodern politician with a premodern, Machiavellian contempt for both causes and people.
Educated in the communist former East Germany (DDR), she mastered the art, claimed biographer and Der Spiegel deputy editor-in-chief Dirk Kurbjuweit, of governing by silence, being cautious, and at times inscrutable, with her words:
She waits and waits to see where the train is going and then she jumps on the train.
In 2003, she pushed her conservative party into the choppy waters of deregulation and neo-liberal economics, a move that almost lost her the election to the Social Democrat Gerhard Schröder, another market "reformer" who arguably set the conditions she would thrive in. After becoming chancellor, she proceeded to clean the party stables of neo-liberals and become a key centrist, with the assistance of the Grand Coalition comprising the remains of the Social Democratic Party (SDP).
In domestic policy, she abolished military conscription, accepted, after initial reservation, single-sex marriage, and supported the introduction of a minimum wage in 2015. In approaching COVID-19, she demonstrated enviable skills in crisis management, leading to approval ratings of 72%.
Crisis management also marked her European policy, notably in saving the euro during the global financial crisis of 2009. But this came with its costs, with Merkel devoted to balancing the books and maintaining tight budgets to preserve the monetary union. Indebted countries such as Greece risked bankruptcy and a possible exit from the Eurozone.
Merkel, through her stern Finance Minister Wolfgang Schäuble, insisted on austerity measures in bailout negotiations. Greece would eventually be aided at the expense of its financial sovereignty.
Merkel's ability to morph has served her well
Throughout her chancellorship, Merkel has been able to change course abruptly to suit the political mood. Having convinced the Bundestag that phasing out nuclear energy born from the Red-Green coalition of 2001 was bad (an extension of operating times by eight to 14 years was proposed), Merkel proceeded, in the aftermath of the 2011 Fukushima Daiichi nuclear disaster, to order the closure of eight of the country's 17 nuclear plants with a despot's urgency.
This became the prelude to the policy of Energiewende, the "energy transition" aimed at phasing out all nuclear power plants by 2022 and a sharp shift towards decarbonising the economy.
Merkel the shape-changer was again on show during Europe's refugee crisis. She showed much initial enthusiasm in 2015 for new arrivals, ignoring both German and EU law mandating registration in the first country of entry into the EU before seeking resettlement within the zone. Refugees gathered in Budapest were invited into Germany as part of "showing a friendly face in an emergency".
This friendly face did not last long. A riot marked by rampant sexual assault at Cologne Central Station on New Year's Eve in 2015, a good deal of it captured on smart phones, served to harden her approach to the new arrivals. She promised more deportations and reining in family reunification rules.
Germany's place in the world
In various areas of foreign policy, Merkel has also left her centrist, and at times inconsistent, mark. Russia's annexation of Crimea in 2014 led to her persuading the EU to impose sanctions on Moscow. She has also been a critic of Putin's human rights record, notably towards dissident and opposition figures. But such human rights criticism comes with limits. The controversial Nord Stream 2 gas pipeline, which will increase German dependence on Russian energy, has not been stopped.
---


Read more:
Germany's (not so) grand coalition may cause ripple effects on European refugee policy


---
Towards China, the chancellor has also taken divergent, at times eyebrow-raising approaches. The security risks of Chinese 5G telecommunications have been rebuffed, with Germany making an agreement with Huawei to build 5G networks in the country subject to safeguards. Merkel was also instrumental in pushing through an EU-China investment deal, despite criticism of Beijing's human rights record towards Hong Kong protestors and the long-suffering Uighur minority. As Judy Dempsey observes,
Merkel's support for human rights and the rule of law doesn't square with her policy towards China.
Like Merkel's mentor Helmut Kohl was to discover, staying power is never eternal. Kohl lasted eight years as chancellor of West Germany before leading a united Germany for another eight. It is worth recalling who laid the final, cleansing blow to Kohl's leadership in the wake of the anonymous donations scandal known as the Schwarzgeldaffäre: a certain Angela Merkel's December 1999 contribution to the Frankfurter Allgemeine Zeitung calling for her former patron's resignation and political banishment. "I brought my killer," reflected Kohl ruefully. "I put the snake on my arm."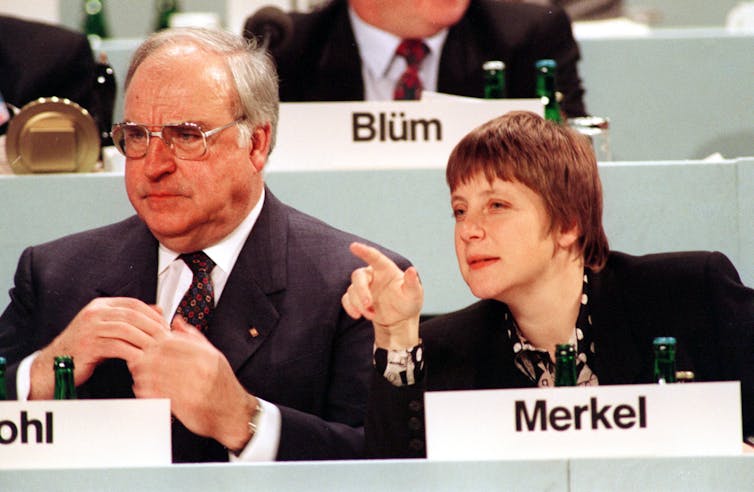 Merkel has also found that power, in time, wears out those who wield it. Critics, such as Friedrich Merz, former leader of the chancellor's parliamentary caucus, and Roland Koch, former minister president of Hesse, became bolder. Interior Minister Horst Seehofer was particularly critical of Merkel's refugee policies.
The far-right Alternative für Deutschland (AfD) now has a foothold in all 16 regional parliaments. The Greens have been polling strongly, while the Left Party and Free Democrats have doggedly maintained their presence. The day after the poor showing in the state elections in Hesse, Merkel announced she would not be seeking re-election as leader of the Christian Democrats. Nor would she be running again as chancellor in 2021.
Now, the CDU has another leader, Armin Laschet, who is very much committed to the centrist brand of politics Merkel made famous. Whether he becomes the next chancellor is far from assured. Markus Söder, the Bavarian premier, is far more popular.
However, Laschet's presence suggests that Merkelism, despite the departure of the leader many Germans call Mutti (mother), will continue in some form.