Portrayal: Stunning true tale of art, fury and faking it – The Globe and Mail
The most compelling drama airing or streaming this weekend is a true story that starts in Toronto and then continues in Israel and Vienna. It's about family secrets, family tensions and discovering the past as though it were a new world. It's also about art, ego and manipulation.
Portrayal (Sunday, CBC, 8 p.m., streams on CBC Gem) opens with several intriguing vignettes. They feature Oz Almog, an Israeli artist of some fame. He's a charismatic, vaguely menacing figure as he boasts about his work, sitting in his studio in Vienna, and swears a lot. As the story unfolds, we come to understand why this man seems hostile and rude.
After those vignettes, we get the backstory. The drama really begins back in Toronto where Roman Lapshin is obsessing about his grandfather, Vladimir Dvorkin, a prolific artist. Lapshin has figured out why his grandfather's work, obviously of high quality, was never known outside the family. The man had, for many years, painted constantly and sold the work to Almog, who either resold or exhibited the works as his own. Dvorkin was a "ghost" painter employed, more or less, by Almog.
Catch up on the best streaming TV of 2021 with our holiday guide
Lapshin sees this discovery as an outrage, and we understand why – we see an exhibition of Almog's work, a big social occasion, and we hear Shimon Peres, the late president of Israel, praising Almog as a great painter. The exhibition is filled with work painted by Lapshin's grandfather. The core of the documentary, directed by Billie Mintz, is a journey with two destinations. First, Lapshin goes to Israel to talk to his family there about his grandfather's work. His relatives argue fiercely against him telling the story at all. They don't want the truth to come out. It will upset people. It might make Almog very angry. An uncle says there's no scandal, because the grandfather was compensated for his work. Lapshin is indignant, saying, "It's not like he was laying bricks for the man." This argument neatly captures many of the issues involved.
As Lapshin finds out more about his grandfather's life and discovers footage of the man displaying his striking portraits and acknowledging that they become someone else's property, he simmers with rage. He wants to confront Almog. This begins what is a chase and a game of deception, because Lapshin remains unsure how, exactly, he should challenge Almog and expose him. Then Almog declares he might burn his paintings, in a kind of provocative joke.
How the two meet, and Almog discovers the person he's really dealing with, is a scene worth waiting for. And it is followed by a disconcerting climax in March of 2020, as Lapshin and his girlfriend Erin realize that the coronavirus has begun spreading in Canada and they might have to return home before their full task is complete. What happens in Portrayal is, on the one hand, a tale of catching a thief. On the other hand, it raises questions about whether there was theft at all. It's a fabulous story about coming to terms with what our forefathers did and why they did it.
Also airing/streaming this weekend
Canadian Jewish TV (Saturday, OMNI, 10 p.m.) is brought to your attention because Valerie Pringle makes a rare TV appearance. The former CBC and CTV host talks to the show's host, Ieden Wall, about mental-health issues. Mainly, Pringle – as cool and articulate as ever – describes the struggles her daughter Catherine faced and how, as a parent, she at first felt helpless. The conversation deals specifically with the issues facing teenagers today, the array of fears and anxieties that arise in a world saturated with social media. The phrase, "narcissistic generation of smartphone addicts" is used and Pringle talks about her own methods for overcoming depression and anxiety.
Masterpiece Classic: All Creatures Great and Small (Sunday, PBS, 8 p.m.) returns. James (Nicholas Ralph) returns from Glasgow. He was offered a job there and must decide between staying or returning to his new life in Yorkshire. As if. There is, in Yorkshire, the incredible allure of one Helen Alderson (Rachel Shenton, who is wonderful in the series) and it's springtime.
Finally, take note of Pivoting (Sunday, Fox, 8:30 p.m.) is one of the more promising new mid-season comedies. Three women re-evaluate their lives after the death of their best friend. Amy (Eliza Coupe) wants to be a more caring mother. Sarah (Maggie Q) gets a new job bagging groceries, and tries to upgrade her razzle-dazzle. Jodie (Ginnifer Goodwin) takes up fitness and thinks about escaping her marriage. Not wildly funny yet, but definitely wacky.
Plan your screen time with the weekly What to Watch newsletter. Sign up today.
Art thieves make off with sculptures from Kelowna gallery – CBC.ca
Kelowna RCMP are investigating a brazen early morning art heist at Gallery 421 in the city's South Pandosy district.
Gallery co-owner Ken Moen said two masked men took a crowbar to the front doors just before 2 a.m. Saturday and made off with almost $70,000 of Canadian fine art.
"It was a total of three minutes. They were in, they were out," he said.
"All things considered, we feel fairly lucky because they did zero vandalism. We have paintings on the walls they didn't touch. It was very targeted."
Moen said the criminals immediately ran for the most expensive, heaviest works on display at the back of the gallery: two bronze sculptures by noted Calgary area cowboy artist Vilem Zach, each weighing about 40 kilograms.
The thieves quickly loaded up a vehicle, re-entered and snatched three smaller bronze sculptures cast by Summerland's Michael Hermesh, three glass bowls blown by Jeff Holmwood, and two soapstone bear carvings from Vance Theoret.
"They knew what they were getting," Moen told CBC News.
"I think someone has a shopping list and they sent them here … somebody probably said go grab the most expensive sculptures and get in and get out."
Moen says the bronze has little value smelted down or sold as scrap. Selling the works of art will be difficult at any Canadian galleries or auction houses.
The break and enter was caught on the gallery's security cameras.
The RCMP are seeking information on two male suspects.
"One suspect is described as wearing a red bandana over his face, a grey tuque, grey sweater, black track pants with white pin stripes and white shoes. The second male suspect is described as wearing a mask over his face, a black hoodie, grey sweatpants and with black Adidas shoes," said RCMP Cst. Solana Paré.

Cold comfort: film, music, art and more to combat the winter blues – The Guardian
Letters: Art in the time of COVID – Richmond News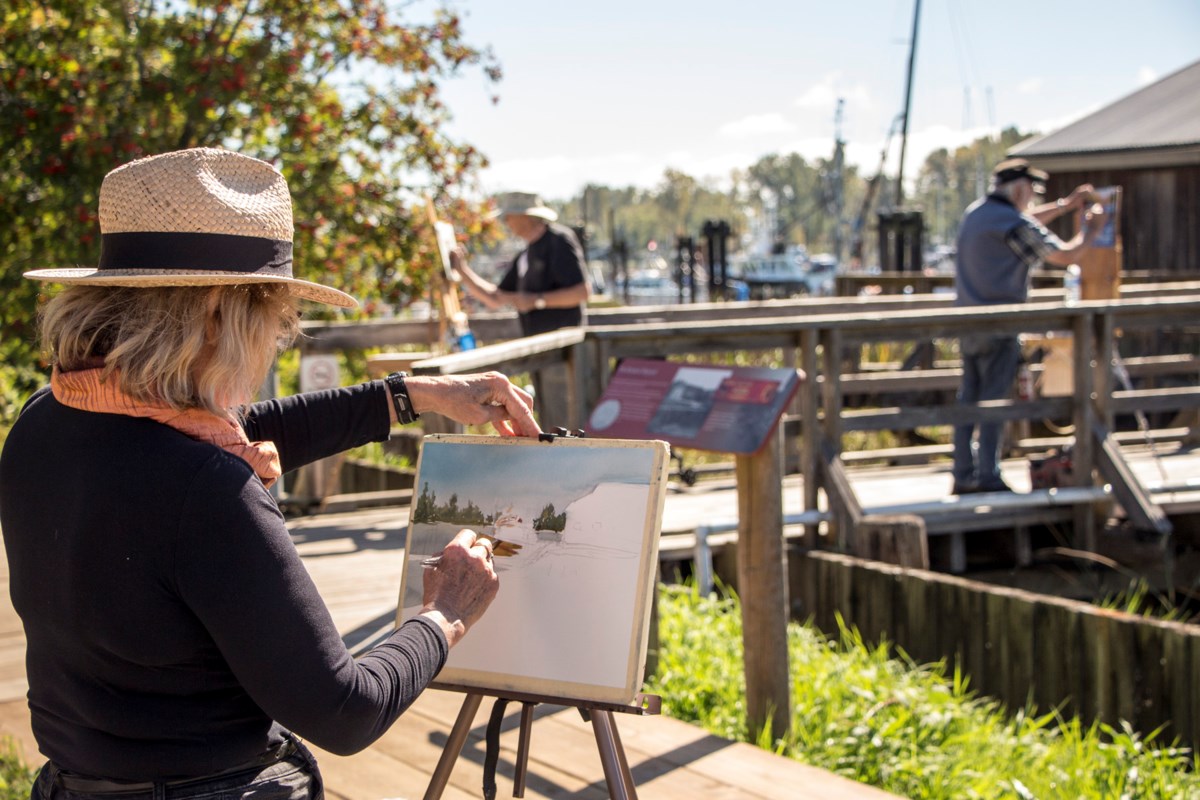 Dear Editor,
During WWII, Britain's Prime Minister Winston Churchill was asked to cut the arts programs to adequately fund the war effort, to which he responded, "Then what are we fighting for?"
Many of us feel as though these past two years have been akin to a war, or at least a battle. If you are like me, it often feels like we take a few steps forward, followed by a few more steps back, particularly as new variants, such as Delta and Omicron, rear their ugly heads.
Two years later, I don't think I am alone in feeling like I have been in the midst of a war zone, trying to keep myself, my family, my friends and my community safe during uncertain and unpredictable times.
While we collectively try to preserve and protect our physical health, we cannot lose sight of our mental wellness. At times during this pandemic, I have felt sad, scared, anxious, depressed, forlorn, hopeless, mad and defeated — often feeling more than one of these emotions at once.
Reflecting on Churchill's quote, I have come to realize that the man was onto something, and art might be a much-needed respite to our ongoing struggle. Will we solve the world's problems with a bit of paint and paper? No. Might art bring us some light and happiness in these dark, cold, Covid-laden days? Yes, I think so, and there is solid evidence to back this conviction.
Last month, I ordered some coloured pencils, crayons, and sketching paper on a whim. I hadn't done much drawing and colouring since I left elementary school, but I thought, "what the heck!"
When it came in the mail, my heart was delighted, and as I started to colour my less than realistic, stick-figured tree, my soul felt lighter and happier.
I am not claiming that art can solve our problems, but it might help keep our spirits lifted and preserve our mental health. We must hold our public officials accountable for protecting us. But we must also work together to protect our physical and mental wellness so that we can emerge from this pandemic strong and ready to continue our pursuit of a better tomorrow.
Jack Trovato (he/his)
RICHMOND