Postmortem of the Infamous Day WTI Crude Oil Futures Went to Heck in a Straight Line – WOLF STREET
The US Energy Information Agency (EIA) dissects the historic event.
"It's not often that we're served up a WTF moment like this," I wrote on April 20, when the May contract for crude-oil benchmark-grade West Texas Intermediate (WTI) plunged to minus -$37.63 in a straight line, thus violating the WOLF STREET beer-mug dictum that "Nothing Goes to Heck in a Straight Line." It was the first time in history that a US crude oil futures contract plunged into the negative. The peculiar dynamics that came together and caused this are expected to continue and some of them are expected to get worse over the next month or two. So here is the postmortem of this infamous day, by the US Energy Information Agency (EIA).
WTI crude oil futures prices fell below zero because of low liquidity and limited available storage.
On Monday, April 20, 2020, New York Mercantile Exchange (NYMEX) West Texas Intermediate (WTI) crude oil front-month futures prices fell below zero dollars per barrel (b)—at one point, trading at -$40.32/b (Figure 1)—and remained below zero for part of the following trading day. Monday marked the first time the price for the WTI futures contract fell below zero since trading began in 1983.
Negative prices in commodity markets are very rare, but when they occur they typically indicate high transactions costs and significant infrastructure constraints.
In this case, the WTI front-month futures contract was for May 2020 delivery, and the contract was set to expire on April 21, 2020. Market participants that hold WTI futures contracts to expiration must take physical delivery of WTI crude oil in Cushing, Oklahoma.
Typically, most market participants close any futures contracts ahead of expiration through cash settlement in order to avoid taking physical delivery, and only about 1% of contracts are physically settled. The extreme market events of April 20 and April 21 were driven by several factors, including the inability of contract holders to find other market participants to sell the futures contracts. In addition, in this case, the scarcity of available crude oil storage meant several market participants could not take physical delivery at expiration and resorted to selling their futures contracts at negative prices, in effect paying a counterparty to take hold of the contracts.
Crude oil and other commodities are traded on futures markets, which are financial exchanges that market participants use to manage risk in a variety of businesses, including but not limited to, upstream crude oil production, refining, shipping, and wealth management. Because they can be delivered physically, prices for WTI futures contracts, for the most part, converge with spot market prices after expiration.
The spot market reflects cash transactions for physical buying and selling of the underlying commodity. For more information on the interaction between physical commodity markets and financial markets, the U.S. Energy Information Administration (EIA) provides explanations and updated material on its web page What Drives Crude Oil Prices?
The terms and conditions contained in the settlement procedures of the May 2020 WTI contract as stipulated by CME Group—which owns and operates the NYMEX on which the contract is traded—are key to understanding the recent price activity.
On expiration, the holder of a WTI contract has two options to meet the contract's physical delivery requirement:
First, up until 2:00 p.m. on the business day following the expiration date, a contract holder can settle the position by entering into an Exchange for Physical (EFP) contract with a counterparty, which transfers the contract to a counterparty in exchange for cash or other futures contracts with later expirations.
Second, settlement can also occur if a contract holder takes physical delivery of the crude oil. As per the NYMEX contract's specifications, delivery of the physical crude oil volumes must occur at a pipeline or storage facility in Cushing, Oklahoma, with pipeline access to Enterprise Product Partner's crude oil terminal or Enbridge Inc.'s crude oil terminal. This delivery must also occur within a specific time, which is currently set no earlier than the first calendar day of the contract month and no later than the month's last calendar day.
Under normal conditions, taking delivery of crude oil at Cushing is straightforward. Buyers can have the oil transferred into a storage facility or pipeline that they own or lease. Or, with the seller's consent, they can transfer ownership of the crude oil somewhere else in the pipeline and storage system.
Normal physical settlement has been disrupted, however, by the recent decline in the availability of uncommitted crude oil storage capacity. Because of the impact of the 2019 novel coronavirus disease (COVID-19) on economic activity and the consumption of petroleum products, U.S. consumption of crude oil and petroleum products has sharply declined. As of the week ending April 17, U.S. refinery runs fell to 12.8 million barrels per day (b/d), 4.1 million b/d (24%) lower than the same time last year.
As a result of this extreme demand shock, excess imported and domestically-produced crude oil volumes have been placed into storage. Crude oil storage facilities at Cushing have 76 million barrels of working storage capacity, of which 60 million barrels (76% after accounting for pipeline fill and stocks in transit) were filled as of April 17 (Figure 2). Although Cushing has physically unfilled storage available, some of this physically unfilled storage is likely to have already been leased or otherwise committed, limiting the uncommitted storage available for contract holders without pre-existing arrangements. In this case, these contract holders would likely have to pay much higher rates to storage operators that have uncommitted space available.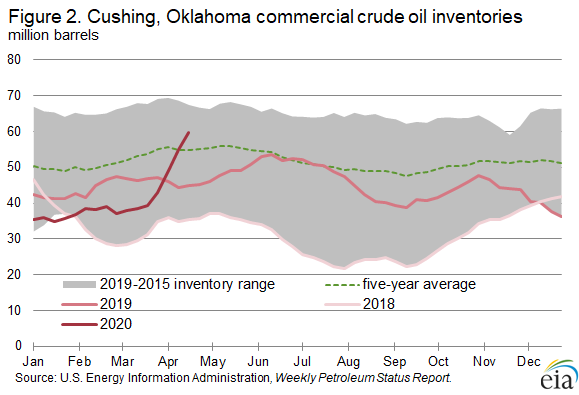 Although data for storage costs are limited, the increased demand for storage has likely placed significant upward pressure on crude oil storage costs. Trade press reports of high on-land storage costs, high rates for crude oil maritime shipping (which can be used as an alternative to on-shore storage), and high levels of contango (when near-term futures prices are lower than longer-dated ones) all reflect an increase in storage costs since early March 2020.
The inability of some market participants to take physical delivery meant that they had to settle the May 2020 WTI contract financially by selling the contract to another market participant. As a result, owners of the May 2020 WTI futures contract most likely had to sell at lower prices to exit their contracts and avoid physical settlement. In this extreme market environment, several participants had to sell at negative prices—that is, pay the other party to take hold of the contract before expiration.
Theoretically, a contract holder could choose or be forced to fail to take physical delivery of the crude oil cargo, although doing so is likely to be costly. The specific costs associated with a failure to accept physical delivery depend on the specific contractual arrangements entered into by the futures contract holder and the Futures Commission Merchant (FCM)—the entity responsible for executing the buying and selling of futures contracts on behalf of a client.
The possible costs could include a combination of direct monetary penalties, reputational consequences, the liquidation of the collateral deposited by the client in the margin account with the FCM, the revocation of trading privileges, and the costs of any legal settlements resulting from the breach of contractual obligations. As a result, holders of expired contracts obligated to take physical settlement rarely fail to take delivery.
Taken together, these factors suggest that the phenomenon of negative WTI prices could be confined to the financial market, with few physical market participants paying negative prices. The positive pricing of other crude oil benchmarks (with the Brent contract for June 2020 delivery closing at $19.33/b on April 21), positive prices for longer-dated WTI prices, and positive spot prices for other U.S. crude oils suggest that the recent price action was predominantly driven by the timing of the May 2020 contract expiration.
The availability of storage in Cushing will remain an issue in the coming weeks, however, and could still result in volatile price movements in the June WTI futures contract or other U.S. crude oil spot prices that face limited storage options. EIA will continue to monitor these market developments. By the Energy Information Agency
By how much will economic activity in the US plunge? "Three times deeper than the Great Recession?" Read... How Far Will the U.S. Economy Plunge During Lockdown?
Enjoy reading WOLF STREET and want to support it? Using ad blockers – I totally get why – but want to support the site? You can donate. I appreciate it immensely. Click on the beer and iced-tea mug to find out how:

Would you like to be notified via email when WOLF STREET publishes a new article? Sign up here.
Tourmaline to expand in Montney with C$1.1 billion deal for Black Swan
Canada's Tourmaline Oil Corp said on Friday it would buy privately owned Black Swan Energy Ltd in a C$1.1 billion ($908.79 million) deal, as the oil and gas producer looks to expand in the Montney region, one of North America's top shale plays.
Canada's Montney, which straddles Alberta and British Columbia, has seen a wave of consolidation as companies buckled under collapsing oil prices amid the COVID-19 pandemic.
Tourmaline said the deal represents a key part of its ongoing North Montney consolidation strategy and the company sees the area as a key sub-basin for supplying Canadian liquefied natural gas.
The company in April acquired 50% of Saguaro Resources Ltd's assets in the Laprise-Conroy North Montney play for $205 million and entered into a joint-venture agreement to develop these assets.
Analysts at brokerage ATB Capital Markets called the Black Swan assets a "hand in glove" fit with its recent acquisitions.
Tourmaline stock rose 4.5% to C$32.1.
The deal value consists of 26 million Tourmaline shares and a net debt of up to $350 million, including deal costs.
Tourmaline will acquire an expected average production capacity of over 50,000 boepd when the deal closes, likely in the second half of July.
The company, which also raised its dividend by 1 Canadian cent per share, expects the Black Swan assets to generate free cash flow of $150 million to $200 million in 2022 and beyond.
The Canadian energy sector has seen a flurry of deals with companies expecting to benefit from the rebound in oil prices as global fuel demand picks up.
ARC Resources Ltd in April bought Seven Generations Energy Ltd for C$2.7 billion to create Montney's largest oil and gas producer.
($1 = 1.2104 Canadian dollars)
(Reporting by Rithika Krishna in Bengaluru; Editing by Vinay Dwivedi)
Exxon losing veteran oil traders recruited to beef up profit
Exxon Mobil Corp has lost two top crude oil traders from its U.S. energy trading group, according to people familiar with the matter, in a continued exodus from the group.
Exxon last year reversed course on a major expansion of its oil and petroleum products trading as fuel demand tumbled during the pandemic. It suffered a $22.4 billion loss in 2020 from its oil production and refining businesses, leading to deep cost cuts across the business.
Veteran oil traders Michael Paradise and Adam Buller, both of whom joined the company in 2019 after lengthy careers elsewhere, resigned last week, the people said. Paul Butcher, an Exxon trader in Britain, plans to leave in September, another person familiar with the operation said.
Butcher was recruited by Exxon in 2018 to advise it on North Sea oil markets and on accounting for trading transactions. He earlier worked for BP Plc, Glencore Plc and Vitol SA.
Exxon declined to comment on the departures, citing personnel matters.
"We're pleased with our progress over the past couple of years to grow our team and capabilities," said spokesman Casey Norton. Exxon's scale and reach "give our trading teams a broad footprint and unique knowledge and insights" that can generate value for shareholders.
Paradise was a highly regarded crude oil trader who joined Exxon from Noble Group and earlier was director of crude oil trading at Citigroup Inc and BNP Paribas. Buller joined Exxon in late 2019 after trading oil for Petrolama Energy Canada and Spain's Repsol SA. He earlier was director of international oil trading at BG Group.
Exxon recruited a cadre of experienced traders hoping to replicate rivals BP and Royal Dutch Shell in trading. Both generated enormous trading profits last year by buying oil during the downturn. They sold it at higher prices for future delivery, posting multibillion-dollar profits for the year.
In contrast, Exxon began restricting the group's access to capital as the pandemic accelerated, laid off some staff and offered early retirement packages to others, Reuters reported. Exxon does not separately report the performance of its trading unit.
(Reporting by Gary McWilliams in Houston, Devika Krishna Kumar in New York and Julia Payne in LondonEditing by David Evans and Matthew Lewis)
G7 global tax plan may hit corporate titans unevenly
An agreement by wealthy nations aimed at squeezing more tax out of large multinational companies could hit some firms hard while leaving others – including some of the most frequent targets of lawmakers' ire – relatively unscathed, according to a Reuters analysis.
Finance ministers from the Group of Seven leading nations on Saturday agreed on proposals aimed at ensuring that companies pay tax in each country in which they operate rather than shifting profits to low-tax havens elsewhere.
One proposed measure would allow countries where customers are based to tax a greater share of a multinational company's profits above a certain threshold. The ministers also agreed to a second proposal, which would levy a minimum tax rate of 15% of profits in each overseas country where companies operate, regardless of profit margin.
The Reuters review of corporate filings by Google-owner Alphabet Inc suggests the company could see its taxes increase by less than $600 million, or about 7% more than its $7.8 billion global tax bill in 2020, if both proposed measures were applied. Google is among the companies that some lawmakers have criticized as paying too little tax.
Meanwhile, medical group Johnson & Johnson, which is also U.S.-based, could see its tax bill jump by $1 billion, a more than 50% rise over its $1.78 billion global tax expense last year, according to Reuters' calculations.
Both Google and J&J declined to comment on the calculations.
In a statement Saturday following the G7's agreement, Google spokesman José Castañeda said: "We strongly support the work being done to update international tax rules. We hope countries continue to work together to ensure a balanced and durable agreement will be finalized soon."
Determining the exact impact the new rules will have on companies is difficult, in part because companies don't typically disclose their revenues and tax payments by country. And key details about how the rules would be implemented are still pending, tax specialists say, including to which countries profits would be reallocated and to what degree taxes generated by the new measures would offset taxes owed under the current system.
The proposed rules themselves also face hurdles. In the United States, several top Republican politicians have voiced opposition to the deal. Details of the agreement are also due to be discussed by the wider Group of 20 countries next month.
Four tax specialists concurred with Reuters' methodology but noted that there is still uncertainty about how the measures would be applied, including which tax breaks are included in the 15% minimum overseas tax.
The G7 comprises Canada, France, Germany, Italy, Japan, the United Kingdom and the United States.
"The deal makes sure that the system is fair, so that the right companies pay the right tax in the right places," said a spokesperson for the UK Treasury, which hosted the G7 meeting. "The final design details and parameters of the rules still need to be worked through."
SHARING PROFITS
The first proposed measure focuses on large global firms that report at least a 10% profit margin globally. Countries in which the companies operate would have the right to tax 20% of global profits above that threshold in an effort to stop companies reporting profits in tax havens where they do little business.
Applying that formula to Google could result in as much as $540 million in additional taxes, according to the Reuters analysis.
Based on Google's 2020 global profits of $48 billion, Reuters calculated what portion of that income could be reallocated based on the G7's proposed formula. Reuters then calculated how much more the company would pay if tax was levied on that portion of income at the rate of 23% – which is the average tax rate for developed nations as identified by Paris-based research body the Organization for Economic Cooperation and Development – rather than the average overseas tax rate of 14% that Google said it paid last year.
Applying the same methodology to J&J, and its 2020 global profits of $16.5 billion, the healthcare company would see its global tax bill rise by about $270 million as a result of the first measure.
The exact impact on each company's tax bill would depend on how much income is actually reallocated. Also at issue is which country the profit is moved from and to – and therefore what the increase in tax rate is. If all the reallocated profit comes out of zero-tax jurisdictions, the impact could be greater.
MINIMUM TAX OVERSEAS
U.S. and UK officials say the other measure, involving a 15% global minimum tax, will have a bigger total impact on how much in taxes governments collect. But its effect on companies will vary widely. In recent years, Google-parent Alphabet, like some other targets of tax campaigners, has reorganized its international tax structures and last year reported over three-quarters of its global income in the United States compared to less than half in each of the previous three years, according to its corporate filings.
Google reported $10.5 billion of dollars of earnings from outside the United States last year and an average overseas tax rate of 14%, which is one percentage point below the G7's proposed minimum tax.
If Google's overseas earnings were all taxed at 15%, the additional tax due would be $100 million. The impact could be higher if a large proportion of the money is earned in zero-tax jurisdictions like Bermuda, where Google used to report over $10 billion a year in income. Conversely, the impact of the minimum tax would be reduced if the first measure prompted Google to reallocate some of its non-U.S. earnings out of tax havens.
Excluding the impact of the first proposed measure, increasing the tax rate on overseas income to 15% would mean $45 million of additional tax.
The situation for J&J would be very different. It earned 76% of its 2020 income outside of the United States and paid 7% tax on average on that overseas profit. Applying a 15% tax rate to that overseas income figure would result in $990 million in additional taxes, according to Reuters' calculations.
While the reallocation of profit under the first measure would reduce this impact, the combined result of the two measures would be more than $1 billion.
Academics say businesses are adept at mitigating the impact of measures that are designed to reduce tax avoidance and therefore could re-organize in order to limit the impact of the proposed measures. And, in reality, tax incentives offered by governments mean companies may end up paying less in practice.
(Reporting by Tom Bergin; Editing by Cassell Bryan-Low)