Prehistoric cave art found in Spain
A panel of more than 100 prehistoric engravings has been found in a cave in La Febró, Catalonia, Spain.
The Cova de la Vila cave complex first attracted archaeological interest in the 1940s, but after a few preliminary investigations its location was lost again for 80 years. The cave was rediscovered in 2012 during a research project by IPHES (the Catalan Institute of Human Paleoecology and Social Evolution). However, the Sala dels Gravats, or the Engravings Room, was initially identified by a group of cavers who were exploring the area independently in 2021. They reported their discovery to IPHES, who have since been carrying out comprehensive work to investigate, document, and protect the site, which was announced to the public in March this year.
The engravings make up an 8m-long panel along one wall of the Sala dels Gravats, a small chamber covering c.90m2. The surface of the wall is relatively soft, and the engravings were made using both the artists' fingers and wood or stone tools. The motifs found on the panel include quadrupeds (possibly bovids and equids), as well as circles, zigzags, lines, reticulates, stelliforms (suns and/or stars), and more. There is also a composition that the researchers suggest resembles the oculado or 'eye idol' sculptures known from the Chalcolithic Iberian Peninsula.
The engravings are organised into five lines, with different elements dominating various parts of the panel: zoomorphic images are most common in the lower section, reticulated in the central part, and stelliforms in the upper part. It is thought that the whole panel was probably created at the same time or over a relatively short period, due to the lack of overlapping images and the stylistic homogeneity of the engravings, and the archaeologists believe that its organisation reflects a deliberate composition, which probably had some sort of symbolic meaning.
Based on stylistic analysis, the panel is thought to be associated with the pastoral and agricultural communities of the Chalcolithic or Bronze Age, who lived in the region c.5,000-3,000 years ago, offering a valuable insight into their worldview. It is very rare to find art from the period in underground caves in this area – almost all other examples known are from outdoor shelters – making this one of the most important collections of post-Palaeolithic prehistoric art in the Mediterranean arc.
Due to the delicate conditions in the Sala dels Gravats, documentation and conservation are currently IPHES's main priorities. However, explorations of the cave's topography and a few archaeological test-pits, as well as archaeological material found on the surface of the cave floor – including animal remains and a shell that was used as a lamp – have confirmed the authenticity and importance of the art and its association with post-Palaeolithic prehistory. The next stage of research will involve in-depth study of the engravings through photography, photogrammetry, and digital tracings, as well as the creation of 3D models to allow both researchers and the public to explore this unique discovery without endangering the fragile art.
Artists slam Duke Nukem 1+2 Remaster art & claim it's "AI generated" – Dexerto
Fans of the long-dormant Duke Nukem series were elated to see a remaster of the first 2 games getting announced, but that excitement has been dampened by people calling out the game's key art for being "AI generated".
AI has been rapidly developing as of late, getting implemented in an increasing number of ways for people to generate images and text by feeding certain AI programs a prompt to work from.
AI art has become just as controversial as it has been prominent, and people are increasingly wary of AI-generated images replacing the work of real artists.
Article continues after ad
When the promotional art for the Duke Nukem 1 + 2 Remasters released, the joy of many fans was traded out for disdain, with many claiming that the art wasn't created by an actual artist. To prove their point, several artists put together a detailed analysis of the image to try and explain why they think the artist that was hired didn't do all his work by hand.
Duke Nukem 1+2 Remaster under fire for "AI generated" art
When AI art first started taking the internet by storm, it was pretty easy to discern what was and wasn't real. Though some images were more convincing than others, things like hands, facial expressions, and other small details didn't quite line up with what a human artist would produce.
Article continues after ad
However, as the technology rapidly advances, it's getting harder and harder to tell the difference. For instance, the cover art for a book by the name of Bob the Wizard was exposed as being AI generated after it won a cover art contest, with the author of the book now working with a different artist to replace it.
Subscribe to our newsletter for the latest updates on Esports, Gaming and more.
Now, Duke Nukem fans and artists are calling out Oskar Manuel, claiming that he used AI to generate the cover for the Duke Nukem 1+2 Remaster under the nose of Evercade, the company promoting the remaster.
Article continues after ad
It hasn't been confirmed by the artist or Evercade whether or not Manuel used AI in the production of art for the title, but several artists and gamers have swarmed the account, claiming that art from Manuel's portfolio seems to be AI-generated.
One artist went out of their way to mark the places in which they think the art most clearly shows its faults and other examples of art from Manuel's portfolio that includes things like clocks with no hands and characters with 6 fingers.
Article continues after ad
Neither Evercade nor Manuel have commented further on the matter at the time of writing, and the story is still developing.
Global BC sponsors Vancouver Art Gallery: Fashion Fictions – GlobalNews Events – Global News
On now until October 9
Vancouver Art Gallery
Head to the Vancouver Art Gallery for Fashion Fictions,
This exhibition explores the increasing influence of research-based, materially driven practices on the global fashion scene, and surveys experimental design practices pushing the boundaries of the art form.
Proudly sponsored by Global BC.
Details at VanArtGallery.bc.ca
Poland's quest to retrieve priceless Nazi-looted art – BBC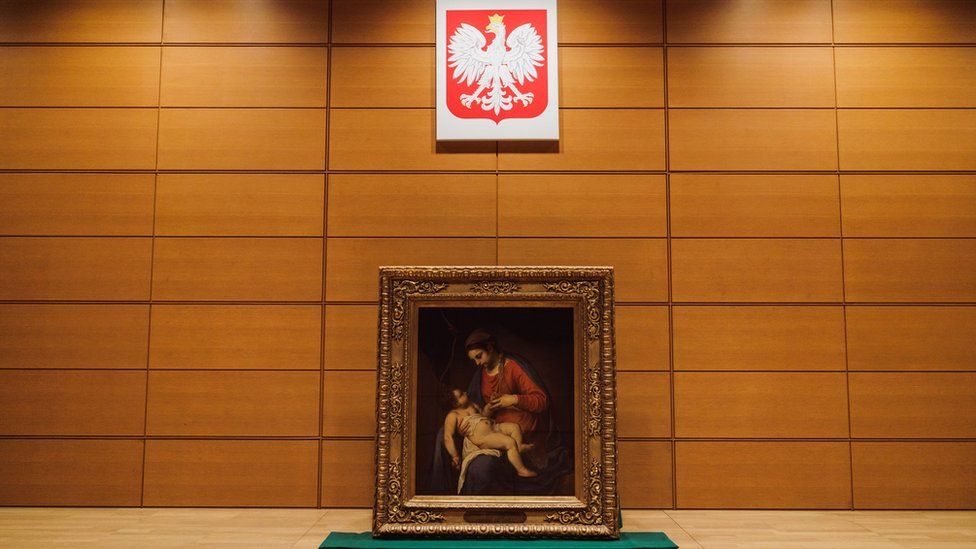 When the Nazis occupied Poland in World War Two, many of the country's priceless pieces of art were stolen.
One of those was Madonna with Child, a 16th Century painting attributed to Italian Alessandro Turchi. A Nazi official who oversaw the looting of art included the painting on a list of hundreds taken from occupied Poland.
It is one of 600 looted artworks that Poland has managed to successfully bring home, but more than 66,000 so-called war losses are yet to be recovered.
Poland recently launched a campaign seeking the return of hundreds of thousands artworks and other cultural items still missing after German and Soviet occupations in World War Two. It is also seeking $1.3 trillion in reparations from Germany for damage incurred by occupying Nazis.
Experts believe more art will be discovered with the passage of time as heirs to looted artwork attempt to sell pieces without being aware of their history.
Madonna with Child is thought to have been transferred to Germany in 1940 during the Nazi occupation of Poland. The Nazis often looted art belonging to Jewish families before killing them.
The painting was included on a list of 521 artworks in occupied Poland compiled by Kajetan Mühlmann, a Nazi official who oversaw the looting of art.
The painting reappeared in the 1990s, when it was sold at a New York auction.
It was due to be auctioned in January last year, but the sale was halted after Polish authorities spotted the piece. Once it was proven to be the looted painting, the auction house and the painting's owner agreed to return it to Poland. An official handing-over ceremony took place in Tokyo on Wednesday.
Polish art historian Natalia Cetera said the return of masterpieces like Madonna with Child help restore pride in the country's art heritage.
Poland had Rembrandt and Raphael pieces stolen, as well as internationally recognised Polish masterpieces, she said.
"So whenever there is this situation where the artworks come back to Polish collections, you feel proud because it shows the importance of Polish collections that is sometimes forgotten," Ms Cetera told the BBC.
"It means we have some strong focus on remembering our heritage, our collections and the strength we used to have in art, because this is something we tried to rebuild after the war and this is a long process to be recognised again."
Ms Cetera says she believes there has been a shift in recent years in cultural heritage "being seen as a common good".
Christopher Marinello, founder of Art Recovery International, has spent more than 30 years finding missing masterpieces. He believes that more pieces could start showing up as looted artwork gets handed down to the next generation, with the new heirs unaware of their history.
"We're talking about a generation ago now and these looted objects are being left to their heirs when the possessors pass away and the children don't necessarily know the history and they decide to sell it," Mr Marinello said.
Polish authorities have recorded stolen pieces of artwork on Interpol and other private and government databases.
"There's also a great number of art historians out there who are doing research of looted artworks from Poland and they're spotting them too," Mr Marinello said.
"The more that tech improves and auction houses start to post everything online, there's more eyes looking for the objects that have been looted."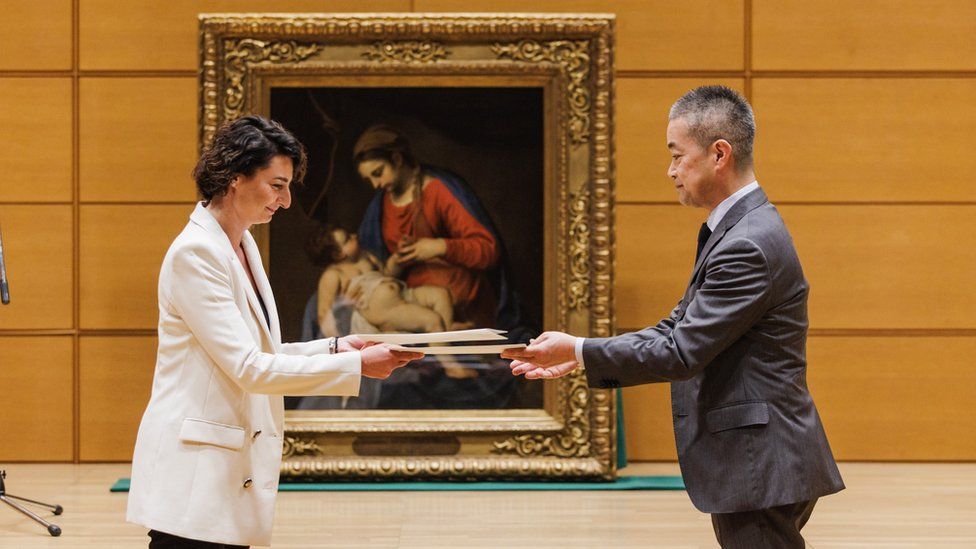 Mr Marinello believes there is also a "generational shift" in attitudes to stolen masterpieces. He's currently working on a case where a man in Chicago contacted him about a piece he believed his grandfather stole from a German museum in World War Two.
"They'd had it for an entire generation and now they realise that they can't sell it and that they would rather give it back than have any more trouble over the issue."
But the law varies from country to country, and sometimes a stolen piece can only be returned with the goodwill of the current owner.
Japan, where Madonna with Child was found, "is not a great country to recover stolen art from", Mr Marinello says.
"It's really up to the possessor in many cases to do the right thing… to understand that something was looted or stolen and that it should be returned, because you can't rely on a lawsuit under Japanese law," he said.
Ms Cetera said that the successful retrieval of Madonna with Child was a source of pride, but is unsure whether the passion for bringing stolen artwork back to Poland will continue with future generations.
"The question is whether it is important to the next generation – Gen Z and younger generations, do they really care? From what I observe, this might not be the case," she said.
Digitised art collections might mean people losing interest in the physical form, she said.
"At some point maybe we won't have to retrieve artworks… because we will have it in the Cloud and we will be able to reach it any time anywhere, no matter who has it.
"This digitisation and tech that is coming might at some point suppress the need of retrieving physical artworks."
You may also be interested in: