Presidential debate: How the world's media reacted
US voters have endured the first of three presidential debates between President Donald Trump and Joe Biden.
The event has also prompted a huge reaction from world audiences who tuned in for the chaotic event.
Newspapers and commentators around the world have criticised the tone and tactics of the debate.
As The Times in the UK wrote, "The clearest loser from the first presidential debate between Donald Trump and Joe Biden was America."
UK
The paper went further, saying the event "was not a debate in any meaningful sense" but rather "an ill-tempered and at times incomprehensible squabble between two angry septuagenarians who palpably loathe each other".
The Guardian described it as a "national humiliation".
"The rest of the world – and future historians – will presumably look at it and weep," the paper wrote, adding that Mr Biden was the only man who looked "remotely presidential" on the stage and saying that if Mr Trump was re-elected in November, "this dark, horrifying, unwatchable fever dream will surely be the first line of America's obituary."
The Financial Times highlighted how the president had stoked lies about voter fraud and urged his supporters to carefully watch polling stations. "'Dog-whistling' is the politico-speak for such language, but it implies subtlety. Mr Trump was blatant," it wrote.
The paper also noted that snap polls after the event said Mr Biden had come out on top. "But no one with a care for American democracy can have switched off feeling anything but queasy."
France
"Chaotic, childish, gruelling" – that's how French newspaper Libération described Tuesday's debate. Le Monde agreed, calling it a "terrible storm", and saying that the president had sought to "push his opponent off his hinges" with constant interruptions and by mocking his answers.
Le Figaro said Mr Biden had "systematically refused to play his opponent's game". While Mr Trump tried to directly confront his challenger, pointing at him and addressing him directly, the Democratic candidate spoke more to viewers and looked directly into the camera.
"Trump voters are unlikely to have had any doubts about their candidate, despite an unconvincing performance. Those of Biden, on the other hand, had confirmation that the Democrat was able to measure up to his formidable opponent, and even put him on the defensive," the paper wrote.
Germany
Der Spiegel's analysis of the debate is headlined "A TV duel like a car accident".
In a piece titled "Part fist-fight, part play", Süddeutsche Zeitung wrote: "Both Trump and Biden could go home satisfied because as far as the theatrical performance is concerned, both did their job properly. Donald Trump played Donald Trump, Joe Biden played Joe Biden, and fans should have liked it."
Die Welt said the debate had revealed very little about policy. "Most importantly, it showed that America has a president whose behaviour stands out and who lacks self-control – but that's not exactly news," it wrote.
Mr Biden in contrast was not an exciting candidate but "at least someone with common sense and a stable personality" who would "bring something like normalcy back to the White House".
Italy
"Never had American politics sunk so low," La Repubblica's US correspondent wrote, describing the debate as "Chaotic, rowdy, and based on mutual contempt".
Il Corriere della Sera meanwhile said President Trump's refusal to condemn white supremacy was "a message for Black America".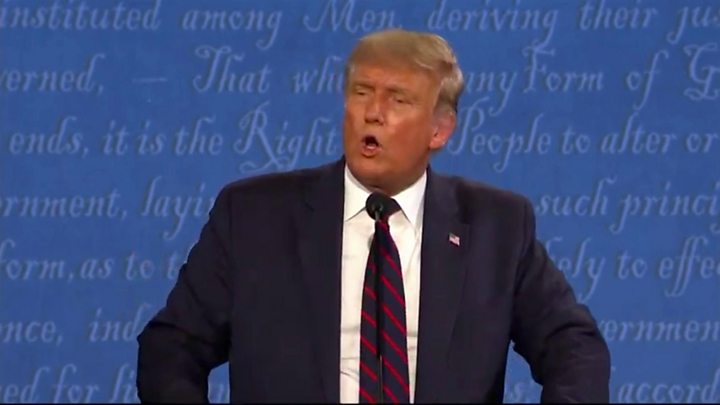 Russia
One broadcaster described it as a "one and a half-hour exchange of insults", while another said there was "no constructive dialogue".
"The rivals kept interrupting each other and instead of a balanced discussion they chose the path of mutual insults," pro-Kremlin NTV television said.
Mr Biden's description of President Trump as "Putin's puppy" also generated comments on Russian social media. One Twitter user said: "Two old men are figuring out which of them is more worthy to become the president of the United States, but without Putin, you can't boost your rating."
China
Chinese official media sites broadly ignored the US debate although some wrote about how both candidates had used China to attack their opponent.
The state-run Global Times called it "the most chaotic presidential debate ever" and noted that Mr Trump had taken "aim at China by blaming [it] for the raging Covid-19 epidemic and US economic woes".
Editor-in-chief Hu Xijin wrote on Twitter that the debate reflected "division, anxiety of US society and the accelerating loss of advantages of the US political system".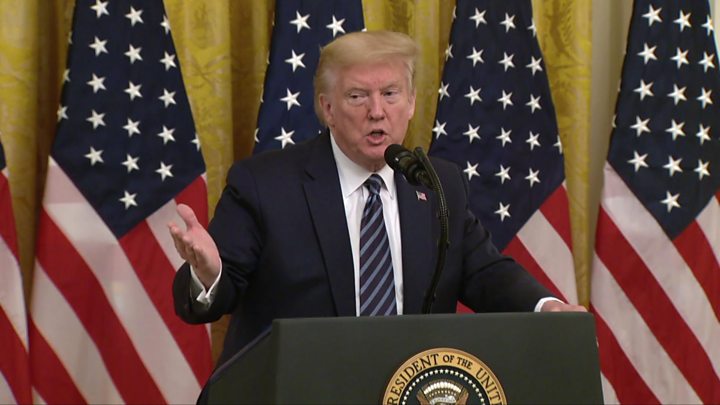 India
Hindi-language news channel AajTak accused both candidates of "mud-slinging", while broadcaster Times Now said the debate was "marred with personal jibes and political barbs".
But the strongest commentary came from The Times of India, the country's largest-selling English-language newspaper, which compared the debate to "mud-wrestling".
"The US embarrassed itself before the world for 100 minutes," it wrote.
BBC Monitoring contributed to this report.
Source:- BBC News
Obama says Trump is 'jealous' of COVID-19's media coverage – CTV News
Former U.S. President Barack Obama on Tuesday harshly criticized President Donald Trump's response to the coronavirus pandemic and faulted him for turning the White House into a "hot zone."
"More than 225,000 people in this country are dead. More than 100,000 small businesses have closed. Half a million jobs are gone in Florida alone. Think about that," Obama said, speaking from Orlando as he campaigned for Democratic nominee Joe Biden.
He continued, "And what's his closing argument? That people are too focused on Covid. He said this at one of his rallies. COVID, COVID, COVID, he's complaining. He's jealous of COVID's media coverage. If he had been focused on COVID from the beginning, cases wouldn't be reaching new record highs across the country this week."
Obama, an important surrogate for Biden, campaigned for his former vice president for the second time in four days in Florida. The key battleground state could play a decisive role in the outcome of the election, and recent polls show a tight race between Trump and Biden.
Obama's Orlando speech built on a blistering rebuke of Trump he delivered last week in Pennsylvania, his first foray onto the campaign trail since a speech to the Democratic National Convention earlier in the year, and over the weekend in Florida.
Obama's speeches have shown how he is keeping tabs on the day-to-day news about Trump, and how the Biden campaign is deploying him to deliver some of its harshest attacks on the current President and his administration.
Former presidents usually avoid directly attacking their successor in the White House, but Obama has delivered full-throated criticisms of Trump while campaigning for Biden. But Trump, with the way he has continually attacked Obama, even suggesting he should be indicted, has changed the calculus, thrusting the former president onto the campaign trail.
Democrats hope Obama can help gin up enthusiasm among the Democratic base and encourage Black men, Latinos and younger voters in battleground states to turn out and vote.
He accused Trump of failing to take preventative measures to contain the virus across the nation and in the White House. He also pointed to the second recent outbreak among White House staff, which infected several aides including Vice President Mike Pence's chief of staff, Marc Short.
"Let me say this: I lived in the White House for a while," Obama said. "You know, it's a controlled environment. You can take some preventive measures in the White House to avoid getting sick. Except, this guy can't seem to do it. He's turned the White House into a hot zone."
Obama criticized the comments made over the weekend by White House chief of staff Mark Meadows, who told CNN's Jake Tapper on "State of the Union," "We are not going to control the pandemic. We are going to control the fact that we get vaccines, therapeutics and other mitigation areas."
"Listen, winter is coming," Obama said. "They're waving the white flag of surrender. Florida, we can't afford four more years of this." He added, "We cannot afford this kind of incompetence and disinterest."
The former president also criticized senior White House adviser Jared Kushner, Trump's son-in-law, for recent comments he made about Black Americans. Kushner said Monday on Fox News, "One thing we've seen in a lot of the Black community, which is mostly Democrat, is that President Trump's policies are the policies that can help people break out of the problems that they're complaining about. But he can't want them to be successful more than they want to be successful."
Obama seized on the comments, saying, "(Trump's) son-in-law says Black folks have to want to be successful. That's the problem." After a short pause, an incredulous-sounding Obama continued, "Who are these folks? What history books do they read? Who do they talk to?"
Trump responded to Obama's speech on Twitter, noting that the remarks were airing on Fox News and claiming his predecessor was drawing a small crowd and giving a "fake speech" for Biden.
"Listen, you've got a president right now, he wants full credit for an economy that he inherited, he wants zero blame for the pandemic he ignored. But you know what, the job doesn't work that way. You've got to be responsible 24/7. You've got to pay attention 24/7. Tweeting at the TV doesn't fix things. Watching TV all day doesn't fix things. Making stuff up doesn't fix things," Obama said.
One week from Election Day, Obama encouraged Floridians to vote early in-person or by mail. "Don't wait. Put it in the mail or drop it off at a dropbox location today. Don't take any chances, just get it done," Obama said.
"We have to turn out like never before, Orlando. We have to leave no doubt. We can't be complacent. We were complacent last time. Folks got a little lazy. Folks took things for granted. And look what happened. Not this time," Obama said.
Obama praised his former vice president, describing Biden as a man of "principle and character" and highlighting his empathy and decency.
"He made me a better president, and he's got the character and the experience to make us a better country," Obama said.
Obama laid out the ways Biden has said he would get the pandemic under control, including making coronavirus tests free and widely available, distributing a vaccine to every American at no cost and providing enough personal protective equipment to all front-line workers.
"He's going to make sure that small businesses that hold our communities together and employ millions of Americans can reopen safely, and he understands that we're not going to rebuild the economy and put people back to work until we get this pandemic under control," Obama said.
He lambasted Trump and Republicans for attempting to overhaul the Affordable Care Act, Obama's landmark health care plan.
"Last week, Trump flat out said he hopes the Supreme Court takes your health insurance away. Said it out loud," Obama said. "Don't boo, vote," he said, repeating a favorite line of his when the crowd booed. The Supreme Court is set to hear oral arguments on the future of the ACA, also known as Obamacare, next month.
Obama said if elected, Biden and his running mate Sen. Kamala Harris of California would "protect your health care, they will expand Medicare, they'll make insurance more affordable for everybody, because Joe knows that a president's first job is to keep us safe from all threats, foreign, domestic, and microscopic."
Nigeria considers social media regulation in wake of deadly shooting – National Post
Article content
ABUJA/LAGOS — Nigeria's information minister said "some form of regulation" could be imposed on social media just a week after protesters spread images and videos of a deadly shooting using Twitter, Instagram and Facebook.
Images, video and an Instagram live feed from a popular DJ spread news of shootings in Lagos on Oct. 20, when witnesses and rights groups said the military fired on peaceful protesters.
The protesters had been demonstrating for nearly two weeks to demand an end to police brutality. The army denied its soldiers were there.
Social media helped spread word of the shootings worldwide, and international celebrities from Beyonce and Lewis Hamilton to Pope Francis since called on the country to resolve the conflict peacefully.
Information Minister Lai Mohammed told a panel at the National Assembly on Tuesday that "fake news" is one of the biggest challenges facing Nigeria.
A spokesman for the minister confirmed the comments, and said "the use of the social media to spread fake news and disinformation means there is the need to do something about it."
Officials have said some videos and photos posted during the protests were fake news but have not said that about the shootings.
In the weeks before the shootings, protesters had also used social media to organize, raise money and share what they said was proof of police harassment, which increased pressure on authorities to respond to their demands.
Twitter Inc CEO Jack Dorsey Tweeted to encouraged his followers to contribute, and the hashtag #EndSARS was trending for several days, referencing the widely feared Special Anti-Robbery Squad that they successfully demanded be abolished. (Reporting by Felix Onuah in Abuja and Libby George in Lagos; Editing by Giles Elgood)
3 social media CEOs face grilling by GOP senators on bias – CTV News
WASHINGTON —
The CEOs of Twitter, Facebook and Google are facing a grilling by Republican senators making unfounded allegations that the tech giants show anti-conservative bias.
The Senate Commerce Committee has summoned Twitter CEO Jack Dorsey, Facebook's Mark Zuckerberg and Google's Sundar Pichai to testify for a hearing Wednesday. The executives agreed to appear remotely after being threatened with subpoenas.
With the presidential election looming, Republicans led by U.S. President Donald Trump have thrown a barrage of grievances at Big Tech's social media platforms, which they accuse without evidence of deliberately suppressing conservative, religious and anti-abortion views.
The chorus of protest rose this month after Facebook and Twitter acted to limit dissemination of an unverified political story from the conservative-leaning New York Post about Democratic presidential nominee Joe Biden, an unprecedented action against a major media outlet. The story, which was not confirmed by other publications, cited unverified emails from Biden's son Hunter that were reportedly disclosed by Trump allies.
Beyond questioning the CEOs, senators are expected to examine proposals to revise long-held legal protections for online speech, an immunity that critics in both parties say enables the companies to abdicate their responsibility to impartially moderate content.
The Justice Department has asked Congress to strip some of the bedrock protections that have generally shielded the tech companies from legal responsibility for what people post on their platforms. Trump signed an executive order challenging the protections from lawsuits under the 1996 telecommunications law.
"For too long, social media platforms have hidden behind Section 230 protections to censor content that deviates from their beliefs," Sen. Roger Wicker, R-Miss., the Commerce Committee chairman, said recently.
In their opening statements prepared for the hearing, Dorsey, Zuckerberg and Pichai addressed the proposals for changes to so-called Section 230, a provision of a 1996 law that has served as the foundation for unfettered speech on the internet. Zuckerberg said Congress "should update the law to make sure it's working as intended."
"We don't think tech companies should be making so many decisions about these important issues alone," he said, approving an active role for government regulators.
Dorsey and Pichai, however, urged caution in making any changes. "Undermining Section 230 will result in far more removal of online speech and impose severe limitations on our collective ability to address harmful content and protect people online," Dorsey said.
Pichai urged lawmakers "to be very thoughtful about any changes to Section 230 and to be very aware of the consequences those changes might have on businesses and consumers."
Assistant Attorney General Stephen Boyd told congressional leaders in a letter Tuesday that recent events have made the changes more urgent. He cited the action by Twitter and Facebook regarding the New York Post story, calling the companies' limitations "quite concerning."
The head of the Federal Communications Commission, an independent agency, recently announced plans to reexamine the legal protections, potentially putting meat on the bones of Trump's order by opening the way to new rules. The move by FCC Chairman Ajit Pai, a Trump appointee, marked an about-face from the agency's previous position.
Social media giants are also under heavy scrutiny for their efforts to police misinformation about the election. Twitter and Facebook have slapped a misinformation label on content from the president, who has around 80 million followers. Trump has raised the baseless prospect of mass fraud in the vote-by-mail process.
Starting Tuesday, Facebook was not accepting any new political advertising. Previously booked political ads will be able to run until the polls close next Tuesday, when all political advertising will temporarily be banned. Google, which owns YouTube, also is halting political ads after the polls close. Twitter banned all political ads last year.
Democrats have focused their criticism of social media mainly on hate speech, misinformation and other content that can incite violence or keep people from voting. They have criticized Big Tech CEOs for failing to police content, homing in on the platforms' role in hate crimes and the rise of white nationalism in the U.S.
Facebook, Twitter and YouTube have scrambled to stem the tide of material that incites violence and spreads lies and baseless conspiracy theories.
The companies reject accusations of bias but have wrestled with how strongly they should intervene. They have often gone out of their way not to appear biased against conservative views — a posture that some say effectively tilts them toward those viewpoints. The effort has been especially strained for Facebook, which was caught off-guard in 2016, when it was used as a conduit by Russian agents to spread misinformation benefiting Trump's presidential campaign.
The unwelcome attention to the three companies piles onto the anxieties in the tech industry, which also faces scrutiny from the Justice Department, federal regulators, Congress and state attorneys general around the country.
Last week, the Justice Department sued Google for abusing its dominance in online search and advertising — the government's most significant attempt to protect competition since its groundbreaking case against Microsoft more than 20 years ago.
With antitrust in the spotlight, Facebook, Apple and Amazon also are under investigation at the Justice Department and the Federal Trade Commission.