Qatar emir heads to Saudi Arabia for Gulf summit -state media – TheChronicleHerald.ca
DUBAI (Reuters) – Qatar's ruler Emir Sheikh Tamim bin Hamad al-Thani headed to Saudi Arabia on Tuesday, state media said, for a Gulf Arab summit that is expected to see formal agreement towards ending a dispute that has seen Riyadh and its allies boycott Qatar.
(Reporting by Raya Jalabi in Dubai; Writing by Ghaida Ghantous; Editing by Tom Hogue)
Iran fires long-range missiles into Indian Ocean in military drill: media – TheChronicleHerald.ca
DUBAI (Reuters) – Iran's Revolutionary Guards on Saturday fired long-range ballistic missiles into the Indian Ocean on the second day of a military exercise, state media reported.
The drill, which comes in the waning days of high tensions with U.S. President Donald Trump's administration, was conducted in the country's central desert region.
It followed Friday's testing of surface-to-surface ballistic missiles and locally manufactured new drones in the same area.
"One of our most important defence policy goals is to use long-range ballistic missiles against enemy warships, including aircraft carriers and warships," state media quoted Guards commander Major General Hossein Salami as saying.
With these missiles, which have a range of 1,800 kilometres, he said, "we can now strike moving targets in the ocean," instead of the usual low-speed cruise missiles.
Saturday's drill targets were in the Gulf of Oman and the northern Indian Ocean.
Chief of Staff General Mohammad Baqeri said while Iran had "no offensive intentions", it would now be able to "respond to any hostile and malicious act in the shortest time".
On Wednesday, Iran tested short-range naval missile in the Gulf and there were exercises earlier this month that featured a wide array of domestically produced drones.
Iran has one of the biggest missile programmes in the Middle East, regarding them as a deterrent and retaliatory force against the United States and other adversaries in the event of war.
There have been periodic confrontations between Iran's military and U.S. forces in the Gulf since 2018, when Trump abandoned Iran's 2015 nuclear deal with world powers and reinstated harsh sanctions against Tehran.
President-elect Joe Biden has said the United States will rejoin the nuclear deal "if Iran resumes strict compliance".
(Writing by Dubai Newsroom; Editing by Clelia Oziel)
James Murdoch blasts US media for unleashing 'insidious forces' – Financial Times
James Murdoch has castigated the US media for the "toxic politics" threatening American democracy, saying proprietors are as culpable as politicians who "know the truth but choose instead to propagate lies".
The remarks by Rupert Murdoch's youngest son, made in an interview with the Financial Times and a further joint statement with his wife Kathryn, are his strongest public rebuke of America's news industry since he parted ways with the family business built by his father.
Asked whether America's dominant conservative news network Fox News had played a role in the riot that rocked Washington last week, James Murdoch said media groups had amplified election disinformation, leaving "a substantial portion" of the public believing "a falsehood".
"The damage is profound," Mr Murdoch said. "The sacking of the Capitol is proof positive that what we thought was dangerous is indeed very, very much so. Those outlets that propagate lies to their audience have unleashed insidious and uncontrollable forces that will be with us for years."
"I hope that those people who didn't think it was that dangerous now understand, and that they stop," he added, while noting he had not "seen any evidence of that yet".
During the interview set up to discuss his latest digital venture in India, Mr Murdoch did not directly mention Fox News, his father, who founded it, or his brother Lachlan, the chief executive of the Fox Corporation.
Fox News did not immediately respond to a request for comment. The network has long stressed the divide between its opinion programming and news coverage.
While many Fox News hosts have championed the policy agenda of Donald Trump, the network's journalists have often broken stories critical of the president.
James Murdoch, who was chief executive of 21st Century Fox from 2015 to 2019, said he was also speaking on behalf of his wife Kathryn, with whom he has charted an independent path from the conservative politics of the Murdoch empire. The couple were big donors to Joe Biden's presidential campaign and have backed organisations fighting climate change and fake news.
Rupert Murdoch's six children each received up to $2bn from the break-up of his media empire and the sale of his entertainment businesses to Walt Disney in 2019. Overlooked in the family succession battle, James went on to use the funds to establish Lupa Systems, an investment vehicle to build a media portfolio.
In August he withdrew completely from the family's news operations, resigning from the board of News Corp — which owns a stable of titles ranging from the Wall Street Journal to The Sun — because of "disagreements over certain editorial content".
While his objections are well known, until now he has been relatively guarded with public criticism. James, along with his siblings, still owns a significant share of the family trust, which people close to the Murdochs have speculated might be used to influence the direction of the empire after Rupert relinquishes control.
"Spreading disinformation — whether about the election, public health or climate change — has real world consequences," James and Kathryn Murdoch said in a joint statement following the FT interview.
"Many media property owners have as much responsibility for this as the elected officials who know the truth but choose instead to propagate lies. We hope the awful scenes we have all been seeing will finally convince those enablers to repudiate the toxic politics they have promoted once and forever."
When asked whether he saw signs of change, Mr Murdoch replied that he prayed people would "come to their senses" and said there was bound to be "a reckoning" for media.
Owners of news organisations, he said, were "being co-opted by forces that only want to stay in power, or are manipulating our discourse from abroad and are only too happy to make a mess and burn things down".
Poland proposes social media 'free speech' law – BBC News


.css-94m6rd-HeadingWrapperborder-bottom:solid 1px #BABABA;padding-bottom:1.5rem;.css-94m6rd-HeadingWrapper > *:not([hidden]):not(style) ~ *:not([hidden]):not(style)margin-top:1rem;.css-vk3nhx-ComponentWrappermargin:1.5rem 0;
.css-2y05cd-StyledFigurefont-family:ReithSans,Helvetica,Arial,freesans,sans-serif;font-weight:400;font-size:0.875rem;line-height:1.125rem;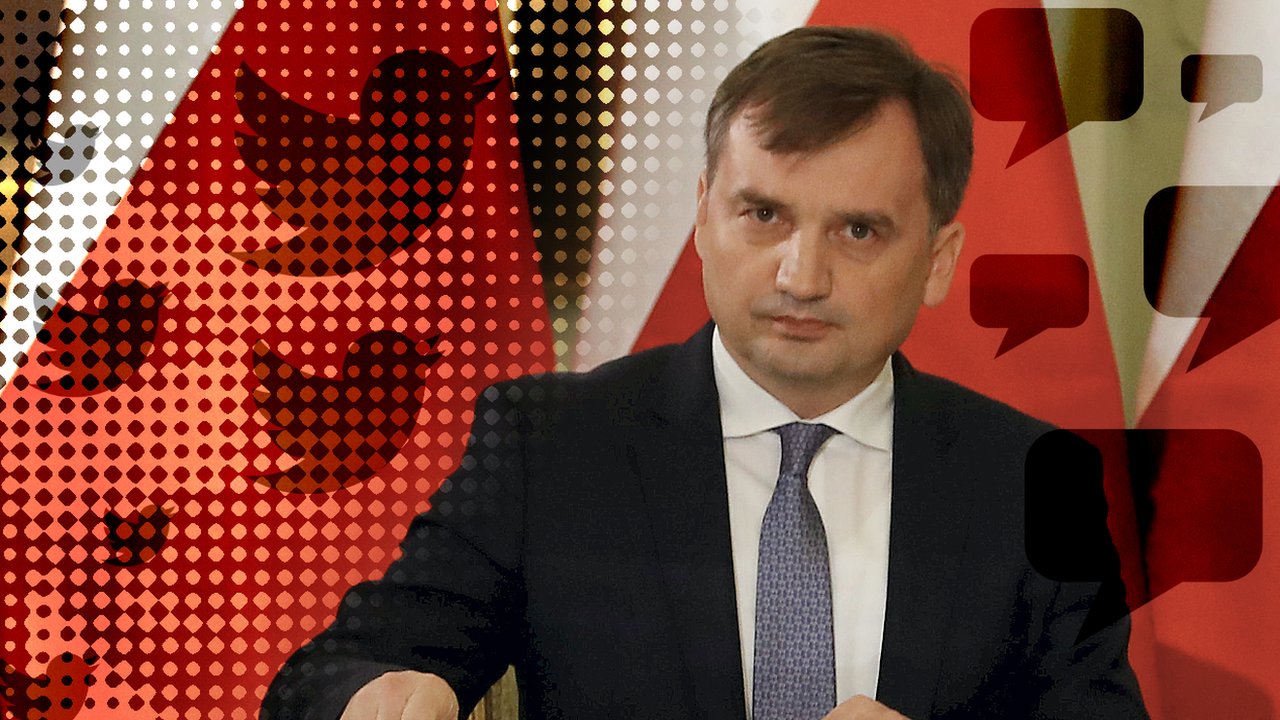 .css-uf6wea-RichTextComponentWrappermargin:1rem 0;max-width:36.25rem;
.css-83cqas-RichTextContainercolor:#3F3F42;.css-83cqas-RichTextContainer > *:not([hidden]):not(style) ~ *:not([hidden]):not(style)margin-top:1rem;
.css-14iz86j-BoldTextfont-weight:bold;Poland's government has proposed a new law to stop social media platforms deleting content or banning users who do not break Polish laws.
The proposed bill would see social networks fined up to 50 million zloty (£9.8m, $13.4m) for failing to restore deleted posts or accounts.
Justice Minister Zbigniew Ziobro announced the "freedom of speech protection" bill on Friday.
The law would also establish a "freedom of speech council".
The council would be able to order social networks such as Facebook or Twitter to restore deleted content, or unblock a user's account following a review, Mr Ziobro said.
Social media users in Poland who had been blocked or had content deleted would be able to complain directly to the platform, which would have to respond within 24 hours.
If a social media company refused to comply with an order, the council would be able to issue a fine of between 50,000 and 50 million zloty.
Mr Ziobro leads a hard-right junior coalition partner in the Polish government. His party claims that traditional Roman Catholic values are under threat from LGBT rights.
He said large internet corporations were increasingly limiting freedom of speech.
"Often, the victims of ideological censorship are also representatives of various groups operating in Poland, whose content is removed or blocked just because they express views and refer to values that are unacceptable," Mr Ziobro said recently.
Under the proposed bill, members of the free speech council would be appointed for six-year terms by a three-fifths majority vote in parliament, in an attempt to safeguard pluralism, Mr Ziobro said. They would be experts, not politicians.
Poland's prime minister Mateusz Morawiecki has said that protecting freedom of speech on the internet is a priority for him and has warned against "political correctness".
"Censorship is not and cannot be accepted," he wrote on Facebook, which has suspended US President Donald Trump's account.
On Friday, the Rzeczpospolita daily newspaper quoted an anonymous government source who said Mr Morawiecki was going to lobby the EU to regulate the issue, because domestic regulations would be ineffective without EU-wide backing.
According to Sebastian Kaleta, a deputy justice minister, the measures could come into effect by next January.
Twitter's banning of President Trump has attracted some criticism in Europe, with German Chancellor Angela Merkel calling it "problematic".
.css-kqym7f-SectionWrappermargin:1.5rem 0;padding-top:1.5rem;font-size:0.875rem;line-height:1.125rem;