Quebec reopens non-essential stores, salons and museums as COVID-19 restrictions ease – CP24 Toronto's Breaking News
Non-essential stores, personal care salons and museums across Quebec will allowed to reopen today as the province eases some of the restrictions put in place to control the spread of COVID-19.
The province is also allowing universities and junior colleges to begin to gradually reopen their campuses to allow students to attend in-person classes and activities a few times a month.
But while the number of COVID-19 cases and hospitalizations has dropped in recent weeks, the government says it's still too early to remove measures such as a nighttime curfew.
Six of the province's less-populated regions are moving to the lower orange-alert level, allowing their residents to eat inside restaurant dining rooms, work out at gyms and stay out until 9:30 p.m., instead of 8 p.m. like the rest of the province.
The province is also allowing people across the province to participate in outdoor activities with people outside their households.
Residents will be able to meet outside with up to three people from other households, while in orange zones, the limit will be increased to eight.
Indoor gatherings are still prohibited, and bars remain closed. The government is also ordering anyone who can work from home to do so.
Restaurants in orange zones will only be allowed to seat two adults and their children at each table, and reservations will be mandatory to facilitate contact tracing and to prevent people from outside the region from visiting them.
This report by The Canadian Press was first published Feb. 8, 2021
Federal panel recommends 4-month gap between COVID vaccine doses due to limited supply – Maple Ridge News – Maple Ridge News
The National Advisory Committee on Immunization (NACI) is supporting B.C.'s decision to delay the second doses of COVID-19 vaccines by up to four months.
"NACI recommends that in the context of limited COVID-19 vaccine supply jurisdictions should maximize the number of individuals benefiting from the first dose of vaccine by extending the second dose of COVID-19 vaccine up to four months after the first," the committee said in a decision published Wednesday (March 3).
The recommendation applies to all COVID-19 vaccines currently approved in Canada; Pfizer-BioNTech, Moderna and the newly approved AstroZeneca vaccine.
B.C. announced the decision to delay the second booster shot for four months on Monday, which health officials said could mean that all adults in the province could have their first dose by July.
Both provincial health officer Dr. Bonnie Henry and NACI said that its rationale was based on both the current available vaccine supply and data from other countries.
A study published by the University of Cambridge in the U.K., which has not yet been peer-reviewed, suggests that a single dose of the Pfizer-BioNTech vaccine can reduce the number of asymptomatic COVID-19 infections by 75 per cent.
In Israel, researchers studied the effects of a single dose of the same vaccine and published their findings in The Lancet medical journal, concluding that it was 85 per cent effective against symptomatic COVID-19 infections.
Also in The Lancet, a U.K. study found that the Oxford-AstraZeneca vaccine is 81 per cent effective when its second dose is given three months after the first, compared with 55 per cent efficacy after six weeks.
The national advisory committee noted that since the COVID-19 vaccines are still new, its unknown how long the protection of one or both doses lasts for.
"Experience with other multi-dose vaccines after a single dose suggests persistent protection could last for six months or longer in adolescents and adults," NACI said in its statement. "Longer-term follow-up of clinical trial participants and those receiving vaccination in public programs will assist in determining the duration of protection following both one and two doses of vaccination."
The national advisory committee added that it's unknown how a delayed booster shot regime will affect the spread of variants of concern, including the U.K. and South African ones. However, NACI notes that there is "currently no evidence that an extended interval between doses will either increase or decrease the emergence of variants of concern."
The committee noted that all three currently approved vaccines have shown "promising early result" against the U.K. variant B.1.1.7.
– with files from The Canadian Press
---
Like us on Facebook and follow us on Twitter.
Want to support local journalism during the pandemic? Make a donation here.
Vaccine panel recommends going up to 4 months between doses of COVID-19 shots – ElliotLakeToday.com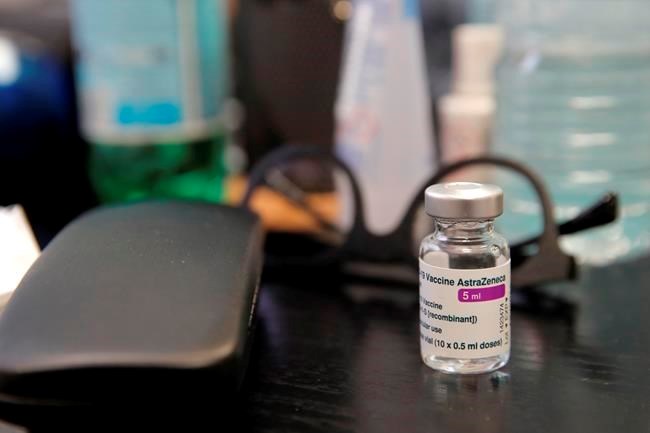 A national panel of vaccine experts recommended Wednesday that provinces extend the interval between the two doses of a COVID-19 shot to quickly inoculate more people, as the prime minister expressed optimism that vaccination timelines could be sped up.
In laying out its new guidelines, the National Advisory Committee on Immunization said extending the dose interval to four months would create opportunities to protect the entire adult population against the virus within a short time frame.
As many as 80 per cent of Canadians over 16 could receive a single dose by the end of June simply with the expected supply of Pfizer-BioNTech and Moderna vaccines, the panel said. Second doses would begin to be administered in July as more shipments arrive, the panel said, noting that 55 million doses are expected to be delivered in the third quarter of the year.
In comparison, the federal government previously said 38 per cent of people would receive two doses by the end of June.
The addition of the newly approved Oxford-AstraZeneca vaccine to the country's supply could mean almost all Canadians would get their first shot in that time frame, but Ottawa has not yet said how many doses of that vaccine will be delivered in the spring and how many in the summer.
"The vaccine effectiveness of the first dose will be monitored closely and the decision to delay the second dose will be continuously assessed based on surveillance and effectiveness data and post-implementation study designs," the panel wrote.
"Effectiveness against variants of concern will also be monitored closely, and recommendations may need to be revised," it said, adding there is currently no evidence that a longer interval will affect the emergence of the variants.
The updated guidance applies to all COVID-19 vaccines currently approved for use in Canada.
The committee's recommendation came hours after Newfoundland and Labrador said it will extend the interval between the first and second doses to four months, and days after health officials in British Columbia announced they were doing so.
Alberta, Manitoba and Quebec also said Wednesday they will delay second doses. Ontario previously said it was weighing a similar move but would seek advice from the federal government.
Earlier Wednesday, Prime Minister Justin Trudeau said any change in public health guidance regarding the timing of the two doses could affect the speed of Canada's vaccine rollout, as could the approval of more shots.
The federal government's plan to have doses administered to all Canadians who want one by the end of September didn't factor in the arrival of new vaccines such as the Oxford-AstraZeneca shot, Trudeau said.
And despite delays in the delivery of the Pfizer-BioNTech vaccine last month, Canada is now "fully back on track and even ahead of schedule" when it comes to its supply of the various shots, he said, noting the country should receive more than the six million doses of COVID-19 vaccines it initially expected to get by the end of March.
"The projections we've had for many, many months certainly hold, but we're also very optimistic that they're going to be able to be moved forward if, indeed, all the vaccines that we've contracted for are able to be manufactured and shipped in the right ways," the prime minister said.
The first 500,000 doses of the recently approved Oxford-AstraZeneca vaccine arrived in Canada on Wednesday, though confusion persists over who should get them.
The vaccine, manufactured at the Serum Institute of India, is the third COVID-19 shot approved for use in Canada.
Health Canada last week authorized its use for all adult Canadians but the National Advisory Committee on Immunization recommended Tuesday that it not be administered to people 65 years of age or older.
The committee said there is limited data from clinical trials about how effective the Oxford-AstraZeneca vaccine is for seniors and recommends that they be given priority for the two other vaccines — Pfizer-BioNTech and Moderna — already greenlighted for use in Canada.
Both Health Canada and the committee stress no safety concerns have arisen in the clinical studies or among the millions of seniors who have received the Oxford-AstraZeneca vaccine in other countries.
Some provinces, including Alberta, British Columbia and Prince Edward Island, plan to follow the advisory committee's advice and target the Oxford-AstraZeneca vaccine at younger people working in front-line essential services or in high-risk settings like prisons.
On Wednesday, the Ontario government said it will give the Oxford-AstraZeneca shot to residents aged 60 to 64. The drug will not be doled out through mass immunization clinics but rather through a "different pathway," Solicitor General Sylvia Jones said. Details of the program were not released.
Manitoba said it plans to target those between the ages of 50 and 64 who have high-risk underlying conditions. The province said it expects to receive its first shipment of the AstraZeneca shot by mid-month.
Other provinces, including Quebec, New Brunswick and Nova Scotia, are still mulling over the issue.
Meanwhile, Quebec said it would move more regions into the less restrictive orange level of its pandemic system starting next Monday. But while residents in Quebec City, Chaudiere-Appalaches, Mauricie, Estrie and Centre-du-Quebec will see measures loosen, those in the Montreal area will remain under the more stringent rules of the province's red level.
New guidelines for shipping and storing the Pfizer-BioNTech vaccine were also released Wednesday, with Health Canada saying the drug can be transported and kept at standard freezer temperatures for up to two weeks.
The previous storage instructions required that the vaccine be kept in ultralow temperatures and thawed just before use, which restricted its distribution to areas equipped with the necessary specialty freezers. The change should allow for wider distribution of the vaccines.
Ottawa also confirmed Wednesday it is extending three federal support programs meant to lessen the economic impact of COVID-19 on residents and business owners until June.
The federal wage subsidy, rent support and lockdown programs will carry on with the same level of aid, the government said.
In addition to Wednesday's shipment of Oxford-AstraZeneca doses, Canada is also scheduled to receive 444,600 doses of the Pfizer vaccine this week.
With Oxford-AstraZeneca added to Canada's vaccine arsenal, the country is on track to receive a total of 6.5 million vaccine doses by the end of this month — half a million more than originally expected.
— With files from Mia Rabson in Ottawa
This report by The Canadian Press was first published March 3, 2021.
Paola Loriggio, The Canadian Press
B.C. vaccinates more than 200,000 people for COVID-19, as second dose shots fall to a trickle – Vancouver Is Awesome
B.C. announced March 3 that it has vaccinated more than 200,000 individuals with at least one dose of a COVID-19 vaccine – 11 weeks after the first dose was administered in the province on December 16.
There are now 203,193 B.C. residents who have had at least one dose of a vaccine, with 86,616 of those having had two doses. That is an average of 2,639 people per day who have had at least one shot.
B.C. officials said earlier this week that they expect all eligible British Columbians to have been vaccinated by the end of July. In order to do that, the province will need to increase more than tenfold the number of people that health officials vaccinate each day, to around 26,666.
Health officials administered 6,627 doses of vaccine in the past day, to 6,543 new people, and a mere 84 second doses to individuals who have already had their first doses.
Provincial health officer Bonnie Henry and others have explained that the new strategy is to focus first on vaccinating people with single doses, and to leave second doses until as long as 112 days after the first dose because of supply shortages. The rationale for this tactic is also that first doses provide significant immunity and it is smarter to vaccinate as many people as possible with first doses, to limit the spread of COVID-19, than to focus on having people fully immunized with two doses.
The spread of COVID-19 in B.C. is not abating. Officials detected another 542 new infections overnight, for a total of 81,909 cases since the first infection was detected in late January 2020. The vast majority of the 4,654 people actively infected with the virus in B.C. have been told to self-isolate, but 246 people are sick enough to be in hospitals, with 64 of those in intensive care units.
Another seven people died overnight while being infected with the virus, raising B.C.'s death toll from COVID-19 to 1,372.
More than 92.5%, or 75,819 people, who were infected with the virus, have tested negative twice and are therefore considered by the province to have recovered. Health officials are also closely monitoring 8,617 people for symptoms because they have had known exposure to identified cases.
Here is the breakdown of where the 542 new cases are located:
• 131 in Vancouver Coastal Health (24.1%);
• 292 in Fraser Health (53.9%);
• 31 in Island Health (5.7%);
• 43 in Interior Health (7.9%);
• 44 in Northern Health (8.1%) and
• one person who resides outside Canada.
"There have been 18 new confirmed COVID-19 cases that are variants of concern in our province, for a total of 200 cases," provincial health officer Bonnie Henry and Health Minister Adrian Dix said in a joint statement. "Of the total [variant] cases, 11 are active and the remaining people have recovered. This includes 176 cases of the B.1.1.7 (U.K.) variant and 24 cases of the B.1.351 (South Africa) variant."
There were no new outbreaks of the virus at seniors' homes, nor were there any active outbreaks in those homes that were declared over.
None of the nine active outbreaks at seniors' homes is in the Vancouver Coastal Health region.
The five active outbreaks at seniors' living facilities in Fraser Health are:
• CareLife Fleetwood in Surrey;
• Chartwell Carrington House in Mission;
• Revera Sunwood in Maple Ridge;
• Royal City Manor in New Westminster; and
• Shaughnessy Care Centre in Port Coquitlam.
The outbreak at Glacier View Lodge in Courtenay is the only outbreak at a seniors' home in the Island Health region.
The only outbreak at such a facility in the Northern Health region is at the Acropolis Manor in Prince Rupert.
The two active outbreaks at seniors' living facilities in Interior Health are now at Brocklehurst Gemstone Care Centre in Kamloops, and The Florentine in Merritt.
There are also eight active COVID-19 outbreaks at B.C. hospitals. They include:
• Chilliwack General Hospital in Chilliwack;
• Dawson Creek and District Hospital in Dawson Creek;
• Eagle Ridge Hospital in Port Moody;
• Kelowna General Hospital in Kelowna;
• Mission Memorial Hospital in Mission;
• Royal Columbian Hospital in New Westminster;
• Surrey Memorial Hospital in Surrey; and
• Vancouver General Hospital in Vancouver.