Ramblings: Coaching Change in Calgary, MacKinnon Out Friday, Wilson in More Trouble? (Mar 6) – dobberhockey.com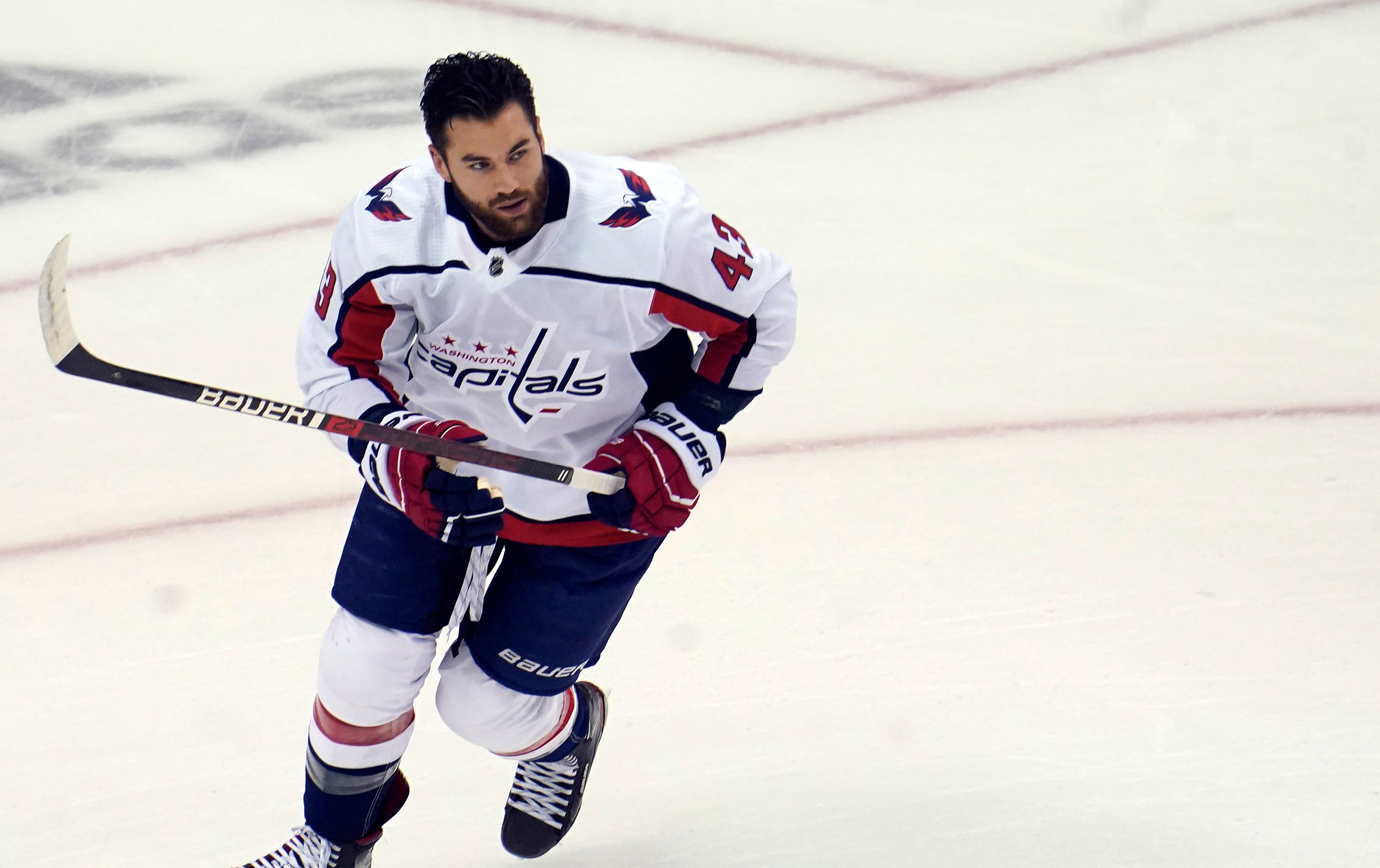 It shouldn't be much of a surprise given his current injury situation, but Brent Seabrook has announced his retirement. Seabrook will be remembered as a top-pairing blueliner on what might have been the most successful team of the past decade. His career ends with a long list of accomplishments, including three Stanley Cups, World Junior and Olympic gold medals, and over 1000 games over a 15-year career. All the best to him in retirement.
*
In case you missed it, I wrote a fantasy take on the late-night coaching change in Calgary. Geoff Ward is out, and Darryl Sutter is back in the saddle(dome).
Sutter is expected to report to the Flames on Monday after clearing COVID protocol, so assistant coach Ryan Huska will be the interim coach for the Flames' weekend games on Saturday in Edmonton and Sunday against Ottawa.
To expand on what I wrote last night, I think there's going to be a major shakeup in Calgary if this team does not make the playoffs or even exits the first round early. I wonder if it will involve general manager Brad Treliving, who has overseen high turnover behind the bench since he took over in 2014. Remember all those trade rumors surrounding Johnny Gaudreau? Watch his numbers, as he will be one step closer from being traded out of Calgary if he doesn't thrive under Sutter's defensive system.
*
Some good news for the Rangers, as Igor Shesterkin is considered day-to-day with a mild groin strain. Alexandar Georgiev is expected to start Saturday's game in New Jersey, however. For more starting goalie updates, be sure to check Goalie Post.
*
Nathan MacKinnon was not in lineup Friday. You may remember that he took a hit to the head during Wednesday's game against San Jose. With MacKinnon out of the lineup, Nazem Kadri moved up to the top line alongside Gabriel Landeskog and Mikko Rantanen. Tyson Jost moved up to take Kadri's spot between Brandon Saad and Andre Burakovsky.
With all the line juggling, Saad had success in scoring a goal and adding two assists. It seemed to help him break out of his funk, as he had not recorded a point in his previous six games. Who knew that Jost would be an upgrade on Kadri?
I'm going to give you lots of overtime highlights today. Valeri Nichushkin scored two goals on seven shots, including this overtime winner while wearing the Nordiques jerseys. Debate whether the Avalanche should be wearing those jerseys if they took the team from Quebec City, but they look amazing anyway.
Credit where credit is due: Rickard Rakell recorded an assist, extending his point streak to four games. He's recorded six points and taken 15 shots over that span. Rakell is far and away the Ducks' leader in shots with 76 (over three shots per game). Even though he has only three goals, the fact that he's shooting the puck is a great sign. With just a 3.9 SH%, more of those shots eventually have to go in. For that reason, he might be worth a pickup in your league.
*
Speaking of hits to the head, here's Tom Wilson doing Tom Wilson things again. It seems inconceivable that Wilson did not even receive a penalty on the hit, at least for charging if you don't think Wilson was aiming for the head or that Carlo moved. Given Wilson's history, a suspension should be forthcoming, as long as the NHL's wheel of justice doesn't land on the wrong number. You love all that he can provide in your bangers league, but this is the risk you take in owning him.
According to Bruce Cassidy, Carlo was taken to the hospital in an ambulance. Even if the league doesn't think this hit is as ugly as it looks, that won't help Wilson's cause.
Jarred Tinordi earned the respect of his new teammates by taking on Wilson in the second period.
If revenge is best served on the scoreboard, the Bruins got theirs with a 5-1 win. Brad Marchand (of all people) powered the Bruins with two goals and an assist, which gives him 27 points over 21 games. That scoring pace (1.29 PTS/GP) is similar to what he has produced in the past three seasons. However, his 24.5 SH% is much higher than normal. I don't think this is a case of selling high on Marchand, since this is his usual pace.
Marchand also gave his thoughts on the hit (Spoiler: Even he thought the hit was ********).
*
Alex DeBrincat scored twice with five shots on goal in the Blackhawks' 4-3 shootout win over Tampa Bay. I was going to write about DeBrincat, but Frozen Tools took care of that for me. Maybe they'll take care of my entire Ramblings if I ask nicely.
Okay, I'll pick one out on my own. Alex Killorn scored a goal and an assist in a losing cause. More notably for multicategory leaguers, he took eight shots. This is notable because Killorn took a total of eight shots over his previous six games combined. Killorn has two points in each of his last two games while playing on the Steven Stamkos line.
Although no goals were scored, this sequence is worth watching anyway because there was so much going on.
📢 advertisement:

*
David Perron scored twice on Friday, extending his point streak to five games. He's been hot for most of the season (according to Frozen Tools), scoring 24 points in his last 20 games.
Mike Hoffman scored the overtime winner on a delayed penalty call. He also added an assist on Perron's game-tying goal with under a minute to play.
Ryan O'Reilly assisted on all three Blues goals, which gives him nine points over his past seven games.
For the Kings, Dustin Brown fired eight shots while scoring a power-play goal. Brown had been held without a point in his previous three games.
Rasmus Kupari, who has scored nine points in eight AHL games this season, made his NHL debut on Friday. He received 10 minutes of icetime while on a line with Adrian Kempe and Trevor Moore. View Kupari's Dobber Prospects profile.
*
Just another Kirill Kaprizov highlight – one of his two assists in this game. Who says assists are boring?
At 6'3″, 223 lbs., Marcus Foligno provides hits, and lots of them. So when I needed help in the hits category in my multicategory league and didn't want to sacrifice scoring, I decided to add him earlier this week. He continued to provide that scoring touch, adding two assists on Friday to give him six points over his past three games and 10 points in his last seven games.
The Wild are finding scoring from all kinds of different sources this season, and the Foligno – Joel Eriksson Ek – Jordan Greenway line has been surprisingly strong. All three players are now within the top five in Wild team scoring, while more familiar names such as Kevin Fiala, Zach Parise, and Matt Dumba are not.
As for hits, which is the reason I added Foligno? Just one in this game. Can't have it all, I guess. Foligno is also a plus-10 and is even picking up power-play time. The advanced stats (33.3 SH%, 5-on-5 SH%, 3.0 PTS/60, 1055 PDO) scream regression, which makes sense for a player whose 25 points last season is his highest over a 10-year career. Still, he's a legitimate bangers league option with his hits and penalty minute totals combined with the recent scoring touch.
*
One more overtime winner for you. Should we be surprised that it's a goal from Max Pacioretty and an assist from Mark Stone? It's the third overtime winner of the season for Patches, who scored twice in this game and added another assist with five shots on goal.
Yes, I realize Alex Pietrangelo fed him the pass this time. However, Stone's point total (5 G, 21 A) has become rather assist-heavy. It shouldn't be a major gripe if you own Stone, as he's currently in the top 10 in points.
Vegas had a 3-0 lead in this game, but the Sharks managed to creep back after that. Kevin Labanc scored with just over a minute to play to tie the game. With also adding an assist, Labanc now has eight points over his past six games. He's receiving first-line minutes with Logan Couture and Evander Kane and first-unit power-play time, so he doesn't have to worry about making things happen on his own anymore. He's owned in just 6 percent of Yahoo leagues, so he might be worth adding to your watch list at minimum.
Erik Karlsson's assist on Matt Nieto's goal on Friday was his first primary assist since January 22. That's a span of 11 games without a primary assist, interrupted by injury of course. Karlsson picked up another helper, which gives him three points in the four games since returning from injury.
After allowing three goals on eight shots, Martin Jones was pulled for the fifth time in 15 starts. That's as much as you need to know about Jones and why he shouldn't be on your fantasy team.
*
For more fantasy hockey discussion, or to reach out to me, you can follow me on Twitter @Ian_Gooding
Drouin must return to mentality that's led to success this season – Sportsnet.ca
It was something Dominique Ducharme said after his Montreal Canadiens played an abysmal game against the Ottawa Senators last week, something that only truly resonated after they lost 3-2 to the Toronto Maple Leafs on Wednesday — a game that emboldened the struggle Jonathan Drouin's currently enduring.
"Ninety per cent of the mistakes we made were mental, and the rest of it was above our shoulders." the coach said after the 6-3 loss to Ottawa last Saturday, somewhat channelling New York Yankees legend Yogi Berra with this bit of wit and wisdom.
It was hard not to think of those words watching Drouin play the way he did on Wednesday. For much of this season, the talented left winger has played a primary role in Montreal's success. He's led them with 19 assists, been tenacious on the forecheck, physically engaged all over the ice, cerebral as always in his execution and, as he's said on several occasions, relatively unconcerned by whether or not his name has been featured on the scoresheet.
But it seemed clear, after watching Drouin dump a breakaway into Jack Campbell's chest with one of 32 shots the Maple Leafs goaltender turned aside to set a franchise record with his 10th consecutive win, he had diverted from that. And that affected the way he played the rest of the game.
It was Drouin's fifth in a row without a point, his 18th without a goal, and he'd have to be a robot not to be suffering the mental wear of not seeing the puck go in more than twice since the season started, the torment of seeing only three per cent of his shots hit the back of the net through 36 games after 10 per cent of them resulted in goals through the first 348 games of his career.
"It is weighing on me where, when I have a chance and miss the goal, I might be trying to score too much," Drouin said. "It's something I obviously think about — every player would — and I've just gotta put it past me and just keep shooting pucks."
Ideally, the 26-year-old wouldn't be thinking about any of this. These are thoughts that weigh a player down and right now the Canadiens are in tough without Brendan Gallagher for the rest of the season and Drouin needs to be light and free to help account for that loss. And in order for him to do that, he needs to focus on what he does best.
Because the reality is that even though Drouin can score more, scoring isn't what he needs to do in order to be at his best and really help this team.
"When his feet are moving and he's making plays, Drou's a pass-first guy," explained Jake Allen, who made 29 saves in Carey Price's absence. "When his feet are moving, his head's always in it. When his feet are moving, he's controlling the play, controlling the puck. He's a guy who really can control the play for a whole line. You want the puck on that guy's stick and let the other guys do the dirty work and he'll find them."
But when Drouin's feet aren't moving, there just isn't enough of that other stuff happening.
When Drouin's feet weren't moving, he lost a battle for the puck in the offensive zone and allowed the NHL's leading goal scorer to start the rush that resulted in the winning play of Wednesday's game.
Auston Matthews to Mitch Marner, back to Matthews, off Allen and slammed into Montreal's net by Zach Hyman with 9:39 remaining in the third period, with Drouin watching from just inside his own blue line.
"You give a 3-on-2 to the Matthews line and it's the kind of play they're going to make you pay on," said Ducharme.
Was Drouin still thinking about that shot he didn't bury in the second period?
It's understandable if he was, but those are the kind of thoughts he needs to shake right now.
"He wants to do well, and I'm sure it's getting a little bit in his head," said Ducharme. "I think the best remedy for him is to be scoring that goal or making that big play, and I think he's going to be energized by that and less thinking, more acting.
"It is a fine line. Those kind of thoughts is not something that you want to happen. But when you receive that puck and you see the opening and stuff, (the slump) comes back to (your mind). That's why the mental part of the game is something that's very tricky. It's not his will to be thinking that way. Every player who's going through a time like that will have that thought and scoring that goal will take him to a different level. At those kind of times you need to make it even simpler and being even more inside going at the net and finding a garbage (goal) right there and you put it in and sometimes you go on a little run. It might be that kind of goal that he needs to get that monkey off his back."
It's the kind of goal Corey Perry scored twice to give the Canadiens a chance in this game.
But Drouin isn't Perry, who rightly pointed out after the game he's made a career of scoring goals that way. And even if Drouin can borrow from what Perry does next time he has a chance like the one Brett Kulak set him up with for that breakaway, there are other ways he can positively impact the game.
You can appreciate that Drouin said he's putting pressure on himself to score more and help make up for the goals the team will be missing with Gallagher sidelined, but that might not get him to where he needs to be mentally to contribute as much as he already has this season.
What would, though, is a sharp turn towards the mentality he described just days ago. The one that's enabled him to be a much more consistent player this season than he has in seasons past.
"When I was younger, I'd stay on one game or stay on one play for too long and wouldn't be able to let it go for a bit or a couple of days," Drouin said. "But I think for me now it's can I look at myself in the mirror after a game and did I give my good effort? Was I a part of this game? Was I doing something right in a lot of areas?
"That's what I do now. I think points are there, goals are there, assists are there, but it's just about playing that real game and playing to help your team win."
Drouin's done a lot of that this season and has a chance to get right back to it when the Winnipeg Jets visit the Bell Centre Thursday.
Scioscia to lead U.S. baseball bid for spot at Tokyo Olympics
(Reuters) – Mike Scioscia, who won World Series both as a player and manager, was named manager of the U.S. men's national baseball team on Tuesday, as they seek a spot at the Tokyo Olympics.
After 19 seasons as manager of the Anaheim Angels, guiding them to their only World Series win in 2002, Scioscia will make his international coaching debut in June when the United States hosts the Baseball Americas Qualifier in Florida.
For the tournament the U.S. will be grouped with the Dominican Republic, Puerto Rico, and Nicaragua in Pool A while Canada, Colombia, Cuba, and Venezuela will make up Pool B.
The top two teams from each pool will advance to the Super Round, where the country with the best overall record will earn a spot in the Tokyo Olympic tournament.
Second and third-place finishers will advance to a final qualifier, joining Australia, China, Taiwan, and the Netherlands.
"Mike's tenure with the Angels' franchise was nothing short of spectacular, creating and celebrating a culture of success with six division titles, an American League pennant, and its first-ever World Series title," said USA Baseball Executive Director/CEO Paul Seiler in a statement. "More impactfully, his leadership, integrity, and character are unparalleled in our game, making him the perfect fit for the USA Baseball family."
The Olympic tournament will take place from July 28-Aug. 7 in Fukushima City and Yokohama.
Hosts Japan, Israel, South Korea, and Mexico have already secured a berth in the six-team field.
(Reporting by Steve Keating in Toronto. Editing by Toby Davis)
Masters 2021: Tiger Woods says he'll miss Champions Dinner, running up DJ's bill – Golf Channel
AUGUSTA, Ga. – Dustin Johnson will host his first Champions Dinner on Tuesday night in the Augusta National clubhouse, and he'll be joined by several past Masters champions.
One former winner who won't be there is five-time champ Tiger Woods, who is still home in South Florida recovering from a serious car accident in February near Los Angeles. Justin Thomas, who is still working toward his invite to the prestigious dinner, said Woods texted him Friday night and was "bummed" to not be at the Masters this year.
Woods then tweeted Tuesday afternoon that he'll miss one of his favorite nights of the year.
"I'll miss running up @DJohnsonPGA's bill at the Champions Dinner tonight," Woods said. "It's still one of my favorite nights of the year."
Johnson responded to Woods' tweet, saying: "Will miss having you here. This week isn't the same without you."
The PGA Tour announced that the club would leave a seat open for Woods at the dinner, though the tweet has since been taken down.
Johnson will serve a menu including filet mignon, sea bass and peach cobbler.