Real estate group beats prices of luxury mansions with smaller post and beam houses – North Shore News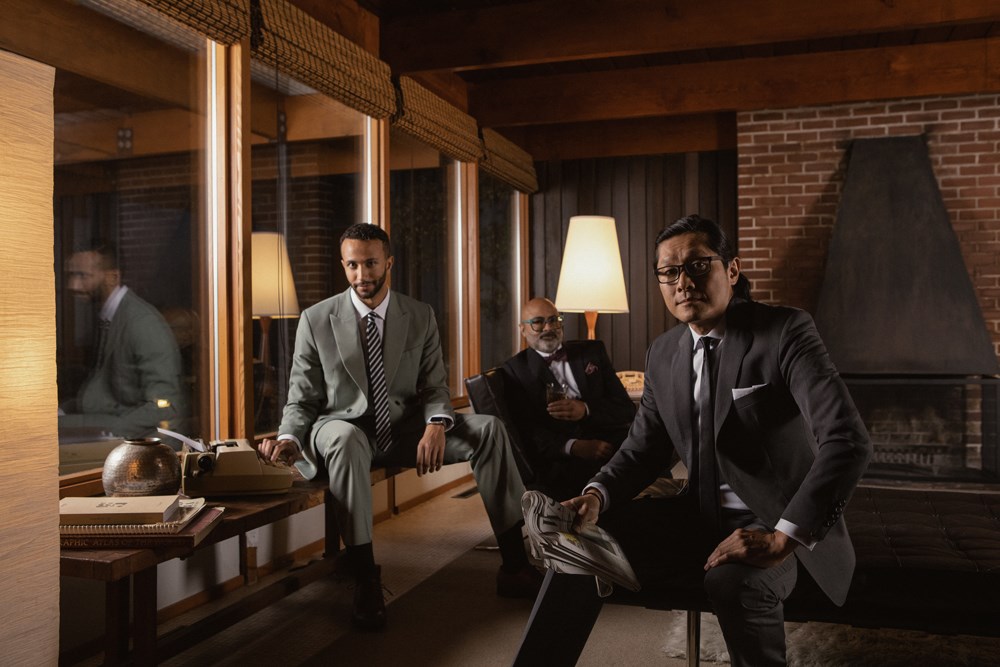 Real estate in Canada's most expensive community isn't usually a David versus Goliath struggle. For decades, West Vancouver real estate has followed a simple rule—bigger is better—10,000 square feet of living space, Swarovski chandeliers and five-car garages.
West Coast Modern Group takes a radically different approach. Using a marketing program that elevates architecturally-designed homes as collectable works of art, the namesake team (Jason Choi, Trent Rodney and Karim Bhatia) markets 60 to 70-year-old homes into hot selling properties that can out-price even brand-new luxury spec builds.
"Vancouver used to be about big shiny monster houses breaking sales records. We just proved David can win against these Goliath mansions, " says Rodney.
Case in point, the custom Sea Ranch house in West Vancouver. This lovingly-restored A-frame was originally designed by architect Barry MacLeod in 1970 as an homage to iconic homes built on the coasts of California, almost three hours north of San Francisco.
When marketing such one-of-a-kind properties, it can be challenging for Realtors ® to attract the right buyers who value these homes. Given today's penchant for gaudy faux Georgian or Tudor homes that dominate an entire building lot, it's easy for realtors to tell clients that their homes are "lot value only," and much of the time, assessment values reflect that.
When Sea Ranch owners, Steve and Sarah, planned on selling, they expected that it would command around $2.8 million, an identical price to a similar-size Colonial that had just sold across the street. The customized marketing campaign created by the West Coast Modern Group illuminated how living in a smaller, sensitively designed space integrated into the natural landscape could live better than a spec house that maximizes it's buildable envelope.
The group then reached out to an international network of design aficionados and eventually sold the 3,000 sq. ft. property to a Manhattan buyer for $3.5 million—a premium over a brand new 6,000 sq. ft. luxury mansion that just sold across the street.
"I've always told people that our client base doesn't want these big bloated houses, and I'm not sure if people believed me. I'm excited to announce that for the first time ever, we've beat out the sales price of a brand new luxury mansion with one of our smaller West Coast moderns that's half the size. It's exciting," says Rodney, a listing agent for the property.
The West Coast Modern Group is Vancouver's only dedicated real estate team for architectural houses.
Discerning home buyers from around the world appreciate what makes the West Coast special. From Horseshoe Bay to Deep Cove, mid-century modern homes are finally coming into their own, thanks to sellers who care and buyers who appreciate timeless design, creative landscaping and unbeatable views.
"Few real estate agents authentically understand the world of architect-designed homes. We don't do cookie-cutter subdivision homes or faux-chateaux. When you contact us, we will share your architectural gem to the world and help put Vancouver on the map. That's the West Coast Modern Group advantage. Trust us to gain a premium price for your listing," says Rodney.
N.S. suspends real estate agent for showing home to client who failed to self-isolate for COVID-19 – Global News
A Halifax-based real estate agent has had his licence suspended after he showed a home to an individual who he knew to have not self-isolated for a 14-day period as required by the Nova Scotia government to stop the spread of COVID-19.
The decision from the Nova Scotia Real Estate Commission was released on Monday.
In July 2020, Adam Scott of HaliPad Real Estate Inc. showed a home still under construction to a prospective buyer.
At the time, the Atlantic bubble was in effect and permitted residents of another province in the region to travel to another without any self-isolation requirements.
But the Nova Scotia Real Estate Commission found that the unnamed individual who was shown the home was from outside of Atlantic Canada and didn't self-isolate for the full 14-day period.
When the house was shown a third person, a builder, was at the home.
[ Sign up for our Health IQ newsletter for the latest coronavirus updates ]
Chris Perkins, the owner of HaliPad, told Global News in a statement that no one had a positive case of COVID-19 and it was not transmitted during the showing.
"This is the first time we experienced COVID-19 protocols not being strictly followed and the agent has taken full accountability for his poor judgement," he wrote.

2:34


The New Reality: How COVID-19 could impact the commercial real estate market



The real estate commission says it repeatedly informed its members through a number of various methods that they were required to follow the federal and provincial COVID-19 health regulations.
In this case, Scott did not, and the commission found that his actions violated the professional conduct standards of a real estate agent.
As a result, Scott's licence has been suspended for a month or until Feb. 17 and he has been ordered to pay a $1,000 fine.
Perkins says the company is deeply disappointed by the event and it served to underscore the importance of complying with COVID-19 regulations.
"We will continue to enforce our strict policy that agents will not attend (in-person) appointments with anyone who has not completed their mandatory isolation period."
© 2021 Global News, a division of Corus Entertainment Inc.
B.C. real estate regulator clamps down on activities of 'Wolf of Burrard Street' – Vancouver Sun
Article content continued
The order, issued Friday, includes details about five complaints.
They started in May 2020, but one received by the superintendent in October 2020 was related to a previous complaint that had been filed about Roberts in July 2018.
Roberts was licensed to provide rental property management services from April 2018 to February 2019 and as a real estate agent from December 2018 to February 2019, according to the order, which added his licence was "surrendered by his managing broker."
Two complaints, the order alleges, involved security deposits taken after the signing of long-term leases where the property owners said their properties were not on the market.
One complaint involved a file with the Vancouver Police Department, which had received numerous complaints related to Roberts, according to the order. Another involved a civil claim in B.C. court.
In the other, Roberts accepted $1,850 as a security deposit for a three-bed room apartment, the order alleges. The owner told the superintendent he had never rented out his property and lived there himself, the order alleges.
City real estate market a study in contrasts – Lethbridge Herald
By Lethbridge Herald on January 18, 2021.
Herald photo by Ian Martens
A construction crew works on the roof of a large home being built Monday afternoon in the RiverStone neighbourhood on the city's westside. @IMartensHerald
Tim Kalinowski
Lethbridge Herald
tkalinowski@lethbridgeherald.com
Almost like a tale of two cities, LethbridgeÕs real estate sectors diverged from one another in remarkable ways in 2020.
On the commercial side of things, as might be expected with the severe economic impacts of COVID-19 and ongoing public health restrictions, last year was a fairly bleak year. New home starts were also sharply down in 2020 with 20 per cent fewer single family residential permits being issued by the City of Lethbridge compared to 2019. However, the resale residential real estate market was on a huge upward swing in 2020 with a nine per cent increase in sales over 2019, and ended the year red hot with 81 per cent more houses sold in December of last year compared to December of 2019.
Lethbridge and District Association of Realtors CEO Cathy Maxwell says the strong resale market was driven by historically low interest rates and a reassessment of housing needs with more people working at home during the pandemic.
ÒI think COVID has caused people to really consider what their home is offering them, and they are making changes,Ó she says. ÒPerhaps some employers are saying you can work from home, and they need to make changes to adapt to that. Perhaps they need more space."
Compared to January last year, local housing inventories have also tightened up, says Maxwell, with a current supply of three and a half monthsÕ worth compared to about nine monthsÕ worth at this time last year. That lowering of inventory has also switched the market over from a buyerÕs market into a more balanced market which is favouring the sellers a bit more at the moment. The average home price increased by about four per cent in 2020, confirms Maxwell.
While a lot of uncertainty remains with COVID-19 still hanging around and a difficult economy at the moment, Maxwell is hoping that gangbuster December is a sign of things to come in 2021.
ÒOverall we had a good year as far as residential real estate is concerned,Ó she says. ÒWhere that goes in the new year Ñ who knows?"
Building Industry and Land Development Association (BILD) president Perry Neufeld says many developers and builders in the community also seem to be choosing to reset the clock based on the December outlook, and seem to be putting a difficult 2020 firmly in the rearview mirror. Taking advantage of low interest rates, a tight local inventory, and the desire of consumers to readjust their housing to a new stay-at-home pandemic reality, builders took out 19 permits for single family dwellings in December Ñ amazing for a normally slow slow month, says Neufeld.
ÒFrom the numbers standpoint, single family home building permits were slower than 2019,Ó confirms Neufeld. ÒThey were about 20 per cent down from the previous year. However, December, year-over-year, was fairly strong. So it was a fairly strong month moving into 2021.Ó
Neufeld confesses he is unable to fully account for the discrepancy between consumer demand for residential real estate in Lethbridge, which was quite strong in 2020, and fewer housing starts overall in the city. However, he says, when risks are higher in the marketplace, as we saw in 2020, home builders and developers tend to be more cautious about the new inventory they bring online.
ÒIn the land development and building companies there was also caution in how they were investing, and what their spec programs were going to look like,Ó he confirms. ÒWhereas three or four years ago, they would have had quite a few projects on the go when there was a little more certainty in the marketplace. As soon as that uncertainty became something they had to contend with then they had to be a little more creative and cautious in terms of how they presented that product, and brought it online.Ó
That being said, Neufeld sees the strong permit uptake in December and the fact that Lethbridge is one of the only real estate markets in Alberta that saw an increase in values and sales last year as grounds for increasing optimism in 2021.
ÒWe have the ability as an industry to create housing as required,Ó he states. ÒWe have (construction) in the community in all different regions depending on where a person wants to live. Coupled with the fact we have historically low interest rates, I think that bodes well in the cityÕs growth in all areas. I think we are well-positioned to grow the community as fast as it wants to grow.Ó
Unfortunately the commercial real estate outlook for Lethbridge is not as positive for 2021, particularly on the office side of things, says Lethbridge Avison Young associate Vinko Smiljanec.
According to the year-end report produced by Avison Young, overall vacancy rates in Lethbridge for retail in 2020 sat at about 5 per cent, and should remain consistent in 2021. Office spaces had an city-wide vacancy of 6 per cent in 2020, and this is projected to increase in 2021, the report confirms, with downtown commercial real estate vacancies increased most dramatically. It hovered at about 11 per cent in 2019 but increased to 15 per cent as businesses closed, downsized or simply moved to more suburban areas last year.
ÒThe retail and office sectors definitely got hit the hardest with the lockdowns and that,Ó Smiljanec confirms.
ÒOffices are interesting. With everyone working from home, I think the office sector will continue to decrease (in 2021) as companies realize they donÕt need to have their employees in office as much. And those office spaces will continue to decrease as those leases come due.Ó
On the retail side, Smiljanec says he is hopeful that sector has already reached bottom after the raft of closures in 2020, and may well see a rebound at the end of 2021 and at the beginning of 2022 as vaccinations become more widespread and public health restrictions ease.
ÒOn the retail side, I donÕt think we are going to see a whole lot more vacancies come up (this year),Ó he predicts. ÒI think if you have kind of been able to weather the storm this far, I donÕt think you are going to be closing your shop now. Outside of this pandemic, I think we will start to see some recovery later in the year, but it will stay pretty flat until then.Ó
Smiljanec also says there is grounds for potential optimism on the industrial side as vacancy rates actually decreased in 2020 over 2019, falling from 8.25 per cent vacancy in 2019 to 7.15 per cent vacancy last year.
ÒThe best news of the whole mix is probably the industrial side where most of the industrial users and tenants are essential workers," he says. ÒThey have been able to keep their jobs and stay busy, and actually that side of the sector has actually expanded if anything. There are very few vacancies for small bays. It seems like everyone I speak to in the construction industry, and the industrial, are all busy.
Follow @TimKalHerald on Twitter
5