Realme X7 Pro 5G Review: A promising midranger with some flagship bling – Android Police
Realme is the fastest-growing smartphone company in the world right now, and it doesn't seem to have any intentions of losing pace in 2021. The Realme X7 Pro 5G is the latest smartphone to roll off the company's production line, and at INR 29,999 (~$413), it's an exciting proposition for anyone looking to get a premium smartphone experience without breaking the bank.
It has some of the bells and whistles more commonly associated with flagship devices — a 120Hz AMOLED display, 65W fast charging, and dual standby 5G. But how does it fare when we look beyond the bling? Does it manage to deliver the well-rounded experience that it promises? Well, almost.
Design, hardware, what's in the box
Realme phones across price segments have similar design elements, relying on the material and the finish of the back to differentiate them. The same is the case with the Realme X7 Pro, but I'm not quite sure how I feel about the chrome-ish Fantasy colorway. The matte glass is smooth to the touch and does a great job of repelling fingerprints, but the "Dare to Leap" brand mantra on the back is divisive — you'll either hate it or love it. Irrespective of how I feel about the design, the phone's slim profile, and its relatively-light weight are impressive. It's also reassuring to know that both the front and the back are protected by Gorilla Glass 5, which should resist scratches.
The 6.5-inch OLED display is one of the strongest selling points of the device, and it's the only one to boast a 120Hz refresh rate at such a low price. It's sharp, viewing angles are great, and the high refresh rate makes scrolling and animations buttery-smooth. It also gets plenty bright — bright enough to not worry about sunlight legibility in a tropical country. The choice of panel allows for an optical in-display fingerprint sensor that works almost as well as traditional capacitive sensors. Though, it does fumble when dealing with oily or wet fingers.
The power button sits on the right side, and the volume rocker finds a home on the left. The bottom side features the USB Type-C port, a speaker grille, and the dual-SIM slot tray — unfortunately, no support for a microSD card or a 3.5mm jack. The earpiece at the top doubles-up as the second speaker for stereo sound, and while it doesn't offer rich audio (especially at higher volume levels), the setup offers a satisfactory experience. This time around, Realme has bundled a great haptic feedback motor, and while it may not be as refined as the ones found in flagships, it's among the best in its segment.
At a time when smartphone companies are shipping lean boxes, Realme is still being pretty generous with accessories. The phone ships with a 65W fast charger, a USB Type-A to Type-C cable, a transparent protective case, and a USB Type-C to 3.5mm adapter. The phone also comes with a pre-applied screen protector.
Software, performance, battery
The X7 Pro ships with Android 10-based Realme UI, which is inapt given that Android 11 has been out for almost five months. The company says the update will arrive sometime in Q2 2021, and further confirms that the phone will only ever get updated to Android 12 — bummer!
This doesn't change the fact that Realme UI is one of the most customizable Android skins out there. It's filled to the brim with features that introduce functionality that's still missing on stock Android. Some of my favorites include screen-off gestures, smart sidebar, partial/scrolling screenshots, and game space.
This is not to say that Realme UI is perfect. It has its fair share of bloatware and spam notifications from system apps (they can be disabled). But, all in all, it's well-optimized and won't get in your way after a few tweaks.
Moving on to performance, the phone is powered by the 7nm Dimensity 1000+ SoC, which is coupled with 8GB of RAM and 128GB of UFS 2.1 storage. Since MediaTek hasn't really catered to the premium midrange segment before in recent times, I wasn't sure about what I was getting into when I started using the phone.
The Realme X7 Pro 5G performs admirably — I noticed almost zero stuttering or lag during everyday usage. Opening apps is quick, memory management is not too aggressive, and jumping between apps is seamless. Games like Asphalt 9 and Call of Duty Mobile also performed well at maxed-out graphic settings. It was only while playing Genshin Impact that I saw occasional stutters. But even then, the game was playable. The phone also employs a vapor cooling system that Realme claims can reduce the core temperature by up to 10°C. The company even okays charging while gaming.
You won't have to worry about battery life as the phone. With its 4,500mAh unit, the X7 almost always lasts me an entire day. This is not to say that it's exceptional. In fact, an hour-long gaming session and a photo walk may require you to hug a wall before the end of the day. But this isn't a deal-breaker because the proprietary 65W adapter the X7 Pro ships with is insanely quick at replenishing the battery. The battery goes from nada to full in about 40 minutes! Without the proprietary plug, the device maxes out at 18W over USB-PD.
Camera samples
The Realme X7 Pro 5G is equipped with a quad-camera setup, but not all cameras are equal. The setup is headlined by a Sony IMX 686 64MP f/1.7 wide and an 8MP f/2.4 ultrawide. There are also a pair of 2MP sensors, one for monochrome and the other for macro shots, but they're just spec-sheet fillers that don't help much.
The primary camera is the only one that's suitable for shooting in challenging lighting conditions. The images have good dynamic range, not-so-exaggerated colors, and plenty of details.
The night shots, however, don't seem to fare as well. The dedicated night mode makes things worse, and while it does crank up exposure for a more comprehensible image, it introduces a lot of noise that makes dark areas look patchy. This could improve with a software update, but the way it is now, you'll need sufficient artificial light to take social media-worthy images.
Auto mode vs Nightscape: The Realme X7 Pro's cameras don't fare well in low-light conditions.
The macro lens is abysmal — you're much better off taking images with the primary camera and then cropping in. The 8MP ultrawide lens is nothing to write home about, but it takes usable images unlike the macro and monochrome cams. It's best in broad daylight, but the images don't offer much detail, and there is little color parity with the primary camera. The 32MP selfie camera can take good shots, however, and portraits look clean.
As for videos, the primary lens can shoot up to [email protected], but the output is just as disappointing as images in low-light scenarios. There is a dedicated night video mode that cranks up ISO at the cost of details, though. Further limiting the videography appeal is the lack of EIS support for 4K videos and the [email protected] limitation for the selfie camera.
Should you buy it?
Yes, if great cameras aren't your top priority. The Realme X7 Pro is a well-balanced smartphone, and it offers some flagship bling at a much more palatable price. The OLED display is a treat to look at, and its support for a 120Hz refresh rate is something no other similarly-priced phone with an OLED panel can boast of. The Dimensity 1000+ chip may not give the Snapdragon 865 a run for its money, but it's definitely a worthy contender that won't let you down — unless you decide to play resource-intensive games like Genshin Impact or render complex, layered videos.
As for the design, it boils down to your preference. While I may not dig the printed brand mantra, I'm a fan of the matte finish and the slim build. Battery performance was satisfactory too, and the 65W charging keeps battery anxiety at bay.
For me, the only real let-downs were the mediocre performance of three out of the four cameras, and the fact that it ships with Android 10. Mind you, camera performance isn't terrible, but it's a constant reminder you're not using a flagship phone.
All in all, if you're looking for a premium midranger that doesn't sacrifice functionality, the Realme X7 Pro is surely a phone you should consider. Depending on your software preferences and the need for a better camera setup, you may want to look at alternatives such as the OnePlus Nord and the Samsung Galaxy M51.
Buy it
If you're looking for a midranger that offers some flagship features.
If you want a high refresh-rate AMOLED display without breaking the bank.
Don't buy it
If you want a versatile camera setup that performs well under all lighting conditions.
If you're looking for an upgrade to Android 13.
Buy
How a pub trivia night turned into a COVID-19 super-spreader event (INFOGRAPHIC) – The Tri-City News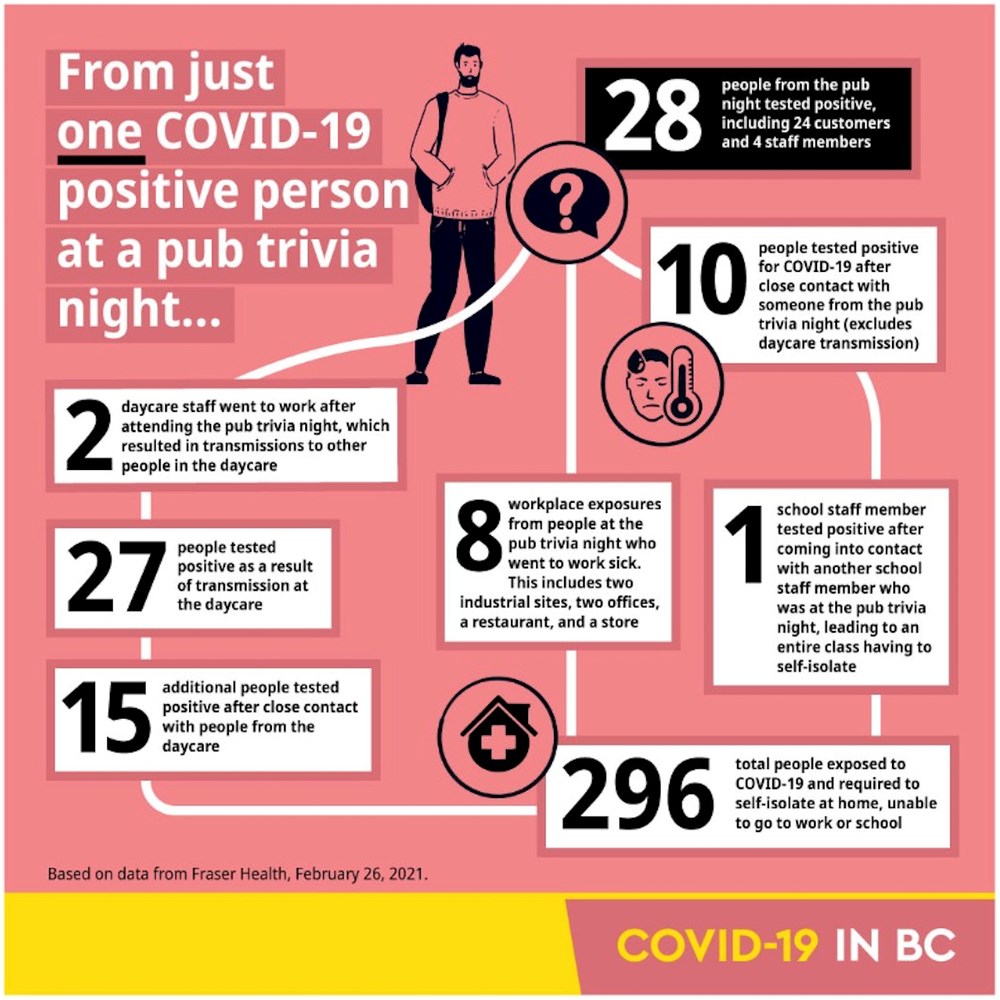 B.C. health officials have revealed new details of how a single pub trivia night led to the exposure of nearly 300 people across a daycare, industrial sites, a restaurant, a store and the isolation of an entire class at a local school.
"From just one COVID-19 positive person at a pub trivia night…" begins the infographic, before detailing how and where 296 were forced to self-isolate at home.
Over the last few weeks, health officials made veiled references to an unnamed pub trivia night which sparked a secondary outbreak at a Burnaby daycare and led to cases at workplaces and schools.
While not specifically revealing the location of the pub trivia night — where 24 patrons and four workers initially sparked the chain of transmission — reporting by the Tri-City News confirmed a super-spreader event of the same scale stemming from St. James's Well in Port Moody.
Last month, an industry spokesperson confirmed there had been no other COVID-19 transmission events linked to a trivia night in any bar or pub in B.C.
From the pub night, transmission chains break into three streams, according to the infographic. Two daycare staff are said to have gone to work after attending the trivia night, sparking infections among 27 people linked to the daycare, and another 15 secondary cases.
A second series of transmission events occurred in eight workplaces after people who attended the trivia night went to work sick. Those included: two industrial sites, two offices, a restaurant and a store.
Finally, contact tracers tracked a third chain of transmission among 10 people who had close contact with someone who attended the pub trivia night. Of those, one school staff member came to work sick, infecting a colleague and triggering the self-isolation of an entire class.
The super-spreader event coincides with a surge of COVID-19 cases across the Tri-Cities in recent weeks. Last week, the BC Centre for Disease Control released data indicating the three cities had one of the highest per-capita rates of infection in the Lower Mainland, on par with Surrey.
The BCCDC is expected to release updated case numbers over the next 24 hours.
Maezawa wants to take you to the moon: Japanese billionaire seeks passengers for 2023 SpaceX trip – CBC.ca
Japanese billionaire Yusaku Maezawa on Wednesday launched a search for eight people to join him as the first private passengers on a trip around the moon with Elon Musk's SpaceX.

He had originally planned to invite artists for the week-long voyage slated for 2023.

The rejigged project will "give more people from around the globe the chance to join this journey. If you see yourself as an artist, then you are an artist," Maezawa said.
Maezawa to pay entire cost of trip himself
The first stage of the selection process runs to March 14, with applicants needing to pass medical checks and, eventually, an interview with Maezawa.

The entrepreneur, who sold his online fashion business Zozo Inc. to SoftBank in 2019, is paying the entire cost of the voyage on SpaceX's next-generation reusable launch vehicle, dubbed the Starship.

"I thought there might be delays but everything is on schedule," said Maezawa in an interview.
Recent Starship prototypes exploded during testing
Two recent Starship prototypes have exploded during testing, underscoring the risks for Maezawa, 45, and his fellow passengers, who must also contend with the strains of space travel in the first private journey beyond Earth's orbit.
"Elon Musk says there is no problem and I believe him," said Maezawa. SpaceX ferried four astronauts to the International Space Station in November on its Falcon 9 rocket.

Maezawa said he is not in training — which he expects to take a few months at most — but is watching his alcohol intake and exercising while spending a few hours a week considering the mission.

"I'm only preparing mentally," said the fashion guru, wearing a Dior shirt over a T-shirt depicting the iconic 1968 Earthrise photo.

Seeing the whole Earth and the far side of the moon would be highlights of the trip, said Maezawa, who had considered a trip the ISS before choosing the more ambitious moon voyage.

"This mission we expect people will go further than any human has ever gone from Planet Earth," Musk said, days after SpaceX completed its latest $850 million US fundraising, which has helped turn the businessman into one of the world's richest people.
Costs for the trip remain in line with the original contract with SpaceX, said Maezawa, who has declined to say how much that is, but says is more than his $110 million US purchase of a Jean-Michel Basquiat painting.

Both Musk and Maezawa have built loyal followings on social media, with the latter's cash giveaways helping to make him Japan's most-followed Twitter account.

Maezawa, who recently introduced SoftBank CEO Masayoshi Son to audio app Clubhouse, said he plans to feature mission preparation on his YouTube channel, which also offers videos of him playing golf in Hawaii and racing supercars.

Last year he launched a short-lived documentary search for a new girlfriend to join him on the trip before pulling out citing "mixed feelings."
Billionaire offering 'free ticket to the moon' on SpaceX Starship – Global News
A Japanese billionaire is looking to fill some seats on his SpaceX rocket to the moon.
You in?
Eccentric fashion designer Yusaku Maezawa has launched an international search for eight people to join him on the planned voyage around the moon, which Elon Musk hopes to accomplish as soon as 2023.
Maezawa, 45, announced the search on his Twitter account Tuesday in his latest high-stakes social media stunt. The announcement was short on details, but Maezawa has previously billed his "dearMoon" expedition as a trip that will include many artists.
Maezawa confessed in a video on Tuesday that it can be hard to define an artist, so he wants to open up his criteria to a more "diverse audience" of potential passengers.
"Maybe every single person who is doing something creative could be called an artist," he said. "If you see yourself as an artist, then you're an artist."
He says he'll consider candidates for the mission from anywhere on the globe, provided they can meet two criteria:
By going to space, you must be pushing the envelope in whatever activity you're into.
You have to be willing to support other crew members who share "similar aspirations."
Maezawa says he will cover all costs for the trip, so he is essentially offering a "free ticket to the moon."
Musk also touted his excitement for the journey in Maezawa's video.
"We're going to go past the moon," he said. "We expect people will go farther than any human has ever gone from planet Earth."
[embedded content]
Potential passengers can sign up for details about the trip on Maezawa's mission website.
The registration form asks for your name, email and home country. It also allows you to upload a photo that it will automatically crop into the helmet of a spacesuit.
A followup email says that further details about the screening process will be sent out on March 15.
Potential candidates will go through an initial screening process later this month, followed by an "assignment," an "online interview" and a "final interview and medical checkup" in late May, according to the website. Details about the assignment and the judging process have not been released.
Maezawa, who runs the Japanese fashion brand Zozo, became the first person to pay for a trip to the moon when he signed up in 2018 for an undisclosed sum.
He plans to bring 10 to 12 passengers on SpaceX's Starship, which is still in its testing phase. The Starship is expected to fly to the moon over three days, loop around the far side of it and then fly back over another three days.
The journey is slated for 2023, although Musk still has some fine-tuning to do on his Starship design after two of the prototypes blew up in recent tests.
A third test flight was scheduled for Wednesday or Thursday.
Maezawa has a history of pulling high-stakes giveaways on Twitter. He once promised to give US$9 million to some of his followers as a "social experiment" to see if it'd boost their happiness.
He also used Twitter last year to launch an unsuccessful search for a girlfriend to accompany him to the moon. He had planned to turn the search into a Bachelor-style reality show for Japanese TV, but later backed out due to "mixed feelings." He reportedly received about 27,000 applications for the show.
Maezawa announced on Wednesday morning that he's already received more than 100,000 signups for the trip. The No. 1 country for applicants was India, followed by Japan and the United States. Canada ranked No. 8.
Maezawa is not the only billionaire seeking passengers for a SpaceX voyage. U.S. entrepreneur Jared Isaacman is also putting together a four-person crew for the first all-civilian space flight into orbit later this year.
© 2021 Global News, a division of Corus Entertainment Inc.