Reason to invest in real estate in Riviera Maya – Mtltimes.ca – mtltimes.ca
Real Estate in Riviera Maya, Mexico is a darling of foreign investors and tourists. It attracts no less than 70% of tourists and foreign investments coming into Mexico.
Tourism numbers are on the rise and demand is getting past supply. Today, according to the United Nations World Tourism Organization (UNWTO) Mexico is the 8th most popular vacation destination in the world, and Cancun and The Riviera Maya are the most popular tourism destinations in the country. So, buying property in this growing economical area has been very much proven to be a solid and smart investment strategy.
The region spans more than 80 miles along the turquoise waters of the Caribbean coast. Its weather is just fantastic most time of the year, and beside the award winning beaches, there are so many other attractions that you only can find them in together in Riviera Maya, such as several Archeological Sites from the ancient Maya culture, hundreds of Cenotes that are crystal clear water wells, part of a complex network of underground rivers where you can do some swimming, snorkelling or even diving to explore the underwater caves, of course you have the jungle, and below those amazing turquoise waters of the caribbean ocean, you'll find amazing coral reefs.
To all that we add word-class shopping and dining, and many adventure activities supported by a very well developed tourism infrastructure.
Its location south of the Cancun International Airport offers easy access for millions of annual visitors around the globe. And we have to mention that a new airport it's going to be built south of Tulum, making this region in Latin America one of best connected areas to the rest of the world.
Investing in real estate in the Riviera Maya it's easy and quite affordable and it has benefits and advantages both for tourists and investors.
What are the benefits of investing in the Riviera Maya?
It is such a tourist destination, full of beauty, clear waters, an increase in the population in the past years reaching 15%, as the International Living's blog said, and also a development of the infrastructure that has been important to make all the Riviera Maya a great place for your investments. Another of the main reasons to buy a property and invest in real estate in the Riviera Maya, whether it is for renting or having a vacation place, is that the Mexican Peso has dropped 15% in the past few years, just like Reuter's said at its blog, making the ownership of a beautiful beach house even more possible than years before.
The low cost in the real estate market in the Riviera Maya makes a dream property have a price of $1.300.000 M.N, around US$65.000, investing an excellent deal, as Travel Laisure said in its blog. This place has economic growth of 4.5% per year, and it is getting better. Also with every year that goes, it has an increase in tourism. On average there is an 85% of tourist occupation per year, which is a number that indicates only good things. You can also find better options, you just have to investigate; there's some pre-sale apartments in Thiara which are an excellent example.
Being a spectacular destination for all the people around the world, an investment here is a marvelous idea. The apartments in Riviera Maya come with several amenities, similar to resort amenities.
The World Tourism Organization (UNWTO) gave the Riviera Maya the well-known award of "The best of the best" in the matter of beach destinations. So this is pretty much one of the best places in the world to own a beach house, and that is for sure. You can find help to buy yours in real estate Proptech such as La Haus, whose investors are Jeff Bezos from Amazon and the singer Maluma.
Significant facts that makes it a piece of paradise
The pre-sale surplus-value is between 20% to 38%. When the sale is completed it has an incredible return on investment between 9% and 12% per year, according to the data in Aqua's blog. The Riviera Maya has an average of capital gain in the entire area of 7% up to 11%, just like Tao Mexico said in its blog, far superior to the capital gain in other popular destinations such as Dubai, that has a 3% of capital gain, or Miami, that has a 3.8%. The residential complexes for vacation rentals are constantly growing, as well as their capital gains and annual return on investment. All this and much more make it a great deal to invest in Mexico.
A whole new airport is about to open in Tulum. The president said that in 2023 the country would have a luxury airport that obviously will add interest not only to the Riviera Maya, but also the entire country. This will be such a positive change to companies and businesses because of the access to this country. One of the things that are also coming is the new Formula 1 circuit; this is something that has a tremendous impact when it arrives at a city, increasing its value in manners that impulses the economy and even the whole culture. 500 hectares, 9 km long, and the space for a staggering 130,000 spectators, is what makes this place in Mexico a next-level destination.
The last Formula 1 race left over 14 billion pesos, said by the news in The Agency Riviera Maya's blog, that went straight into the country's economy. The construction of the new circuit project (expected to be completed in 2025) will come with two luxury 5-diamond hotels alongside a hippodrome that will host concerts and events. This project will directly give around 8.000 jobs to the residents, boosting the economy on all levels and making this place a great business center and investment destination, and also optimal for foreign direct investment.
All this means that if the economy is strong and the fluency of tourists is high, the real estate market will surely benefit, turning an investment in Mexico into a deal that cannot be missed.
Having your apartment in the Riviera Maya means so much more than just owning an apartment, it's a guaranteed investment. If you keep investigating you'll find so many good sales in apartments and you'll be ready to make the most of short-term rentals in Riviera Maya.
What will come with the ownership of an apartment in the Riviera Maya?
The stunning apartments are just a few minutes away from the most fantastic beaches in the world. They are also pretty close to beautiful cenotes with crystalline waters and surrounded by shocking nature full of green and life.
Not only nature can be found in the Riviera Maya, but it is also known for its amazing antique constructions; after all it is called the Riviera Maya because of the Mayan culture, so pieces of Mexican history can be found here. As a matter of fact, it is not only Mexican history, it is also part of the firsts prehispanic civilizations, which turns it into a part of the history of the entire world.
Another main reason to invest in Mexico, especially in The Riviera Maya, is that it has the best nightlife in the country. There are clubs such as Naná Rooftop Bar, with a great atmosphere, good music and delicious drinks. Also you can go to Tulum Social Pubcrawl, an amazing gastronomical experience. There are a lot of activities, including a jacuzzi, partybus, and incredible games that will blow your mind, according to TripAdvisor.
According to Hotels, the food is not left behind in the Riviera Maya. One of the most famous places to have an unforgettable meal is El Fogón, a taqueria located almost in the outskirts of the Riviera, and it truly serves authentic and amazing Mexican food, like tacos. Hartwood is another good Riviera restaurant with delicious seafood. Of course, most people want to go there because the Riviera Maya is a beach destination.
An unbeatable deal
Being able to acquire a property in the Riviera Maya is not a thing you should think twice about if you have the capital to do so. With all the top projects that are coming plus the low costs, there is no doubt that an opportunity to invest in Mexico is a lifetime deal that cannot be missed.
If you decide to join all the investors worldwide that are taking advantage of buying a property there, you can find help in real estate agencies or platforms like La Haus to begin your investment in one of the top tourist destinations around the world.
Other articles from mtltimes.ca – totimes.ca – otttimes.ca
Related
Best Real Estate Shares Five Ways To Increase Trust In Your Ad Campaigns – Net Newsledger
When it comes to online advertising, gaining the trust of your audience is critical. If people don't trust you, the experts at Best Real Estate in Tampa, Florida, say they won't buy from you. This article will discuss five ways to increase your ad campaigns' trust and boost sales!
Trust is essential for ad campaigns because it helps connect the advertiser and the consumer. When consumers see an ad, they need to trust that the advertised product or service is legitimate and that they won't be ripped off if they purchase it. This can be difficult for advertisers, as many unscrupulous companies are more than happy to take advantage of unsuspecting consumers.
However, Best Real Estate experts say a few things advertisers can do to help build trust with their audience. First, they can be transparent about their product or service, clearly explaining what it is and how it works. Second, they can use testimonials from satisfied customers to show that their product or service delivers on its promises. Finally, they can provide a money-back guarantee to show that they stand behind their product or service. By taking these steps, advertisers can help build trust with their audience and ultimately increase sales.
In the past, advertisers have not been entirely transparent about how they create and place ads. As a result, there has been a lot of mistrust between brands and consumers. However, increased transparency will help to increase trust in advertising campaigns. When consumers understand how ads are created and placed, they are more likely to trust the campaign and the brand.
Additionally, Best Real Estate professionals say transparency helps build relationships between brands and consumers. When brands are open and honest about their advertising, consumers are more likely to feel closer to the brand and be more likely to purchase its products. Therefore, transparency is essential for increasing trust in ad campaigns.
Another way to increase trust in your ad campaigns is to use customer reviews. Customer reviews are a form of social proof, which is when people see that others are using and enjoying a product, they are more likely to want to use it themselves. Therefore, by featuring customer reviews in your ads, you can show potential customers that your product or service is trustworthy and worth their time.
Additionally, customer reviews help to build credibility for your brand. When potential customers see that other people have had positive experiences with your brand, they are more likely to trust it and be willing to try its products.
As mentioned above, social proof is essential in increasing trust in ad campaigns. Social proof is the idea that people are more likely to trust a product or service if they see that others are using and enjoying it.
One way to create social proof for your ad campaign is to feature testimonials from satisfied customers. Testimonials are a great way to show potential customers that your brand can be trusted and that you have happy customers.
Another way to create social proof is to show media mentions of your brand in your ads. If you've been featured in any news articles, magazines, or other publications, mention it in your ad! This will help increase trust by showing potential customers that your brand is credible and has been noted by reputable sources.
You can create social proof and increase trust in your brand by featuring testimonials and media mentions in your ad campaigns.
Ad campaigns can be a great way to promote your product or service. However, ensuring that your ad campaigns are adequate is essential to get the most return on investment. There are a few key things to keep in mind when creating ad campaigns:
Define your target audience
Who are you trying to reach with your ads? When you know your target audience, you can create ads that are more likely to resonate with them.
What are you trying to achieve with your ad campaign? Are you looking to increase brand awareness, drive traffic to your website, or generate sales? When you know your goal, you can create ads that are more likely to achieve it.
Where will you be placing your ads? There are various advertising platforms, each with its strengths and weaknesses. You'll need to choose the medium most likely to reach your target audience and help you achieve your goal.
By following these tips, experts at Best Real Estate say you can create ad campaigns that are more likely to succeed. Keep these things in mind as you complete your next marketing campaign!
Ad campaigns can be a great way to promote your product or service. However, ensuring that your ad campaigns are adequate is vital to get the most return on investment. When creating ad campaigns, the key things to remember are defining your target audience, determining your goals, and choosing the right platform. By following these tips, you can create ad campaigns more likely to succeed.
Best Real Estate is a company focused on providing innovative marketing solutions for real estate professionals. For more information on their products and services, please visit the official site at https://bit.ly/bestrealsystem
B.C. real estate prices dip for fourth straight month – Business in Vancouver
Compared to last summer, prices are still up 3.6% in B.C. | Photo via Artie Photography (Artie Ng) / Getty Images
B.C. real estate prices have fallen for a fourth straight month, shaving about 4% off their value from June, transaction statistics show.
Average home sale prices across the province are now down 15.7% in July — sitting at about $920,000 — as compared to the market's latest peak in March, when the average price was nearly $1.1 million.
Prices in the Fraser Valley have fallen the most of any region in B.C. since March — 20.5%, as the average unit now sells for just over $1 million.
"High mortgage rates continued to lower sales activity in July," said BC Real Estate Association chief economist Brendon Ogmundson Thursday in his monthly market update for July.
"Many regions around the province have seen sales slip to levels well below normal for this time of year," added Ogmundson.
Compared to last summer, prices are still up 3.6% in B.C.; however, prices are trending to a point where they will soon see a year-over-year decline, after peaking at 24.9% gains in March.
Active July listings of 31,386 remain below the estimated 38,000 needed for long-term market balance. Last July there were 24,473 listings.
Sales volume is down 42% year over year, from $8.6 billion worth of transactions in July 2021 to $5.2 billion last month. More properties sold in B.C. last January (6,138) than they did in July (5,572).
Chilliwack and the Fraser Valley saw the biggest drops in year-over-year sales, with declines of 57% and 50%, respectively.
The association noted that as the pace of sales activity declines below normal levels, inventory is accumulating.
"Inventories remain quite low, but the slow pace of sales has tipped some markets into balanced or even buyers' market territory," stated the association.
In an effort to curb inflation, sitting at 8.1% in June, the Bank of Canada has increased interest rates from 0.25% in January to 2.5% in July and another rate hike is expected Sept. 7. The bank has stated it is targeting a 3% or 3.25% rate by the end of the year, which will further erode homebuyers' qualifying levels.
Real estate downturn could be good news for Sault home buyers – SooToday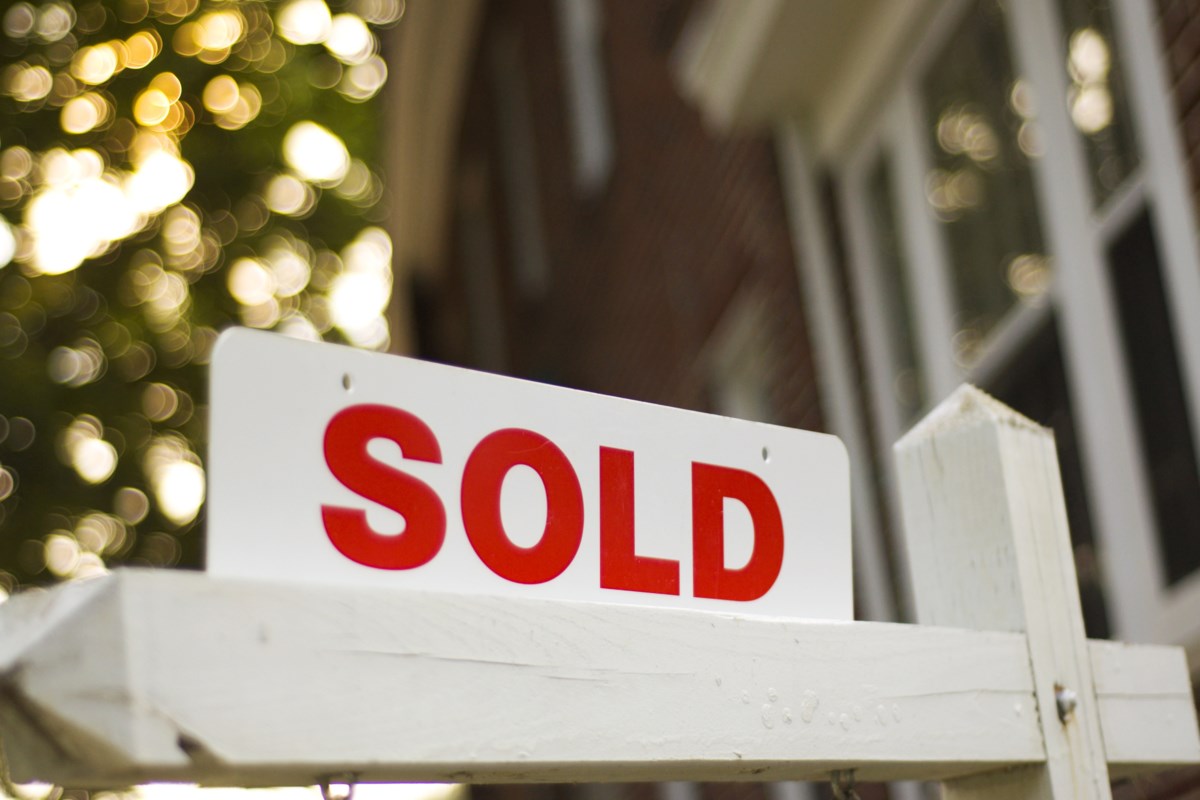 RBC – Canada's largest bank – foresees the country's real estate bubble popping with a big downturn in both sales and prices.
With inflation pushing lending rates up, those rising rates are expected to cool down the real estate market.
As reported earlier, local home sales were down significantly in July as compared to July 2021 but the average price was still up at $320,314 – a 20.3 per cent increase from last year.
While RBC forecasts the overnight rate will climb to 3.25 per cent by October, the bank and real estate industry experts see the anticipated downturn in prices as a correction and a welcome change.
"What we're experiencing in Sault Ste. Marie is more of a market stability, which to me is a good thing because it's allowing buyers to have a little more power to buy a home," said Jonathan Mogg, Sault Ste. Marie Real Estate Board president.
That could turn out to be good news for first time home buyers in the Sault, some of whom lamented back in March that out of town home buyers, many from southern Ontario, were paying big money for homes in the Sault, those buyers either GTA residents eager to relocate away from the hustle and bustle or absentee buyers purchasing Sault homes and renting them out.
That trend squeezed out many Sault residents desiring to buy a house in their hometown.
"That seems to be cooling off," Mogg told SooToday.
"Big time investors will always be in play, people who are in southern Ontario and decide that they want to invest in housing but can't afford that market so it's been pushing those kinds of people up north. But we're noticing that with the interest rates going up there's a lot less of those types of investors entering the local market, so that's positive."
"It's kind of hit a point where a lot of people have cooled off on the idea of investing in housing so that's good for the local people because now they're starting to have a chance at buying a home again," Mogg said.
"What I'm noticing is that a lot of buyers who were previously disillusioned are starting to come out of the woodwork and getting excited about trying to buy a house again. That's awesome because these are people who had tried previously and the market was just too hot for them at the time. Now they're seeing things cool off a little bit so it's spurring them to say 'okay, now's the time I'm actually going to buy a house, this is it.'"
"It's good to see that," Mogg said.
Mogg said renting a home is still an option for those who can afford it because the average three bedroom bungalow in Sault Ste. Marie's price is approximately $320,000 – making it hard for anyone with a budget under that amount.
That can cost between $1,500 and $2,000 a month.
That's not the best option for most people, but the option is there for those who have the cash.
As far as apartment rentals are concerned, rates for two bedroom apartments in the Sault cost at least $1,300 a month.
Though realtors naturally prefer people to buy homes as opposed to renting them or renting apartments, Mogg said "it goes beyond a professional thing. Being a member of this community I want everybody to have the chance to have good quality housing."