Record month for South Georgian Bay real estate pushing pricing out of reach for many – CTV Toronto
COLLINGWOOD —
October was another record-breaking month for real estate sales in the region.
Statistics from the South Georgian Bay association of realtors show the number of sales increased 47 percent over October last year. The benchmark price of a single-family home Climbed 21.8 percent to 513 thousand dollars, vacancies are down, while rents are also seeing an increase.
"Rents have been a surprise to me how quickly they have escalated and how out of context they are with the local market, wage rates and labour force," says community activist Marg Scheben-Edey.
A flood of buyers from the GTA is fuelling the hot housing market. Still, there's mounting evidence that rising prices make the communities around Southern Georgian Bay unaffordable, especially for service industry workers and single-income families who spend more than half their income on housing.
Pamela Hillier, the Executive Director of Community Connection, says that's not sustainable and adds calls for help to 211 are up 153 per cent.
"At the end of the month, there's no money left to buy food, or prescription medicine, or things like that, so people call to see if there are other income sources or help out there to pay for other services that they need."
Advocates for purpose-built housing, including Gail Michalenko, say a bad situation just got worse in Collingwood.
"Our current council is certainly more supportive and recognizes that there's a huge issue with this," says Michalenko, "so now it's time for some action."
"There's a sense of urgency to start addressing the situation," says Scheben-Edey. It's not something we can take likely sometimes it's life and death."
This Vancouver 'gnome home' is trolling a local real estate company (VIDEO) – Vancouver Is Awesome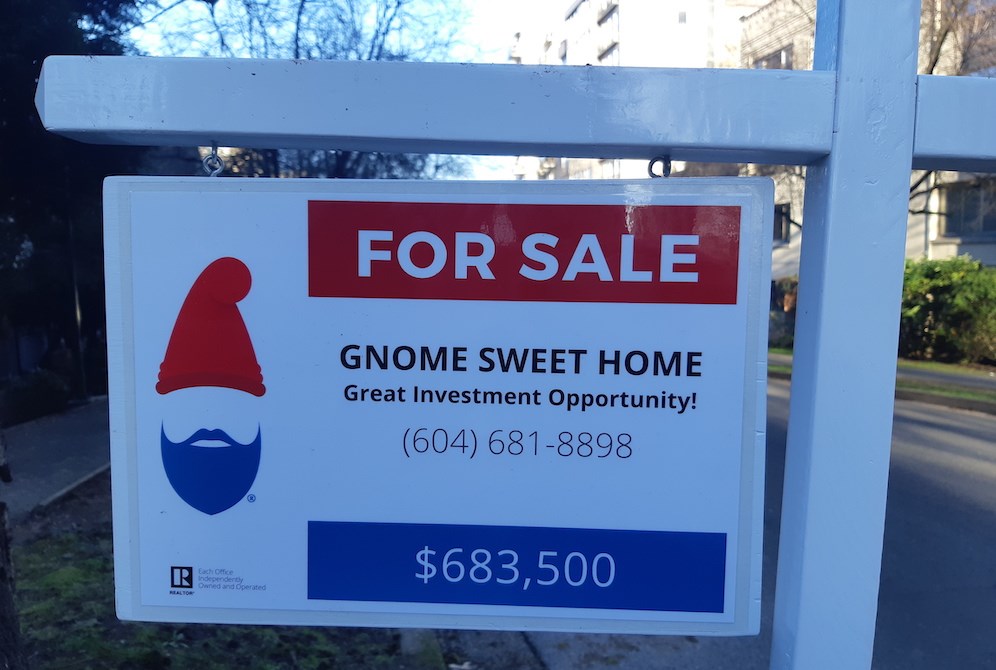 A tiny gnome home appears to be for sale on the corner of Nelson and Jervis in Vancouver.
Vancouver Is Awesome explored the adorable display, and also called the number on the real estate sign.
The company told us that they've received a few calls related to the miniature abode, but that they haven't been overwhelmed with queries.
Have a look at this adorable, pint-sized property.
[embedded content]
Canadian Real Estate Prices Grew Over 25x Faster Than U.S. Prices Since 2005 – Better Dwelling
Canadian real estate prices are growing to comical levels, as bad policy stacks up. U.S Federal Reserve data shows real adjusted home prices increased at double the pace of the U.S in Q3 2020. As big as the gain is, it's one of many times Canadian real estate prices have outperformed the U.S. home prices. In fact, it's now at the point where Canadian prices have grown 25 times faster than U.S. home prices since 2005.
Canadian Real Estate Prices Were Up Over 8%
Canadian real estate prices made a massive jump last year, despite the pandemic. Real home prices increased 2.93% in Q3 2020, from the previous quarter. This brings annual gains 8.27% higher than the same month last year. Across the country, prices have doubled since 2005, and that's after adjusting for inflation. One note worth taking away is, almost half of the gains occurred in the past 5 years. That's a very rapid acceleration, even before considering the other half of the growth took twice as long.
U.S. Real Estate Prices Were Up Over 3%
U.S. real estate also made substantial gains over the past year, but it doesn't look like much compared to Canada. Real prices increased 0.81% in Q3 2020, making them 3.45% higher than a year before. Across the country, prices are only 3.96% higher than they were in 2005, in real terms. In other words, prices have been moving largely with inflation over the past few decades.
Canadian Real Estate Prices Have Grown 25x Faster Than U.S. Prices Since 2005
The consistent growth without correction over nearly two decades has disconnected the two. Canadian real estate prices didn't just see double the growth over the past year. Since 2005, real estate prices have grown over 25.31 times faster than U.S. real estate prices. This is not a normal trend.
Canadian and U.S. Real Estate Prices
An inflation adjusted index of Canadian and U.S. real estate prices.
Source: US Federal Reserve, Better Dwelling.
Canadian real estate prices historically have moved in line with U.S. prices. From 2005 to 2020, real prices in Canada increased over 25 times faster than U.S. prices. Before 2006 though, they largely moved around the same pace, with exceptions in 1980 and 1990. At the time, these periods were "new paradigms," but subsequently found to just be bubbles. The recent home price acceleration is so large though, many people find it hard to believe a correction is possible.
Most people think of Canada's recent real estate price surge as a long-term trend. However, almost half of the price gains occurred over a period only a little longer than a single political term. It might seem like forever for some people, but it's just a fifth of a mortgage amortization. Cheap credit and policy to preserve (and inflate) prices hasn't lasted this long before. That doesn't mean it won't last, it just means there's no historic precedent. It's not clear if this establishes a new paradigm though.
In the early 90s, the U.S. attracted young Canadian professionals looking for a better balance. Recently, Canada's young people have been de-urbanizing due to high real estate prices. If both of those trends occur, will Canadians continue to pay premiums solely due to cheap credit?
Like this post? Like us on Facebook for the next one in your feed.
Albertans more confident in real estate than economy, new poll finds – Calgary Herald
Article content continued
"Albertans have been in a recession for over five years, so we are used to living in a slower economy where we have seen declining housing prices."
Accordingly, he suggests many people have been slow to recognize the mounting strength in the housing market with prices slowly gaining upward momentum. In fact, Calgary Real Estate Board figures show over the last few months year-over-year gains for the benchmark price of home.
"Conversely, I see the provinces where there has been high real estate (price) inflation that people still feel prices will increase more," he says.
The RBC survey reflects this somewhat nationally with 52 per cent of respondents agreeing prices will only go up in the near future. That increases to 60 per cent in British Columbia and 56 per cent in Ontario, but it falls to 37 per cent in Alberta.
Additionally, it found COVID-19 still factors heavily into homeowners' thinking. While 78 per cent nationally are concerned about its impact on the economy, that increases to 88 per cent in Alberta. Yet the number of respondents concerned the second wave will negatively impact the housing market falls to 43 per cent nationally and 45 per cent in Alberta.
Lowell suggests Albertans' more favourable view of real estate compared with the overall economy may reflect what he's seeing in Calgary with many would-be buyers and sellers. He notes many may be sensing home prices "are at or very close to the bottom and to wait much longer in light of today's (low) mortgage rates could be missing out on a buying opportunity."