Researchers 'very confident' vaccine for coronavirus will be developed – q107.com
Thousands of researchers around the world have been working tirelessly to develop a vaccine to treat the novel coronavirus that has wreaked havoc across the globe.

READ MORE:
A look at what could happen without a coronavirus vaccine

Now, months after the SARS-CoV-2 virus was first detected in Wuhan, China, researchers are honing in on a possible vaccine.
But, they say it could be two years before any such vaccine would be ready for public consumption.
Challenges to vaccine development
The biggest challenge researchers face when trying to develop vaccines for emerging viruses like SARS-CoV-2 is a lack of information, Dr. Alyson Kelvin, an assistant professor at Dalhousie University's Toronto campus and a research scientist at the Canadian Centre for Vaccinology, told Global News.
She said because this novel coronavirus only spilled over into the human population a few months ago, researchers were essentially "starting from scratch."
"We don't have a clinical picture, we don't have a genetic signature, we don't have the protein signature," she said. "We know nothing about this virus."
She said scientists have had to study what the virus is made of and how it behaves in order to develop a target.
Dr. Matthew Miller, an associate professor at McMaster University's department of biochemistry and biomedical sciences, said in general, coronaviruses pose a problem for vaccine development.
He explained that's because researchers don't have a very good understanding of what type of protection a vaccine would provide for this type of virus.
"For some vaccines, we know really, really specifically what cells in the immune system, for example, are really important for ensuring that you're protected," he said.
He said in some cases, scientists are able to measure "with pretty good confidence" whether a person is going to be protected from a virus or not.
But, this is not the case with SARS-CoV-2, Miller said.

READ MORE:
Race for coronavirus vaccine draws billions of dollars worldwide, with focus on speed

"There are questions about how to generate a good protective response and how to measure that and what you need to measure," he said. "And so that does pose a sort of significant challenge."
But, these are not "insurmountable" challenges, said Dr. Natasha Crowcroft, director of the Centre for Vaccine Preventable Diseases at the University of Toronto.
She said it's "reasonable" to be optimistic that a vaccine will be developed.
"People have tried to develop vaccines before, but never have we put this much effort into trying to find something that will work," she said. "Never have so many approaches been tried."
She said scientists are trying both traditional and innovative methods, and are hoping to end up with more than one effective vaccine.
According to Kelvin, the most traditional type of vaccine takes the entire virus and kills it. A patient is then immunized so their immune system can identify the virus before it encounters the live version.
"So, we're basically educating your immune army to get ready and know what it's looking for before it has to deal with something that could cause disease," she said.
This has proven to be a safe and effective type of vaccine for other viruses, Kelvin said, but it takes time to develop.
"We have to get the virus, we have to culture it and make lots and lots of it to kill it," she said. Researchers then need to confirm the virus has actually been killed, and that the quality of the vaccine is good enough to be given to people, she added.
She said when it comes to SARS-CoV-2, there are a number of other types of trials underway, including protein-based vaccines, RNA vaccines and DNA vaccines. Each has a different timeline.
Kelvin noted a number of trials already appear to be "promising."
READ MORE: Coronavirus — Canadian company announces COVID-19 vaccine candidate
Miller, too, said he is "very confident" researchers will be successful, saying it's more likely that we end up with "several different vaccines" than none at all.
He said while the proposed two-year timeline is short, it's "reasonable."
Miller said it will allow for adequate pre-clinical and clinical trials while also providing manufacturers time to prepare to mass produce and distribute the vaccines.
"All of that takes time," he said.
What happens if the virus mutates?
Miller added one "encouraging" thing about the novel coronavirus is that it does not appear to be mutating as quickly as other viruses, like influenza.
That means scientists are able to hone in and understand how the virus works without having to adapt to new changes.
Crowcroft explained while it's unlikely that SARS-CoV-2 will mutate significantly, if a vaccine has been developed, scientists would be able to reformulate it.
She said this would likely be a shorter process than developing the vaccine in the first place because scientists would not be starting from scratch.
This is common practice with the influenza vaccine, she explained.

READ MORE:
A look at research being done in Canada for a coronavirus vaccine

Kelvin said researchers have already begun working on a pan-coronavirus vaccine, which would be able to treat a wide range of coronaviruses.
She said this vaccine would also account for potential mutations in the virus.
What has the Canadian government said?
Last week, Prime Minister Justin Trudeau announced the government will spend $1.1 billion for a national medical and research strategy that would include research into vaccines, treatments and supports for clinical trials.
He has also repeatedly stressed the importance of developing an effective treatment for the virus, saying the country will not return to "normal" until after a vaccine is developed.
Speaking to reporters on Tuesday, Trudeau said while trials are underway, the government has begun preparing to distribute vaccines once they become available.
"That is something that we are preparing already in terms of manufacturing and production capacity here in Canada because we know that countries around the world will be producing for their own citizens first and we need to be a part of that as well," he said.
Kelvin said when it comes to supporting this research, Canada has "done a really good job."
"They were much faster than the U.S. to get money out to where it was needed," she said.
But, she said it is going to take "a lot of coordination" between the government, scientists and manufacturers in order to produce and distribute the vaccines once they are available.
"We need to have that partnership between scientists and industry to get this out to the whole population," she said.
Moving forward, Kelvin said she would like to see continued support for this type of research.
© 2020 Global News, a division of Corus Entertainment Inc.
Oppo confirms a smart TV is on the roadmap as it celebrates 1 year of 5G in China – GSMArena.com news – GSMArena.com
Oppo has been rumored to be developing a smart TV at least since Christmas and we now have some concrete proof of those plans. On its official Weibo page, the company published an infographic celebrating 1 year of commercial 5G efforts in China. We thought that it was 1 November last year when that kicked off, but Oppo may have something else in mind and even so that little discrepancy is beside the point.
Down at the very bottom of the rather long image, there's a stylized depiction of a TV in a grid of pictured existing products.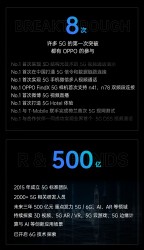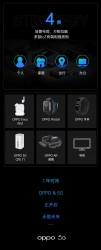 Oppo infographic chopped into more easily digestible pieces, TV in last image
Sister company Realme recently released a couple of smart TVs in India powered by Android TV and featuring Google Assistant. Priced very competitively, they could be a soak test before Oppo's own foray into the field.
Oppo unveiled a set of truly wireless earphones, the Enco W51 the other day. Alongside them, the Oppo Band made a debut as well. Both of these devices are featured there in the infographic next to the TV's placeholder, but the TV itself is yet to make an appearance.
Meanwhile, Nokia of all companies launched a smart TV as well, two days ago too. Apparently, smartphone companies can't afford to not be making TVs anymore.
Head-To-Head: Samsung Galaxy S20 Plus Vs. Apple iPhone 11 Pro Max – CRN: Technology news for channel partners and solution providers
Face Off
To see just how far smartphone features and specs have come in 2020, look no further than two of the latest phones from Apple and its top Android rival, Samsung.
We're talking about Samsung's Galaxy S20 Plus, which launched in March, and Apple's iPhone 11 Pro Max, originally released last fall.
With amazing displays, cameras and performance capabilities, both phones have a lot to offer even the most-demanding users out there.
But which of the two devices is the better fit for you? In the following slides, we compare the Samsung Galaxy S20 Plus vs Apple's iPhone 11 Pro Max on specs and price.
This is the best video game bundle ever – Polygon
The Bundle for Racial Justice and Equality at itch.io is the best video game bundle we've ever seen. That isn't hyperbole. For a minimum of $5 donation you get over "740 works," including some of our favorite games. But what makes the bundle truly special is the purpose: proceeds will be split 50/50 between the NAACP Legal Defense and Educational Fund and Community Bail Fund.
You can donate however much you'd like (naturally, we encourage more than $5 if you have the means) to get games like Oxenfree, Overland, Art Sqool, Wide Ocean Big Jacket, Quadrilateral Cowboy, Gunhouse, and Fortune-499.
These aren't just good games; they're exceptional.
The bundle also includes A Short Hike, one of our top 10 games of 2019, and A Mortician's Tale, one of my favorite games of 2018, which taught me about eco-friendly mortuary services. That one game alone is worth the donation!
Seriously, do not miss this chance to play hundreds of games from some of the most talented independent creators while supporting a vital cause. And once you've grabbed the bundle, read our guide on how to support Black Lives Matter and the protests against police brutality.