RioCan CEO says real estate industry's norms have turned upside-down – OrilliaMatters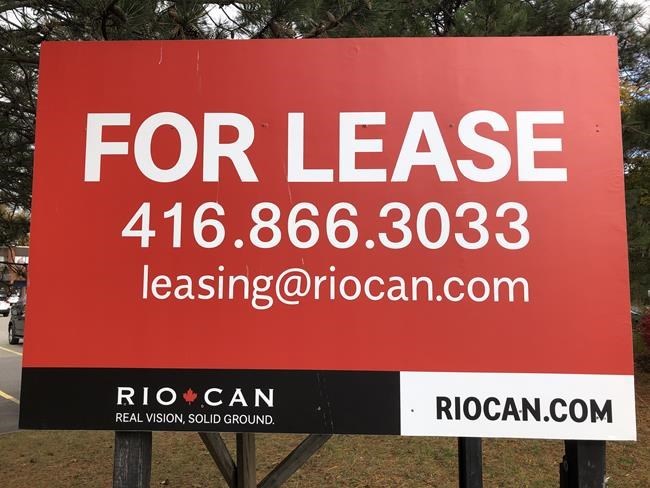 TORONTO — Demand for space in prime office towers and shopping malls has plunged because the pandemic suddenly turned them into places that customers and tenants "don't even want to go to," RioCan Real Estate Investment Trust's veteran chief executive said Tuesday.
"Unfortunately … everything that was accepted wisdom in the real estate business only eight months ago has been turned on its head, even in the face of record low interest rates and massive government spending," Edward Sonshine told analysts on a conference call.
Another formerly "bulletproof" segment of the industry — multi-unit residential rental properties — is also being questioned due to government freezes on rents and evictions, Sonshine said.
An exception to the gloom, Sonshine said, has been strong demand for new condo developments and single-family residences.
Sonshine said RioCan fared better during the third quarter than he expected it would and credited the work of RioCan management, led by Jonathan Gitlin, who becomes chief executive April 1. Sonshine, who announced on Oct. 21 that he'll retire as CEO in March after nearly three decades, will become chairman of the board.
Gitlin told analysts on RioCan's third-quarter conference call that rent collected from tenants, plus government subsidies, represented 93.4 per cent of billed rent for July, August and September and 91.9 per cent for October.
That compared with just 73 per cent in the months of April, May and June, as reported in July with RioCan's second-quarter results.
"While we'd clearly prefer to report 100 per cent collection, as we've been able to do during the first 26 years of our operation, we're pleased with the steady upward collection trajectory since April," Gitlin said.
RioCan had estimated early in the pandemic that its overall property occupancy rate could fall to as low as 94 per cent by the end of 2020, but it had improved to 96 per cent as of Sept. 30 and it's expected to be stable through to the end of the year.
"Happily, we're leasing space up almost as fast as the tenants disappear," Sonshine said.
But he said forecasts about coming trends are difficult to make without knowing how long new COVID shutdowns will be in effect. especially in the Greater Toronto Area and the Ottawa region — the biggest markets for RioCan.
"You know, there's only so long that tenants can go without revenue before they start wanting to talk to their landlord," Sonshine said.
RioCan said that as of the end of the quarter on Sept. 30, essentially all of its tenants were open and operating — compared with only 85 per cent as of July 28.
The real estate trust said it had $117.6 million of net income or 37 cents per unit for the three months ended Sept. 30, down from $177.6 million or 58 cents in the 2019 third quarter.
It said $14.4 million of the $60-million decline was due to pandemic-related provisions related to rent abatement and bad debts, while $48 million was due to higher net fair value losses.
Funds from operations, a key metric in real estate, declined to $128.8 million or 41 cents per unit from $142.8 million or 47 cents per unit.
All the key financial measures were an improvement from RioCan's second quarter ended June 30, when it posted a net loss of $350.8 million or $1.10 per unit and FFO dropped to 35 cents per unit.
In July, RioCan said it would divest from brick-and-mortar apparel retailers in favour of grocery stores, pharmacies and e-commerce.
But Sonshine said Thursday that RioCan has decided to hold onto its traditional retail properties, which include shopping malls and plazas, and look for better opportunities.
"It's a really slow market, in any event, because (I think) there's so much uncertainty about the future of retail," he said.
Revenue fell to $302.3 million from $353.9 million a year earlier.
This report by The Canadian Press was first published Oct. 29, 2020.
Companies in this story: (TSX:REI.UN)
David Paddon, The Canadian Press
No rest in November for real estate market – Times Colonist
It might not feel like spring, but the Greater Victoria real estate market is sure acting like it, according to numbers released Tuesday by the Victoria Real Estate Board.
The region recorded 795 property sales last month, and while that is 195 fewer than October of this year, it is close to the record for the month of November, which was 892 sales recorded in 1989.
"Once again, we've tracked an unexpectedly busy month for the Victoria area real estate market," said board president Sandi-Jo Ayers.
The market has been busy for a while now, as the region flirted with 1,000 sales each month from July through October, suggesting the usually busy spring market – March through June – was delayed until July this year.
"Obviously, we lost a couple of months in the spring," said Ayers, noting the COVID-19 pandemic shut down the market in April and parts of May and might be the cause of the pent-up demand that has fuelled recent sales figures.
Ayers also noted the market has benefited from historically low interest rates.
"The pandemic may have pushed people's plans ahead a little faster," she said, noting those who had been considering retiring or moving up or down in the market might have decided to take advantage of the low-interest environment.
Last month, 361 single-family homes changed hands, down from the 474 that were sold in October, while 262 condos sold, down from 304 in October.
While sales numbers dropped, prices didn't.
Last month the benchmark price of a single-family home in the region increased to $813,700 from $752,300 in November last year and $795,200 in October this year. Condo prices also increased to $508,400 last month, from $505,500 last year and $504,500 in October 2019.
"We have low inventory and have for a number of years and that puts pressure on pricing," said Ayers.
There were 1,813 active listings for sale at the end of November, 24.4 per cent fewer than were available at the same time last year.
Ayers said inventory below 2,000 at this time of year is a significant marker, as the region tends to see numbers that low only by the end of the year.
The result of the drop in inventory has led to a significant increase in the number of homes receiving multiple offers and a significant number of properties selling for more than their asking price.
"We have seen that in the last nine months – properties coming to market and within five days they often get multiple offers," said Ayers. "That tells us inventory is low and properties in desirable areas and priced well get attention from buyers."
As for what's to come for real estate in this region, Ayers said it could be more of the same.
"The fact is, the market has outperformed anyone's expectations in the midst of this pandemic. There is a chance we will see a slow levelling of activity over the winter – which is what we would expect seasonally. However, because of our consistently low inventory, pressure on pricing and multiple-offer situations will likely continue as we remain in a demand-heavy environment," she said.
aduffy@timescolonist.com
Vancouver real estate: Owners begin filing info for B.C.'s new 'hidden ownership' registry – Vancouver Sun
Article content continued
"We're all going to require transparency reports and fairly elaborate, written documentation between adult child and mom and dad. These are going to require more time and more money."
Usher supports the registry and was part of the panel that recommended the registry and other changes to B.C. real estate regulations.
"All of this information is going to be available to taxation authorities, police and government agencies, the public to some degree, a portion will be publicly searchable starting next year," he said. "These are all trade-offs."
"It's being done with good intention, with the best of ideas, but unless we, for example, properly fund and coordinate investigative agencies, all we've done is created a very expensive, massive database."
With a file from The Canadian Press
Okanagan-Shuswap real estate boards merging to form 13th largest association in Canada – Kelowna Capital News
Two real estate boards in the Okanagan-Shuswap region will soon become one and together represent 1,600 Realtors from Revelstoke to the U.S. border.
Currently known as the Okanagan Mainline Real Estate Board (OMREB), and the South Okanagan Real Estate Board (SOREB), come Jan. 1 they will be known as the Association of Interior Realtors.
Following the amalgamation in the new year, the Association of Interior Realtors will become the 13th largest Realtor association in Canada.
The new assocation will represent Realtors from Revelstoke to the U.S. border, east to Rock Creek and west to Eastgate Manning Park. It will also encompass the communities of Chetwynd, Tumbler Ridge and Dawson Creek.
Under OMREB there are 88 real estate offices within the southern interior, from Peachland to Revelstoke.
SOREB encompasses 34 real estate offices in the southern interior and six officers in northern B.C.
According to both organizations, this amalgamation will allow them to combine resources, and work together to, "form a more perfect union" to ultimately serve and promote, "the value Realtors bring to the real estate transaction."
OMREB's current President Kim Heizmann will remain as President of the new organization, and SOREB's President Lyndi Cruickshank will take the position of Vice-President.
According to the board, the new Association of Interior Realtors will provide leadership and support to its members in their pursuit of professional excellence within the interior region of British Columbia.
"The Board of Directors and the dedicated staff team will continue to improve the services available to the organization's Realtor members and further promote the value of using a Realtor, both provincially and nationally," the board stated in an email.
Do you have something to add to this story, or something else we should report on? Email: phil.mclachlan@kelownacapnews.com
---
@newspaperphil
Like us on Facebook and follow us on Twitter.