RNAO invites journalists to submit their outstanding reporting for annual Media Awards competition – Canada NewsWire
TORONTO, Dec. 24, 2020 /CNW/ – In a year that saw media play a vital role covering COVID-19, a seismic public health crisis that will be a defining moment in our history, the Registered Nurses' Association of Ontario (RNAO) is inviting journalists to submit their outstanding coverage on this and other nursing and health-care reporting for its Media Awards competition.
"Journalists worked exceptionally hard covering many angles of COVID-19 and RNAO is thrilled to recognize their outstanding work. Their exceptional accounts kept people informed about every facet of this challenging pandemic. We invite reporters and hosts to look at the stories they have produced and to share the pride they have for their work by submitting it to our competition," says Dr. Doris Grinspun, RNAO's CEO.
"The work that journalists do is fundamental to society and democracy. It also contributes to a better understanding of nurses and the challenges of working in today's health system on behalf of patients and residents and Ontarians at large. This is especially the case in the face of a pandemic, fake news and the challenges these create when it comes to managing COVID-19," say RNAO President Morgan Hoffarth.
Stories published or broadcast in Ontario in 2020 will be judged by a committee of journalists and nurses selected by RNAO, the professional association that shapes health and nursing policy.
Previous winners include journalists from major media outlets such as CBC's The National, Global News, Ottawa Citizen, as well as smaller media outlets such as The Manitoulin Expositor and Arnprior Chronicle-Guide. Their work has shed light on issues such as the opioid crisis, elder assault, alcohol consumption, funding for life-savings drugs, and a revolutionary dementia screening tool developed for Indigenous populations.
Nominations for the Media Awards must be received via the online submission form no later than Friday, Feb. 26, 2021.
Categories for the competition include:
Community newspaper
Best news coverage
Best in-depth feature or series
Daily newspaper
Best news coverage
Best in-depth feature or series
Radio
Best news coverage
Best in-depth feature or series
Television
Best news coverage
Best in-depth feature or series
Online
Best story
Best in-depth feature or series
Winners will be announced online in the spring, and presented with their awards during RNAO's Annual General Meeting in June 2021. Please note that journalists may only submit one entry per person. For the complete list of criteria and to fill out an entry form, visit RNAO.ca/MediaAwards. Eligible stories must have been published or broadcast during the 2020 calendar year.
The Registered Nurses' Association of Ontario (RNAO) is the professional association representing registered nurses, nurse practitioners and nursing students in Ontario. Since 1925, RNAO has advocated for healthy public policy, promoted excellence in nursing practice, increased nurses' contribution to shaping the health system, and influenced decisions that affect nurses and the public they serve. For more information about RNAO, visit RNAO.ca or follow us on Facebook and Twitter.
SOURCE Registered Nurses' Association of Ontario
For further information: For more information about the awards, please contact: Marion Zych, Director of Communications, Registered Nurses' Association of Ontario (RNAO), Phone: 416-408-5605 / 1-800-268-7199 ext. 209, Cell: 647-406-5605, [email protected]
Related Links
Editorial: Limiting social media in your life – Jasper's source for news, sports, arts, culture, and more – the fitzhugh
Over the last five years, the downsides of social media have become apparent.
What downsides am I talking about? Take your pick: doxing, hate speech, fake news, conspiracy theories, censorship, data harvesting but perhaps worst of all is the near-total degradation of social discourse.
This unnatural means of communication has few of the social cues we so rely on. It does not require you to look someone in the eye, see the expression on their face or hear the tone of their voice.
Bad behaviour is facilitated through anonymity. Character limits impose oversimplification on nuanced topics. The thirst for likes and retweets turns the average user into a junkie trying to get their fix through virtue signaling or outrageous statements.
The democratization of public debate, meanwhile, has rendered expertise irrelevant or even stigmatized, with a mere verification badge distinguishing authority from rabble.
Sure, there are positives. Social media has given voices to those who had none, rekindled old friendships, started new relationships and increased the spread and reach of information.
And while social media is not the one-and-only cause of all the world's woes, this new technology meant to bring us closer together has helped divide us and added fuel to issues that are already blazing hot.
More so, the rate at which social media has replaced other forms of communication – even face-to-face conversations – is astounding. This process has only accelerated with COVID, as people are required to shelter in place, and all the stressors of the past year have made discourse on these platforms even more toxic.
It's time to reevaluate the role of social media in our lives. True, the pandemic has made social media more of a necessity, and those of us in the media and communications have no choice but to dance with this devil.
But considering how much stress it imposes on our lives and the sheer amount of time wasted on these platforms, many individuals may find benefit in limiting their social media usage if not outright abstaining.
And once the era of COVID comes to an end, many of us will be more than glad to put the smartphone down in favour of a real chat.
Peter Shokeir
editor@fitzhugh.ca
It's time. Support your local media.
Biden inauguration: Global media consider 'colossal challenge' – BBC News


.css-94m6rd-HeadingWrapperborder-bottom:solid 1px #BABABA;padding-bottom:1.5rem;.css-94m6rd-HeadingWrapper > *:not([hidden]):not(style) ~ *:not([hidden]):not(style)margin-top:1rem;.css-vk3nhx-ComponentWrappermargin:1.5rem 0;
.css-2y05cd-StyledFigurefont-family:ReithSans,Helvetica,Arial,freesans,sans-serif;font-weight:400;font-size:0.875rem;line-height:1.125rem;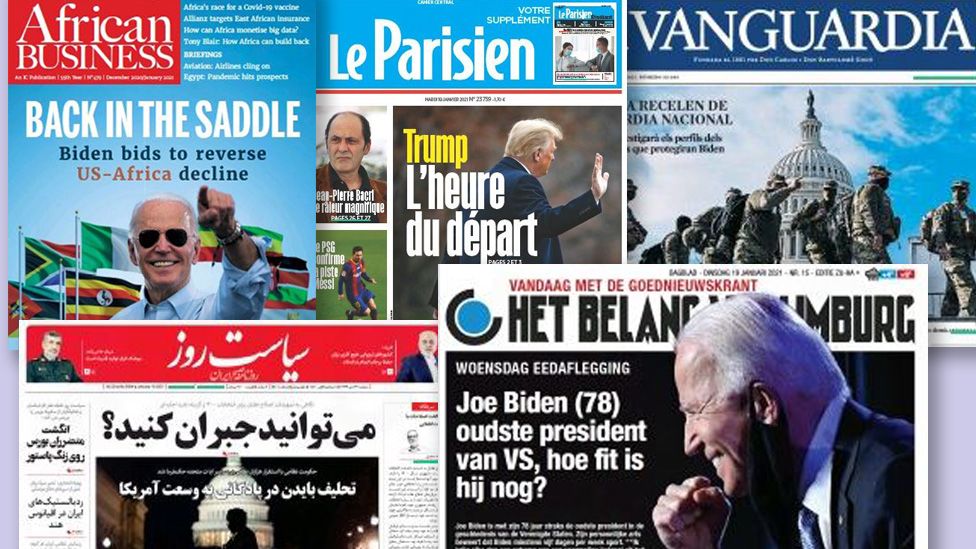 .css-uf6wea-RichTextComponentWrappermargin:1rem 0;max-width:36.25rem;
.css-83cqas-RichTextContainercolor:#3F3F42;.css-83cqas-RichTextContainer > *:not([hidden]):not(style) ~ *:not([hidden]):not(style)margin-top:1rem;
.css-14iz86j-BoldTextfont-weight:bold;As Joe Biden prepares to move into the White House, countries around the world have been setting out their hopes – and reservations – about what the new administration will bring.
While much of the Russian media focused on the "unprecedented security measures" in the US capital, some outlets are trying to predict what Biden's presidency holds for Russian-US relations.
"Overall, ahead of Joe Biden taking office, anti-Russian rhetoric in the US has significantly increased," observes news channel Rossiya 24.
"The future administration already intends to introduce tougher sanctions against Moscow," it says.
Pro-Kremlin daily Izvestia notes that "the prospects for Russian-US relations under the new US leader do not encourage optimism so far."
.css-mysbf6-ComponentWrapper-CrossheadComponentWrappermargin:1.5rem 0;max-width:50rem;padding-top:1rem;max-width:36.25rem;
.css-qozapo-StyledHeadingfont-family:ReithSerif,Helvetica,Arial,freesans,sans-serif;font-weight:500;font-size:1.5rem;line-height:1.75rem;color:#3F3F42;@media (min-width:37.5rem).css-qozapo-StyledHeadingfont-size:2rem;line-height:2.25rem;.css-qozapo-StyledHeading:focusoutline-style:none;.css-qozapo-StyledHeading:focus-visibleoutline-style:auto;
'Cast out the time bombs'
China's state-run media have called for Biden to reverse the "Cold War" policies of Donald Trump, while directing much of their ire at outgoing Secretary of State Mike Pompeo.
Under the headline "New US administration should view Pompeo as a lunatic", the Global Times expresses the hope that the Biden team is "determined enough to cast out all the time bombs set by Pompeo".
Biden faces a host of domestic issues that need his immediate attention, but Washington's allies will be eager to see how he addresses Iran's rapidly accelerating nuclear programme.
Trump imposed a slew of sanctions against Iran since he withdrew the US from the 2015 Iran nuclear deal.
Supreme Leader Ali Khamenei has instructed the government to "pursue" the lifting of sanctions but said that its priority should be to "neutralise" them.
Meanwhile, President Hassan Rouhani hasn't minced his words on Trump's departure, describing the outgoing president as a "stupid terrorist".
.css-1pzprxn-BulletListContainermargin-left:1.5rem;.css-1pzprxn-BulletListContainer *:not([hidden]):not(style) ~ *:not([hidden]):not(style)margin-top:1rem;.css-1pzprxn-BulletListContainer ullist-style-type:disc;.css-1pzprxn-BulletListContainer ollist-style-type:decimal;
.css-1xgj2ad-InlineLink:linkcolor:#3F3F42;.css-1xgj2ad-InlineLink:visitedcolor:#696969;.css-1xgj2ad-InlineLink:link,.css-1xgj2ad-InlineLink:visitedfont-weight:700;border-bottom:1px solid #BABABA;-webkit-text-decoration:none;text-decoration:none;.css-1xgj2ad-InlineLink:link:hover,.css-1xgj2ad-InlineLink:visited:hover,.css-1xgj2ad-InlineLink:link:focus,.css-1xgj2ad-InlineLink:visited:focusborder-bottom-color:currentcolor;border-bottom-width:2px;color:#B80000;@supports (text-underline-offset:0.25em).css-1xgj2ad-InlineLink:link,.css-1xgj2ad-InlineLink:visitedborder-bottom:none;-webkit-text-decoration:underline #BABABA;text-decoration:underline #BABABA;-webkit-text-decoration-thickness:1px;text-decoration-thickness:1px;-webkit-text-decoration-skip-ink:none;text-decoration-skip-ink:none;text-underline-offset:0.25em;.css-1xgj2ad-InlineLink:link:hover,.css-1xgj2ad-InlineLink:visited:hover,.css-1xgj2ad-InlineLink:link:focus,.css-1xgj2ad-InlineLink:visited:focus-webkit-text-decoration-color:currentcolor;text-decoration-color:currentcolor;-webkit-text-decoration-thickness:2px;text-decoration-thickness:2px;color:#B80000;Americans' hopes and fears for Biden's presidency
Much of the media focus in Lebanon – where Iran wields considerable power via its militant ally Hezbollah – has been dedicated to US-Iran relations.
Lebanon's pro-Hezbollah Al-Akhbar newspaper takes a characteristically combative tone, saying that Biden "appears bent on building on the legacy of his predecessor's aggressive policies".
'Colossal challenge'
"Today, Biden takes a challenge to unite the country broken by Trump," reads the headline in Spain's La Vanguardia.
El Pais has posted a similar headline on its front page: "Biden facing a colossal challenge".
Germany's public broadcaster Deutsche Welle says that Biden could quickly change Trump's decisions affecting Yemen, Iraq and North Africa.
But Die Zeit predicts that US domestic issues, such as "overcoming political turmoil", would take priority over foreign policy goals.
Die Welt expresses hope that the new US administration would restore trust in Nato and counter Russia, saying: "Unlike Trump, Biden sees Russia's President Vladimir Putin not as a friend, but as an opponent. Putin knows that."
Pundits in Ukraine think that the new administration will show more interest in Ukraine than its predecessor. At the end of 2020, Foreign Minister Dmytro Kuleba said he expected Ukraine's relations with its major ally to "rock and roll".
Since Biden's election victory was confirmed, Turkish officials have voiced hope about turning a "new page" in ties with Washington.
Foreign Minister Mevlut Cavusoglu has said the "most important issue" is the situation in Syria, where the US has partnered with the Syrian Kurdish People's Protection Units, which Ankara sees as an extension of the outlawed Kurdistan Workers' Party.
Across the Arab world, editorials have been mulling the prospects of a shift in Washington's policies towards the region, especially with regards to the Palestinian-Israeli conflict.
Writing in Lebanon's Al-Joumhouria, Toni Essa predicted a growth in the influence of Israel under Biden: "At the start of his four-year term, it is likely that a new Middle East is about to be born, as a result of huge transformations."
India's The Economic Times reports that Biden's likely overhaul of US immigration policy will help Indians in the "Green Card queue".
Meanwhile, Latin American leaders know that Biden will initially be busy putting his own house in order following the divisive US election.
But regional analyst Marcelo Cantelmi, writing in Argentine daily Clarin, expresses the fear that Latin America could be "absent" from Biden's top priorities as he seeks to untangle what Cantelmi called the "toxic legacy" of Trump.
African media are also reflecting on the end of Trump's presidency.
Kenya's Swahili newspaper Taifa Leo carries the headline: "Trump leaves a shameful and damaged America", while a column in Nigeria's Premium Times describes Trump as "entitled, arrogant, callous and rude".
.css-18mjolk-ComponentWrappermargin:1.5rem 0;max-width:50rem;

How can I watch the inauguration?
We will bring you all the latest developments, with analysis from reporting teams in Washington at the Capitol and on the National Mall.
•Online: Follow the latest updates and live video on the BBC News website and @BBCNorthAmerica. You can also stay up to date on our BBC News Facebook account and on Instagram
•Television: The BBC's Katty Kay in Washington DC presents live coverage of the key events around the inauguration on BBC One from 16:00-18:00 GMT and on BBC News Channel (UK only) and BBC World (Outside UK only) from 15:30-19:00 GMT
.css-kqym7f-SectionWrappermargin:1.5rem 0;padding-top:1.5rem;font-size:0.875rem;line-height:1.125rem;
Branded Cities Announce Re-Development of the Iconic Rogers Sports & Media Tower at Yonge & Dundas in Toronto – Canada NewsWire
Branded Cities is the first OOH company to offer over 50,000 square feet of media space from one vendor, officially naming Yonge & Dundas (Y&D), the largest OOH advertising domination in Canada. Dundas Square is best known for its abundant variety of entertainment, shopping and dining establishments which attract over 146,200 daily residents and tourists. The Rogers Sports &
Media Tower re-development will mark Branded Cities' fourth iconic media tower at the heart of Toronto's Y&D, further expanding its portfolio of premier media assets at iconic locations across Canada. Once completed, Branded Cities will be first-to-market with a complete advertising domination of Y&D, boasting sightlines from any vantage point of the bustling public square.
"Our unmatched media offering at Yonge & Dundas has grown significantly over the last few years, with static and digital media now available at CF Toronto Eaton Centre (TEC),10 Dundas Street East (10D) and the Atrium on Bay (AOB)." says Steve Ellman, Chairman and CEO at Branded Cities. "We're excited to be working with Rogers Sports & Media exclusively on the re-development of this landmark Yonge & Dundas venue, adding another great asset to our unique media offering!"
The complete overhaul of the tower will begin in third quarter 2021, where Branded Cities will install a 34ft W x 90ft H digital display offering 10-second ad spots over a 3-minute loop. Brands will also have the ability to further extend their reach throughout the Y&D Digital Network, with all six spectaculars offering dynamic digital capabilities for advertisers to sync their campaigns in real-time.
Alan Dark, Senior Vice President of Revenue at Rogers Sports & Media states: "The addition of this asset will add tremendous value to the extensive opportunities available at Yonge & Dundas and we look forward to working closely with Branded Cities, their clients, and our iconic brands to bring the square to life."
The Tower at 33 Dundas St. E. was first acquired by Rogers Sports & Media in 2007 as the new home of the company's TV stations Citytv and OMNI Television. The Tower has been a landmark for Torontonians with its unique placement directly behind the Y&D main stage giving advertisers an excellent opportunity to engage with the 245+ annual events happening at the Square.
To learn about advertising dominations at Toronto's Yonge & Dundas, visit: www.brandedcities.ca/products/yonge-dundas.
About Branded Cities
Branded Cities, a subsidiary of EL Media and Shamrock Capital, is a leading Out-of-Home media company with an integrated network of premier digital and static signage across North America. The digital and static media assets span across some of the largest markets in the United States and Canada (New York, Los Angeles, Chicago, Philadelphia, Miami, Toronto, Vancouver, Montreal and many more) and are situated in the country's most valuable Out-of-Home environments such as Times Square, the Las Vegas Strip, West Hollywood, Union Station, Yonge – Dundas Square and Canada's leading shopping centers. Branded Cities empowers brands to deliver impactful and engaging messages to North America's most desirable, hard-to-reach audiences. EL Media is an affiliate of The Ellman Companies ("Ellman"). Ellman is a privately-owned media, real estate and investments group founded in 1972 with diverse interests in the U.S., Canada and the Caribbean. For more information visit: brandedcities.ca, brandedcities.com, or ellmanco.com.
Follow Branded Cities on Twitter (@brandedcities) and on Instagram.
SOURCE Branded Cities
For further information: American Press Contact: Vaibhav Gupta, EVP/Chief Operating Officer, 602-224-3106, [email protected]; Canadian Press Contact: Ali Satchu, VP, Marketing, 416-408-0800, [email protected]