Royal Ontario Museum announces appointment of Curator, Korean Art & Culture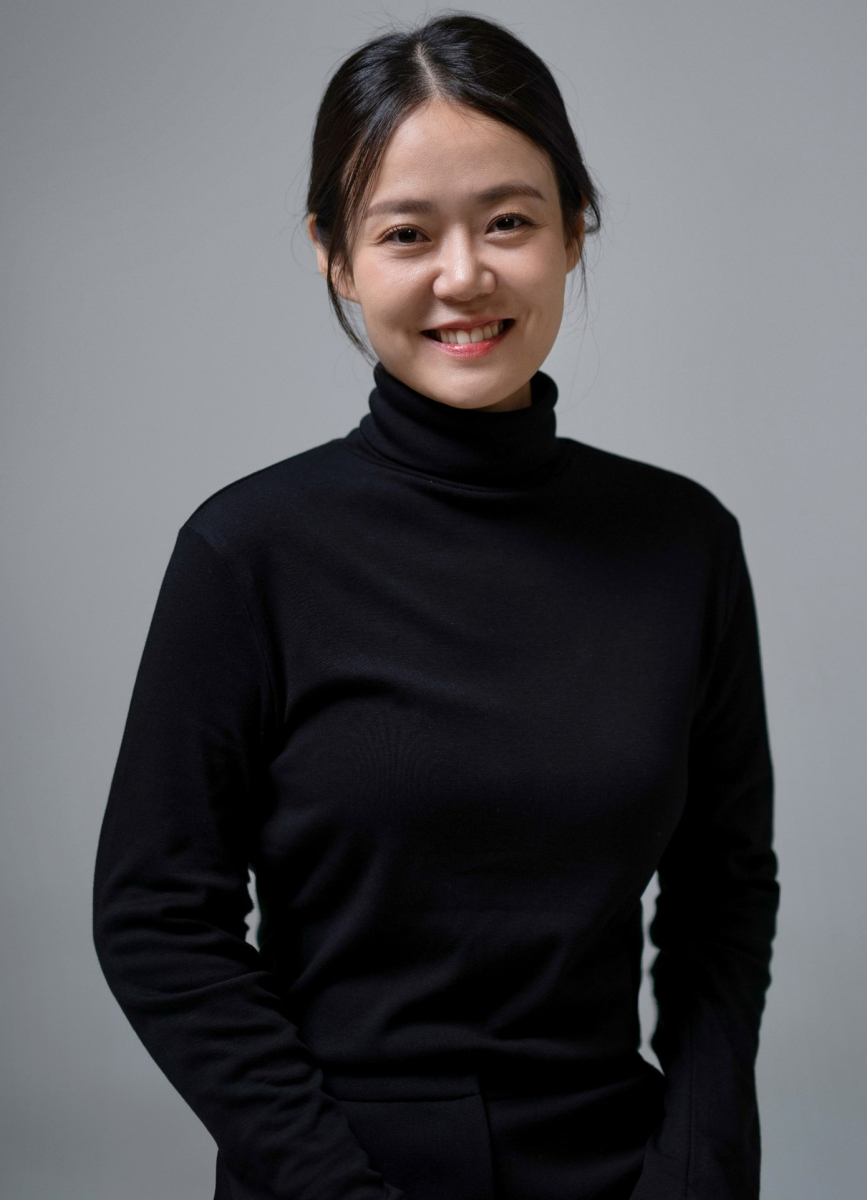 TORONTO, November 7, 2022 – ROM (Royal Ontario Museum) today announced the appointment of Dr. Vicki Sung-yeon Kwon as the inaugural Curator of Korean Art & Culture. This appointment – the first of its kind at a Canadian museum – was made possible with the support of the Ministry of Culture, Sports and Tourism of the Republic of Korea (MCST).
"We are delighted to welcome Dr. Vicki Kwon to ROM," says Josh Basseches, ROM Director & CEO. "ROM is home to one of the largest collections of Korean art and culture in North America and Europe. With this appointment, Vicki will play a vital role raising awareness and encouraging an appreciation for Korean heritage in this province and country, while offering fresh perspectives on the impact and influence of Korean art and culture on the contemporary world. We are grateful to the Republic of Korea for making this position possible."
Kwon, who started in her new position on November 1, will oversee ROM's world-class collection housed in the only museum gallery in Canada dedicated to Korea's cultural heritage. She will contribute to ROM's leadership position as an important centre for Korean art and culture through her work on exhibitions, research, acquisitions, public programming, and learning initiatives.
Dr. Kwon was most recently a Postdoctoral Fellow at Kyujanggak Institute for Korean Studies at Seoul National University. She received her PhD in the History of Art, Design and Visual Culture at the University of Alberta, and was nominated for the Governor General's Gold Medal Award for academic excellence at the graduate level by the University's Department of Art and Design. Kwon was the curator of the exhibition Mass and Individual: The Archive of the Guyanese Mass Games, which explored the transnational relationships between North Korea and Guyana. The exhibition was presented in both Canada and South Korea. She also coordinated a transdisciplinary series of exhibitions in collaboration with artists, policymakers, and scholars of humanities and science, which resulted in exhibitions at international venues including the UNAIDS headquarters in Geneva.
"I am grateful for this opportunity to contribute to both Canada and Korea with my expertise in Korean art and culture and my work experience in the Canadian art and cultural sector," says Dr. Kwon. "Born and raised in Korea, I have frequently visited the Royal Ontario Museum, especially during my undergraduate and MA program at the University of Toronto, and actively engaged in the Toronto art scene. I am excited to create opportunities for interdisciplinary collaboration and community engagement, working as a liaison between Korea and Canada, and contributing to making ROM a hub for the diasporic Korean community and multicultural communities in Canada."
In addition to supporting the curatorship, funding from the MCST of the Republic of Korea will help sustain and enhance the Museum's programming activities and support installations and other collections initiatives to foster greater public engagement and introduce new audiences to Korean art and culture. Connecting with Toronto's vibrant Korean community – the largest in Canada – and enhancing dialogue and exchange by building international relationships with cultural institutions in Korea and around the world will be a key component of Kwon's new role.
"It is with great pleasure that I welcome Dr. Kwon as the first Curator of Korean Art & Culture at ROM, which houses the most extensive Korean collection of any museum in North America," says Sungeun Lee, Director of the Korean Cultural Centre Canada. "Dr. Kwon's appointment raises great expectations for enhancing Canada's understanding of Korean culture and the arts while developing sustainable relationships between the people and institutions of our two countries."
-30-
CONTACTS:
ROM Communications
General inquiries: media@rom.on.ca
ROM Social Media 
Instagram: @romtoronto 
Facebook: @royalontariomuseum 
Twitter: @ROMToronto
About ROM's Gallery of Korea and Collection
ROM acquired its first Korean artwork—a large 13th-century inlaid celadon vase—in 1910, before the Museum even opened to the public. Since that time, the Museum's collection has grown to include 1,400 objects dating from the Neolithic period to the 21st century and features ceramics, stoneware, prints, paintings, metalwork, furniture, and technology, chronicling the history of Korea through its material and visual culture. Known for its exceptional ceramics collection, ROM also holds important textiles, costumes, and works on paper.
The Gallery of Korea was established in 2006, and an enhancement, generously funded by the National Museum of Korea, followed in 2013 with additions including a case featuring contemporary ceramics and a video documenting the work of master ceramic artist Kim Jeong-ok. The gallery was further developed with the addition of a unique timeline of Korean history, from the Neolithic Age to the present. ROM's Gallery of Korea is the largest gallery dedicated to the art of Korea in Canada.
About ROM  
Opened in 1914, ROM (Royal Ontario Museum) showcases art, culture, and nature from around the world and across the ages. Today, ROM houses more than 13 million objects, from Egyptian mummies to contemporary sculpture, from meteorites to dinosaurs. ROM is the most visited museum in Canada and one of the top ten museums in North America. It is also the country's preeminent field research institute, with a diverse range of experts who help us understand the past, make sense of the present, and shape a shared future. Just as impressive is ROM's facility—a striking combination of heritage architecture and the cutting-edge Michael Lee-Chin Crystal, which marks the Museum as an iconic landmark and global cultural destination.
We live on in what we leave behind.
Arts in the Garden brings a visual feast to the North Shore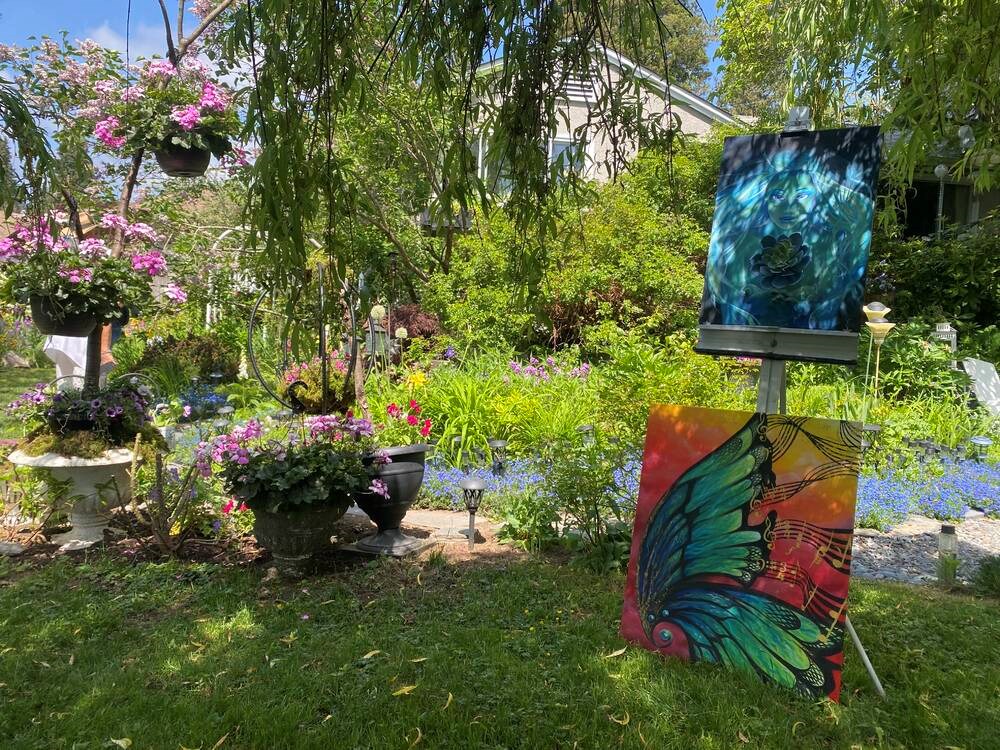 Ask any creative what qualifies as art and they will tell you that art is multifaceted, spanning everything from music and performance to paintings, sculpture, sketch and – to some especially green-thumbed creatives – a meticulously curated garden.
This weekend gardens across the North Shore celebrated all things aesthetically pleasing for Arts in the Garden, a community event that fuses all facets of artistic creation by putting together visual artists, musicians and live performers in the same space.
The annual event, presented by North Van Arts, comprised 13 blooming gardens that traversed themes from 'engaging' – a garden with thought-provoking artwork and an active garden with bubbling ponds – to 'connected' – another filled with interconnected, meandering trails and musicians who sang on the on the healing power of trees.
"This natural environment lends itself so well to art. Galleries are very restrictive, you're in a very sterile environment, but this inspires creativity, more authentic conversation," said Garrett Andrew Chong, a photographer whose images had poked out from flourishing flower beds in a garden on West Vancouver's Marine Drive.
For the artists participating, the event gave them the opportunity to get out of the stuffy confines of gallery and workspace, and allowed their wares to be viewed and appreciated by a wider audience.
"This is a really, really nice opportunity, this is a very different demographic to where I live, a much different crowd, and it means I can showcase all the different things that I work on," said artist Emily Picard, an artist from the Sunshine Coast.
Like many of the artists participating, Picard's creations complemented the space it inhabited. The eclectic nature of her work – Picard's mediums span acrylic paint, spray paint, watercolour and marker pens – slotted in seamlessly to a garden that was anything but minimalistic.
Aptly categorised under "Ethereal" the North Vancouver garden, number 7 on the tour, had been like a scene from Alice's Wonderland, complete with chandeliers hanging from the trees – 75 in total – birdcages protruding from flower beds and crystal dinnerware scattered large silvered tables.
Gardener Susan Bath, who has spent 27 years putting the outdoor scene together, said she hopes her mystical greenspace will inspire creativity within all who enter, and will encourage them to embrace whimsy in all its forms.
"I hope this shows that you don't necessarily have to hire a professional, or be a professional, to create in this way. You don't need a landscape artist, you don't need money or a large garden, you just need time and a sense of playfulness," she said, adding how most pieces had been gifted, bought from charity stores, or picked up from the side of the road.
While some gardens transported guests to Lewis Carroll lands, others set the scene for education. At Garden number 9, dubbed 'Energized', the LifeSpace Gardens hosted fellow green thumbs and offered tips and information on urban farming and vegetable growing.
At "Harmony", garden number 4 on West Vancouver's Whonoak Road, a fourteen year old food forest on Sḵwx̱wú7mesh Úxwumixw (Squamish Nation) land invited guests to learn about Indigenous plants and healing.
"This is an educational space, where people can come and pick different things that they need from our community, anytime of the year," said Senaqwila Wyss, the garden's host, adding how the garden is open to all who want to learn.
Wyss said the event provided the opportunity for guests to learn the names of herbs and plants in the Sḵwx̱wú7mesh Sníchim (Squamish language), to learn of Indigenous foods themselves – like the Indigenous wild potato wapato that has been making a comeback in local soil – and to immerse themselves in Squamish culture. Within the garden, musician Rennie Nahanee had delivered song and Squamish storytelling, talking of Elders and canoe experiences.
Whether hosting Indigenous storytelling or abstract art, each garden, said Tary Majidi, artist and host of Marine Drive's offering, should provoke some sort of response from guests. It should inspire them to create or to engage, to connect with other people more or to just appreciate the smaller, more natural, everyday things in life.
"We could all do with getting off the internet, off social media, and going back to art and going back to the natural world, enjoying nature or clay or paint," she said.
"If there is one thing that people should take away from this event, it's that art can heal and that should not be overlooked," she said.
Mina Kerr-Lazenby is the North Shore News' Indigenous and civic affairs reporter. This reporting beat is made possible by the Local Journalism Initiative.
Bigger Art in the Park returns this weekend
'Art in the Park Rain or Shine' part of the new marketing campaign for the 38th annual festival, April 28, 2016. (Photo by Maureen Revait)
Last year's event in Windsor's Willistead Park broke attendance records. About 40,000 people came through the gate, and sales surpassed years in the past. Event Chair Allan Kidd said one vendor had to drive home for more inventory when they sold out.
More than 250 vendors from Ontario and Quebec registered for this year's festival. Another 20 food vendors signed up, including local beer, wine, and spirits makers.
A complimentary bike valet is new this year. Those who go will find it at the Chilver Road entrance.
Kids Zone is back with four giant inflatables, face painting, and the chance to meet some of their favourite characters.
A free shuttle service will carry festival-goers to Willistead Park from 1591 Kildare Road and the Hiram Walker parking lot on Riverside Drive at Montreuil Avenue.
Admission is $8 at the gate, but guests can buy a ticket online for $7. There is no charge for children aged 12 and under.
Art in the Park has raised $1.3-million for the Rotary Club of Windsor 1918's restoration efforts at Willistead Manor and $2-million for local and global projects.
"Much of our community doesn't know that Art in the Park is a fundraising event. The people who attend help us raise the funds to build schools, drill wells, and deliver books, medicine and wheelchairs at home and around the world," said Kidd.
Art in the Park on Saturday is from 10 a.m. to 7 p.m. and Sunday from 10 a.m. to 5 p.m.
Masha Titova's "The Music of Art"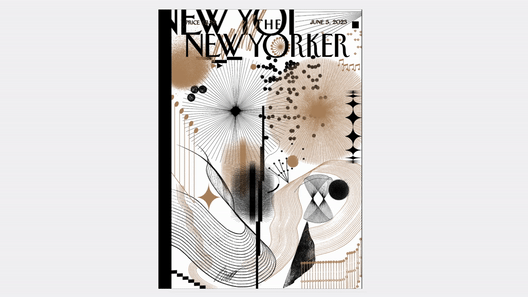 It's not often that the cover of The New Yorker, traditionally a storytelling image signed by the artist, reflects what goes on behind the scenes at the magazine—but that is what the black and copper shapes designed by Masha Titova for the cover of the June 5, 2023, Music Issue, available to read in its entirety here, manage to do.
The first step was connecting with Titova, a Russian artist who relocated to Montenegro last year, after the Russian invasion of Ukraine. I asked Titova to use her sense of design to orchestrate a portrayal of a variety of sounds. Titova says, "I don't play an instrument, but I love music, especially its rhythms, which often inspire me. And when I design, I try to harmonize the various visual shapes as if they were part of a musical composition."
Once we settled upon the image, we recorded the aural elements that make up the cover's malleable melody. Some of our more musically adept staffers—including Nick Trautwein, a senior editor who moonlights as a saxophonist, and David Remnick, the editor, on guitar—gathered to interpret Titova's shapes, selecting the ones they wished to play. Julia Rothchild, a managing editor, who contributed piano, viola, and voice, described the process as "an exercise in synesthesia. What sound would that square make, or those triangles? A thud, or a flutter?"
Impromptu chamber groups formed: a viola-cello duo, a vocal quintet. The musical respite in the middle of the day presented the opportunity to exercise a different kind of focus from that of closing pieces, or making fact-checking calls. The associate research director Hélène Werner, who has played the cello since she was eight years old, said, "Music set me on my way. It was the organizing principle of my childhood. . . . It demands, of those who play it and listen to it, intellectual commitment and emotional honesty. It is generous in return. There is no better teacher." Rina Kushnir, the art director, also appreciates music for its emotive qualities, for its ability to communicate what is "not possible to express otherwise." Liz Maynes-Aminzade, the puzzles-and-games editor, says that "drumming and writing (puzzles or otherwise) light up some of the same parts of my brain." A unifying factor in everyone's performance was how seriously each performer took their music. One after the other, when their turn came, they paused their casual banter, took a deep breath, played their bit, and only then rejoined the playful green-room atmosphere. It was an unplanned but perfect demonstration of all our colleagues' marvellous dedication to all they do.
The making of a weekly magazine (or of a Web site, a radio show, a festival, any of our many undertakings) is always a concerted endeavor, but that collaboration happens behind the scenes. This multimedia project, programmed by David Kofahl, the head of the interactives department, with the help of the features editor Sam Wolson, gives a glimpse of the way the efforts of many talented individuals and departments combine to insure that The New Yorker appears on your doorstep (or in your in-box), week after week, as good as we can make it.