Rugby Canada fires Cudmore over social media posts – BradfordToday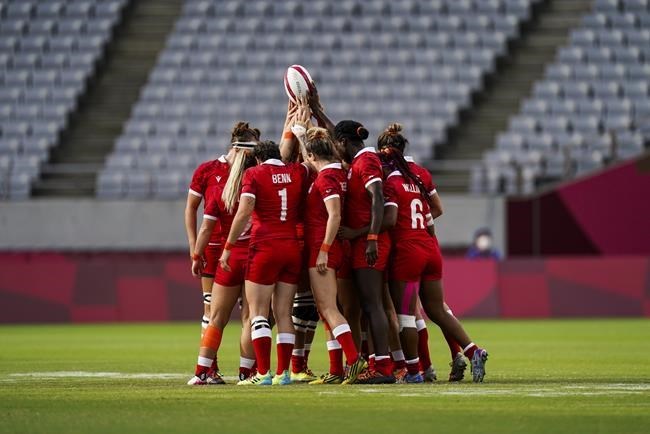 Rugby Canada fired Jamie Cudmore, a former star player in charge of developing the next generation of talent, on Friday for a series of social media posts belittling the women's sevens team.
His posts took aim at the sevens squad for its disappointing performance at the Tokyo Olympics.
Much had been expected of the Canadian women in Tokyo, given their performance in Rio and the fact they were tied with Australia on points for second in the World Rugby Sevens Series standings when the pandemic shut down the season last year.
But the Canadian women lost to Fiji and France after beating Brazil to miss out on the quarterfinals. They finished ninth after defeating Kenya 24-10.
Cudmore, an enforcer in the rugby field during his playing days, served as an assistant coach with the Canadian men's 15s team and ran Rugby Canada's national development academy.
The fact that the comments came from within has added to a year of turmoil for the governing body and the sevens women, who launched a formal complaint in January under Rugby Canada's bullying and harassment policy.
Cudmore apologized for the posts but was relieved of his duties soon after. Rugby Canada called the posts "unacceptable and in breach of organization policy."
"It was an emotional event for a good friend and I let that get the better of me," Cudmore said on Twitter. "I've always played/coached with my heart on my sleeve for this great country. I'm sorry if I've offended anyone."
The good friend is former sevens coach John Tait.
In the wake of the complaint filed by 37 current and former team members, an independent review concluded that while the conduct described in the complaint reflected the experiences of the athletes, it did not fall within Rugby Canada's policy's definition of harassment or bullying.
Tait, while maintaining he had done nothing wrong, subsequently stepped down.
A former Canadian international, Tait was one of Rugby Canada's most successful coaches, leading the sevens team to the bronze medal at the Rio Olympics.
The controversy has divided Rugby Canada, with most of Tait's staff leaving.
It appears Cudmore could not resist taking a shot at the women given their Olympic performance under interim coach Mick Byrne.
"Karma is a bitch! #Survivorsmyass," read a since-deleted Cudmore tweet.
"Rugby Canada stands with our women's 7s athletes," the governing body said in its initial response on social media. "We support the team in their efforts both on and off the rugby pitch and are proud of the way they have represented our country. Rugby Canada is aware of recent social media comments made about the team and worked to ensure they were removed as quickly as possible.
"Our organizational values include solidarity and respect, and everyone on our staff is expected to help create an inclusive environment for all. We condemn any inappropriate comments directed at the team and our leadership will be meeting to address this matter immediately."
Rugby Canada upped the ante hours later, relieving Cudmore of his duties. CEO Allen Vansen said in a series of tweets that the organization had concluded "that immediate action must be taken."
"Rugby Canada's core values, including integrity and respect, must be exemplified in all our rugby programs and we are determined to promote a healthy, inclusive culture now and in future," Rugby Canada board chair Sally Dennis said in the statement.
Cudmore won 43 caps for Canada, playing in both the 2003 and 2007 World Cups. The six-foot-five 257-pound lock forward is one of Canada's most famous exports — a hard man on the rugby pitch who was no stranger to suspensions for taking matters into his own hands on the field.
Several of Cudmore's deleted tweets were captured and posted by sevens player Charity Williams.
"I wanted to take this moment to talk about our performance and how proud I am of this team beyond any result," Williams wrote on Instagram. "Because I am, and what we accomplished this year is far greater than one weekend. What this team stands for and who we have become means that young female athletes across Canada can play their sport and feel safe. I'm proud of that.
"But instead I have to sit here once again and share what we've been going through as a team. The consistent hatred we have received from people in our own organization. I'm only sharing because this is what we have been dealing with for months. From private texts, to public stalking online and in person. The bullying and harassment that we have received for coming forward is outrageous and scary at times. This is the reason we called for an internal investigation because we haven't been safe."
In the wake of that probe, the players said they had been let down by Rugby Canada's harassment and bullying policy — which has since been updated and replaced.
Rugby Canada says it plans a "detailed, independent review of all performance rugby programs starting next month with a goal of positioning teams for success in supportive, inclusive environments."
Captain Ghislaine Landry also took to social media from Tokyo.
"We always knew this was about more than rugby, about more than one tournament, even if it's the Olympics. We knew the last nine months might put our Olympic dream in jeopardy, we had that discussion as a group, and still the decision was clear. We were ready to put our dreams at risk for change.
"This has not been a distraction but it has taken a toll on us. And so, while we are heartbroken not to have been able to play our best, we are proud and united."
In a statement released April 28, the players said their complaint "explained the psychological abuse, harassment and/or bullying these athletes feel they were subjected to in the centralized training environment."
—
Follow @NeilMDavidson on Twitter
This report by The Canadian Press was first published July 30, 2021.
Neil Davidson, The Canadian Press
Media availability following Council meeting – ottawa.ca
Mayor Jim Watson, Councillor Keith Egli, Chair, Ottawa Board of Health, Steve Kanellakos, City Manager, Anthony Di Monte, General Manager, Emergency and Protective Services, and Dr. Vera Etches, Medical Officer of Health, will respond to media questions after today's Council Meeting.
Residents will be able to watch the media availability on the City's YouTube channel, rogerstv.com or RogersTV Cable 22.
When: Wednesday, September 22
Time: 15 minutes after Council adjourns
Canada denies Chinese state media report that sailor was stopped in Northwest Passage – Nunatsiaq News
Zhai Mo is attempting to circumnavigate Arctic Ocean
David Lochead
Chinese state media is reporting the Canadian government stopped a Chinese sailor attempting to circumnavigate the Arctic Ocean last week, but Transport Canada says no such thing happened.
"Captain Zhai Mo has not entered Canadian Arctic waters," Transport Canada stated in an email to Nunatsiaq News on Sept. 17.
Chinese media claim Mo was stopped at Lancaster Sound, in the Northwest Passage.
Mo, along with two crew members, is sailing a 25-metre boat that is fully solar powered and sponsored by Chinese telecom corporation China Mobile.
He is well known in China for his quest to sail non-stop around the Arctic Ocean and his travels are being closely covered by Chinese state media. Mo claims his journey, which he is video-blogging, will be the first of its kind.
Transport Canada told Nunatsiaq News it emailed Mo to relay that foreign boats going through the country's waters for recreation or pleasure are temporarily prohibited due to COVID-19.
Transport Canada added it had seen reports that Mo now plans to avoid Canadian waters and the department "is monitoring the situation."
According to Chinese state media, Mo is scheduled to return to China by the end of the year.
Gabby Petito's Disappearance And Clues Debated On Social Media – Forbes
On Monday, a body thought to be that of missing Gabrielle "Gabby" Petito was discovered, while authorities are still searching for her fiancé Brian Laundrie. The 22-year-old was reported missing on Sept. 11 after she failed to return from a months-long cross-country trip with Laundrie, who as of Tuesday afternoon – when he was named a person of interest – remains missing.
The case has remained in the spotlight on cable news over the past week while there have been nightly segments on the national evening news. "Gabby Petito" has also been trending on social media this week, but some users have even questioned why her disappearance has garnered so much media scrutiny while other cases fail to gain any attention.
Missing White Woman Syndrome
While Petito's disappearance and possible death should not be taken lightly, many on the social platforms have noted that the media attention is an example of what has been labeled "Missing White Woman Syndrome." The term is used by social scientists and media commentators to refer to the alleged disproportionate media coverage, especially on TV, of a missing person case that involves a young, white, upper-middle-class woman compared to the relative lack attention towards missing women who are not white and women of lower social classes, as well as missing men or boys.
Jennifer Bendery (@jbendery) of the Huffington Post tweeted, "In the same area that Gabby Petito disappeared, 710 indigenous people— mostly girls—disappeared between the years of 2011 and 2020 but their stories didn't lead news cycles." via @MollyJongFast"
Some on social media have also used Gabby Petito's disappearance to highlight other missing person's cases. The grass roots organization Occupy Democrats (@OccupyDemocrats) posted, "BREAKING NEWS: While the media obsesses over the Gabby Petito story, Jelani Day, a Black aspiring doctor and Illinois medical school student is also missing, but his disappearance is barely being covered. His abandoned car was found in the woods. Please RT to make this go viral."
"I'm very sad and angry. Gabby could have been saved. Some are highlighting the media responses. It doesn't diminish Gabby's case. It's an attempt to make sure we search for them all. Still, so many women missing. Use the same outrage to find them all," added social media user @tbkeith.
Even with those calls to find every missing woman, this case certainly highlights yet another divide in our nation, and it further puts social media in the spotlight for its ability to get people arguing about nearly everything.
"Social media continues to have that potential to be polarizing," said Saif Shahin, assistant professor in the school of communication at the American University.
"We see this all the time in the political space between liberals and conservatives, but it is evident on social media in different contexts such as this one," Shahin added.
It also seems that this case has taken social media by storm unlike others, and that could potentially help break the case.
"When you combine that with America's fascination with true crime – Serial Podcast, Don't F**k With Cats and the latest Kristin Smart case – this is a perfect storm for the story to go viral," said Matt Zuvella, VP of marketing at talent management services company FamePick.
"In the case of Gabby, her social media profiles might actually help solve the case, mainly because her fans became accustomed to her style of posting," noted Zuvella. "So when there is something off or different, her fans immediately took notice and started asking questions."
Spread Of Misinformation During Investigations
At issue too is where there is a potential for the spread of misinformation that could impact cases such as this one. How much harm it can do is a matter of debate, but past cases have shown that wild theories can stir up individuals and even put some people in harm's way.
"Over the last few years, we have seen the dark side of social media with the spread of Covid-19 misinformation and political/election agendas," added Zuvella. "However, in Gabby's case we can see social media's positive impact since her fans and fellow influencers jumped to her 'aide' and tried to help in any way they could."
However, in past cases, social media has caused more harm than good, and amateur sleuths 'debating' potential suspects during an ongoing investigation could present serious problems.
"This happened after the Boston bombing," explained Shahin. "There was the sharing of information on Reddit and Twitter, and other platforms. Users on social media were actively trying to figure out who were the Boston bombers."
And they did so without the knowledge the police and FBI had access to, and as Shahin added, that was a problem as there was a zealous audience seeking information and sharing details without context. Many didn't have investigative training either.
"They were pointing fingers everywhere," said Shahin. "That certainly targeted people of color, and some on social media pointed fingers at a young man from India who had gone missing."
Sunil Tripathi was wrongly accused of being a Boston Bombing suspect on Reddit, as he had been missing for a month prior to the April 15, 2013 bombing. His family had even turned to social media to assist in their search for Tripathi. That included setting up a Facebook page and sharing a video on YouTube.
Instead of helping find Tripathi, the information posted online resulted in his being misidentified as a suspect by users on social media. Thousands of individuals actually jumped on the bandwagon, and his name and details were even shared on Reddit. A BuzzFeed reporter then named the young man, who was born to Indian immigrants, as being a primary suspect.
"That led to threats against his family, while some mainstream media outlets even picked up on the story," said Shahin. "The family was already in a lot of pain and it exacerbated it."
In the end, Tripathi had nothing to do with the bombing, and he had killed himself by drowning.
"There is such a potential for the spread of bad information, and that could even distract the police during an investigation," warned Shahin. "This isn't new, but the presence of social media brings in such new dynamics."