Samsung Galaxy Xcover 5 will cost around €300, a cheaper alternative to the Xcover Pro – GSMArena.com news – GSMArena.com
The Samsung Galaxy Xcover 5 leaked in detail earlier this month, now WinFuture has some additional information. The rugged phone will reportedly be available only to businesses initially. It will support features like mPOS – mobile point of sale – which are aimed squarely at companies rather than consumers at large.
This model will have a smaller screen than the Xcover Pro from last year – a basic 5.3" LCD, down from 6.3". Also, the resolution will be downgraded to 720 x 1,600 px, this is a device built to a budget.
A budget of just under €300, specifically (the Pro costs €500). To get there, the phone will be powered by the Exynos 850 – an 8 nm chipset with eight Cortex-A55 cores and a Mali-G52 GPU. It will be equipped with 4 GB of RAM and 64 GB storage, plus a microSD slot if a particular application requires more memory.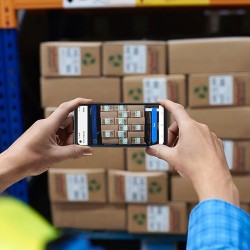 Samsung's Knox Capture is an enterprise-grade barcode scanning solution
The Xcover 5 will run Android 11 out of the box with corporate-friendly Knox features. Last year Samsung announced Knox Capture – an enterprise-grade barcode scanning solution that uses the camera.
Connectivity includes 4G LTE Cat. 7 (300 Mbps down) and NFC, which is a key part of the mPOS functionality as it allows the phone to act as a terminal and accept payment with credit and debit cards.
There will be a 16 MP camera on the back (f/1.8), which will probably be used for scanning barcodes more often than taking photos. A 5 MP (f/2.2) camera will be available on the front if there's an occasion for a selfie.
The 3,000 mAh battery will be user-replaceable. Inside the phone it will charge over USB-C at 15W and we wouldn't be surprised to see pogo pins for charging on a car mount. Also, Samsung usually releases a cradle that can charge a spare battery, so that there's no downtime when an Xcover phone's battery dies.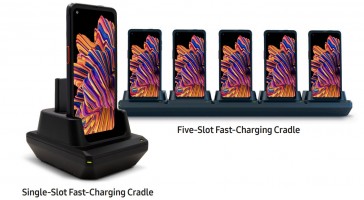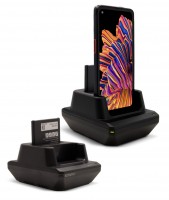 KOAMTAC charging cradles for one phone + spare battery or multiple phones (shown with Xcover Pro)
Naturally, the phone will be IP68 dust and water resistant (no IP69, seemingly) and it will carry a MIL-STD-810G qualification. An LED flashlight is a neat addition that comes in handy sometimes.
It's not clear when Samsung will unveil the Xcover 5 or how long it will be after that before regular consumers can get their hands on one.
Source (in German)
Apple's 'Find My' app could get new tracking prevention features – MobileSyrup
If the latest iOS 14.5 developer beta is an accurate indication of an upcoming feature set, Apple may be working on a new 'Find My' functionality that prevents someone from using the app to track people.
First spotted by 9to5Mac, "Item Safety Alerts" notify you if an unknown device is being tracked on the Find My app and is moving with you. In theory, this feature counteracts a situation where a Find My-compatible Apple device like an iPhone or AirTag, is hidden in someone's bag or pocket and used to track their movements by someone else.
Something I hadn't considered before: new beta includes a Item Safety setting in Find My. This is how Apple is trying to prevent 'stalking' with AirTags. If someone secretly hides a tag in your possessions, your phone will notice and warn you about it. pic.twitter.com/NVJyAZlthw

— Benjamin Mayo (@bzamayo) March 4, 2021
The setting is reportedly enabled by default in the beta and when you turn it off, you're warned that if someone is using an unknown device to see your location you won't be notified of it, according to Apple blogger Benjamin Mayo.
This new feature likely relates to Apple opening Find My up to third-party devices as well the company's often -rumoured AirTags, which also support Ultra Wideband connectivity, allowing them to even more precisely pinpoint their location when using supported devices.
While sliding an iPhone or iPad into someone's backpack is noticeable, an AirTag is likely much smaller and more difficult to notice.
For 9to5Mac's full breakdown of everything included in the third iOS 14.5 developer beta, follow this link.
It's unclear when Apple plans to reveal the AirTags, but some rumours point to the company holding an event later this month where it will show off the accessory alongside new iPad models.
Source: @bzamayo Via: The Verge
All the Apps That Support Apple's Spatial Audio Feature – MacRumors
Spatial audio is a sonic feature exclusive to AirPods Pro and AirPods Max that adds surround sound to Apple's premium audio wearables. By utilizing dynamic head tracking, it brings a theater-like audio experience to the movie or video you're watching, so that it seems as if the sound is coming from all around you.

The feature works by comparing the data from your iOS device's gyroscope and accelerometer against the data from your ‌AirPods‌ Pro or ‌AirPods Max‌, ensuring that the sound field stays anchored to the device, even if you move your head.
Unsurprisingly, spatial audio isn't universally supported by third-party apps and services. To save you spending time wondering if a particular app works with the feature, we've put together a list below of all the apps that have officially been updated to support Spatial Audio, and some popular apps that have yet to add support.
Popular Apps That Support Spatial Audio
Air Video HD (Turn on Surround in Audio settings)
Apple's TV app
Disney+
FE File Explorer (DTS 5.1 unsupported)
Foxtel Go (Australia)
HBO Max
Hulu
Plex (Enable old video player in Settings)
Peacock
Discovery+
Paramount+
Vudu
Popular Apps That Don't Support Spatial Audio
Infuse
Netflix
YouTube
Vimeo
VLC
We'll keep these lists updated as and when we learn of additional third-party apps and updates that come out in support of spatial audio. In the meantime, check the following details to make sure that your hardware is compatible with the feature.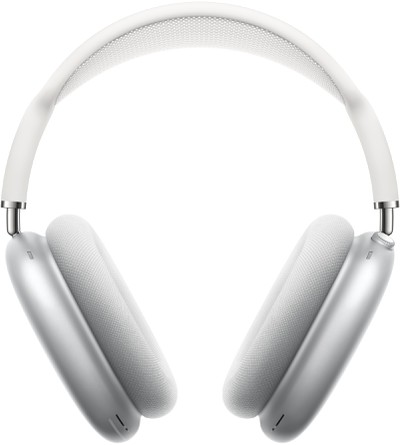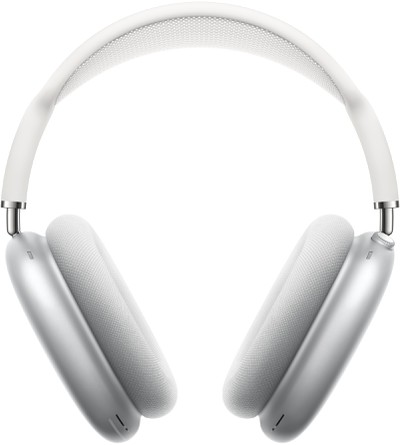 What You Need to Use Spatial Audio
To take advantage of spatial audio on ‌‌AirPods Pro‌‌ or ‌‌AirPods Max‌‌, you need an ‌iPhone‌ 7 or later or one of the ‌iPad‌ models listed below. Note that spatial audio is not supported by any Mac model or any Apple TV models.
iPad Pro 12.9‑inch (3rd generation) and later
‌iPad Pro‌‌ 11‑inch
iPad Air (3rd generation)
‌‌iPad‌‌ (6th generation) and later
iPad mini (5th generation)
You also need iOS 14 or iPadOS 14 or later installed on your device, as well as the latest firmware on your ‌‌AirPods Pro‌‌ or ‌‌AirPods Max‌‌. To learn more about using spatial audio, check out our dedicated how-to article.
New research will study impact of COVID-19 on Halifax's long-term care residents – HalifaxToday.ca
An infectious disease expert at Dalhousie University will be leading a study aimed at finding out why elderly people are more at risk of severe complications when contracting COVID-19.
Dr. Lisa Barrett said it's clear seniors, particularly those living in long-term care facilities, have been hit hardest by the novel coronavirus, but why that is isn't quite known.
"Why their immune system responds differently and doesn't prevent infection, or how their overall state of health or frailty level can impact their ability to resist COVID-19 is not clear," she told NEWS 95.7 fill-in host Jordi Morgan.
"The first part of our study looks at people who are, say, 100 who did really well with COVID, or 65 with COVID and didn't do well at all, and try to understand what the differences are in their immune system that make a successful response or not."
The study will involve long-term care facility residents in the Halifax area and 356 people have already signed up to participate.
Over the next year, Barrett's team of experts in frailty research, immunology, virology and clinical infectious disease will also be looking into vaccine effectiveness in the elderly population.
"Although we don't know the details, immune systems are different in older people and we need to figure that out," she explained.
Barrett is hoping the results will have implications well beyond the COVID-19 pandemic.
"A great deal of knowledge will be generated about immune systems in older people in general that we have vastly understudied in the past," she said. "We know infections in older people are one of the leading causes of death, and we don't really understand that."
"Adding a frailty lens in here, and also down deep immune cell descriptions is going to help us, not only with COVID-19, but in designing better responses, better treatments and better vaccines for older people."
Barrett's team has received $1.9 million in funding for the research from the Government of Canada's COVID-19 Immunity Task Force.