Samsung Galaxy Z Flip 3 vs Samsung Galaxy Z Flip 5G: has the foldable phone improved? – TechRadar
Samsung has announced its latest flip phone, the Samsung Galaxy Z Flip 3. You may be wondering how you missed the release of the Galaxy Z Flip 2 – but don't worry, you haven't experienced a bout of lockdown-induced amnesia.
Although it might be playing fast and loose with naming conventions, this is indeed the third flip-format smartphone Samsung has released. It's just that the second, the Samsung Galaxy Z Flip 5G, was an iterative update on the original Galaxy Z Flip that launched six months prior.
Nomenclature tricksiness aside, how exactly do Samsung's two most recent flip phones compare? We haven't given the Flip 3 a full going over just yet, but here are some early thoughts.
Samsung Galaxy Z Flip 3 vs Samsung Galaxy Z Flip 5G price and availability
The Samsung Galaxy Z Flip 3 goes on sale on August 27, 2021. It's set to arrive in two flavors: 128GB, which costs $999 / £949 / AU$1,499, and 256GB, which will set you back $1,049 / £999 / AU$1,599.
The Samsung Galaxy Z Flip 5G was announced on July 22 and rolled out on August 7, a mere six months on from the original Samsung Galaxy Z Flip. Its launch price was $1,449 / £1,399 / AU$2,599.
It's a major price cut for the Flip family, which could finally bring Samsung's slick foldable formula to the masses. That's perhaps the most exciting difference between these two phones, and we mean that largely as a positive.
Design
The basic design of the Samsung Galaxy Z Flip 3 is very similar to the Samsung Galaxy Z Flip 5G before it. It's a more or less full-sized smartphone that folds in half.
We've gone hands-on with the new device, and it feels like a small but notable evolution in design. Despite a new 'Glasstic' back and glass camera module surround, it somehow feels sturdier than its predecessor's all-glass rear.
The dimensions are very similar indeed, although the Galaxy Z Flip 3 is fractionally smaller in every direction at 166 x 72.2 x 6.9mm next to the Flip 5G's 167.3 x 73.6 x 7.2mm). Despite this, the newer device is actually a gram heavier at 183g.
Image 1 of 2
Image 2 of 2
Based on our initial time with the device, the Flip 3's hinge mechanism feels less wobbly and more secure than its predecessor, and it seems better built all-round. That feeling is backed up by an IPX8 rating, which means it's water-resistant in a way the Flip 5G simply isn't.
The newer device also simply looks better than the second-generation Flip. Samsung has greatly refined its design language, making it less soft and shiny and more artfully industrial.
Both phones have a side-mounted fingerprint sensor, which is a little awkward to access when open. We're pleased to note that the fold seems a little less obvious on the Flip 3, though.
Display
Both of these phones come with a foldable 6.7-inch AMOLED display, complete with an unusually tall aspect ratio.
The resolution is similar, too, at 1080 x 2636 for the Flip 5G and 1080 x 2640 for the Flip 3. Those few extra pixels really won't make any difference to your perception.
What will make a difference is the Samsung Galaxy Z Flip 3's faster refresh rate. At 120Hz, it's literally twice as fluid as the Galaxy Z Flip 5G's display, correcting one of our biggest complaints about the older foldable.
Another issue that's been addressed is the Galaxy Z Flip 5G's secondary display, which was a hopelessly small 1.1-inch Super AMOLED panel positioned on the outside of the device.
It's still located in the same place on the Galaxy Z Flip 3, but at 1.9 inches, it's far more usable. You can actually read notifications comfortably now, and it seems better integrated than before.
Camera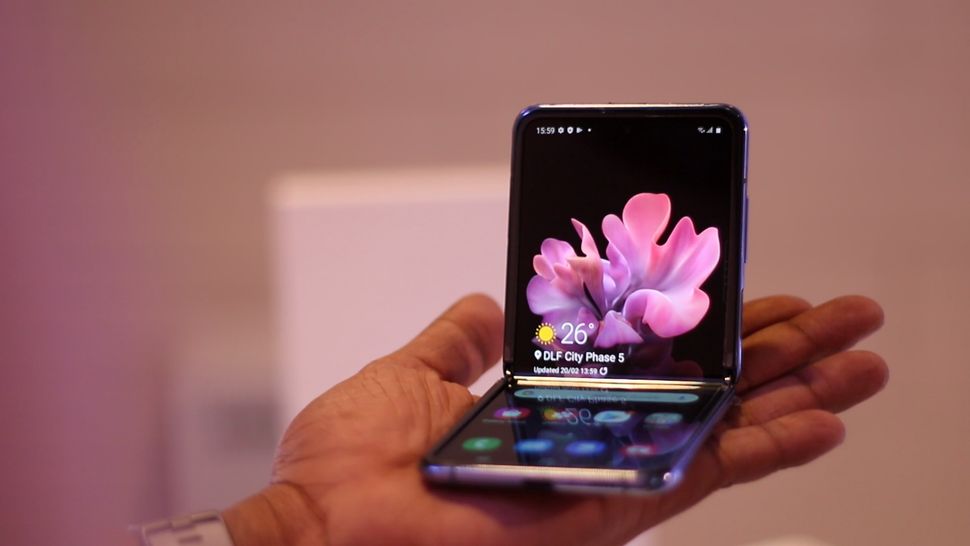 Arguably the Galaxy Z Flip 5G's biggest weakness was its camera offering. Its two modest 12-megapixel sensors were essentially based on the same tech as the 2019 Samsung Galaxy S10e.
The pictures it could take were fine, but fine was never really good enough in a $1,449 / £1,399 phone.
We'll have to wait and see how they pan out, but the Galaxy Z Flip 3's camera system isn't looking massively promising. In fact, it looks to be exactly the same as its predecessor.
You're looking at the same twin 12-megapixel sensor setup. The main one is again a piddling 1/2.55in, and the other is a 12-megapixel ultrawide.
Such a provision is arguably more forgivable in a sub-$1,000 / £1,000 phone. But let's not beat around the bush here, neither of these phones gets anywhere near the camera quality of the Galaxy S21 range.
We're looking at the same 10-megapixel f/2.4 selfie cam for both foldables, too, which is unlikely to set any pulses racing.
Specs and performance
When it comes to performance, you're looking at a straight generational upgrade. The Samsung Galaxy Z Flip 5G packed the fastest Android chip of its day, the Snapdragon 865, and the Galaxy Z Flip 3 packs the fastest Android chip of its day, the Snapdragon 888.
Yes, there's now the Snapdragon 888 Plus chip now, but the market is hardly swimming with these latest Qualcomm chips at the time of writing.
This provision is plenty fast enough in both cases, since there are few apps or tasks that will seriously stretch even last year's top processor. Still, the Galaxy Z Flip 3 has a clear advantage here, especially when it comes to future-proofing.
Both phones back that power with 8GB of RAM, which isn't the bounty that you get with Samsung's very top phones, including the Galaxy Z Fold 3. Still, it should prove ample for most tasks.
You get 256GB of internal storage with both, although that's only an option with the Galaxy Z Flip 3. Interestingly, the newer device also gives you a lower 128GB option. Expansion via microSD isn't an option with either device.
Battery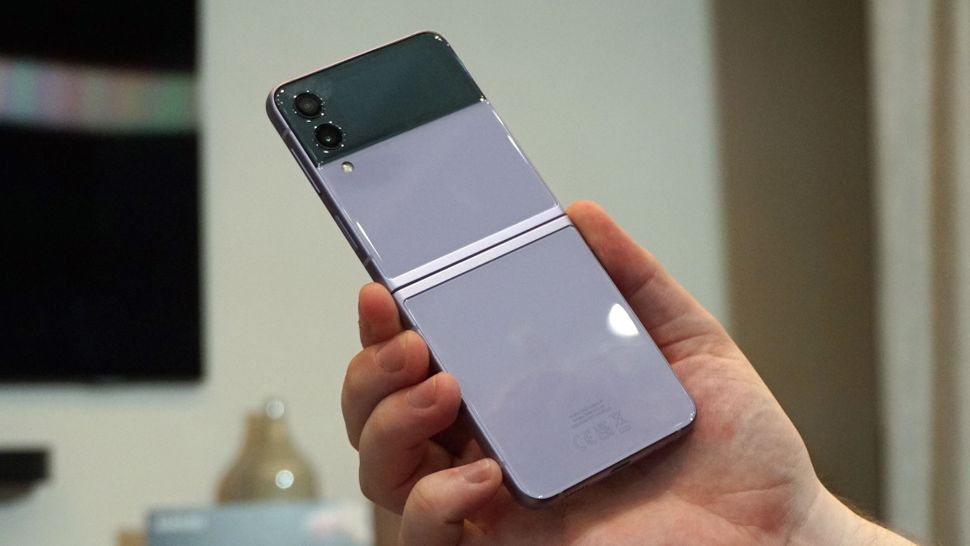 Both flips include 3300mAh batteries, which really isn't too capacious by modern smartphone standards.
In the Galaxy Z Flip 5G, this was partially excusable as a result of the slow 60Hz display; but the Galazy Z Flip 3 doesn't have the same mitigating circumstances. Color us worried.
Especially given the fact that we weren't exactly wowed by the Flip 5G's battery performance. It will get you through a full day of light to moderate use, in our experience, but more intensive usage will tend to drain it before bedtime.
One notable upgrade with the Flip 3 is support for faster charging. While the Galaxy Z Flip 5G only went as far as 15W wired and 9W wireless, the newer phone cranks things up to a more respectable 25W wired and 11W wireless.
This still isn't what we consider blazingly-fast given the cost of the device, but it's competitive with the Galaxy S21 range. As is support for 4.5W reverse wireless charging, which the Galaxy Z 5G lacks.
Takeaway
The Samsung Galaxy Z Flip 3 is shaping up to be a near-identical device to the Samsung Galaxy Z Flip 5G before it. You're looking at very similar dimensions, the same camera system, and the same-sized battery.
However, there are meaningful improvements to both displays, and it's a fair bit faster. Perhaps most importantly of all, the Galaxy Z Flip 3 is set to retail at a much lower price than its predecessor.
This alone makes Samsung's entry-level foldable series a much more tempting proposition to your average user shopping for a new flagship phone. It's no longer quite the expensive niche oddity that it was before.
Some iPhone 13 Pro animations affected by an issue that will be fixed – The Verge
Apple's iPhone 13 lineup launched Friday, and one of the key features of the 13 Pro and 13 Pro Max are their ProMotion displays with variable refresh rates that can top out at 120Hz. But as spotted by 9to5Mac, some app animations in third-party apps are currently only running at 60Hz. That might be frustrating if you were expecting to see buttery-smooth animations across all of your apps with the new phones, but when we asked Apple what was going on, the company shared two reasons why this might be happening.
One reason is that developers will need to update their apps to declare that they use the higher refresh rate. This can be done by adding an entry to the app's plist, Apple tells The Verge, and the company says it plans to share documentation about the entry you need to add soon. But in some cases, animations built with the company's Core Animation technology are also affected by an issue that will be fixed in an upcoming software update, Apple says.
Variable refresh rate screens offer a lot of benefits, including smoother animations and scrolling when you're using the device and battery savings the screen runs at lower refresh rates. We were impressed with the screens on the 13 Pro and 13 Pro Max in our review, and it's good to hear that third party apps will be able to take full advantage of what they have to offer — though some may have to wait until after that software update.
Today's Homes Need a Professional Electrician's Touch
Credit: Ed Harvey via Pexels
Modern technology can be jaw-dropping at times, but it must be installed correctly and safely. There's nothing worse than getting ready to show off one of the latest gadgets, only to see that it doesn't work!
Professional electricians have the experience and knowledge necessary to ensure that the wiring tucked out of view works as it should, so what is visible performs the way it's expected to. Let's check out the different services electricians provide for your home.
Safely, Efficiently Wire Smart Homes
The idea of a Smart Home where people can control a room's temperature from their phone did not exist when many homes were built. Whether your home is from a previous generation or you're building a new one from scratch, professional electricians can ensure the wiring will safely and sufficiently power all your devices if you want Smart appliances in it.
The electrical requirements are not the same in a house designed to power the lights versus one that can charge a car in the garage. Even though some aspects of a Smart Home can be self-installed, if you're confident enough, most laypeople don't know how to install it optimally.
If you have multiple smart devices, it's better to have them streamlined, so they can talk to each other and be interconnected. You want your speakers, thermostat, locks, and more to work effortlessly, and professional electricians make it easy.
If you're going to be charging an electric vehicle at home, ensure your EV Charger is hardwired to the electrical panel. A certified, licensed, and insured electrician needs to confirm the installation meets certification requirements.
If you need an electrician in Pickering or anywhere in the Durham region to wire your home for modern technology, look for a family-owned business that can get the job done quickly and with excellent customer service. Family-owned businesses specialize in customer satisfaction.
Safety Matters Above All
It's hard for laypeople to identify faulty or dangerous wiring when they see it, and it's hard to see behind those walls. Professional electricians have the equipment to measure the rate at which electricity is conducted, so they can safely install your home's lighting.
Whether you're moving into an old home that may have outdated systems or building a brand-new house, hiring a professional electrician to inspect and install the wiring is essential. Confirm first whether they're an apprentice, journeyman, or a master electrician, and double-check that the business is bonded, licensed, and insured.
The safety of you, your family, and your home may be at risk unless a professional electrician has inspected your home's wiring and deemed it safe. You can't get this peace of mind any other way.
A home ought to have lights that turn on brightly and safely, but it's common to expect a lot more from our gadgets, given today's incredible consumer technology. Make sure you have a professional electrician inspect and wire the home, so you can feel confident that everything will work smoothly and safely.
From 'Bayonetta 3' To A New 'Kirby' Game, The Latest Nintendo Direct Had A Lot To Offer – Forbes
What with Nintendo being a regular abstainer from the Tokyo Game Show, it's not a huge surprise the company decided to make a bunch of announcements before that with their latest Nintendo Direct. However, the amount of things announced took us a bit by surprise.
The first major thing that has seemingly melted people's brains, is the announcement of the upcoming Super Mario movie. Namely, the movie's cast with Chris Pratt taking on the role of Mario and Jack Black as Bowser. Erik Kain covered this already in detail, so you should have a look at that if you want to know more.
The other big surprise was the reveal that Bayonetta 3 still exists and will be released next year (shown above). We also got to see some of how the game plays and it looks superb, especially the kaiju controlling setup.
Following that we had news that the Nintendo Online service is going to be extended this October to include Nintendo 64 and Sega Genesis games, and that both systems will be getting their own wireless controllers compatible with the Switch (shown above).
While I am not surprised to see the N64 finally make its way to the Switch, the Sega Genesis is a genuine surprise. Considering that when I was growing up that Sega and Nintendo were bitter playground enemies, having the Genesis on the Switch is just a bit odd, though entirely welcome.
We also got a look at what appears to be an upcoming open-world Kirby game, called Kirby and the Forgotten Land. Again, this looks great, and I get some proper Super Mario Odyssey vibes from the whole setup, but I had hoped to see a sequel to Planet Robobot at some point. Maybe one day.
In addition to that, Capcom revealed a DLC update to Monster Hunter Rise, called Sunbreak and set for release next Summer. It's got a rather gothic look to it and I am sure this will ensure the Switch's dominance in Japan for the next year or so.
Then there were a bunch of announcements for releases of games available on the Switch today. From the stealth launch of ports for classic Xevious and Pac-Man, to a gorgeous collection of Castlevania games from the Game Boy Advance era of the series. Not to mention the suitably amazing looking Actraiser Renaissance, being an HD remake of the classic SNES game.
Anyway, all that aside, this was a pretty heavy drop from Nintendo and if you are interested in watching the whole thing, then check out the Nintendo Direct video below.
Follow me on Twitter, Facebook and YouTube. I also manage Mecha Damashii and do toy reviews over at hobbylink.tv.
Read my Forbes blog here.