Samsung might launch the Galaxy Fold 2 with an under-the-display camera by July – The Next Web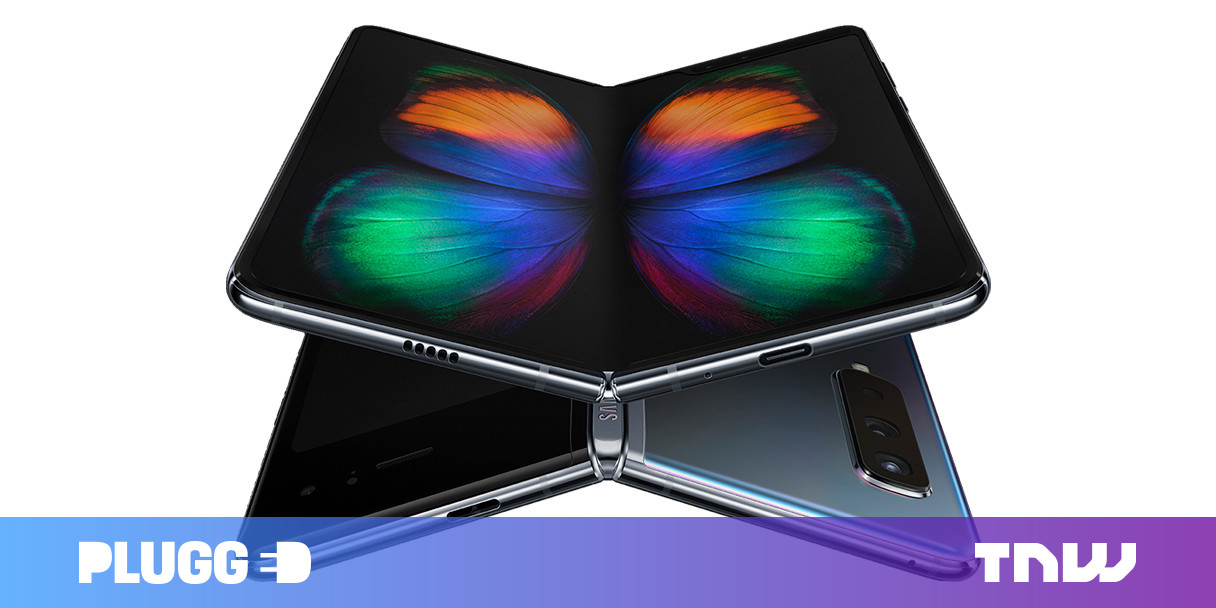 Last week, Samsung launched its second foldable phone, the Galaxy Z Flip. Now, new reports are suggesting that the company might be already preparing to launch its next foldable — a sequel to the Galaxy Fold.
Korean news outlet Ajunews and the founder of Display Supply chain Consultants (DSCC), Ross Young, separately reported this development. Both sources said the Korean tech giant is working on the Galaxy Fold 2 under the project name Champ.
[Read: Surprise: The Samsung Galaxy Z Flip's ultra-thin folding 'glass' scratches like plastic]
The new device will reportedly have a huge 7.7-inch screen when unfolded. Samsung is also testing an under-the-screen camera technology to provide a notchless display.
Last year, Oppo and Xiaomi showed under-the-screen technology. However, Xiaomi later clarified that the tech was not ready for mass production.
Ultra-thin glass (UTG) from Schott is their best hope then. First on Galaxy Z Flip. Then on Galaxy Fold 2 which is now known as Project Champ and should come mid-year. It will fold out to 7.7" but will be quite a bit more expensive than the more portable clamshells…

— Ross Young (@DSCCRoss) January 29, 2020
While these features are important, all eyes will be on the company to deliver a foldable display with better durability. Last year, the company had to delay the launch of the Galaxy Fold, after several reviewers pointed out teething problems with the screen. There have even been reports of a week-old Galaxy Z Flip display being damaged.
A report from Bloomberg published last week, suggested that Samsung is planning to stick with the "Galaxy Z" moniker for its foldable devices. So, the Fold 2 might well be called the Galaxy Z Fold.
For more gear, gadget, and hardware news and reviews, follow Plugged on
Twitter and
Flipboard.

Published February 18, 2020 — 04:29 UTC
Microsoft says Skype users surge amid coronavirus outbreak – Financial Post
Microsoft Corp said on Monday its video calling platform Skype saw a 70% jump in usage in March from a month earlier, as more people shift to working from home amid the coronavirus pandemic.
The platform is being used by 40 million people, the company said in a blog post, adding that Skype-to-Skype calling minutes jumped 220% from a month earlier.
(Reporting by Ayanti Bera in Bengaluru; Editing by Aditya Soni)
Resident Evil 3 Remake Review – CGMagazine
Kojima Productions is the latest development studio to close their doors after a staff member was diagnosed with COVID-19. According to the site's release, the employee was quarantined since March 20 while no other person in the office is affected.
"All other Kojima Productions employee was not in the office at the time of symptoms onset," the team wrote. "Employees are not considered 'close contacts', meaning that it is not mandatory to close the office."
Despite initial thoughts, the Death Stranding team shut its buildings down while following instructions from public health authorities.
The studio also stated it independently took measures to have the teamwork from home and sanitize all of its facilities. This also included keeping an eye on staff during the worldwide pandemic and COVID-19's two week incubation period for symptoms.
Its safeguard notice was also tweeted out, with fans and other users wishing the team safe.
The studio's latest project includes porting Death Stranding for PC in a partnership with Steam.
Microsoft Teams is coming to consumers — but Skype is here to stay – TechCrunch
Microsoft today announced that later this year, it will launch what is essentially a consumer version of Teams, its Slack-like text, audio and video chat application. Teams for your personal life, as Microsoft likes to call it, will feature a number of tools that will make it easier for families and small groups to organize events, share information and get on video calls, too.
As Google has long demonstrated, there can never be enough messaging applications, but it's interesting to see Microsoft preview this direction for Teams when it has long solely focused on Skype as its personal chat, audio and video call app. But as Yusuf Mehdi, Microsoft's corporate VP for Modern Life, Search and Devices, told me, Skype isn't going away. Indeed, he noted that more than half a billion people are using tools like Skype today.
"Skype continues," he said when I asked him about the future of that service. "We remain committed to Skype. Skype today is used by a hundred million people on a monthly basis. The way I think about it is that Skype is a great solution today for personal use. A lot of broadcast companies use it as well. Teams is really the more robust offering, as you will, where in addition to doing video and chat calling, we also bring in rich communications and templates […], we have things like dashboard and it also helps you pull in a richer set of tools."
With the more personal Teams only launching later this year, Skype remains Microsoft's main consumer chat service for the time being. Indeed, about 40 million people currently use it daily, in part because of the COVID-19 pandemic, and the company is seeing a 220% increase in Skype-to-Skype call minutes.
While Microsoft thought about giving this new personal take on Teams a different brand, the company decided that Teams had pretty broad brand awareness already. In addition, the focus of today's updates was very much on bridging the gap between work life and home life, so it makes sense for the company to try to combine both enterprise and personal features into the same application.