Sanders campaign prods media outlets: 'What are they missing about Bernie's appeal?' – CNN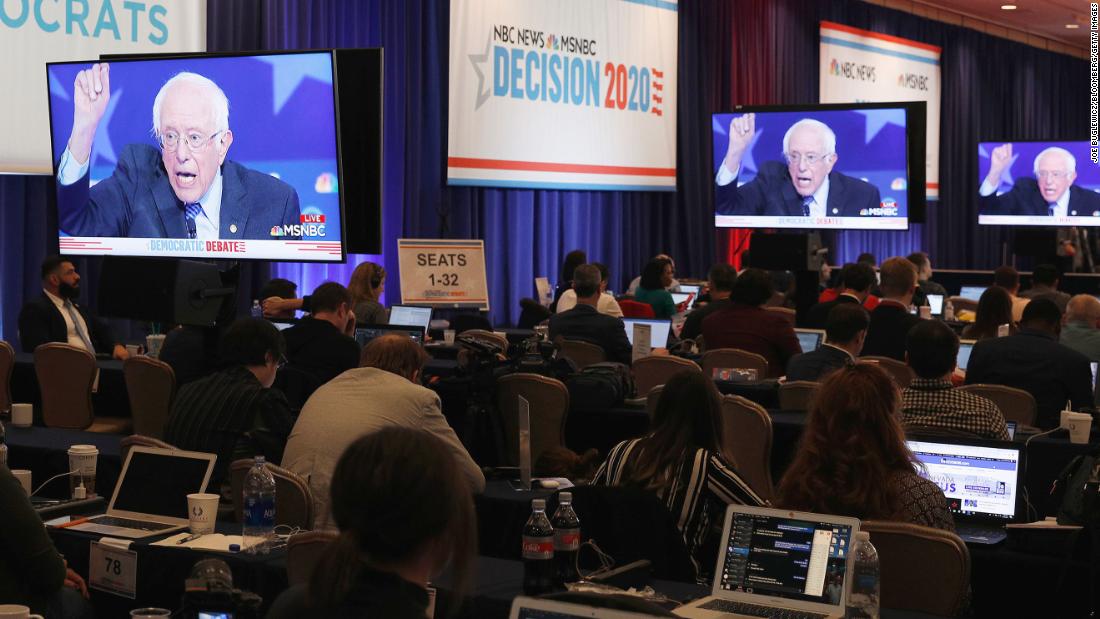 Bernie Sanders' big win in Nevada over the weekend highlighted the hostility between his campaign and MSNBC, the network with a progressive brand but an establishment bent.
The campaign continued to criticize the network over the weekend — in response to highly controversial remarks by Chris Matthews and others. One MSNBC regular, Anand Giridharadas, called out Matthews on the air and said "something is happening in America right now that actually does not fit our mental models. It certainly doesn't fit the mental models of a lot of people on TV."
So I'm wondering: Is this the big media story of the 2020 race?
In 2016, all roads led to Trump, who frequently sparred with Fox News despite all of the natural overlaps between the Fox audience and the Trump base. Something similar, though not the same, is happening now with Sanders and MSNBC. Page Six
reported
Friday night that Sanders loudly criticized NBC and MSNBC officials before last week's Dem debate.
According to the story
, Sanders approached MSNBC president Phil Griffin and said "Phil, your network has not been playing a fair role in this campaign. I am upset. Is anything going to change?"
What Matthews said
When Sanders took an early lead in Saturday's NV caucuses, Matthews likened it "to the shock of France falling to Germany during WWII," as The Daily Beast
wrote here
. This analogy placed Sanders in the shoes of Nazi soldiers. Sanders comms director Mike Casca tweeted
this
in response: "Never thought part of my job would be pleading with a national news network to stop likening the campaign of a Jewish presidential candidate whose family was wiped out by the Nazis to the Third Reich."
What Giridharadas said
Sanders' wins are a "wake-up moment for the American power establishment," he said
on "AM Joy"
Sunday morning. "For Michael Bloomberg, to those of us in the media, to Democratic Party, to donors, to CEOs. Many in this establishment are behaving, in my view, as they face the prospect of a Bernie Sanders nomination, like out-of-touch aristocrats in a dying aristocracy." Instead, he said, they should be asking "Why is this happening? What is going on in the lives of my fellow citizens that they may be voting for something I find so hard to understand?"
Giridharadas, a paid contributor to NBC and MSNBC, then
asked
, "Why is Chris Matthews on this air talking about the victory of Bernie Sanders, who had kin murdered in the Holocaust, analogizing it to the Nazi conquest of France? The people who are stuck in an old way of thinking, in 20th century frameworks, in gulag thinking, are missing what is going on." MSNBC declined to comment…
→ Marie Harf
said on Fox
that Matthews should "personally apologize to Bernie Sanders…"
The view from Sanders HQ
"I think one of the big questions is how and whether news outlets reassess whether they got it right on Bernie," campaign manager Faiz Shakir told me Sunday. "And if not, how does that change coverage going forward? What are they missing about Bernie's appeal?"
Shakir has called out MSNBC by name and challenged print outlets that, in his view, have been exceedingly negative. The more delegates Sanders gains, the more of a megaphone Shakir has regarding this subject…
FOR THE RECORD
— CNN's David Chalian explaining the delegate math that favors Sanders: "It's getting late early…" (
Mediaite
)
— "Meet the Press" moderator Chuck Todd: "If nobody drops out before Super Tuesday, is it even possible to stop Bernie Sanders?" Dan Pfeiffer: "I do not believe it is." (
MTP
)
— During CNN's coverage on Saturday, Van Jones cited Latino and youth support for Sanders: "You got a new generation stepping up. They're not scared of any of these ideas and they're tired of hearing Republicans calling everything we say socialist. They ruined the word socialist…" (
Beast
)
— Coming up: "Sanders plans to be up on the air with commercials in every South Carolina media market this week, and his staff is scrambling to add new rallies to his schedule as they take aim at their next big target:" overtaking Joe Biden… (
NYT
)
Sanders cites CBS polls
Per CNN's Annie Grayer, Sanders did something on Sunday that's unusual for him: He read poll numbers aloud at a rally. "Some of the folks in the corporate media are getting a little bit nervous," he told supporters in Houston. "They say, you know, Bernie can't beat Trump. So let's look at some of the polls out today."
Sanders read results from Sunday morning's new CBS/YouGov poll that showed him beating Trump in a general election match-up and in key battleground states…
The view from Jacobin
Jacobin, the leading socialist magazine in the US,
published
a piece after the Nevada "blowout" that said "face it, establishment Democrats —
it's his party now.
"
Jacobin has been allied with Sanders for years. The mag's publisher Bhaskar Sunkara told me, "I think the key is that the Never Bernie wave won't materialize. Most Dems like him and his lead is growing. They'll reconcile themselves to him just like Republican media to Trump." Sunkara's prediction: "Bernie will be just a regular Dem candidate which fits his actual profile — not radical but someone who's been in Washington for a long time and who proposes popular economic and social reforms."
Sunkara said web traffic to Jacobin "is up year over year around 60 percent." Print subscriptions are up 40 percent year over year. "People are really dialed in right now," he said…
Tom Holland Says He's Taking a Break From Social Media Because It's 'Detrimental' – ELLE
Tom Holland announced on Instagram that he is distancing himself from social media for the sake of his mental health and encouraged his followers to share his message. The Spider-Man star has deleted his Instagram in the past, but always returned to having an account. Many celebs don't run their own social media, but Holland clearly has some hand in his posts.
"I get caught up and I spiral when I read things about me online and ultimately it's very detrimental to my mental state, so I decided to take a step back and delete the app," Holland explained in the three-minute clip.
Holland runs a charitable organization called The Brothers Trust, which supports an app called Stem4, designed to help teenagers with their mental health. He advocated for the apps while talking about his own issues.
"There is an awful stigma against mental health and I know that asking for help and seeking help isn't something that we should be ashamed of, but it is something that is much easier said than done," Holland said. "So hopefully these apps can be your first step towards being happier and healthier."
He also wrote in the caption, "Please take the time to watch my video, and should you feel inclined to share it with anyone who it may resonate with — it would be greatly appreciated."
The actor is dating his co-star, Zendaya, who has also talked about unhealthy relationships with social media, though she mainly focused on her fans encouraging her to step back when necessary.
"Being on [social media] would kind of make me anxious, or I would start to overthink a little too much," she told People in an interview. "[My fans] want me to … be happy and exist beyond social media."
Aimée Lutkin is the weekend editor at ELLE.com. Her writing has appeared in Jezebel, Glamour, Marie Claire and more. Her first book, The Lonely Hunter, will be released by Dial Press in February 2022.
Per usual, social media gets it all wrong with Cameron Smith ruling – Golf Channel
MEMPHIS, Tenn. – Not that the wasteland that is social media should be any kind of guide – let's face it, there's no room in that hellscape for anything approaching an educated or nuanced conversation – but the vitriol created by Cameron Smith's internet-bending rules violation at the FedEx St. Jude Championship requires some housekeeping.
The Rules of Golf can be confusing and overly complicated, but the avalanche of incorrect and distorted opinions over Smith's two-stroke penalty for playing a shot from a hazard requires some addressing:
"The red [hazard] line is pretty stupid to begin with. Guys [already] taking a drop. Garbage like this and DJ's penalty in 2010 PGA Championship just makes me want to root for LIV to succeed!"
Not exactly sure of the logic in the above tweet text, but Smith's penalty – like all penalties – are based on the Rules of Golf, which are written and maintained by the USGA and R&A, not the PGA Tour.
In fact, many in this same Twitter thread pointed out that longtime former Tour rules official Slugger White is now LIV Golf's vice president of rules & competition management, and the Saudi-backed league also plays by the same Rules of Golf.
There are plenty of problems with the Rules of Golf, but they have nothing to do with the PGA Tour.
"I think they need to have unlimited time to address a violation. Even 5-10 years from now they could detect an error and DQ a player for failing to handle it properly and ask that prize money be returned. The round was over, it wasn't handled."
Also incorrect. While Tour officials regularly review possible violations and circle back around the next day to clarify things, like they did with Smith, when the final putt drops and a winner is crowned, the competition is closed. There is no going back at that point.
"Would they have done this to Rory or JT if they were in contention? Absolutely no way. PGA is officially a joke."
We know conspiracy theories range from absurd to just troll jobs, but this is ridiculous to the extreme. In fact, most argue the game's stars are held to a higher standard because they are more often shown during broadcast and are therefore under more scrutiny than a player who finishes well outside of contention.
There are countless examples of top players being penalized, but Rory McIlroy's incident with officials at the 2019 Northern Trust, which was that season's playoff opener, is a solid comp.
The Northern Irishman was penalized two shots during the second round for touching what he thought was a rock in a bunker but turned out to be a clump of sand. He was three shots off the lead at the time. That penalty was later rescinded by the rules committee after a more in-depth review of the new definition of the rule.
"Couch fan called it in and of course the [PGA Tour] accepted that rules officials word and reviewed it. There was a rules official with him at the time that didn't rule it. [Tour] failing again."
It's a common misconception that there's a rules official with every group. That is not correct. There was an official "in the area" who could have been called in to help Smith better understand the rule, and that's always an option. It's also worth noting that Ryan Palmer, who was paired with Smith on Saturday, even suggested he call an official for clarity if he wasn't sure, but Smith did not.
---
Full-field scores from FedEx St. Jude Championship
---
Also, officials stopped taking call-ins for potential violations years ago. It was an on-site rules official who was watching Saturday's re-air who suggested the committee take another look at the drop, and it was Smith who admitted that his ball was on the line.
"Masters winner Scheffler is a strong opponent of LIV. And in the first round in Memphis, the American blatantly walked across the putting line of his playing partner Smith on the 12th green before a birdie attempt. The Aussie looked at him in disbelief."
Scottie Scheffler is a supporter of the PGA Tour in the ongoing rift with LIV Golf and he did walk by Smith during Thursday's opening round, but he did not walk across or through his line. Scheffler told reporters that when he realized what he'd done he tracked Smith down to apologize for any slight, either real or perceived.
The two even jokingly concocted a plan to have a "stare-down" during Friday's second round, but neither could keep a straight face long enough to pull it off.
There's enough animosity between those loyal to the Tour and those who have bolted for LIV Golf, but neither the penalty nor Scheffler's snafu had anything to do with the start-up league.
"Really tough break. It was the right call. He handled it very well, classy guy."
This one is actually correct. Smith did handle the news well and it was the right call, regardless of what many on social media might think.
"[Smith's] answer to me is, 'The rules are the rules,'" said Gary Young, the PGA Tour's chief referee. "He just accepted the two-stroke penalty … he very calmly left the office and he's just going about his business for the day."
Three Syrian soldiers killed in Israeli missile attacks: Report – Al Jazeera English
At least three Syrian soldiers have been killed and three others wounded in "multiple" Israeli missile attacks on Syria, according to state media.
The SANA news agency said on Sunday that the missile attacks took place at 8:50pm (17:50 GMT) and targeted "some points" in the countryside near the capital, Damascus, and the coastal province of Tartous.
Syrian air defence forces confronted the "aggressions" and downed some of the missiles, SANA said, citing an unnamed military source.
"The aggression led to the death of three soldiers, the wounding of three others," it reported.
The attacks on Damascus were carried out from a direction southeast of the Lebanese capital, Beirut, while the attacks on Tartous came from the Mediterranean sea.
In addition to the deaths, the attacks caused some "material damage," the military source told SANA.
The Israeli military declined to comment.
Since civil war broke out in Syria in 2011, Israel has carried out hundreds of air raids inside the country, targeting government positions as well as allied Iran-backed forces and Hezbollah fighters. Israel rarely comments on individual raids in Syria, but the Israeli military has defended them as necessary to prevent Iran from gaining a foothold on its doorstep.
[embedded content]
The Syrian Observatory for Human Rights, a war monitor, also reported on Sunday's attacks, saying the raids targeted an air defence base in Tartous province, where Iranian-backed groups are active.
The site in Tartous is located 8km (5 miles) from a Russian base, said the monitor, which has a vast network of sources in Syria.
It said ambulances had rushed to the scene of the raids in Tartous.
It added that two missiles also struck a Syrian government military site in the Al-Qutayfah area of the Damascus countryside.
Other recent reported Israeli attacks in Syria include a raid near Damascus that killed three Syrian soldiers last month. The Syrian Observatory said that attack targeted a military facility and an "Iranian weapons depot".
Civilians have also been wounded in the Israeli raids.
Syria's defence ministry said in early July that an Israeli raid carried out from the Mediterranean Sea near the town of Al-Hamadiyah, south of Tartous town, had wounded two civilians.
State media also reported that Israeli shelling on Friday had wounded two civilians in southern Syria near the occupied Golan Heights.
Al Jazeera's Zeina Khodr, reporting from Beirut, said Israel has also recently struck a port in the coastal city of Latakia as well as the airport in Damascus, deeming the runway there unusable for weeks.
"For Israel, the biggest goal is to prevent Iran from creating a base on its border with Syria, the way that Iran's ally in Lebanon, Hezbollah has," she said. "Israel also wants to stop any transfers of sophisticated weapons from Iran to Hezbollah."
She added, "such attacks are often confined, but the risk of further escalation is there."
Syrian President Bashar al-Assad was able to turn the tide of his country's civil war, with crucial help from Iran's proxy groups and with Russia's military intervention in 2015.
The conflict started with the brutal repression of peaceful protests for democracy and has killed nearly half a million people since 2011.
Half of the country's prewar population have also been forced from their homes.
[embedded content]