Sanders campaign prods media outlets: 'What are they missing about Bernie's appeal?' – CNN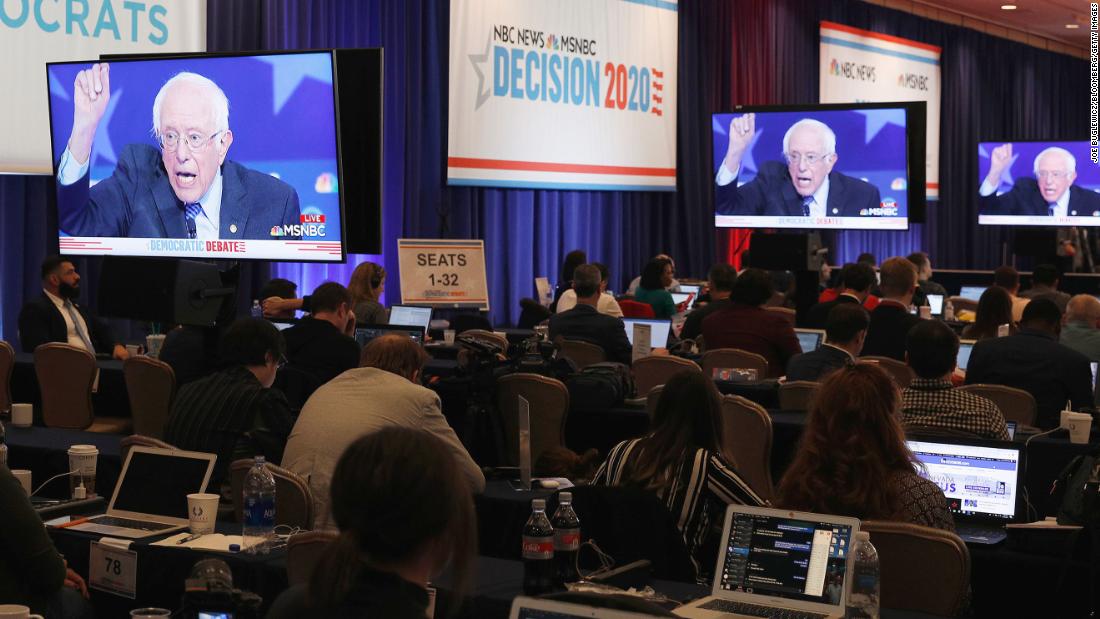 Bernie Sanders' big win in Nevada over the weekend highlighted the hostility between his campaign and MSNBC, the network with a progressive brand but an establishment bent.
The campaign continued to criticize the network over the weekend — in response to highly controversial remarks by Chris Matthews and others. One MSNBC regular, Anand Giridharadas, called out Matthews on the air and said "something is happening in America right now that actually does not fit our mental models. It certainly doesn't fit the mental models of a lot of people on TV."
So I'm wondering: Is this the big media story of the 2020 race?
In 2016, all roads led to Trump, who frequently sparred with Fox News despite all of the natural overlaps between the Fox audience and the Trump base. Something similar, though not the same, is happening now with Sanders and MSNBC. Page Six
reported
Friday night that Sanders loudly criticized NBC and MSNBC officials before last week's Dem debate.
According to the story
, Sanders approached MSNBC president Phil Griffin and said "Phil, your network has not been playing a fair role in this campaign. I am upset. Is anything going to change?"
What Matthews said
When Sanders took an early lead in Saturday's NV caucuses, Matthews likened it "to the shock of France falling to Germany during WWII," as The Daily Beast
wrote here
. This analogy placed Sanders in the shoes of Nazi soldiers. Sanders comms director Mike Casca tweeted
this
in response: "Never thought part of my job would be pleading with a national news network to stop likening the campaign of a Jewish presidential candidate whose family was wiped out by the Nazis to the Third Reich."
What Giridharadas said
Sanders' wins are a "wake-up moment for the American power establishment," he said
on "AM Joy"
Sunday morning. "For Michael Bloomberg, to those of us in the media, to Democratic Party, to donors, to CEOs. Many in this establishment are behaving, in my view, as they face the prospect of a Bernie Sanders nomination, like out-of-touch aristocrats in a dying aristocracy." Instead, he said, they should be asking "Why is this happening? What is going on in the lives of my fellow citizens that they may be voting for something I find so hard to understand?"
Giridharadas, a paid contributor to NBC and MSNBC, then
asked
, "Why is Chris Matthews on this air talking about the victory of Bernie Sanders, who had kin murdered in the Holocaust, analogizing it to the Nazi conquest of France? The people who are stuck in an old way of thinking, in 20th century frameworks, in gulag thinking, are missing what is going on." MSNBC declined to comment…
→ Marie Harf
said on Fox
that Matthews should "personally apologize to Bernie Sanders…"
The view from Sanders HQ
"I think one of the big questions is how and whether news outlets reassess whether they got it right on Bernie," campaign manager Faiz Shakir told me Sunday. "And if not, how does that change coverage going forward? What are they missing about Bernie's appeal?"
Shakir has called out MSNBC by name and challenged print outlets that, in his view, have been exceedingly negative. The more delegates Sanders gains, the more of a megaphone Shakir has regarding this subject…
FOR THE RECORD
— CNN's David Chalian explaining the delegate math that favors Sanders: "It's getting late early…" (
Mediaite
)
— "Meet the Press" moderator Chuck Todd: "If nobody drops out before Super Tuesday, is it even possible to stop Bernie Sanders?" Dan Pfeiffer: "I do not believe it is." (
MTP
)
— During CNN's coverage on Saturday, Van Jones cited Latino and youth support for Sanders: "You got a new generation stepping up. They're not scared of any of these ideas and they're tired of hearing Republicans calling everything we say socialist. They ruined the word socialist…" (
Beast
)
— Coming up: "Sanders plans to be up on the air with commercials in every South Carolina media market this week, and his staff is scrambling to add new rallies to his schedule as they take aim at their next big target:" overtaking Joe Biden… (
NYT
)
Sanders cites CBS polls
Per CNN's Annie Grayer, Sanders did something on Sunday that's unusual for him: He read poll numbers aloud at a rally. "Some of the folks in the corporate media are getting a little bit nervous," he told supporters in Houston. "They say, you know, Bernie can't beat Trump. So let's look at some of the polls out today."
Sanders read results from Sunday morning's new CBS/YouGov poll that showed him beating Trump in a general election match-up and in key battleground states…
The view from Jacobin
Jacobin, the leading socialist magazine in the US,
published
a piece after the Nevada "blowout" that said "face it, establishment Democrats —
it's his party now.
"
Jacobin has been allied with Sanders for years. The mag's publisher Bhaskar Sunkara told me, "I think the key is that the Never Bernie wave won't materialize. Most Dems like him and his lead is growing. They'll reconcile themselves to him just like Republican media to Trump." Sunkara's prediction: "Bernie will be just a regular Dem candidate which fits his actual profile — not radical but someone who's been in Washington for a long time and who proposes popular economic and social reforms."
Sunkara said web traffic to Jacobin "is up year over year around 60 percent." Print subscriptions are up 40 percent year over year. "People are really dialed in right now," he said…
Bell Media radio stations back on the air in Fredericton after tower collapses – CTV News
HALIFAX —
Radio stations owned by Bell Media were are off the air in Fredericton Friday morning.
The tower is located on Rookwood Avenue, between the Capital Winter Club and Bell Media radio headquarters. It fell behind the club's building just before 9 a.m.
No one was injured. There doesn't appear to be any damage to the building.
The area is secured and taped off.
The cause of the collapse is unknown, but high winds are believed to have been a factor.
Bell Media radio stations Capital FM 106.9, The Fox 105.3 and Pure Country 103.5 were off the air on the radio dial for several hours. They are now back on the air.
Bell Media also owns CTV.
Saskatoon internal medicine and ICU specialist takes to social media to dispel COVID-19 myths – Saskatoon StarPhoenix
And the last reason was I started to see a lot of messages on WhatsApp and Facebook where people are just spreading complete nonsense, spreading things that were not entirely accurate and, not only not accurate, but very damaging and potentially dangerous. So I thought (these videos) would be a good venue for someone local, who has credentials and background that people can trust and understand, to share information. And people's response has been encouraging and now it has become a regular part of my week.
Q: What are the biggest misconceptions about COVID-19 that you're seeing?
A: There's a very, very small group that still believes that this is not a big deal or this is a hoax. And admittedly, the number of those people is very, very small and not very significant. And I think the majority of the public dismisses them very quickly and I don't think their influence is quite major.
News media industry's troubles intensify during COVID-19 pandemic – iPolitics.ca
Publishers and media experts are urging the federal government to offer enhanced financial supports for Canada's news media sector, where a long-standing trend of declining revenue has been exacerbated by the COVID-19 pandemic.
Canadian Heritage Minister Steven Guilbeault last week announced measures to help shore up the media sector during the COVID-19-induced economic slowdown, including putting in place some $595 million in long-promised tax measures and vowing to invest money from the government's $33-million national pandemic awareness campaign in Canadian media outlets.
Industry representatives, however, say the tax supports are simply rehashed policy announcements from 2018, and that access to meaningful funding is desperately needed to help the sector move to a sustainable business model.
"The industry is really going to run out of cash very soon," said John Hinds, CEO of newspaper advocacy group News Media Canada.
READ MORE: Modernized federal fund will support the creation of Canadian content, industry groups say
As part of the government's COVID-19 media support plan, Guilbeault also announced a simplified funding process for beneficiaries of the Canada Periodical Fund so eligible weekly newspapers will get their money in a matter of weeks, not months.
The Department of Canadian Heritage said about $16 million of the $75 million Canada Periodical Fund goes to to non-daily newspapers, while the remaining nearly $55 million goes to the magazine sector.
Hinds — whose News Media Canada members receive about $10 million of the $16 million allotted to non-daily newspapers — said Guilbeault's announcement means his members will receive the same funding they got last year, shortening the waiting period. He said the measure is a short-term solution that will address the urgent need to get money to publishers, many of whom do not have a financial reserve to weather events like the COVID-19 pandemic.
Bob Cox, publisher for the Winnipeg Free Press, which is not eligible for funding under the Periodical Fund as a daily newspaper, said he was "stunned" the government didn't offer any new support for his industry. He said there's more benefit in the federal emergency wage subsidy than in the government's announcement for the media sector.
The emergency subsidy supports businesses that have seen a 30 per cent drop in revenue because of the COVID-19 pandemic through a wage subsidy of 75 per cent of the first $58,700 of annual salary of workers, which equals to up to $847 a week. The program will offer support for up to three months, backdated to March 15.
READ MORE: Federal wage subsidy for small businesses to increase to 75 per cent: Trudeau
Cox said the emergency fund should be enough to keep journalists working and the publications afloat during the pandemic, but warned the sector has long-term problems that must be addressed.
Shawn McCarthy, president of the Canadian Committee of World Press Freedom, said the industry's problem is two-pronged: advertising revenue is moving to social media and consumers are unwilling to pay for a product they've long accessed for free. He said many outlets began introducing paywalls or subscriptions for online content around eight years ago, but readers responded by turning to news aggregators or social media for free content.
A report from Statista found that advertising revenue for the newspaper industry stood at $3.43 billion in 2003 but more than halved to $1.63 billion by 2018.
McCarthy, the former Globe and Mail parliamentary bureau chief, said the CBC, Canada's publicly funded broadcaster, became a huge competitor for TV, radio, and eventually print publications when it started producing online content.
"How do you persuade people to buy expensive subscriptions to the Toronto Star or the Globe and Mail when they can go and get the content for free on CBC," he said. "[It's] a huge challenge for the papers."
While the industry tries to reinvent its business model into something sustainable, McCarthy said an economic downturn similar to the 2008-2009 financial crisis would level a major blow to outlets barely keeping their heads above water when the economy is stable. The response to the COVID-19 pandemic will likely lead to the loss of many journalism jobs and local publications, he said, as efforts to blunt the spread of the virus push the global economy into a recession.
Early last week, before the federal emergency fund was announced, La Presse reported that the National Cooperative of Independent Information, the cooperative that brings together six daily papers in Quebec, would temporarily lay-off 143 people because of the COVID-19 pandemic — almost half the number of people employed by the papers collectively. The cooperative attributed the lay-offs to a "brutal and unprecedented drop in advertising revenue."
La Presse also announced a temporary 10 per cent reduction in salaries for union members, managers and senior executives.
On Friday, Cox sent a memo to Winnipeg Free Press staff proposing a 12 to 20 per cent pay cut for employees to address ad revenue losses resulting from COVID-19. Unionized staff with vote on the proposal with Unifor, Canada's largest media union, while Cox himself will take a 50 per cent pay cut.
A spokesperson from Guilbeault's office said the minister has been speaking to various media organizations about declining advertising revenues and other issues.
"We are currently studying all the options in this regard and are working on more measures to support the industry," Guilbeault's press secretary Camille Gagné-Raynauld said in an emailed statement.
Chris Waddell, a journalism professor at Carleton University, said the problem is that most Canadians simply won't pay for online news, reverting instead to social media where they view it for free. He said many readers don't make a distinction between quality and quantity news reporting.
"The challenge that newspapers face is their audience is declining, but they're afraid to offend their existing audience by saying 'we're not printing anymore' because they have no guarantees they can replace existing print audience with a digital audience that's prepared to pay," he said.
Waddell's theory is supported by a 2019 study from on digital news led by Reuters Institute for the Study of Journalism at Oxford University, which found that only 9 per cent of Canadians are willing to pay for online news.
Despite consumers unwillingness to paying for news content, Cox said the new reality is an industry transitioning from a reliance on advertising to a subscription-based model. He said interim measures, like the federal government's targeted tax credits, could help papers adjust and move online but they're taking too long to implement.
"We don't have that time…we're closing down papers literally every week," Cox said, adding that it took the government over a year to create an advisory board which is partly responsible for administering tax credit.
The advisory board, promised in Dec. 2019, will "make recommendations" to the Canadian Revenue Agency on whether a journalism organization meets certain criteria to receive the Qualified Canadian Journalism Organization (QCJO) designation, the CRA said in an email to iPolitics. Only QCJOs will be eligible for the tax credits.
While organizations await confirmation on eligibility, Cox said a wage subsidy for journalists, one of the three incentives rolled out in the 2018 aid package, has yet to pay a dollar to anyone because the legislation is fraught with complications that make it "unworkable."
The credit, known officially as the Journalism Labour Tax Credit, allows QCJOs to apply for a 25 per cent refundable tax credit on salaries or wages of eligible newsroom employees for periods beginning on or after Jan. 1, 2019. The credit is subject to a cap of $55,000, for a maximum tax credit of $13,750 per employee, and is only applicable for written news content.
Cox said his corporation can't receive funding from the media bailout because it's a partnership — a business operation between two or more individuals who share management and profits — and it has no way of receiving the tax credit as partnerships don't file tax returns.
"The government is looking at it from a corporate basis and not on a publication basis…now they feel they can't pay anything out," he said. "I think [the subsidy] would be a great benefit to us if we could get the money, but we haven't been able to get the money."
Minister Guilbeault's office said they are monitoring the program and its results closely.
However, Waddell said there's no way to determine whether the wage subsidy is working because the government didn't include an objective for the measure in the support package.
"From a policy point of view, if you're going to subsidize something you need to have an objective and reason for subsidizing it," he said. "And frankly, there's no indication that subsidizing somebody for a while is going to change the circumstances so they're going to get better off."
Another new measure from the federal government, which came into effect Jan. 1, 2020, allows not-for-profit news organizations to apply for charitable status, meaning they can receive donations and issue tax receipts to donors.
Waddell said this program may work for some companies, but said it's a costly transition from a corporation to a non-profit and there are many rules they must to meet the CRA's guidelines, including establishing a board of directors and keeping detailed financial records.
"It's not that easy to do," he said. "It is expensive."
The former longtime CBC and Globe and Mail journalist also said, unlike the United States, Canada doesn't have a history of philanthropic efforts to support journalism. Waddell said donations to Canadian media companies tend to amount to people donating to specific projects, like sending a reporter to a remote region, rather than to cover operating costs.
"It's much harder to find people who will donate just to keep the lights on," he said.
The last tax credit encourages Canadians to pay for online news through a 15 per cent non-refundable personal income tax credit for digital news subscription costs paid by an individual to a QCJO, which applies to qualifying amounts paid after 2019 and before 2025.
Waddell said the program "may have some limited benefit" but noted that it could have an effect similar to the former Conservative government's Children's Fitness Tax Credit. The program was criticized for benefitting those who already have the capacity to pay for a child's fitness program, rather than helping others meet the financial bar.
While publications struggle to have consumers pay for content, McCarthy said the industry must be cautious in how it accepts government money as it struggles to retain public trust. He added that the price of government intervention might be a hit on the industry's credibility, but that credibility won't be an issue if the industry isn't around anymore.
McCarthy also said the COVID-19 pandemic may be an opportunity for Canadians to reassess the importance of Canadians news organizations. He noted that many publications, including legacy papers like the Globe and Mail and the Toronto Star, have lowered paywalls amid the crisis so Canadians can access reliable news.
"I think there's a hope that people will recognize coming through this crisis just how important is it to have solid information that has been vetted by journalists and editors, as opposed to relying on hearsay on social media," McCarthy said. "Whether that translates into individuals being willing to pay for it is another story."